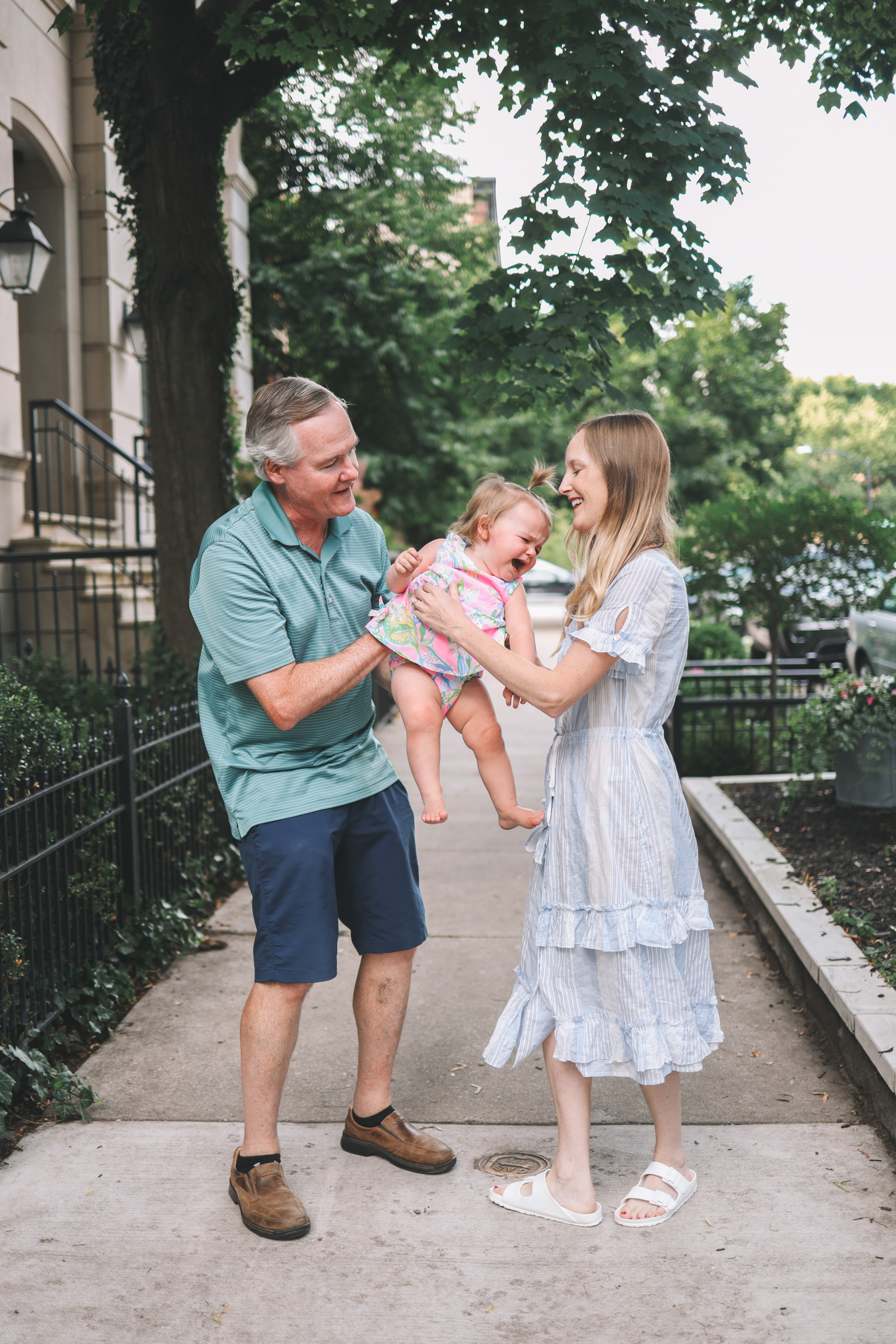 lemlem Dress (You can also find lemlem at Tuckernuck, Madewell, Bloomingdale's, Shopbop, Revolve, Farfetch, Net-a-Porter and The Outnet.) / Waterproof Birkenstocks (Size down. Fully in stock here! Also available here, here, here and here. Cork-soled white Birkenstocks here.) / Emma's Star Dress (Also just got this smocked t-shirt dress on sale for her.) / Lucy's Lilly Shift / Mom's Lilly Dress (Old, but our favorites are the Brewster T-Shirt Dress, Chantal Shift Dress, Inka Short-Sleeved Dress, and the Sophiletta Dress/ Mom's Navy Flats (We also love the Felicia Flats.)
Ohhhhh my goodness. I took the sweetest photo of my dad and Emma this past week, and wanted to get one of him with Lucy, too. It went great! 😆
We also tried a group photo and that was a huge fail as well. She just wanted Mitch. Whatever, Luce. It's fine. Everyone's feelings are totally intact. (😭, haha!)
I'm going to do a big post on my parents' visit this week. (It was amazing! ❤️) But since I'm wearing my lemlem dress in these photos, I'd love to tell you about the brand today. lemlem is a Black-owned, artisan-driven ethical fashion company founded by model Liya Kebede. All products are made entirely in Africa. Women are at the heart of lemlem, and "the brand is committed to helping them thrive both within its workshops and beyond through its support for the lemlem Foundation." The foundation supports midwife training and outreach services in an effort to reduce maternal deaths by 25 percent, and it also works with social enterprises to design and support training initiatives that help women artisans in Ethiopia and Kenya build skills and prepare for jobs.
The clothing is beautiful. Yes, full-priced products are on the pricier side, but the sale section is amazing. You can also find lemlem on sale from time to time at various retailers like Tuckernuck, Madewell, Bloomingdale's, Shopbop, Revolve, Farfetch, Net-a-Porter and The Outnet. Keep an eye out; I was thrilled when I found my dress, which was made in Kenya!
I love its tiers and chambray-style fabric, and I'm thrilled that it's meant to look a little crinkly. (Fantastic for moms who have babies on their hips for most of the day. It would also be great for nursing moms because of the buttons down the front.) It says to dry clean it, but there's a pandemic so I just put it in a delicates bag and wash it on delicate… and it comes out perfectly!
(Note: I normally don't wear Birks with the dress but they were by the door and, well… life. 😉)

Be sure to check out the lemlem site, and I'm linking some faves above. :)
Btw: lemlem does carry children's clothing, but it's low in stock right now. Check out Elisamama in the meantime!
😂😂😂 Just wants Daddy.
Shop the post:
lemlem Dress (You can also find lemlem at Tuckernuck, Madewell, Bloomingdale's, Shopbop, Revolve, Farfetch, Net-a-Porter and The Outnet.) / Waterproof Birkenstocks (Size down. Fully in stock here! Also available here, here, here and here. Cork-soled white Birkenstocks here.) / Emma's Star Dress (Also just got this smocked t-shirt dress on sale for her.) / Lucy's Lilly Shift / Mom's Lilly Dress (Old, but our favorites are the Brewster T-Shirt Dress, Chantal Shift Dress, Inka Short-Sleeved Dress, and the Sophiletta Dress/ Mom's Navy Flats (We also love the Felicia Flats.)