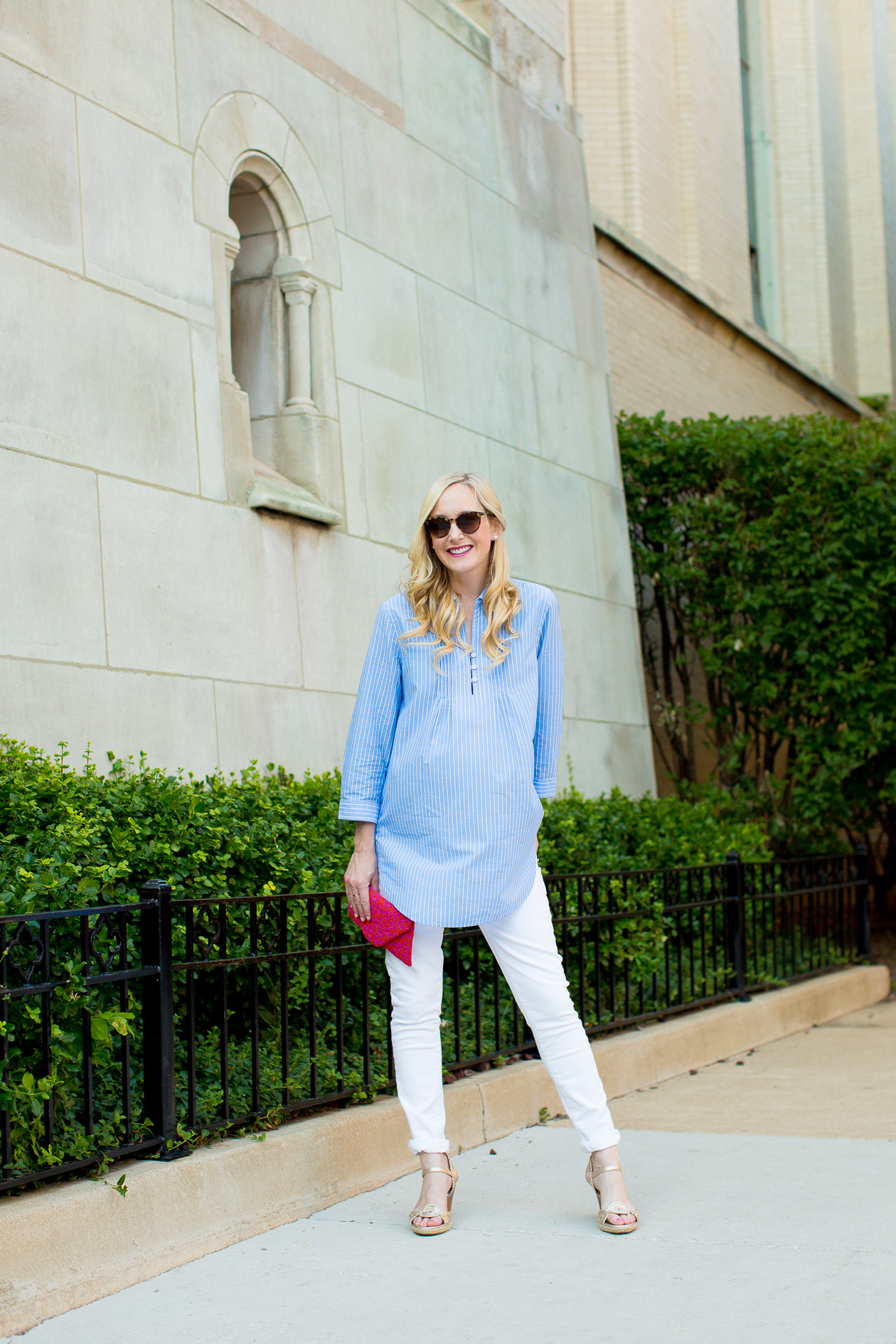 Vineyard Vines Tunic c/o (VV is also carried at Nordstrom!) / Paige Jeans (Crop version here; maternity version here. Zappos also carries a great selection!) / Julie Brown Designs Clutch c/o / Jack Rogers Wedges c/o (On sale here! Also available here.) / J.Crew Bracelet / Similar Sunglasses
How is possible that I'm in my ninth month of pregnancy?! In some ways, it feels like I've been preggo forever. Yet in other ways, I can't believe how quickly the time has flown by. And yet I'm ready. Not in the literal sense of the word, of course. (Still need to pick up some last-minute things, have those pesky doors installed, set up the nursery furniture, and pack my hospital bag. And Baby Larkin is still cookin'!) But I can't wait to be a mom and actually meet our baby.
As Tom Petty says, "the waaaaiiiiittttiiinnnggggg is the hardest part." Especially when you're carrying a beach ball around with you wherever you go, and it's 95 degrees during the day. ;) But what's so nice is that I have some distractions right now. We've been having such a great time with Tara (my best friend from Fairfield) and Mike, who are visiting for the week. These photos were snapped yesterday, right before dinner downtown at Ramen-San. (Seriously: if you're a fan of ramen, this is the place to go in Chicago!)
I think it's totally normal to struggle with outfits in the ninth month. While I still have some stuff that fits, there's not a lot to choose from, and comfort always wins. That said, I can't wear my favorite pajama pants out to dinner. ;) My two go-to looks these days (which is quite evident from the few outfit posts I've done) are maxi dresses and the skinny jean/tunic combo. And recently, Vineyard Vines sent me an adorable little care package to help me get through the last month. (Thank you, VV!) I wore this maxi for Mitch's graduation and for our little Father's Day celebration, and I wore this tunic last week for date night. And last night's top? Adorable. I've missed my button-downs so much… but this maternity-friendly tunic totally gives me that look. (And no worries about buttons popping off!) A little warning, though: it runs large. So if you're in between sizes, I'd definitely size down.
Today's going to be yet another fun day. I have a shoot in the morning, but we're all grabbing brunch at a local restaurant afterward, and probably visiting Small Cheval later in the day for burgers. (Yay, food.) In the evening, we're going to see the White Sox play! I've been to Wrigley Field before, but never Comiskey Park (or U.S. Cellular)… so I'm excited. I'm also a big fan of sitting these days, so this little activity is perfect for me. :)
Photos to come!
Shop the post:
Vineyard Vines Tunic c/o (VV is also carried at Nordstrom!) / Paige Jeans (Crop version here; maternity version here. Zappos also carries a great selection!) / Julie Brown Designs Clutch c/o / Jack Rogers Wedges c/o (On sale here! Also available here.) / J.Crew Bracelet / Similar Sunglasses