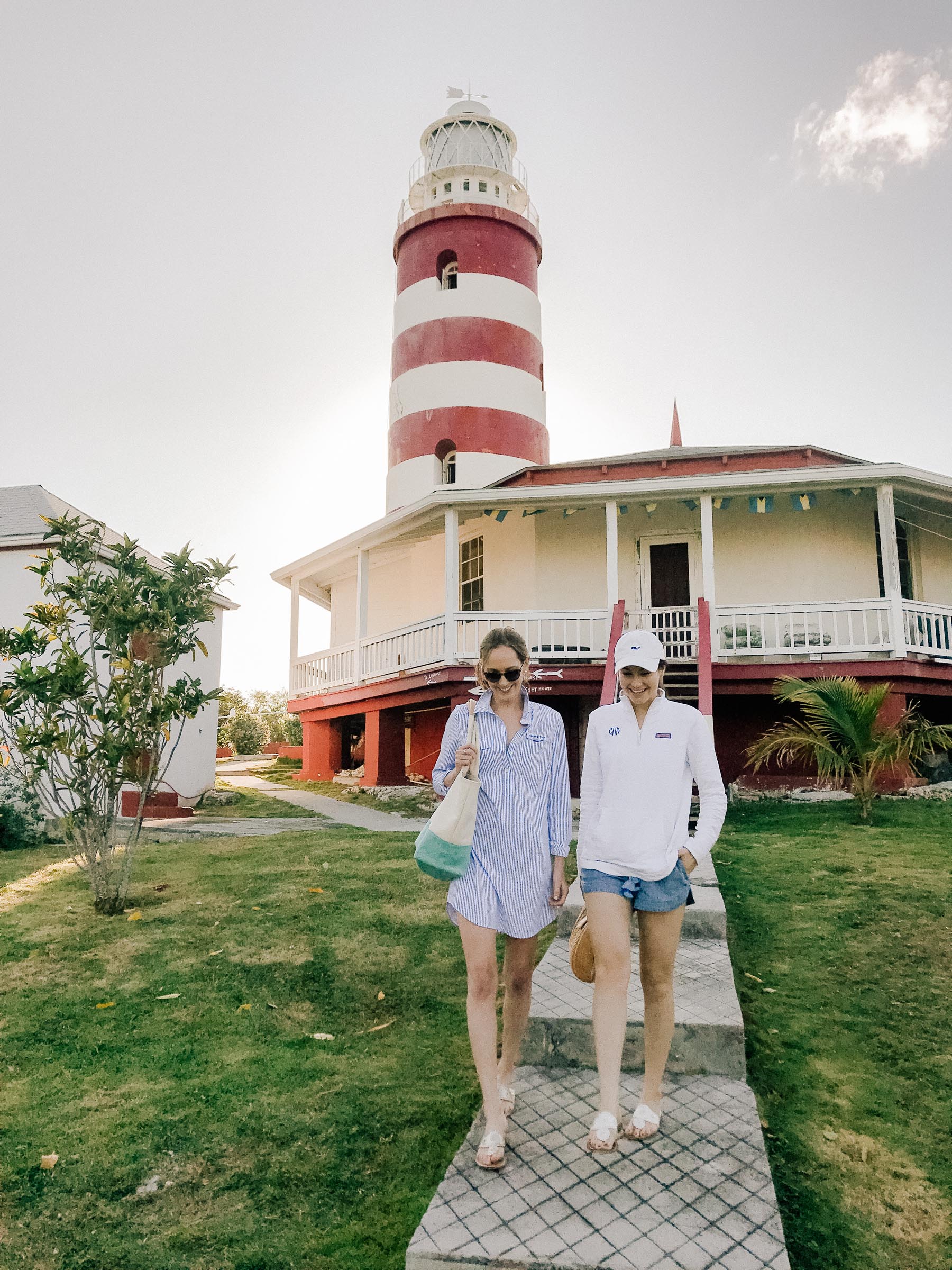 Vineyard Vines Seersucker Coverup (Similar here!) and Tote (The gingham version is on sale!) / Jack Rogers Sandals (On sale today! Take advantage!) / Carly's Shep Shirt (But also LOVE the seersucker version. Have this one, too, and adore it.) / Carly's Shorts & Hat (Love this striped version and this seersucker version! And have you seen that the floppy hat is back?!) / Mackenzie's Coverup
Second outfit:
Jeans / Carly's Top / Mackenzie's Top / My Seersucker Top / My Denim Jacket / My Sandals / Carly's Sandals
I love these photos.
They were taken on our first real night in the Abacos with Vineyard Vines (a huge sale is going on right now, btw!) and The Moorings. Mackenzie, Carly, Sean and I docked at Elbow Cay and then took the dingy to the Hope Town Light House–one of the last manual light houses in the world–and played corn hole as the sun set. :) Later, we had dinner at The Firefly, which I couldn't recommend more.
(Mackenzie, was, in fact, present for all of this; she was just being an amazing sport and helping out behind the scenes during a lot of the pics!)
But a little bit about what I wore:
Seersucker Coverup: I'm so into seersucker this year, and Vineyard Vines is currently carrying a ton of it. This is by far the cutest and most comfortable coverup I own. I love how it kind of looks like a dress. Which allowed me to go from beach to sunset. (I changed for dinner, but I even think I could have gotten away with wearing it to the restaurant, since things were pretty casual there!) Sadly, the coverup is almost sold out, but I love this similar one. :)
Tote: Definitely my favorite beach tote. It holds SO much yet it looks so classy. I'm obsessed with the gingham version which is currently on sale, but here's the solid navy.
Ruffled Seersucker Top: This is a top I know that I'll get a ton of wear out of this year. It looks adorable with crisp white jeans, so I suppose I'll have to order a new pair of those, haha. (I recently dyed all my white jeans a lovely shade of light pink when one of Emma's red shirts accidentally made its way into the whites. BAH!)
Denim Jacket: I've spoken about this before, but I have the J.Crew denim jacket (also here), and Vineyard Vines' take on the classic style is SO much softer! You need it. I stayed cozy all night long. You can get it in white, too.
Sale Jack Rogers: They're on SALE! It might not be warm yet, but you'll need these before you know it, and you can't beat the price.
Dolce Vita Sandals: It was a risk, but these were the only "heeled" sandals I brought, and I'd never worn them before. They went with all my outfits, though, and they were insanely comfy! Really recommend if you're looking for a versatile pair of sandals that can carry you from day to night… and that you can walk long distances in without pain!
Shop the post:
Vineyard Vines Seersucker Coverup (Similar here!) and Tote (The gingham version is on sale!) / Jack Rogers Sandals (On sale today! Take advantage!) / Carly's Shep Shirt (But also LOVE the seersucker version. Have this one, too, and adore it.) / Carly's Shorts & Hat (Love this striped version and this seersucker version! And have you seen that the floppy hat is back?!) / Mackenzie's Coverup
Second outfit:
Jeans / Carly's Top / Mackenzie's Top / My Seersucker Top / My Denim Jacket / My Sandals / Carly's Sandals
Photos by Sean Gale Burke