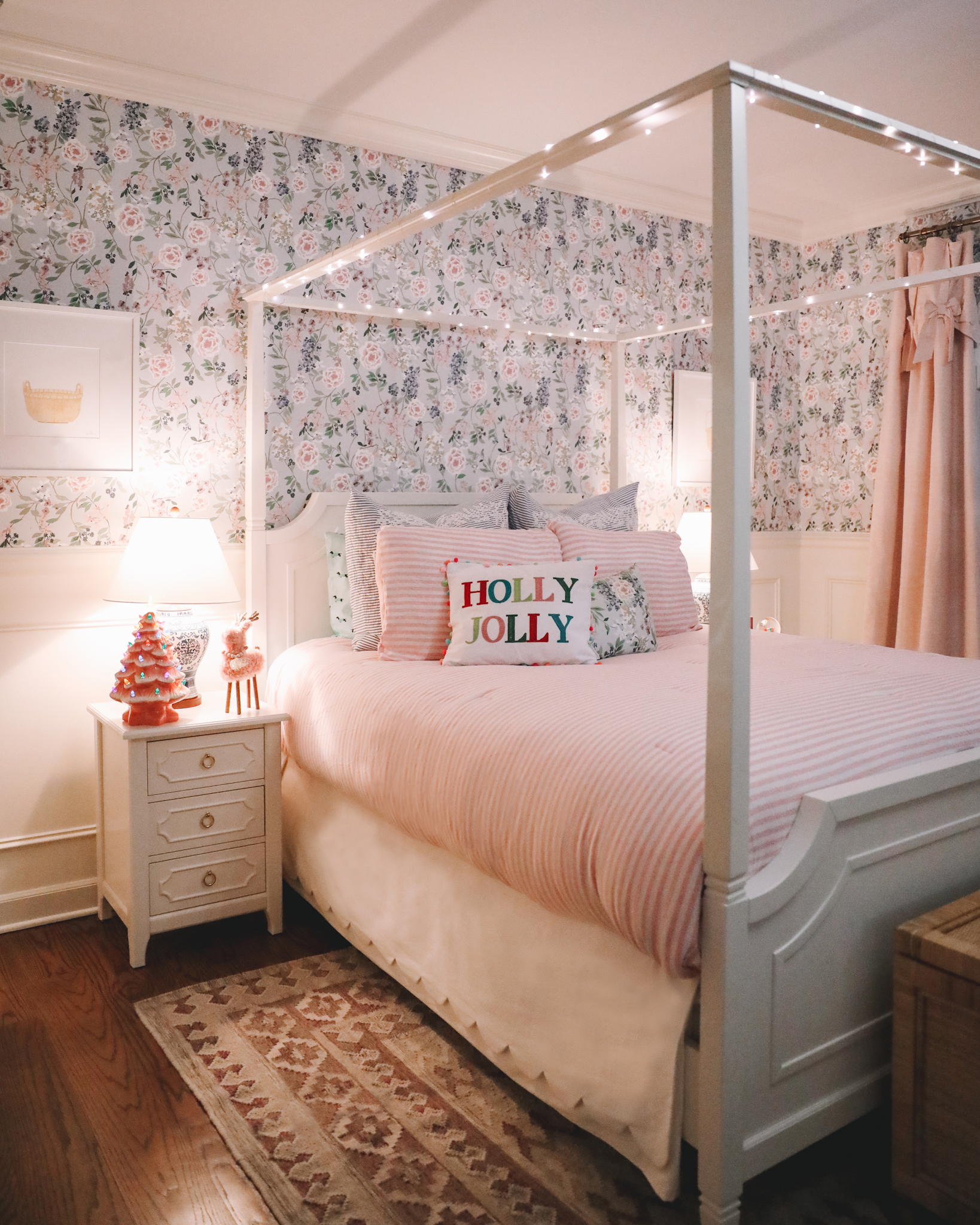 Gap Home Striped Comforter / Pink Christmas Tree / Pink Reindeer / Fairy Lights / Holly Jolly Pillow / Festive Snow Globe / "MERRY" Decorative Blocks / Dachshund Sheets / Other Room Details
I always say this, but Emma's room is my favorite room in our house. I think it's because it's the first I decorated, as I wanted our little 2.5-year-old to feel as "at home" as possible amidst so many changes. (New house and a new baby on the same day! 🙈) The room brings back so many happy and exciting memories, and I often slip in there to reflect. It's cute that I'm publishing this today, too, because the girls are currently sleeping in Lucy's room together, and Mitch and I are sleeping in Emma's room while our own bedroom is being painted!
Decorating the girls' rooms for the holidays is such a blast. I did it for the first time last year, and loved seeing the magic through their eyes. The best part about decking out kids' rooms is that it doesn't have to be pricey! I found everything you see here from Walmart Home—and most from the Kids' Holiday Room Finds section of the site. Walmart has some great curated collections to make the job easy, and shipping is fast and free. (Typically two to three days on items shipping directly from Walmart.com.) Here's what I chose:


Gap Home Striped Comforter: Of course when browsing the site, my first stop was Gap Home… because I need the world to know that Gap Home is a thing. 😉 It's so good! Everything is timeless, with a nod to simplicity and calmness. (I really love this couch, btw, and I'm very much drawn to this chair… which I realize isn't my style but I find myself appreciating modern decor these days!) Anyway, I knew immediately that this blush striped (reversible) comforter would look perfect in Emma's room since the color scheme is pastels. The jersey material is great for kids, too. I should also mention that the comforter is sustainable! It's made with OCS (Organic Content Standard) cotton and recycled material that meets the RCS (Recycled Claim Standard). It's also OEKO-TEX® certified, and free of harmful chemicals. Finally, it's under $55 for a full/queen, and under $45 for a twin. A+, Gap Home.
Pink Christmas Tree: Did you have one of these in your home growing up?! We had one, albeit a green one, and seeing these in Emma and Lucy's rooms during the holidays really brings me back. They use them as nightlights, and they certainly add a whole lot of magic to the holiday season! Pro tip: Buy these rechargeable C batteries.
Pink Reindeer: This was Emma's favorite! The pink reindeer—which she mistook for a unicorn—is front and center on her nightstand, and it's been made clear to me by Miss Lucy Larkin that we will be needing a second. (Honestly not sure why I didn't order two in the first place. Am I not a mother of two young girls?! Goodness.)
Fairy Lights: HUGE HIT, if you've never put these in your kids' rooms before! I obviously wound them around the top of Emma's bed, but they can go anywhere. They're battery powered, so once again, buy these rechargeable batteries. I will say, however, that they last about three to five days on the same batteries depending on whether you ever remember to turn them off. ;) So that's great!
Holly Jolly Pillow: Cute, right?! Screamed "little girl" to me! Emma adored the pom poms, and the fact that she could read what was on the pillow. Yay, Bob Books.
Festive Snow Globe: Who doesn't love a good snow globe?! And a multi-colored one is up every five-year-old's alley. All it took was one shake, and Emma was smitten.
"MERRY" Decorative Blocks: I should have mentioned this before, but I love that Christmas decor comes in lots of different colors now. Gone are the days of only red and green; welcome, pink and complementing colors! An added bonus that comes with these blocks is that beginner readers will likely enjoy making different words out of them. Education in disguise!
Dachshund Sheets: I mean, you know I enter "dachshund" into companies' websites all the time. So how could I pass up these wintery sausage dog sheets?! In Lucy's words, "Soooooo cuuuute!"
Shop the post:
Gap Home Striped Comforter / Pink Christmas Tree / Pink Reindeer / Fairy Lights / Holly Jolly Pillow / Festive Snow Globe / "MERRY" Decorative Blocks / Dachshund Sheets / Other Room Details


This post is sponsored by Walmart; all opinions are my own. As always, thank you so, so much for supporting the partnerships that keep Kelly in the City up and running!