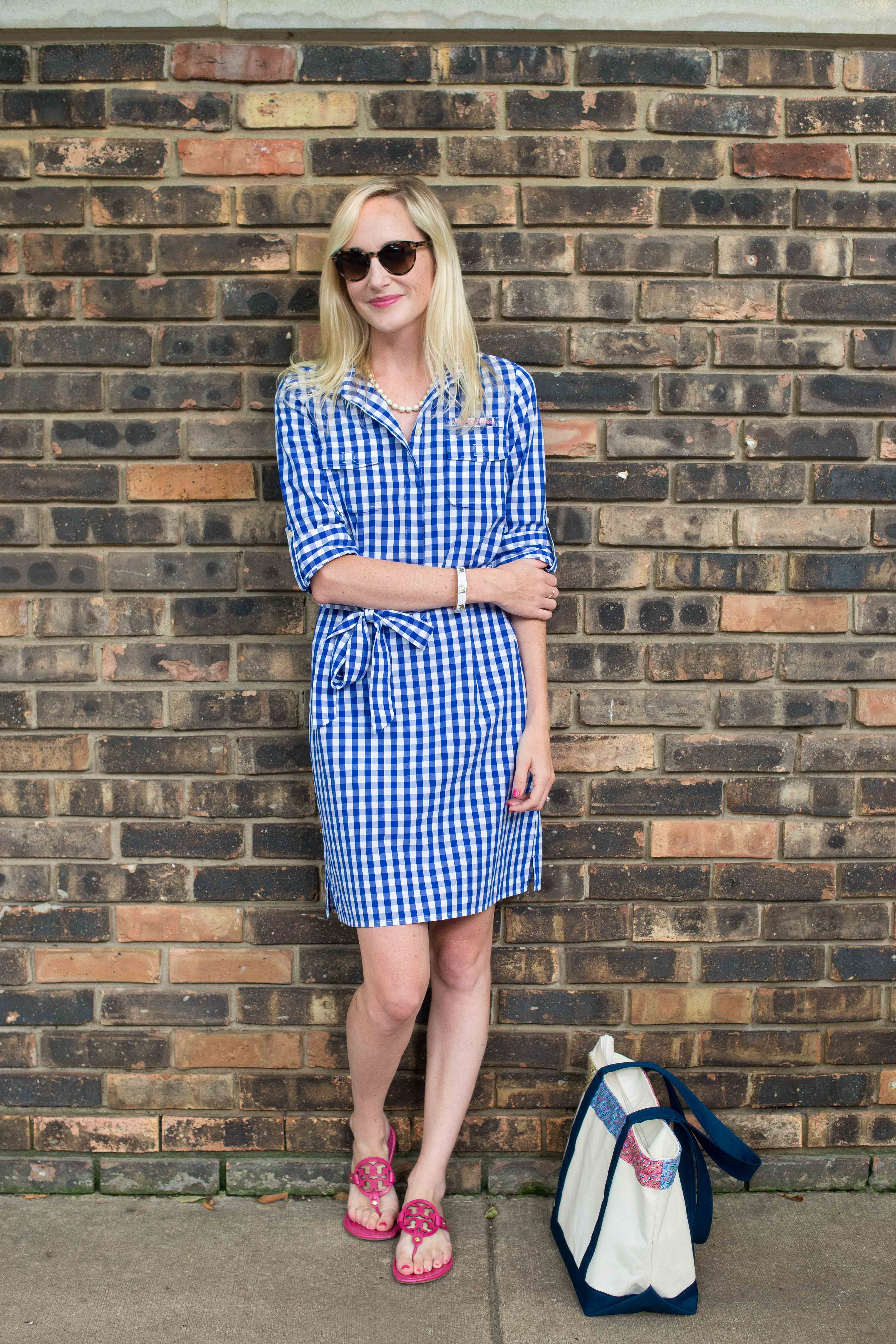 Vineyard Vines Dress (c/o) (Similar here and here in oxford) and Tote (c/o) (Sold out, similar here) / Tory Burch Sandals (Sold out, see the same sandals in different colors here) / Kate Spade Pearl Necklace / Fornash Bracelet (c/o) / Kate Spade Sunnies (Old, newer styles here) / Tory Burch Earrings
After about a week of unseasonably cool temperatures, warmth has returned to Chicago. Huzzah! I know that 60- and 70-degree weather isn't exactly cold, but I'm a huge wimp. Also, it's August. We still have a good couple weeks left of summer, right? RIGHT?!
Anyway, it felt amazing to finally slip into this Vineyard Vines gingham dress–which I'm absolutely obsessed with–yesterday for Broadway in Chicago. I love its bow sash, roll-up-or-roll-down sleeves, and pink embroidery on the breast pocket. And that it's extremely comfortable. It seems to be selling out pretty quickly, so act fast if you're in love as well! Don't see your size? Try the new Oxford Shirt Dress or Fairview Oxford Stripe Dress.
In other news, I have Pink Eye again. I'm such a child. I'm basically allergic to everything in Chicago, and no matter what I do, I just can't seem to remember not to rub my itchy eyes. So I've quarantined myself in my apartment, partly because I don't want to pass it on to anyone else and partly because I hate wearing my glasses.
As much as I love the frames (in "Dark Havana" in case you're wondering), I just can't see as well with glasses as I do with contacts. Due to astigmatism, glasses have always given everything a distorted funhouse-like appearance for me. It drives me crazy! Contacts, though? Everything is crisp, clear and normal-looking. (Which is saying a lot, as my contacts prescription is -6.5!) I can't even tell you how many doctors I've seen over the years for the distortion problem… and not one has been able to figure it out. But yes. I need to persevere, and find a solution. (And a new doctor in Chicago.) It's certainly not healthy to always wear contacts!
So sorry for the rant. Anyone else ever have this problem?!