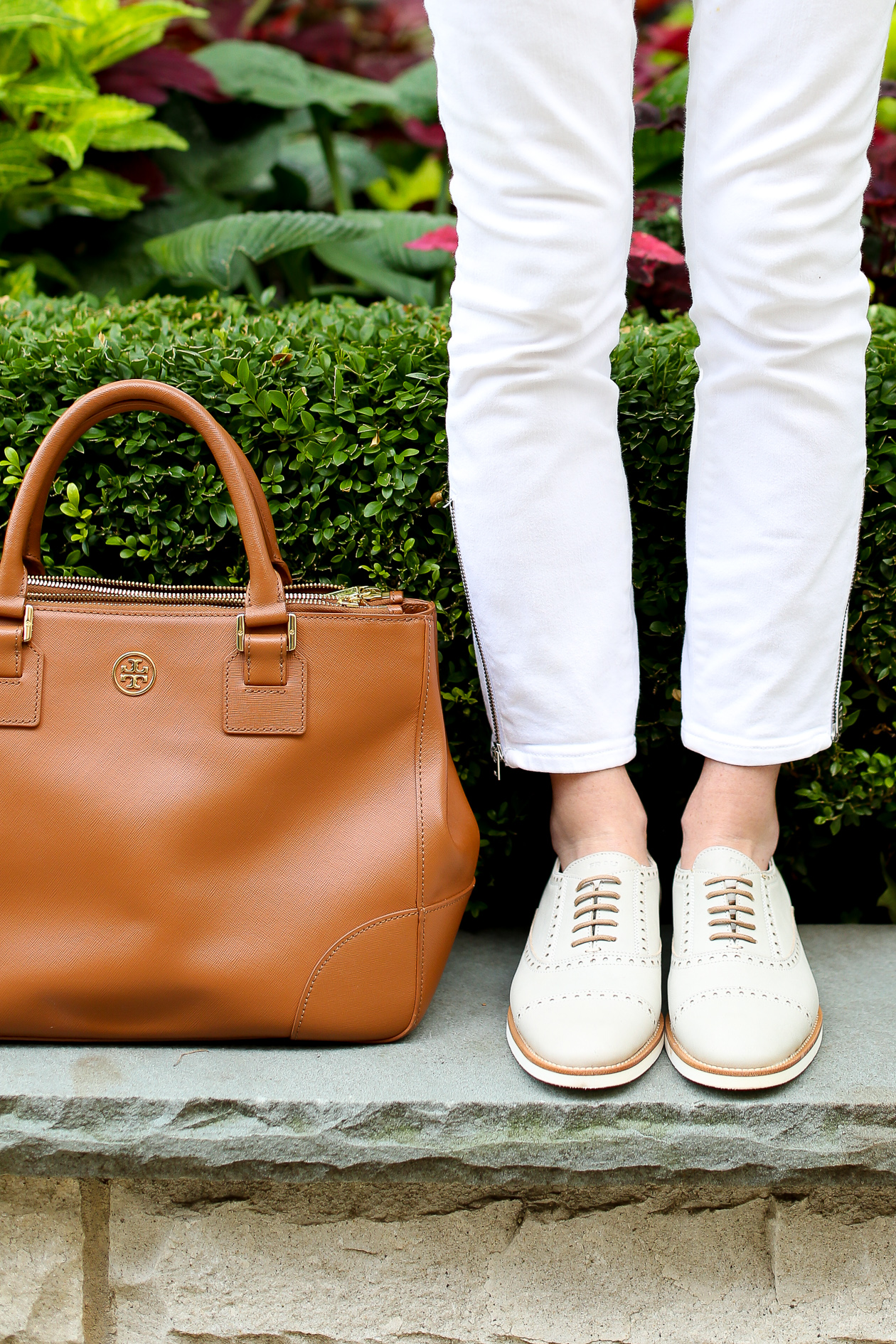 FRAU Oxfords c/o — Use code "KELLYINTHECITY" to take 10 percent off your order when you spend $100+! / Tory Burch Tote / J.Crew Gingham Shirt (Also love this one) / Madewell Jeans (Old, similar here and here) /  Jet Set Candy Necklace – Charm #1 and Charm #2 c/o / Kate Spade Sunglasses (Old, similar here and here) / Moon and Lola Earrings c/o Tuckernuck (Also love these and these!) / Daniel Wellington Watch c/o (Also available at Nordstrom)
It was weirdly cold for the last few days due to the heavy rains, but I'm SO excited that temperatures will be in the 80s for the week. Hah. STILL SUMMER! This, of course, is a look from one of those cooler days, when summery dresses and skirts just weren't cutting it. And while I'm a summer girl through-and-through, these new leather oxfords from FRAU are at least delaying my heartbreak that my favorite season is coming to an end. ;)
Because aren't they perfect?! I love that they're light gray and therefore go with both navy and black, and that they're buttery soft. As I tend to work at local coffee shops during the fall, I'm positive that these guys will be a favorite. The best part is that you can take 10 percent off your own pair when you use code "KELLYINTHECITY." Yay!
In terms of life, things are okay here. Our master bedroom and bathroom were essentially demolished on Friday (it took nearly ten hours), and industrial dehumidifiers and fans were brought in to dry the place out. Huge sheets of plastic were placed over our closets and furniture, and then sealed off… and stupid me didn't think to grab essentials before it happened. As a result, all my clothing–save for three t-shirts, three pairs of underwear and two pairs of jeans which were mixed into Mitch's clean laundry pile upstairs–is down there. So yeah. Looks like I'm going shopping tomorrow? (Ugh. The last thing I need to be doing right now is shopping.)
I have to say: the flood has been a bit more devastating than I thought it would be. Logical Me knows that we'll recover, and that in a few months, we'll have our home back. But Emotional Me is really freakin' upset and, well, emotional. Mitch and I waited years for our dream home, and a month and a half into homeownership, half of it is taken away. But the gloom and worry–mostly over the unknowns–comes in waves, at least.
We had our friends Dan and Laura in from Denver this past weekend, which really got our minds off our worries. (Thanks for being so wonderful, guys!) We're trying to focus on rebuilding, too. And while that probably won't happen for a little while, browsing Pinterest and thinking about what our new space will look like has certainly been helpful. We've learned that you can find waterproof tile flooring that really looks like hardwood, for example, and that we're completely in love with subway tile and dark grout. (Of course this bathroom is located in the West Village. So typical of me!)
We also know that we're actually very, very lucky. Everyone is healthy, and it didn't happen while we were traveling. Soon we'll have answers, and things can only improve. (Right? RIGHT?! Contractors need to stop delivering bad news. If one more person sighs and rubs their head before saying something, I'm going to crack, haha.)
Do you have some great bathroom inspiration pins/photos to share? Or flood stories in which the homeowners came out triumphantly? ;) Mitch and I would LOVE to hear!
Also: Mom and Dad, have a safe flight tomorrow… and the time of your lives in Paris! Remember: the Latin Quarter, Musée d'Orsay, and street sandwiches are the best. And it's not "French Onion Soup" over there. It's just "Onion Soup." (Anyone else want to share Parisian recommendations?!)
COFFEE?! Hehe.