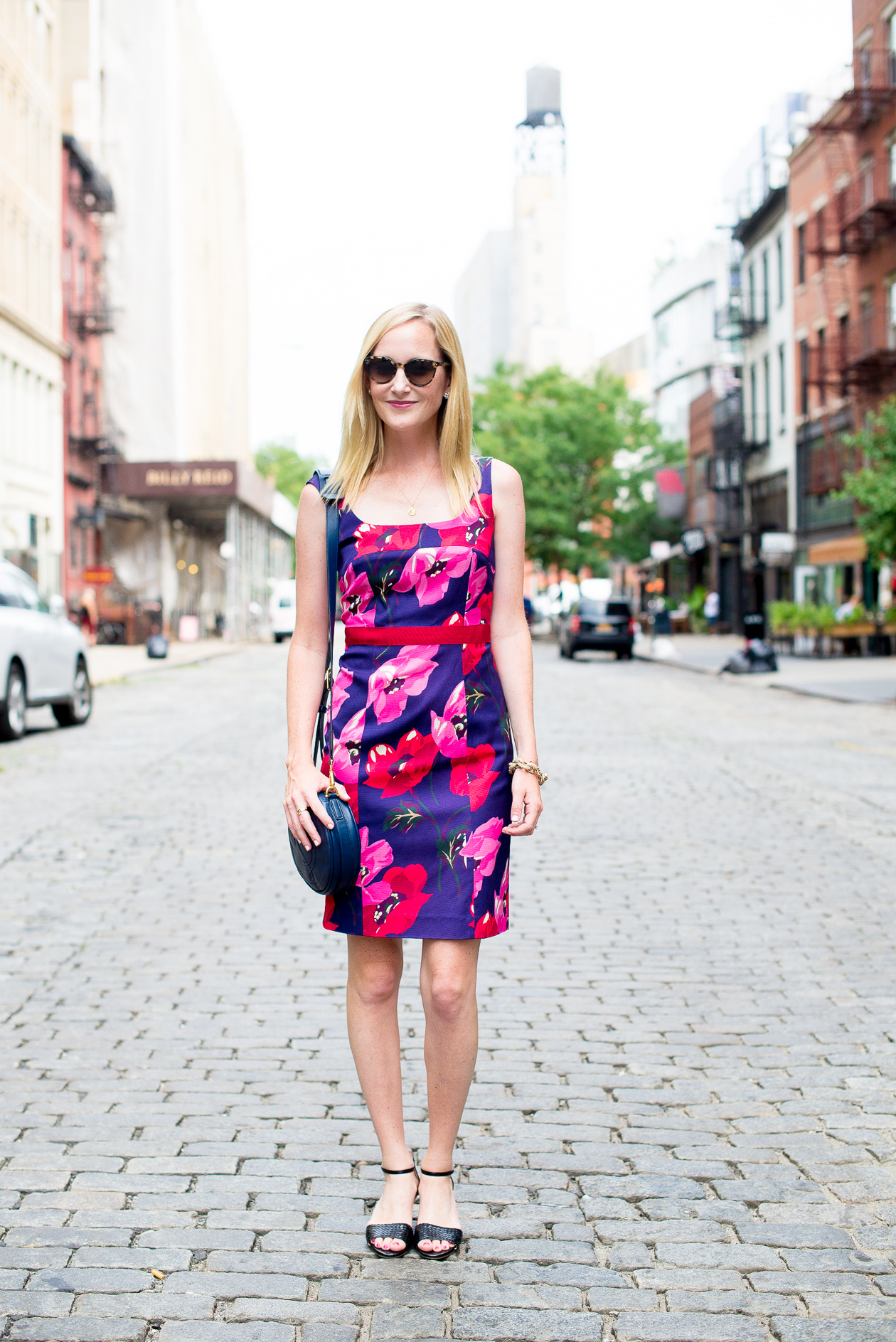 Draper James Dress and Bag c/o / Cole Haan Sandals c/o Nordstrom Rack (So many great options here!) / Kate Spade Sunglasses (Old, similar here and here) and Earrings / J.Crew Bracelet
About a month ago, when I was back in New York visiting friends, I had one of those "pinch me" moments: I received an email from the PR department of Draper James, Reese Witherspoon's new brand, asking whether I'd be up for a photo shoot while I was in the city.
I'm sorry, WHAT?! Yes, I think I can pencil that in. Omg, Omg, Omg.
Just kidding. I hope I was a bit more eloquent than that, haha.
But in all seriousness, it was definitely one of the coolest things I've done during Kelly in the City's 2.5-year duration. I've long been a big fan of Reese's sweet demeanor, classy style and southern charm… and I've been head over heels for her clothing and accessories line–the perfect embodiment of these attributes–since it launched earlier this year.
All the gingham, navy, pearls, stripes, scallops and monograms?! Hello, perfect brand. :)
(Fun fact: Draper James is named after her grandparents, Dorothea Draper and Williams James Witherspoon. Isn't that the sweetest? Grammie, don't worry. I'm working on one for you. Let's keep it simple: Ann Cecilia. LOVE IT, hehe.)
Anyway, I had such a blast trying on pieces from the new collection while I was in New York. I'm completely in love with this Harper Femme Fitted Dress along with the Belle Sleeve Dress, Lucy Embellished Lace Top and Hillsboro Dress. But check out some of my other faves below, and please browse the adorable accessories, jewelry and home & gifts collections. So much cuteness!