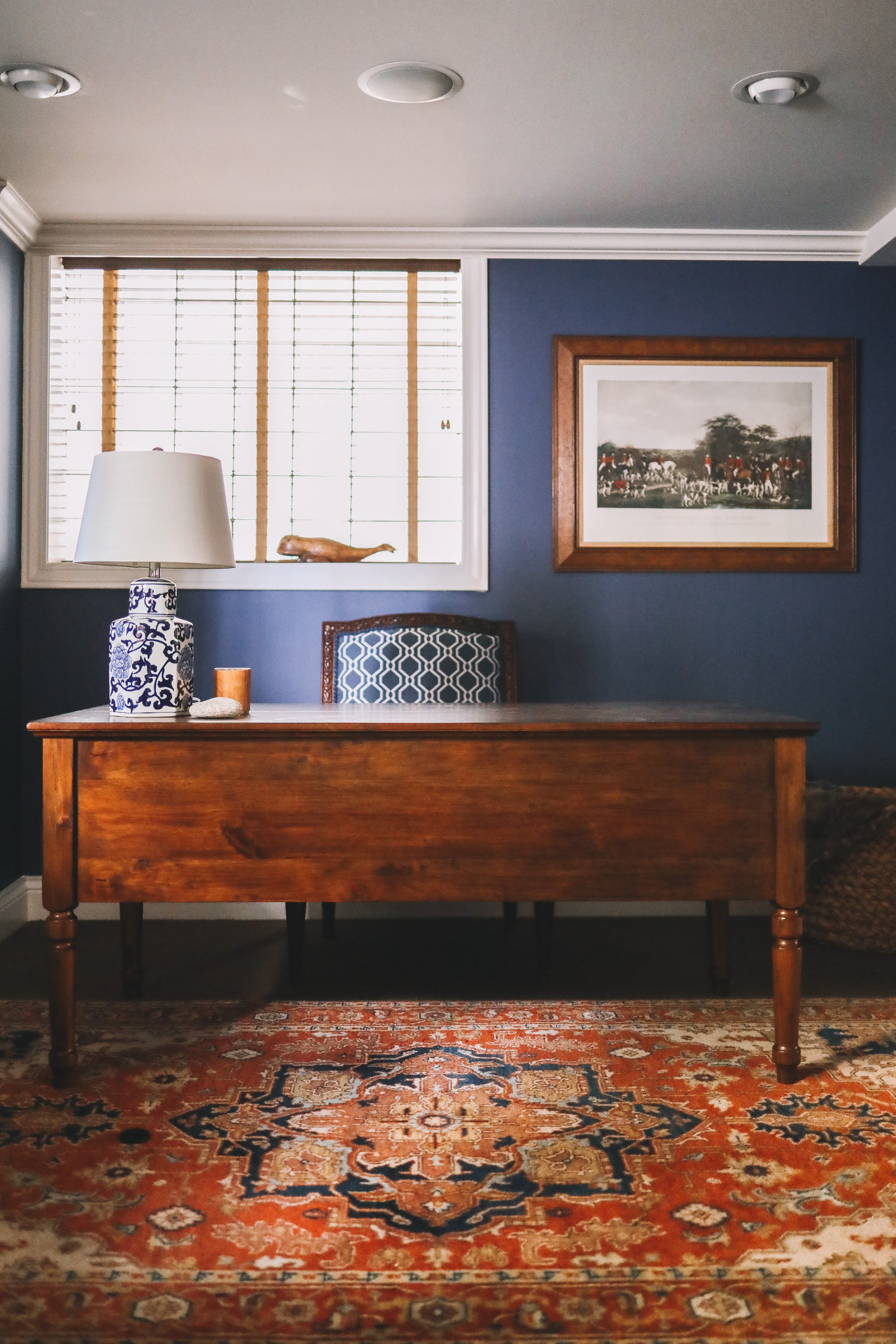 Paint color: "In the Navy" (Color #50BB 10/147) by Glidden / Birch Lane Leather Chair / Surya Area Rug / Pottery Barn Keyhole Desk
What do you do when your husband asks you to turn his office into a "manly, moody and inspirational Ralph Lauren-esque" space, yet he wants to hold off on bigger investments (like furniture, built-ins and new flooring) for a few years? (Totally understandable! He wants to learn how he uses his office and what he actually needs before making any huge/permanent design decisions.)
Good question! You gather up whatever random pieces of furniture and decor you might have around the house, and then you call Glidden. Not literally, of course. 😜 But you head to your nearest home improvement store to determine a paint color that'll make a statement.
I'm SO proud of how Mitch's "man cave" came out. Yes, we'd eventually like to replace the carpeting with vinyl or tile that looks like wood… and sure, we could lose pretty much all the white furniture. But for the time being, the room is fantastic, and I can't believe the huge difference that a few coats of navy paint and roughly an hour of "styling" old decor made.
Anyway, I'm going to hand it over to Mitch so he can tell the full story. But I LOVE the progress we've made on his office! I might even sneak down there every once in a while to work. ;)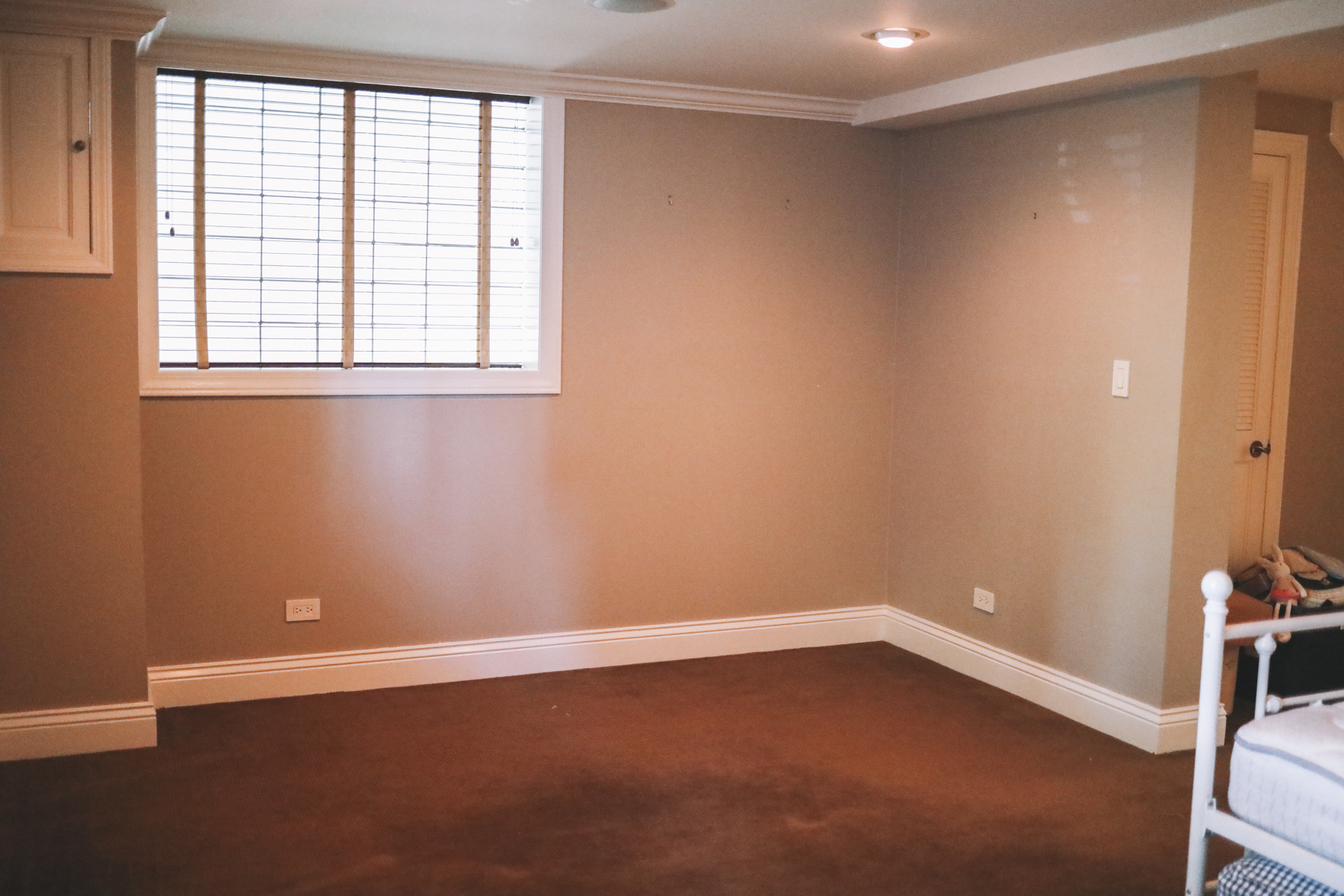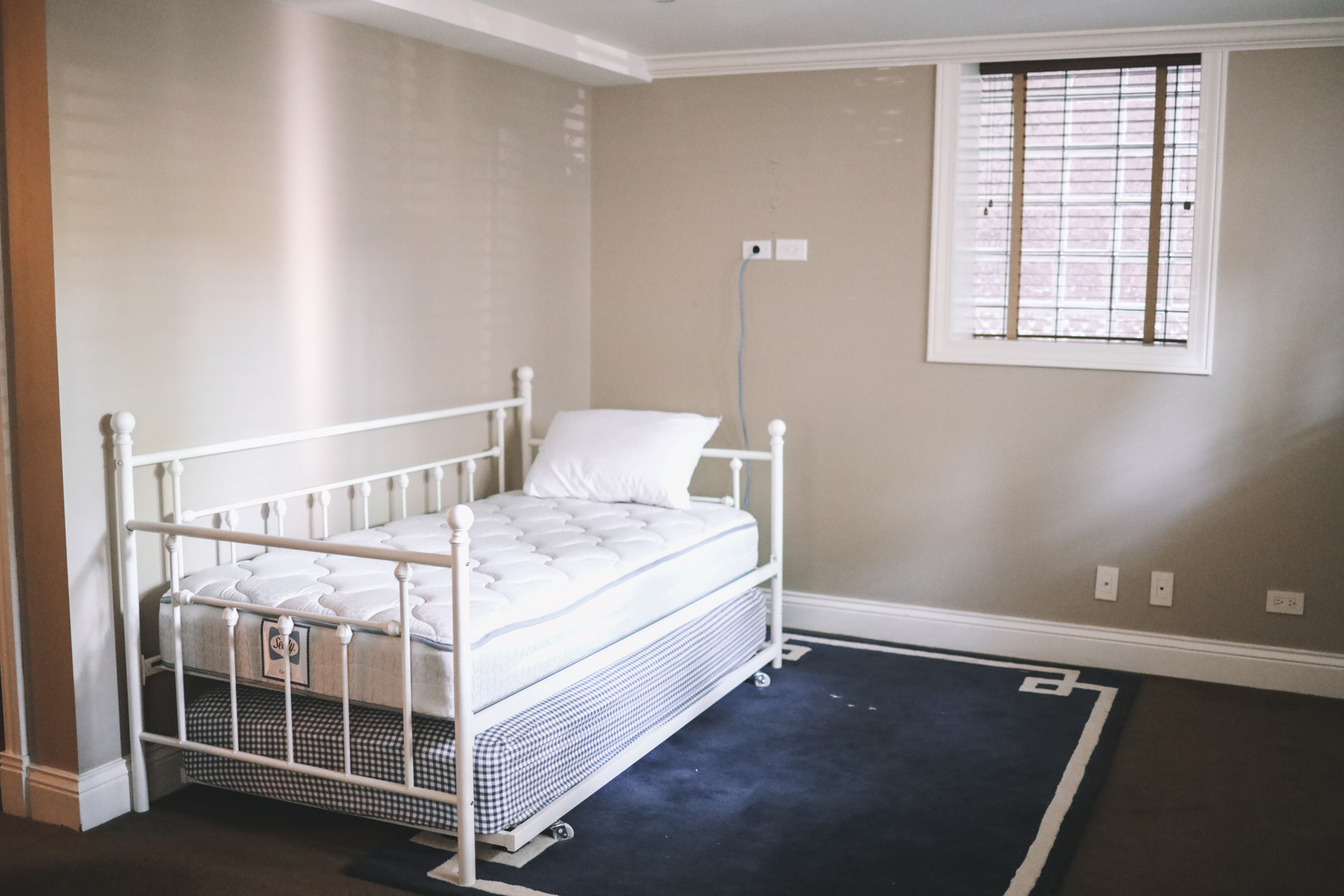 The before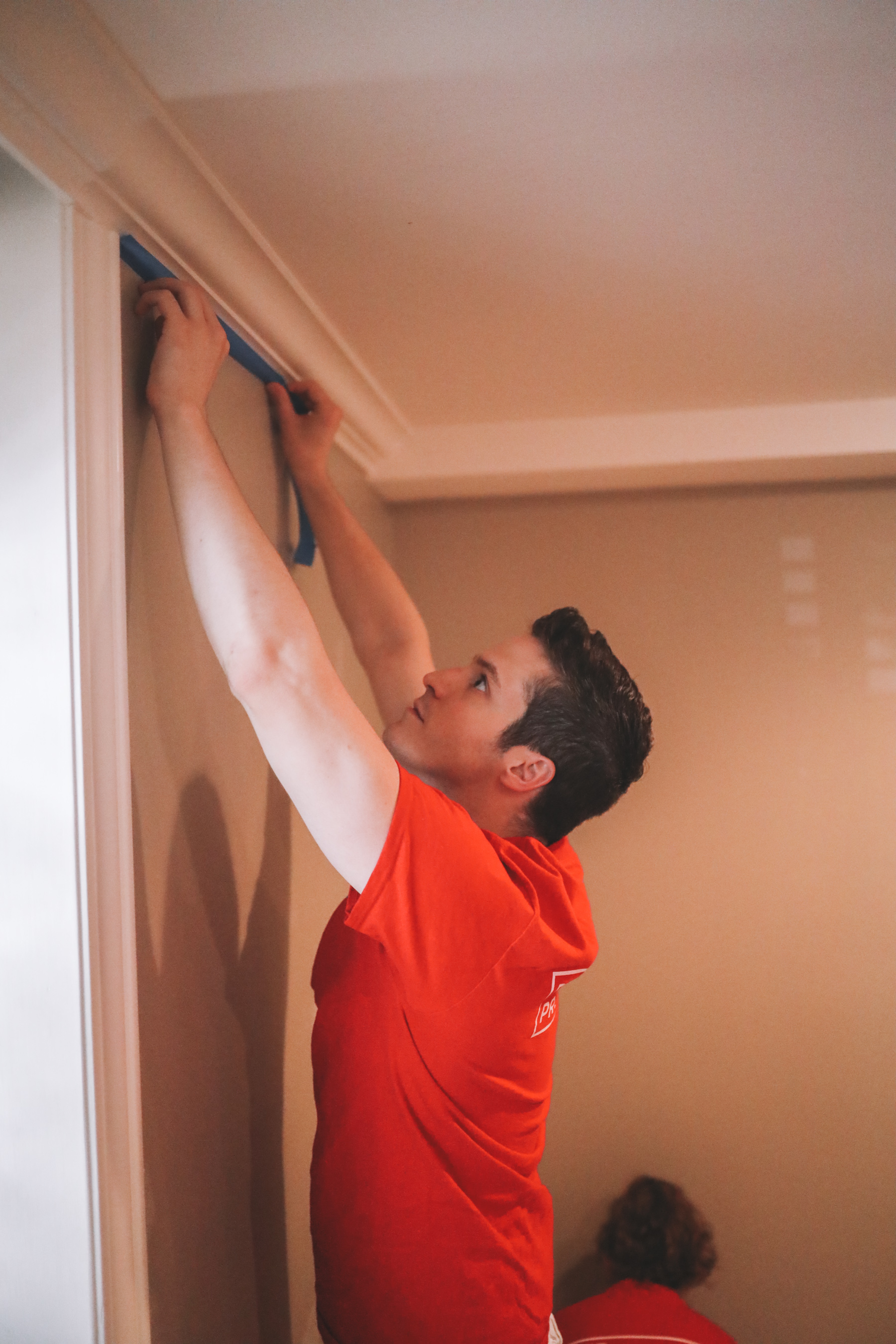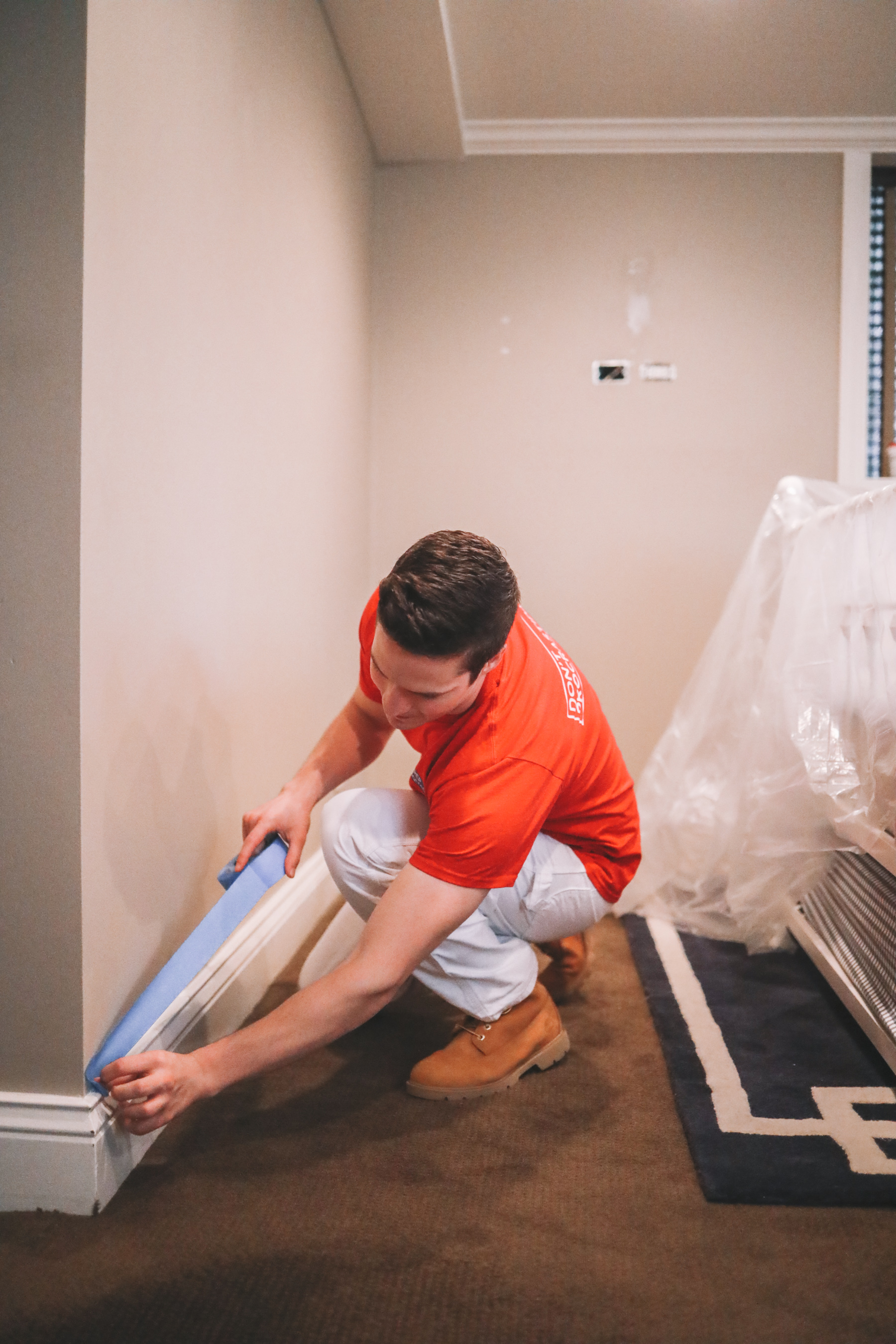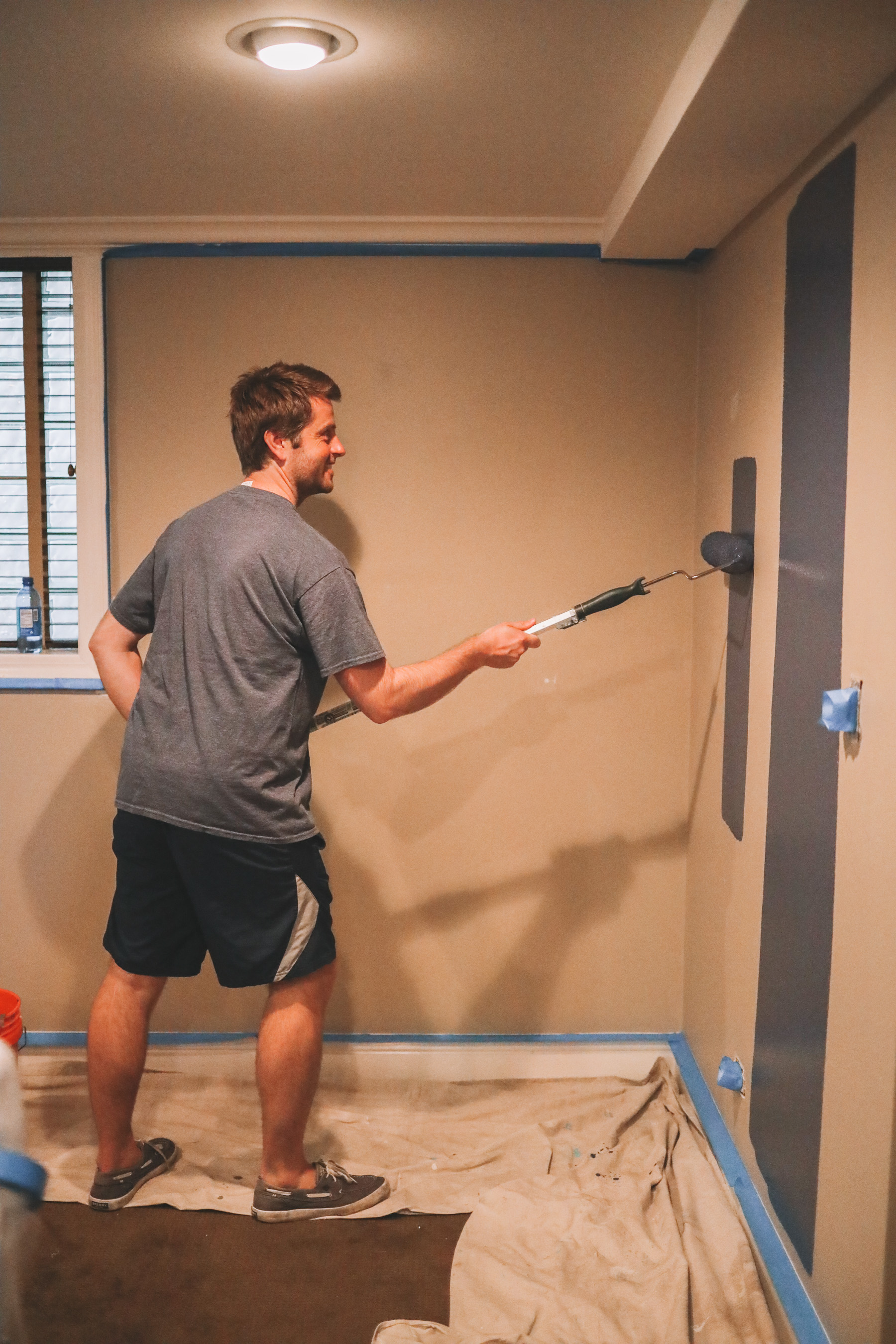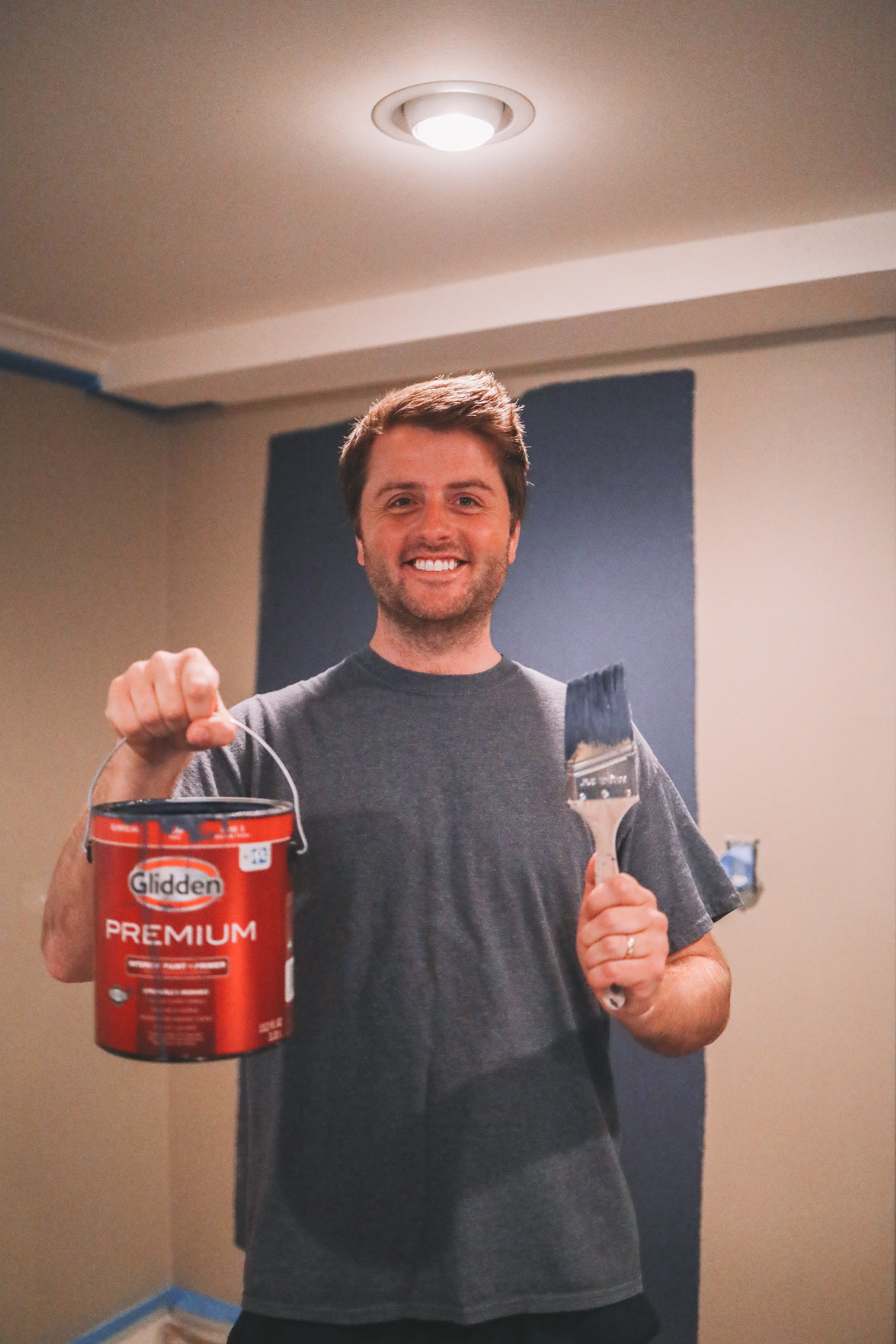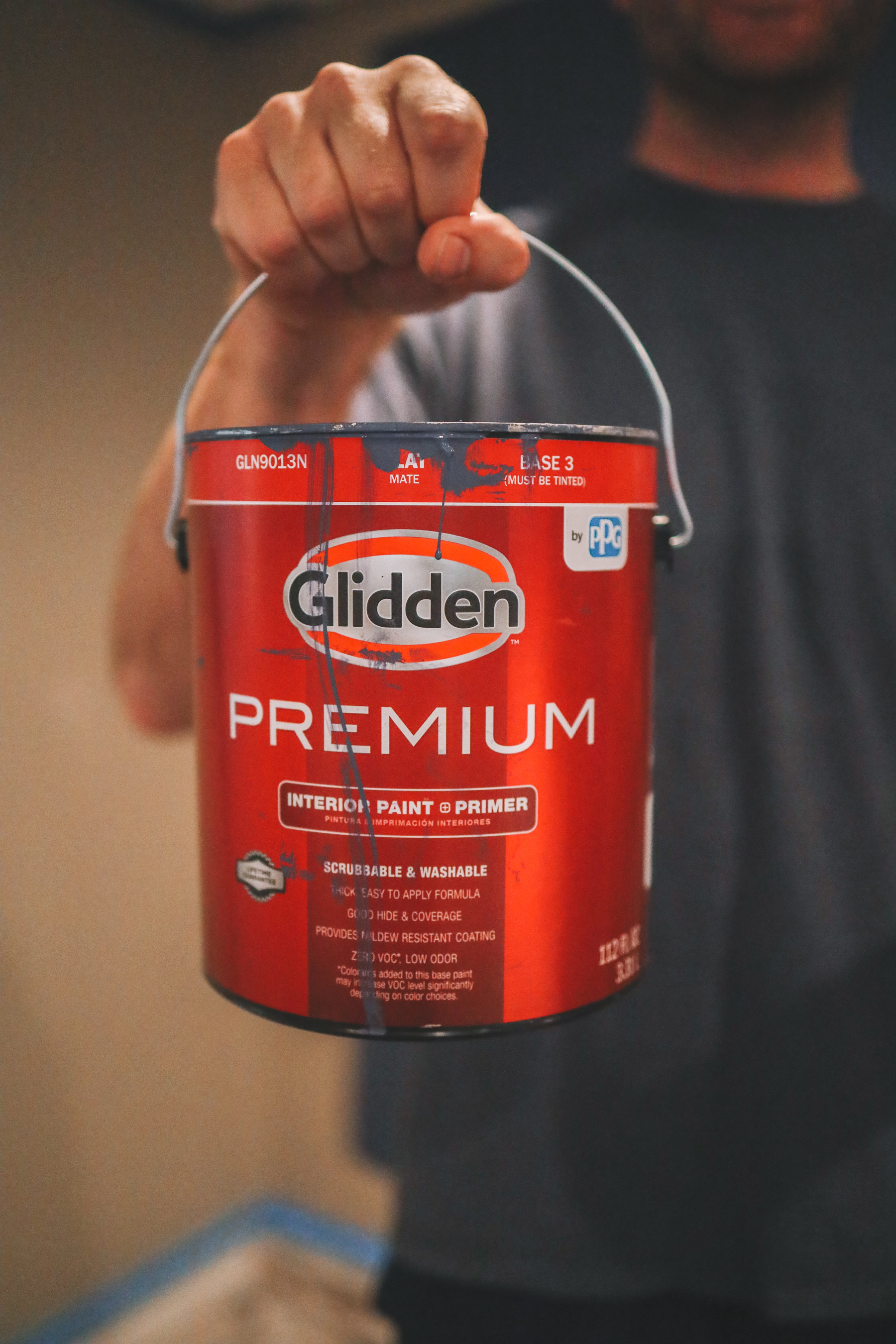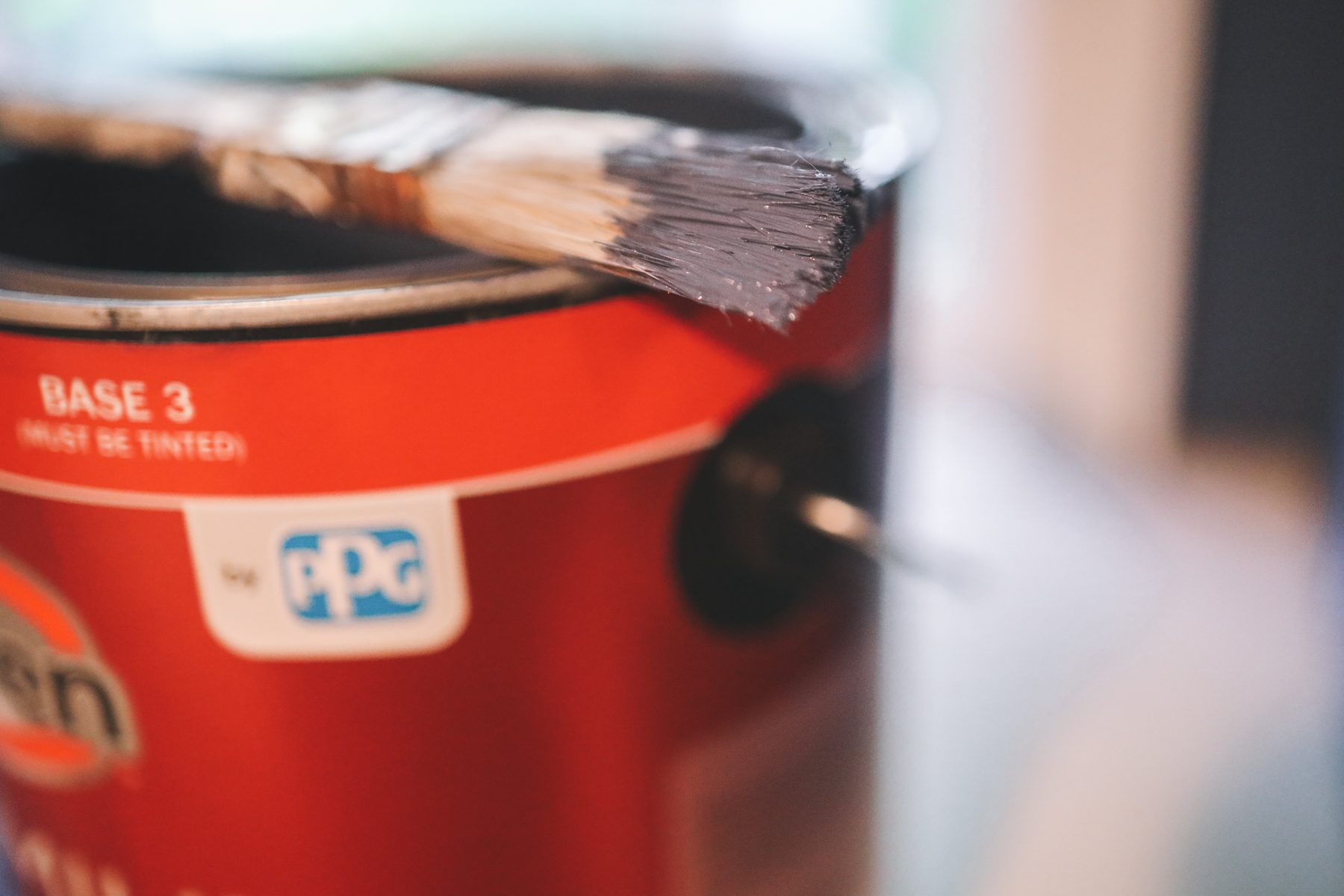 Mitch here!
It's easy to go a little nuts with renovation ideas when house hunting. I remember looking at places thinking "Sure, this house only has two bedrooms and one bath NOW. But if we simply remove all the walls, dig a new basement and add a floor, it would be PERFECT for us."
Hah.
Luckily, we found a house that checked everything off our "must list" without the gut reno. Sure, we knew we'd want to add some things: wallpaper in the bedrooms and beadboard ceiling on the third floor. And a fresh coat of paint in my office. I figured, though, we could bust those out quickly and rest easy. But those of you who follow this blog closely know that little Lucy Larkin joined the team on the same day as the move. Since then, our lives have basically been a freakout tailspin. ;) The projects that could be outsourced were, but the ones that I wanted to tackle on my own–like painting my office–became much more elusive.
I'm fully capable of painting a room. But as much as I'd like to think of myself as a classic handy-man dad spending his weekends fixing up the house, my office painting project got pushed further and further down the to-do list. Before I knew it, two months had passed. And my office had become a dumping ground for all the random junk resulting from a big family move on one of the most chaotic days of our lives.
I needed help, and, lucky for me, that help came in the form of our favorite paint brand, Glidden. Glidden is much more than a paint company. It's the place to go to make any painting project simple and easy. Before Glidden, I was completely overwhelmed (and immobilized) by all the decision making and legwork that the job required. It was a serious case of #procrastipainting. But Glidden made it all so easy! The company has a paint calculator tool which helped me determine how much paint I needed for the project.  Plus, a visualizer tool to select the specific paint color that worked for my space.  And finally, a paint match tool which perfectly matched the office's trim to the rest of the house.
And because I'm the kind of guy who needs an extra special kick in the rear, they even sent over their Glidden Prep Squad to help prepare the office for painting. The Prep Squad was incredible. They spackled and sanded the walls, taped the trim, removed and taped the electrical outlets.  They even covered our furniture to make the job even easier on me. Their help left me with no excuses and the prep made the paint job go super easy.
We went with Glidden's "In the Navy" paint which is beautiful–not too dark, but dark enough that it looks like a true navy.
It's also paint and primer in one, which is why it went on so easily. In all, the project took about half as long as I thought to complete and it totally revitalized the room. It's crazy what a difference a fresh coat of paint makes, and my office is now my favorite room in the house. No more working from the kitchen table!
We still have a good deal of decorating and furnishing to do throughout the house.  But each one of these little victories gets us closer to the finish line. As I settle in to my office, I'll share more details on the space including how I wired it for speakers, chose furniture, the "rug saga," and where we sourced these awesome frames. But for now, I'm going to sit back and take it all in.
Twelve years after graduating from college and entering the working world, I finally have my own office!
Mitch. OUT!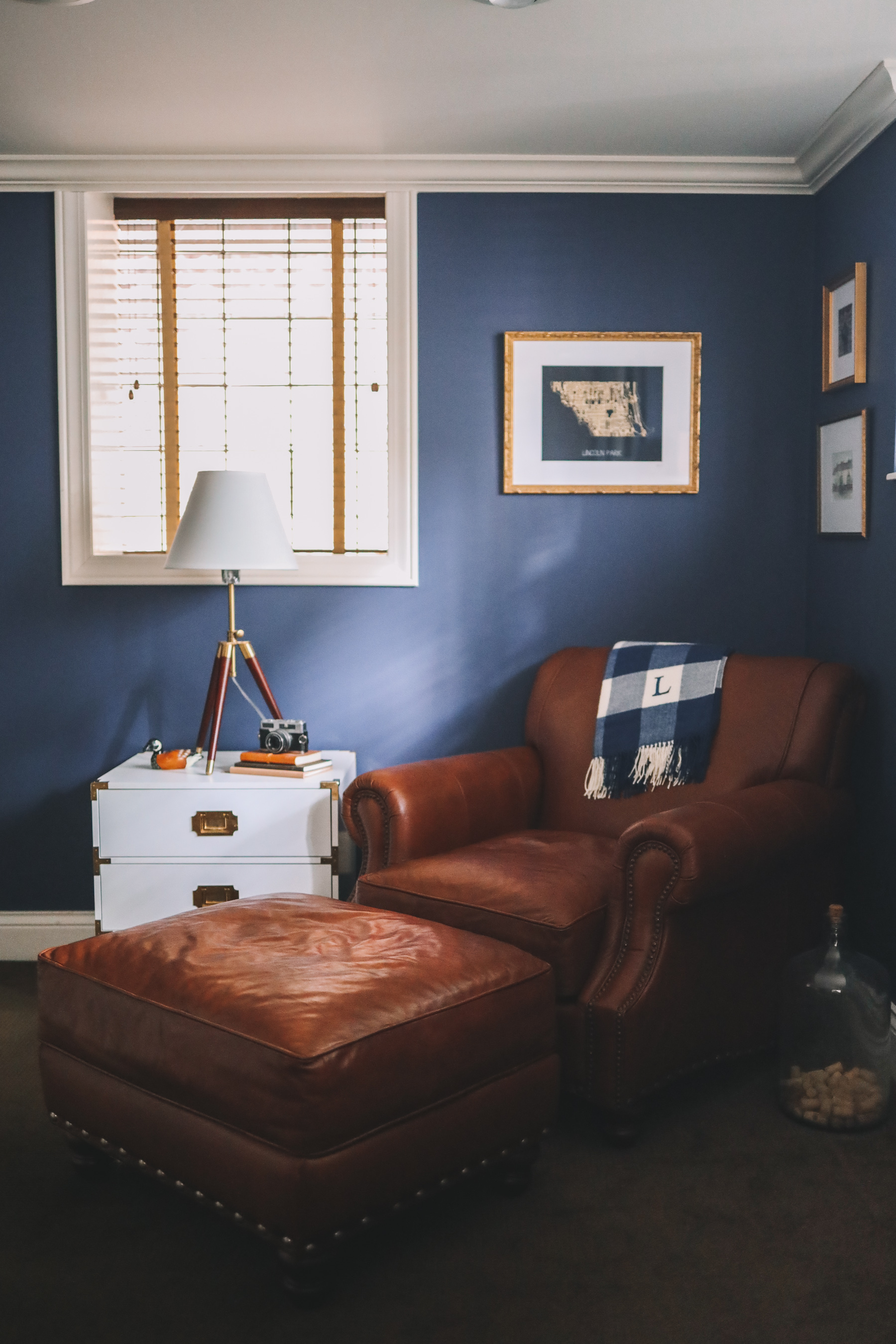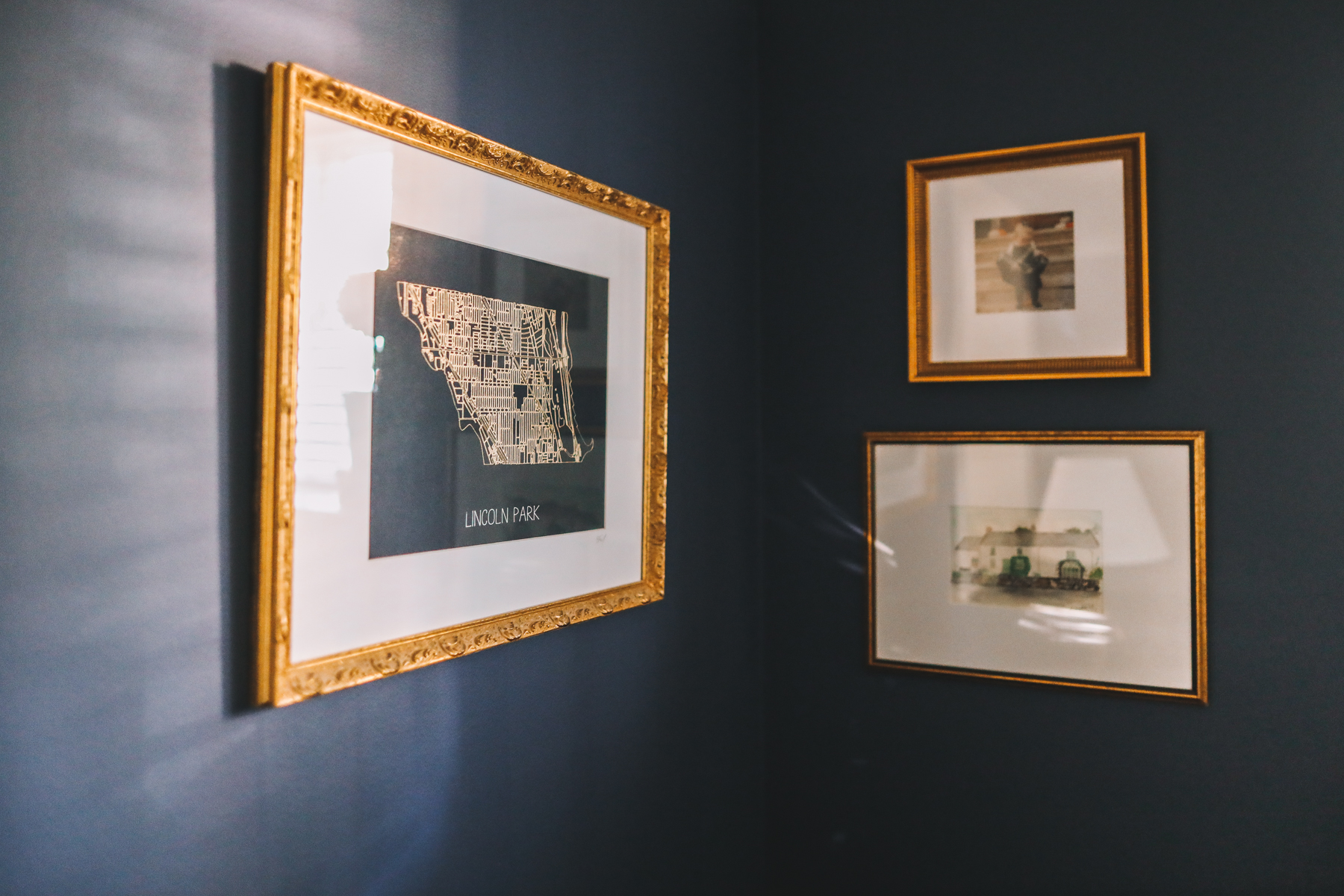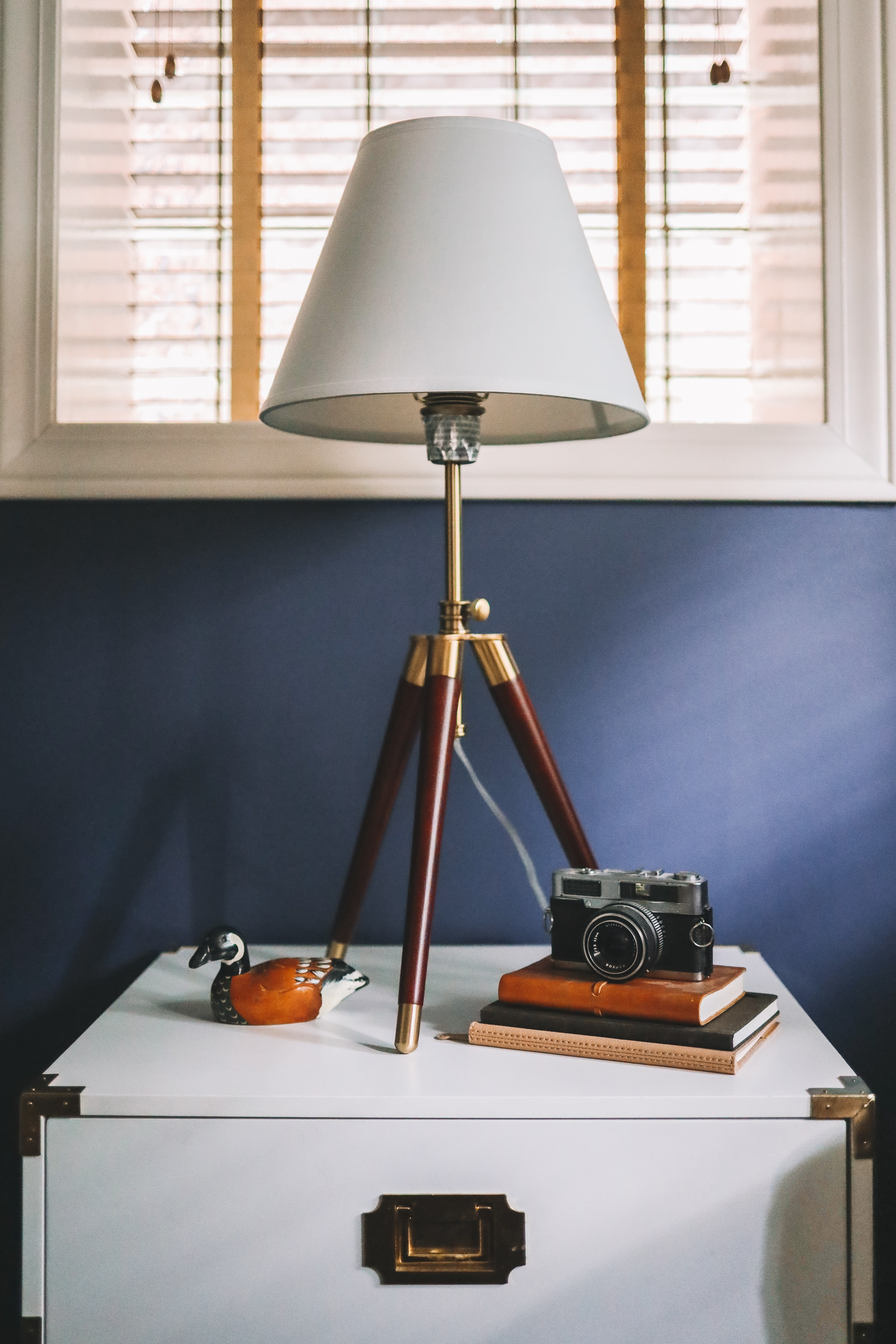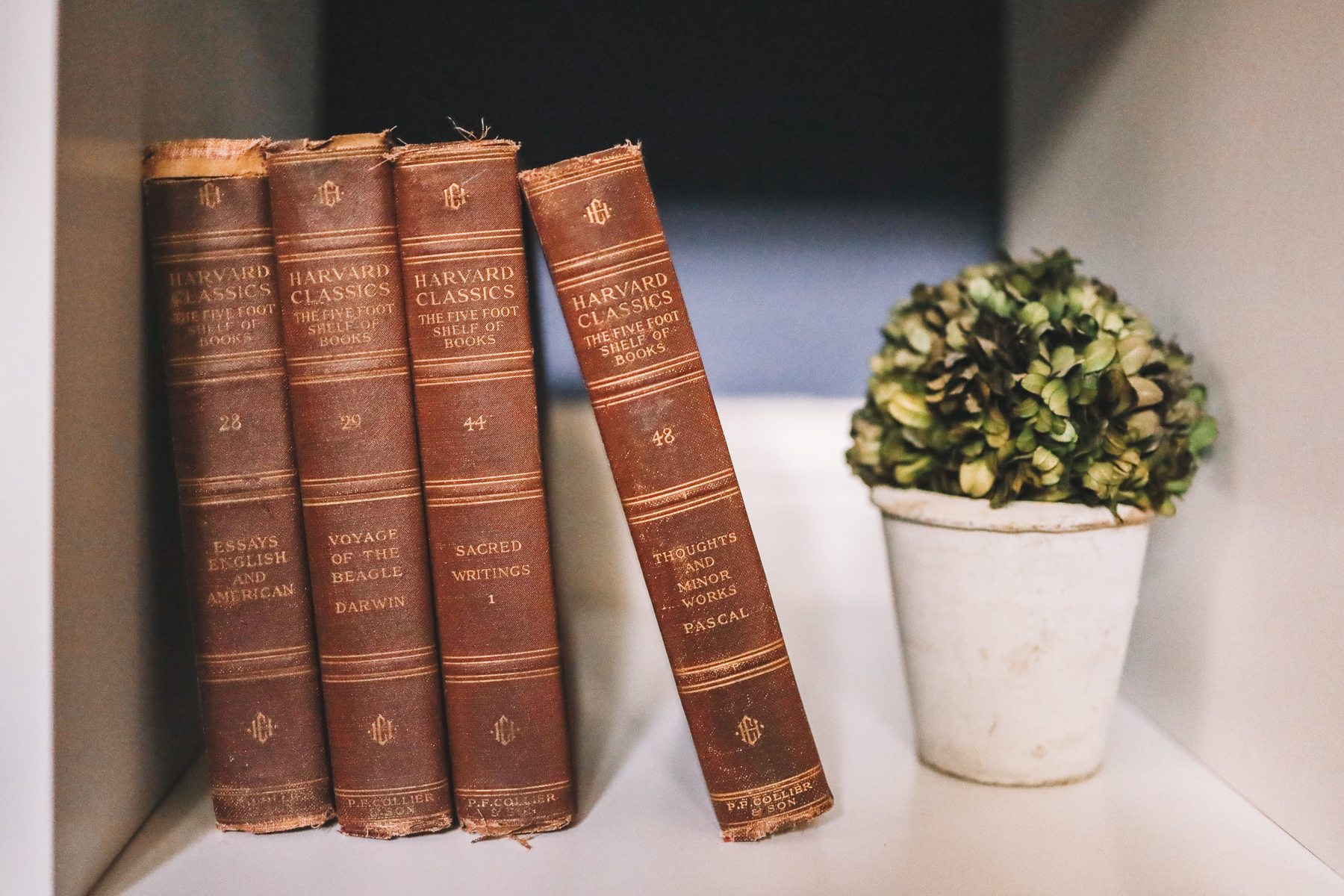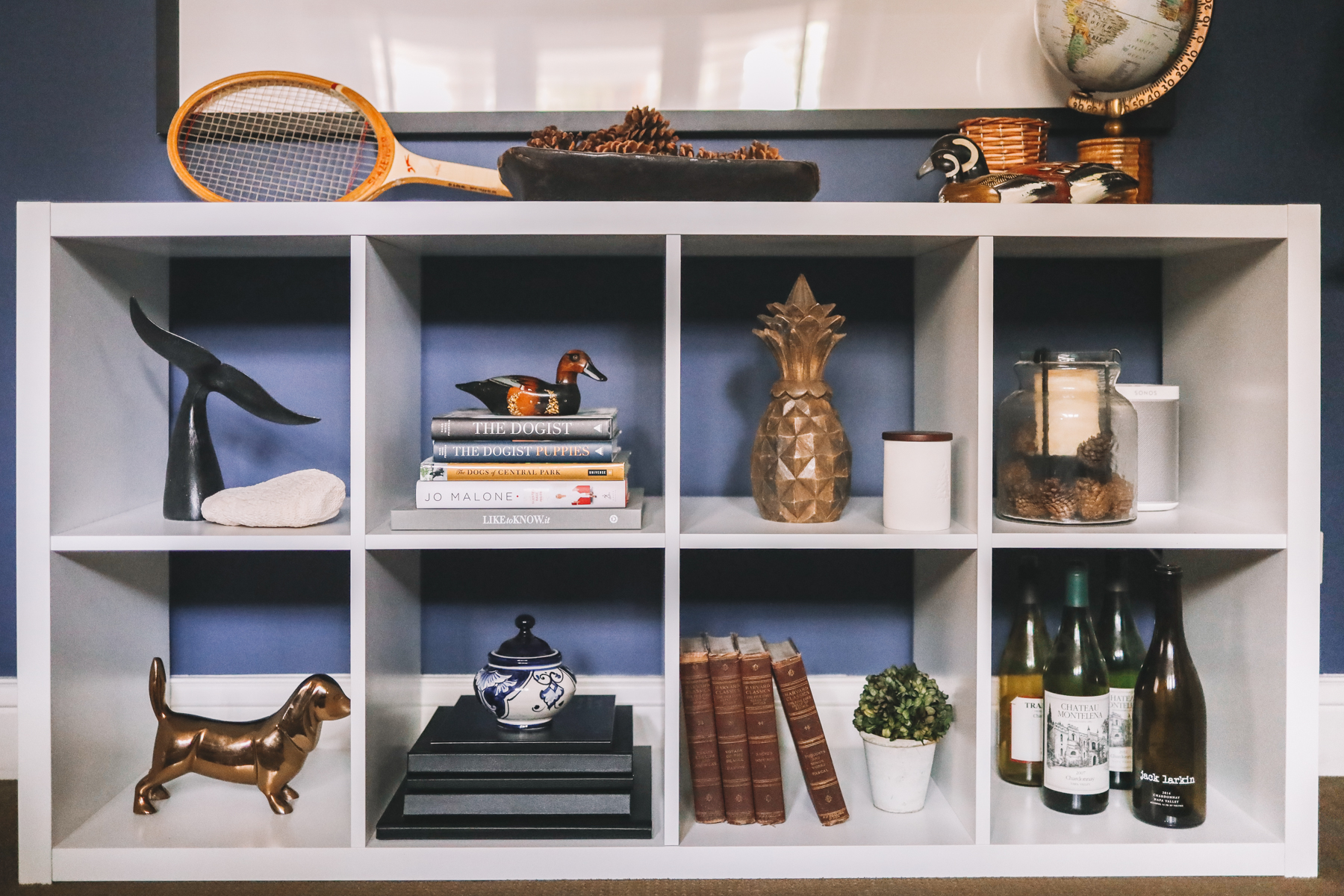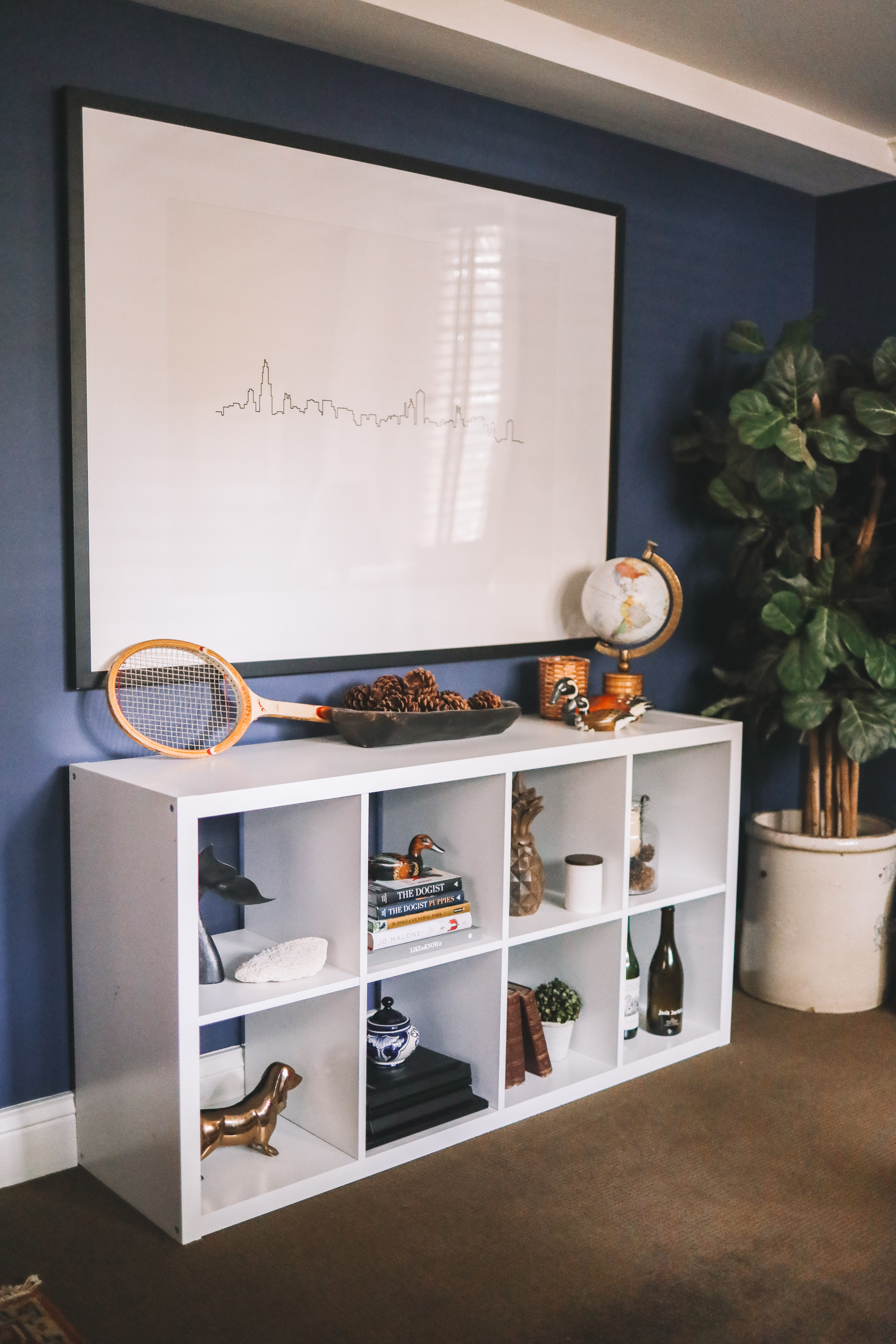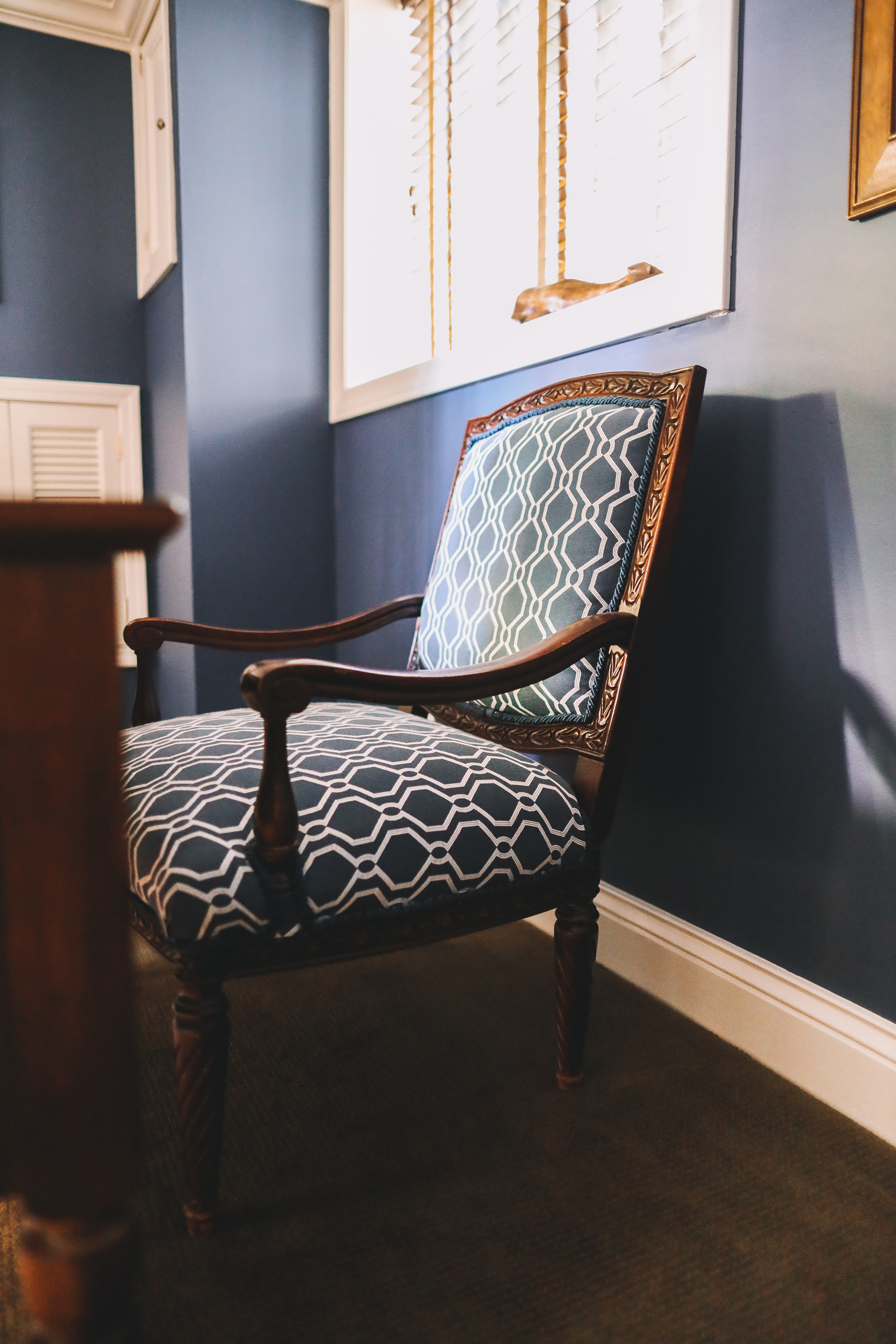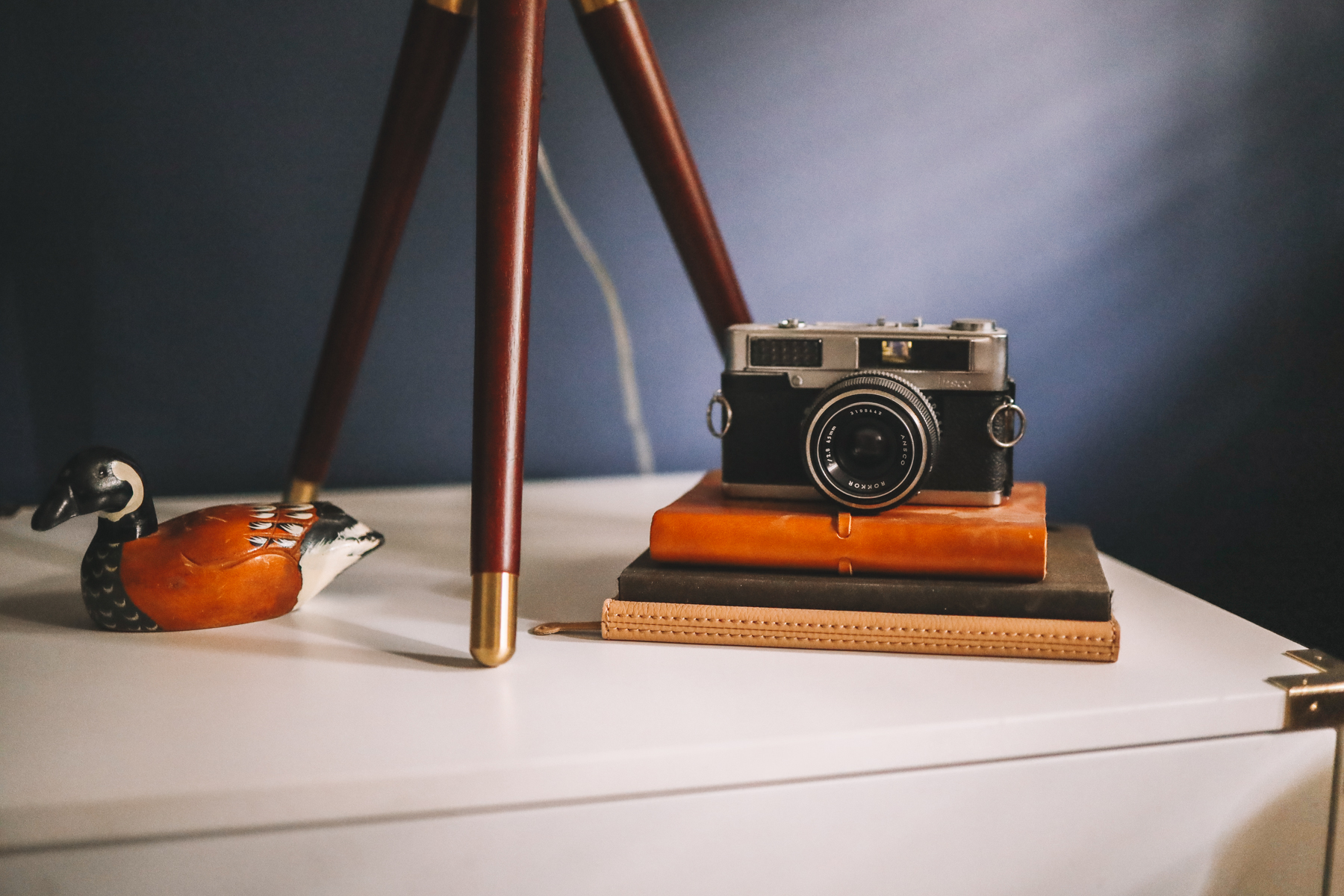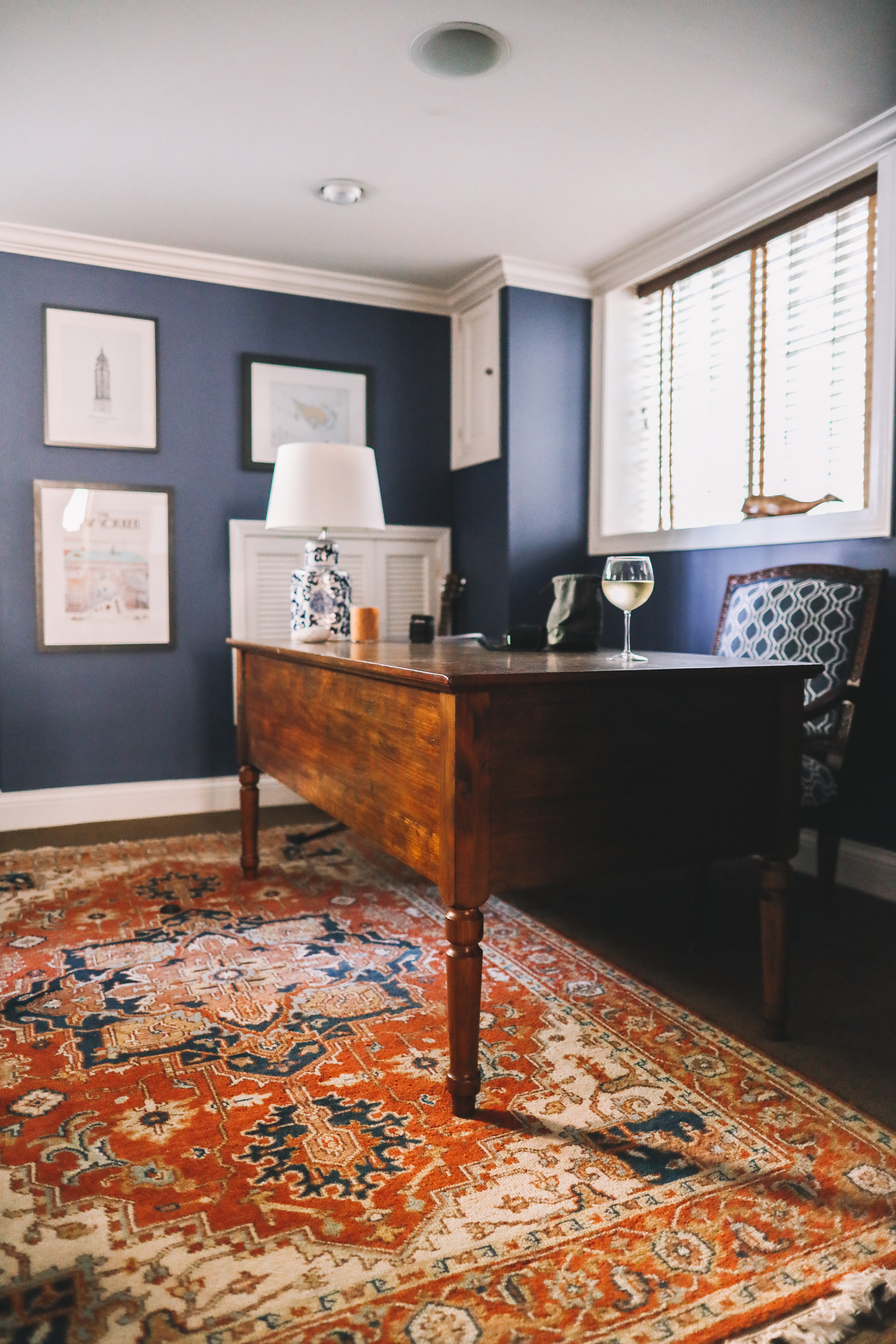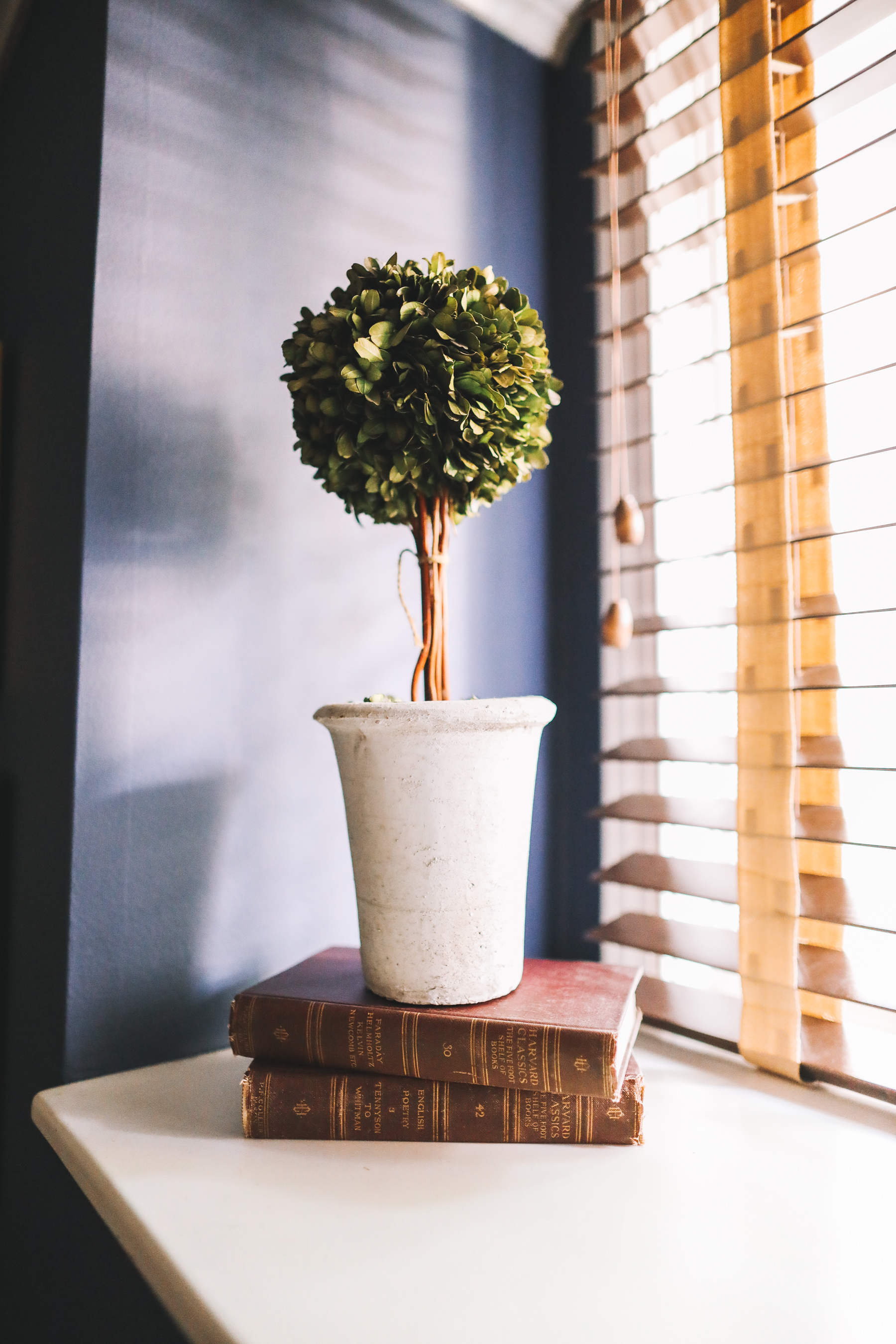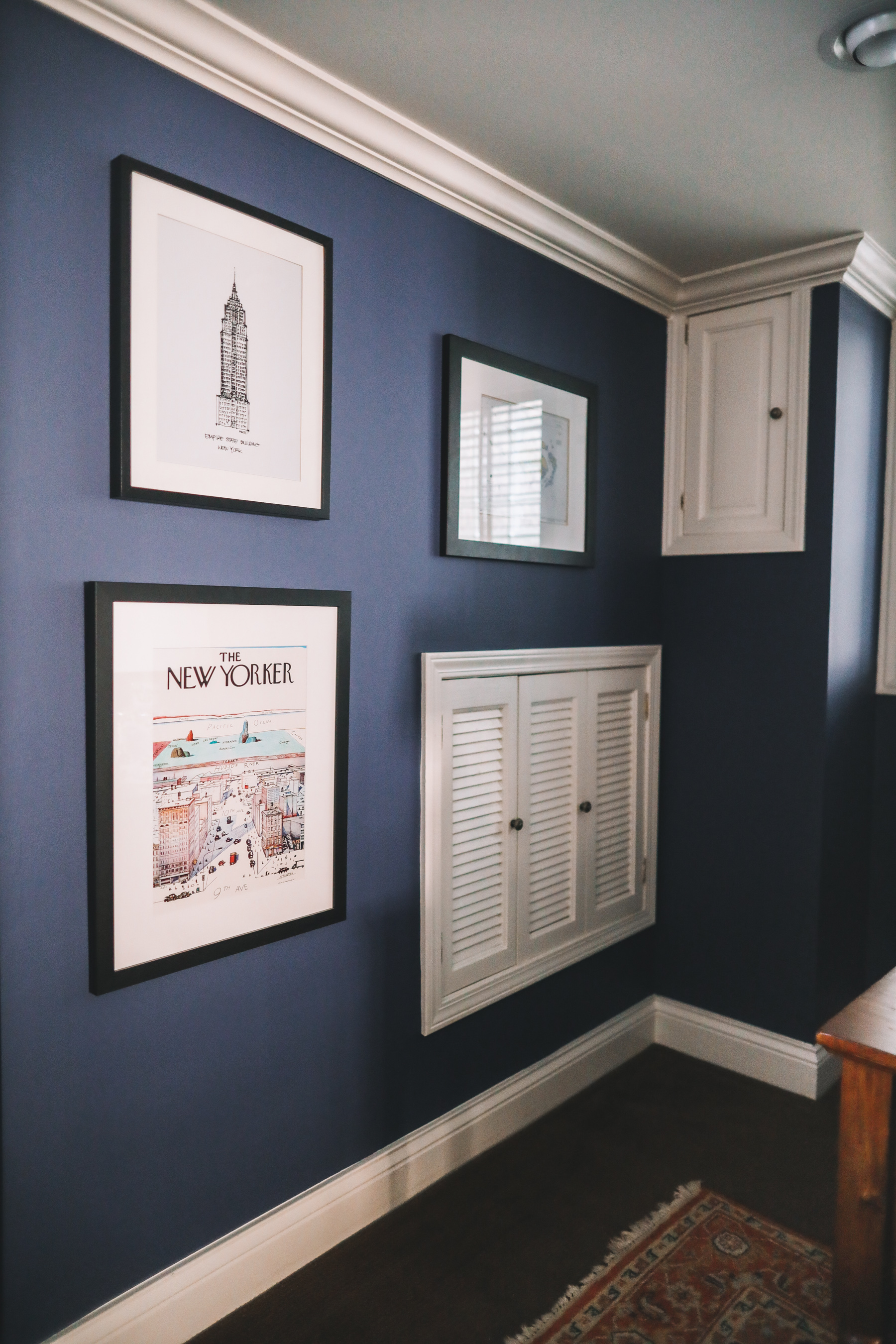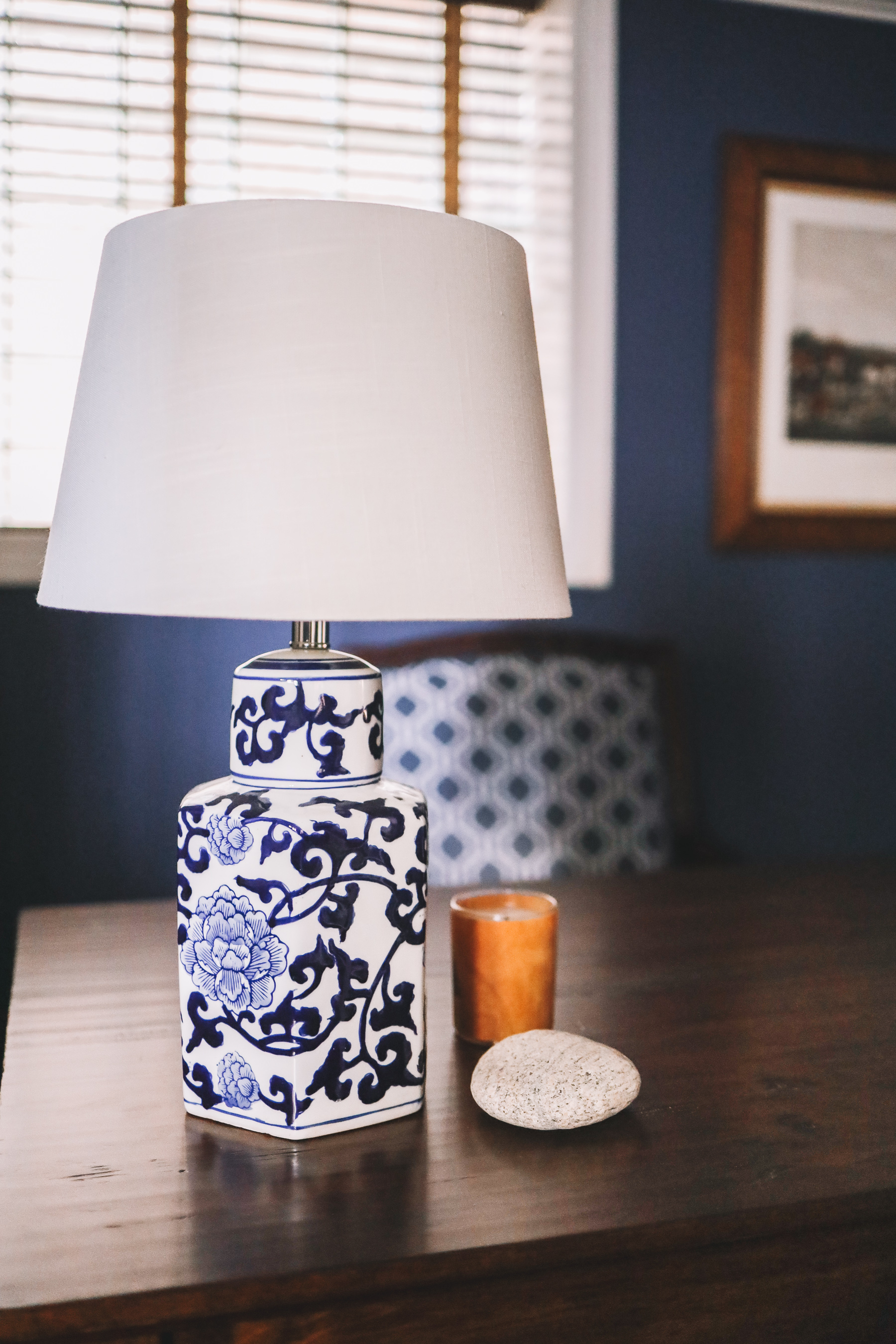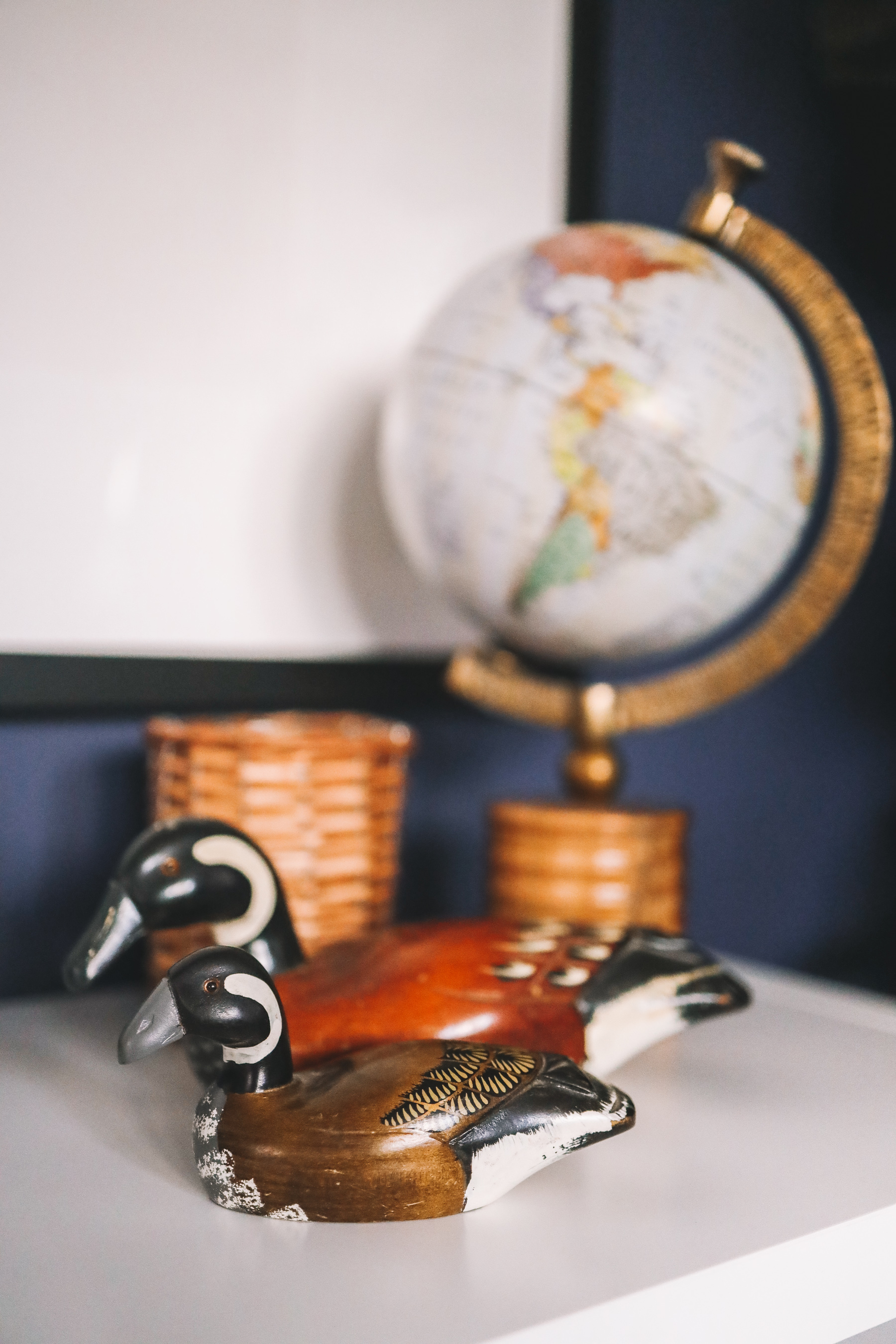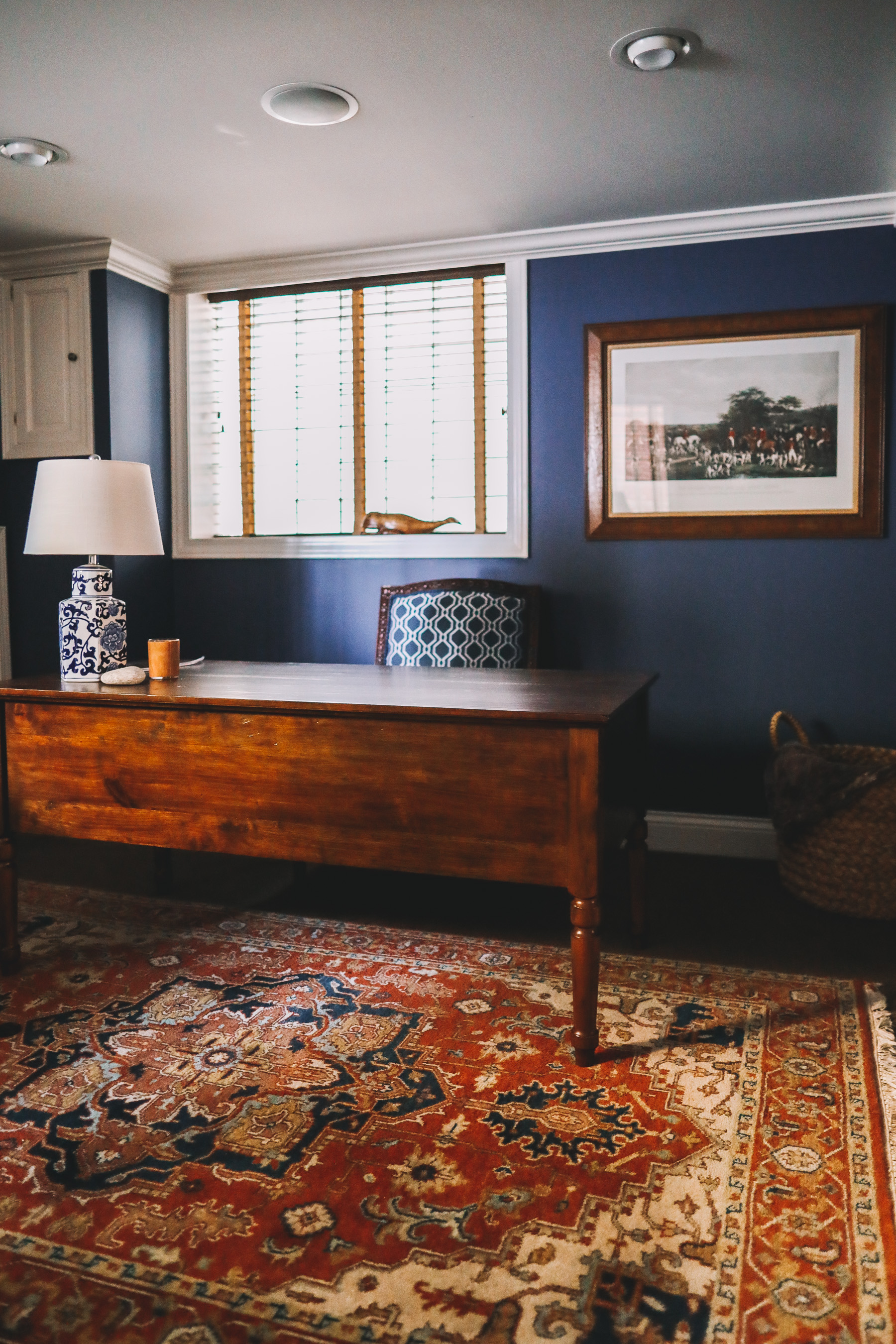 Paint color: "In the Navy" (Color #50BB 10/147) by Glidden
This post is sponsored by Glidden, but all opinions are my own. As always, thank you so, so much for supporting the partnerships that keep Kelly in the City up and running!