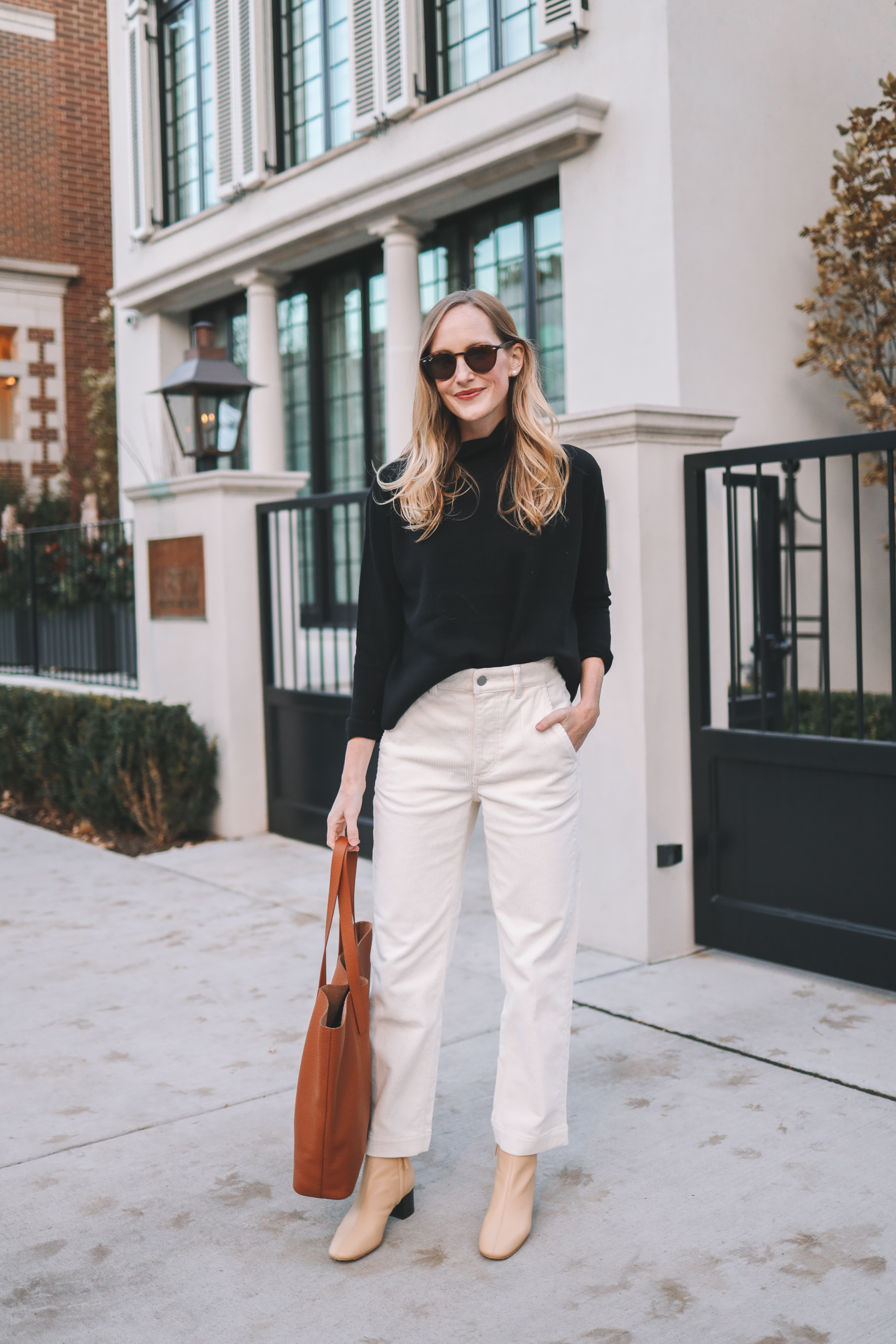 Everlane Soft Day Tote / Cashmere Square Turtleneck (I also have this one, which I ADORE. Here's the non-boxy version.) / ReDown Sleeping Bag Puffer Coat (Runs large. Go at least one size down.) / Straight Leg Crop Corduroys / The "Day" Boot
I'm loving today's post because…
A) We snapped these photos during a gorgeous 50-degree day. I'm normally freezing during shoots this time of the year, and Mitch has to bribe me with candy to take pics. (Works like a charm every time. I'm a child. 😜) Of course, I know that temps are destined to plummet soon. But the holidays are just SO lovely when you aren't worrying about frostbite. ;)
B) LUCY GOT HER HELMET OFF YESTERDAY. I have so much to say about this, but I'm going to wait until after Thanksgiving to publish a wrap-up post. (Things are a little hectic for us right now, and I want to be able to devote a lot of thought to it.) But we're just so, so happy that we did it and that it worked! We're also so, so happy about kissing and snuggling her head, haha. I couldn't put Lucy down yesterday!
C) Everlane's new line is amazing! In case you haven't heard of Everlane, the company is known for its incredibly well-made and fairly priced products, all of which are produced at ethical factories around the world and many of which are sustainably sourced. (The reNew and re:Down lines are the best!) How do they do it? They cut out the middleman and the brick-and-mortar storefront. Which is why they can price a gorgeous cashmere sweater, for example, at $100 instead of at $225, which is what you could expect to find elsewhere at more traditional stores.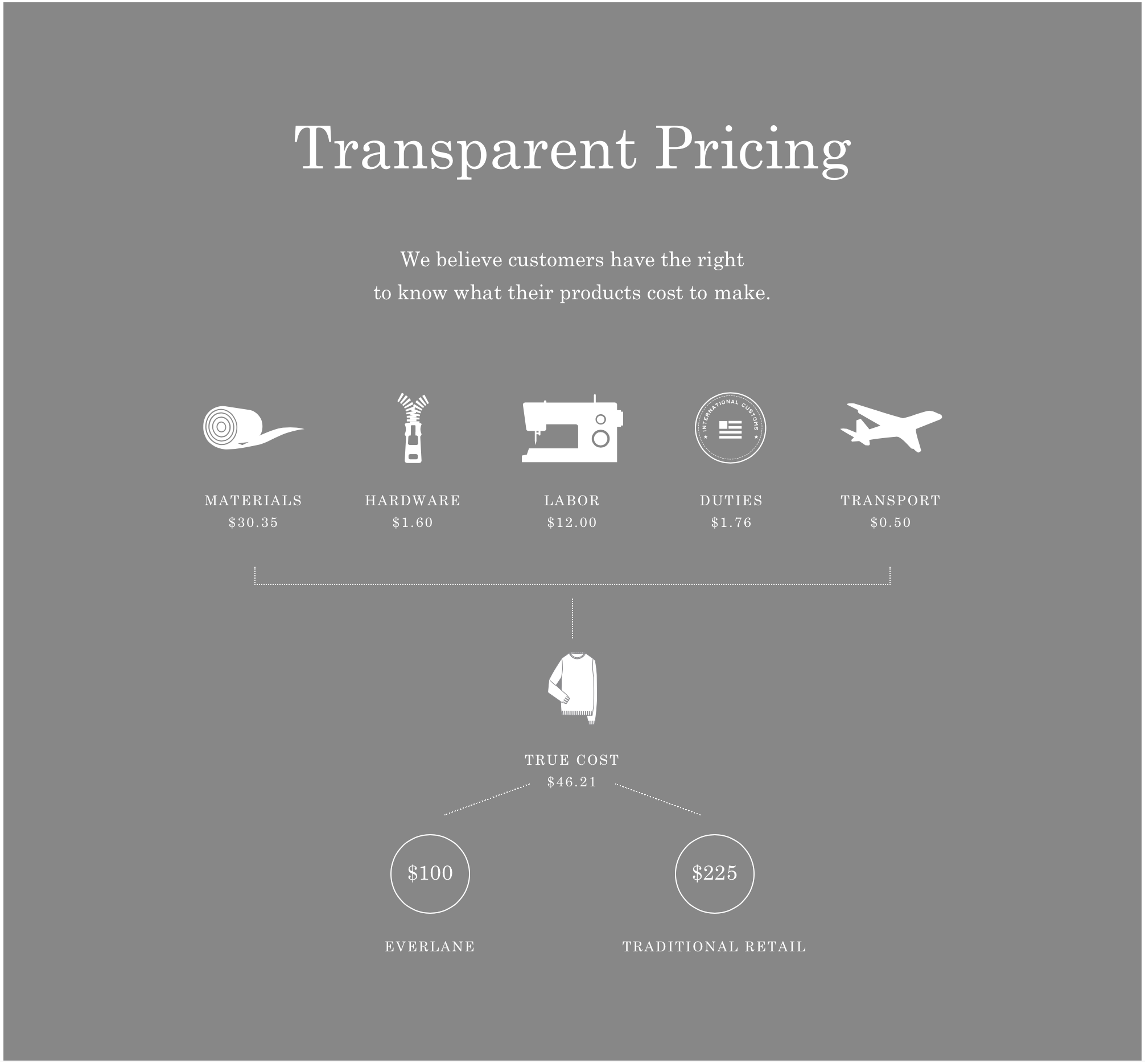 I so appreciate Everlane's transparency about pricing!
Pretty awesome, right? Everlane's timeless products are designed to last years–even decades, according to the brand–and I truly believe that the stuff I own will do so. It's just so nice, and the attention to detail is phenomenal.
A few of my favorite Everlane products:
Everlane Soft Day Tote: I got this yesterday! Which is funny because in yesterday's blog post, I was saying that I typically like faux leather totes because they're so much nicer to the touch. But Everlane's Soft Day Tote features real leather and, as its name suggests, is incredibly soft. Two thumbs up from me. Would make for a wonderful gift, too. I'm really hoping that down the line, Everlane starts carrying it in different colors. Wouldn't red be awesome?!
Cashmere Square Turtleneck: I'm wearing this as we speak. Which means yes, I'm wearing it two days in a row, but it's thick and soft, and it French tucks perfectly into high-waisted jeans. It's even cuter when you cuff the sleeves a little. Definitely a basic that I'll have in my closet for a long, long time. In terms of sizing, it's a little oversized, so I went down one size. (Btw: I also have this one, which I ADORE. It keeps selling out, though, so if you're head over heels with it and it's available in your size, grab it now! And here's the non-boxy version of the one I'm wearing.)
ReDown Sleeping Bag Puffer Coat: YES TO THIS. I need to be straight with you: I wear a puffer from November to May here in Chicago. Yes, I'll wear wool coats when I know that I'll only be outside for a few minutes at a time, say while running from the house to the car or an Uber. But if I'm going to be spending more than 10 minutes exposed to the elements, it's a puffer day. I have a love/hate relationship with them. On one hand, they're gifts from the gods because they allow me to live in Chicago, which is one of the coldest places in the country. On the other hand, though, it's hard to find ones that are well-made, effective and cute. But boom! Everlane came out with a puffer that's:
WARM. They call it a sleeping bag, and for good reason. Its long length provides for maximum warmth, as does the recycled down and feather fill. And it's recommended for 10- to 30-degree temps.
Cute! I mean, look at it! Since it was 50 degrees yesterday, I really only brought it along so I could take a photo for you. But I love that it has a feminine cut, and that collar makes it special, too!
Lightweight. Which is crazy considering the length. I can also punch it into a ball and shove it under the stroller no problem. Tested that yesterday. ;)
Sustainable. Again, its fill is made up of recycled down and feathers, and its shell is recycled polyester.
Machine-washable. Yes, Moms! You can wear a white coat again. :)
My only bit of advice when ordering is to size down. It's very oversized. I normally wear a size Small or XS in outerwear, and I had to size down to an XXS in this puffer. Sleeve length was not an issue.
Straight Leg Crop Corduroys: Look at me being trendy! I've been reluctant to getting on the straight-leg bandwagon, but I took a chance and ordered these because a bunch of my friends have them and love them. Aren't they cute?! I'm not sure I'd wear flats with them, just because they might make me look stubby? Haha — but with boots or a low chunky heel, I think they look fab! I have a deep love for corduroy, and I love that these come in a bunch of colors! (The brown might be in my future as well.) In terms of sizing, I'd say they run TTS. I went up one size as I always do with high-rise jeans and pants because I like to have a little extra room in the waist area.
The "Day" Boot: Hands down, this is the most comfortable bootie to have ever existed. It's made of gorgeous, buttery soft leather, and I love my boots so much that I now might own three pairs. (The cognac, white and ecru colors!) If your feet often give you trouble, I can't recommend these more. Frankly, they're life-changing. They run TTS. I go up a half size, though, so I can wear thick socks with them because CHICAGO. :(
Knee-High Boot: I don't have these yet but mark my words, you'll see them whenever they come back in stock! I think they feature the same leather as the Day Boot, which would make them the world's comfiest knee-high boot. PLEASE, EVERLANE. Bring them back! ;)
The Teddy Crewneck Sweater: This is SUCH a great sweater, and it makes for a great gift. (That texture! So fun.) I have it in "Cider," but I genuinely like all the colors. I ordered my normal size.
Shrunken Cashmere Sweatshirt: This is definitely in my future. I love the ivory one!
ReCashmere Stroopwafel Turtleneck Sweater and Crewneck Sweater: Again, grab these if you see 'em in your size because as I mentioned earlier, they keep selling out! I had last year's version and loved it, so this year, I picked up the turtleneck in "Heathered Sand," and I get a ton of questions about it when I wear it out. Gorgeous! I went down a size in this because it's a bit oversized.
Boss Bag: Don't have this but I love it in the white color! It fits a 15-inch laptop, too, which is CRAY.
Cashmere Turtleneck Dress: I wear this exactly how the model wears it: with a white shirt underneath. I also pair it with over-the-knee boots to stay warm. Is it not the cutest?!
ReNew Channeled Liner: This is on my list, too! It's a sustainable jacket that can be worn on its own or layered underneath other coats and jackets. And it's apparently packable!
Mockneck Flannel Top: Just saw this and think it's adorable. As you know, I'm freezing all the time. But this FLANNEL looks dressy enough to wear out at night!
Day Loafer: Same great leather that the Day Boots are made out of. Love the caramel, white and black colors.
Shop the post:
Everlane Soft Day Tote / Cashmere Square Turtleneck (I also have this one, which I ADORE. Here's the non-boxy version.) / ReDown Sleeping Bag Puffer Coat (Runs large. Go at least one size down.) / Straight Leg Crop Corduroys / The "Day" Boot

This post is sponsored by Everlane; all opinions are my own. As always, thank you so much for supporting the partnerships that keep Kelly in the City up and running!