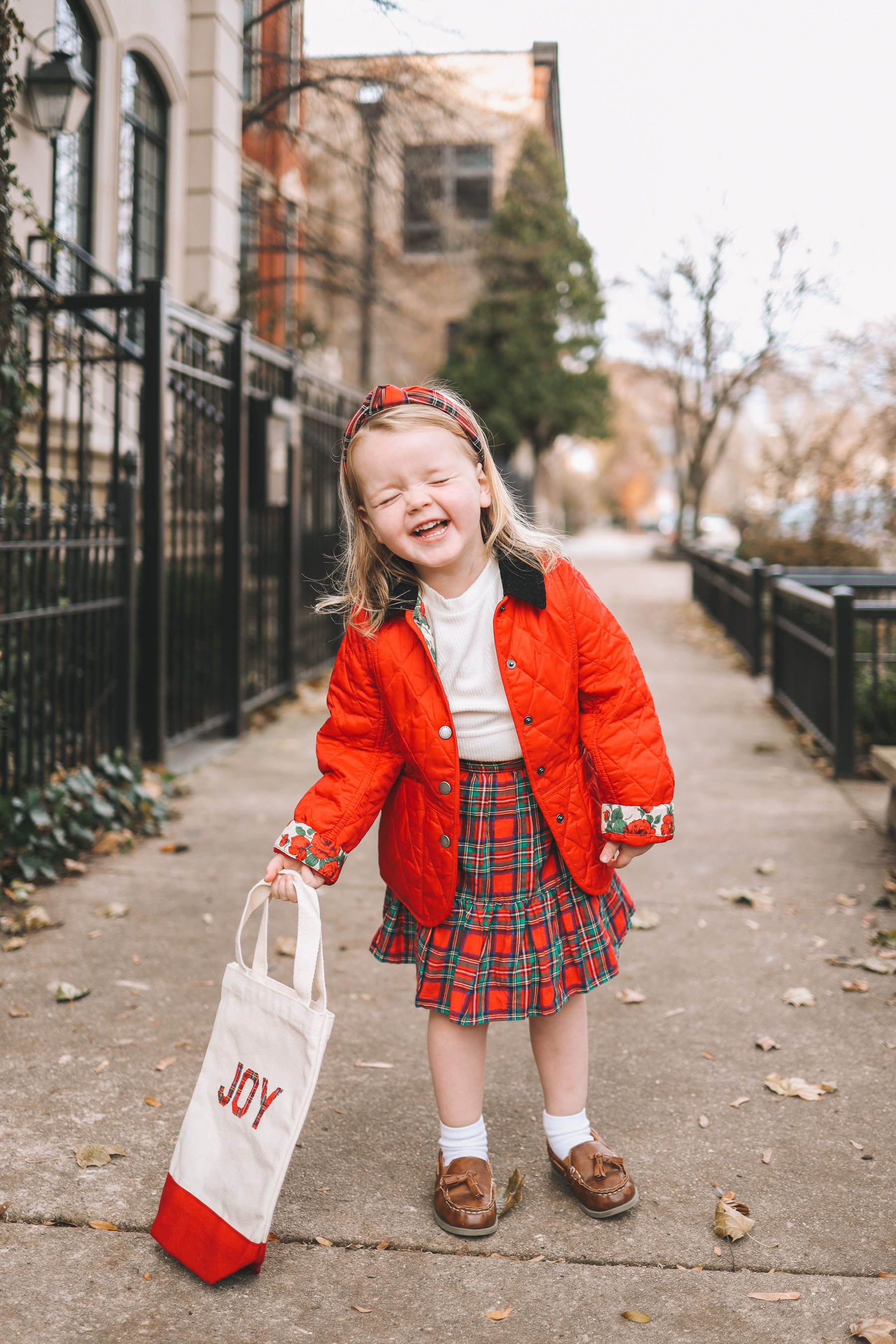 Kids' Barbour Jacket / Toddler Loafers / Tartan Skirt / Fleece Top / Tote / Tartan Headband
One of my most frequently asked questions is where Emma's Barbour jacket is from.
It's SO CUTE. Like, I'm sorry, but I can't think of anything more adorable than a baby or a toddler in a Barbour coat. And is there any better holiday gift?! (More so for the mom. But if you attach a little toy to the package, you win both the hearts of the mom and the kid.)
Unfortunately, though, Barbour doesn't technically carry kids' clothing in the United States. Yes, you can sometimes get lucky at a random store, and they'll have a couple. But every manager or employee I've ever spoken to about it has always said, "Gotta go to Europe for that." 🙈 Yeah no.
It's a bummer. However, there's another option: eBay! Honestly, it's probably better than buying direct from the retailer, because let's face it. Barbour is pricey! When you buy through eBay, though, the savings can be incredible. Which is nice because kids grow out of clothing quickly!
That said, you can get more out of Barbour kids' jackets two ways:
Buy a size up. Right now, Emma wears a girls' XXS, which says fits children ages 2-3. But I buy her a size XS (ages 4-5) and simply cuff the sleeves. (The jacket you see in these photos is in a size XS!) She likely be able to wear it until she's six years old as Barbour kids' jackets do seem to run slightly big.
Select a jacket that can be passed down from kid to kid if you have more than one child. (The quality is off the charts, so it'll definitely hold up for more than one owner!) We have two girls, so we were able to go the feminine route with this one. (Btw: We'll likely get six years of wear out of the jacket! Woo!) A more classic cut and style, however, would work perfectly for siblings of both sexes.

Here are my best tips for finding deals on kids' Barbour jackets via eBay:
Know what the jacket retails for and determine what you want to spend
Kids' Barbour jackets usually retail for anywhere from $75 to $200, but I've seen prices on eBay for as low as $25 (used) and $50 (new). A quick Google search will provide you with how much the particular jacket you're looking at retails for. Hard-to-find and popular jackets might actually be priced higher than the original retail price, whereas other styles might be discounted.
Narrow your search using eBay's filters and search bar
It's actually SUPER easy. Type in the name of the product you're looking for (e.g. "Barbour Kids Beadnell") and then tailor the search by selecting from preferences such as size, gender, buying format, and item location. Pretty cool!
Decide whether your more comfortable with the "Buy it Now" or "Accepts Offers" buying format
For the first, you obviously don't have to deal with other bidders; the jacket is yours upon checking out. For the second, you're up against other potential buyers… and while you might end up losing the jacket, you also might get a really good deal! If you'd be heartbroken to lose the kids' jacket of your dreams, haha, perhaps "Buy it Now" is the better route. If there are several listed jackets that appeal to you, however, maybe making an offer makes more sense! (This mom LOVES a good deal, so she usually likes making offers. But it's a personal preference, for sure!)
Pay attention to the Condition description and the Photos included in the listing
Both are super important! Perhaps small defects don't matter to you, and you'd gladly take the discount that comes along with them. Or maybe they do matter to you. (Personally, I feel like kids mess things up pretty quickly, so depending on the issue, I would likely be a-okay with it.) Either way, take note of the descriptions and photos for anything that might be a deal-breaker for you.
Consider sellers' reviews
This is a big one! Look for a seller with mostly positive reviews to increase your chances of having a positive buying experience. :)

So yeah! Whether you're shopping for your own child or someone else's this holiday season, eBay really does have it all. Above, you can find some amazing deals on some toys that'll be sure to please. I'm actually having a really hard time narrowing it all down! HELP! ;)
And with that, here are one zillion photos of Emma in her Barbour because I really just want my mom to be able to see all of them. 😂
xoxo
Shop the post:
Kids' Barbour Jacket / Toddler Loafers / Tartan Skirt / Fleece Top / Tote / Tartan Headband

This post is sponsored by eBay; all opinions are my own. As always, thank you so, so much for supporting the partnerships that keep Kelly in the City up and running–especially during the holiday season! <3