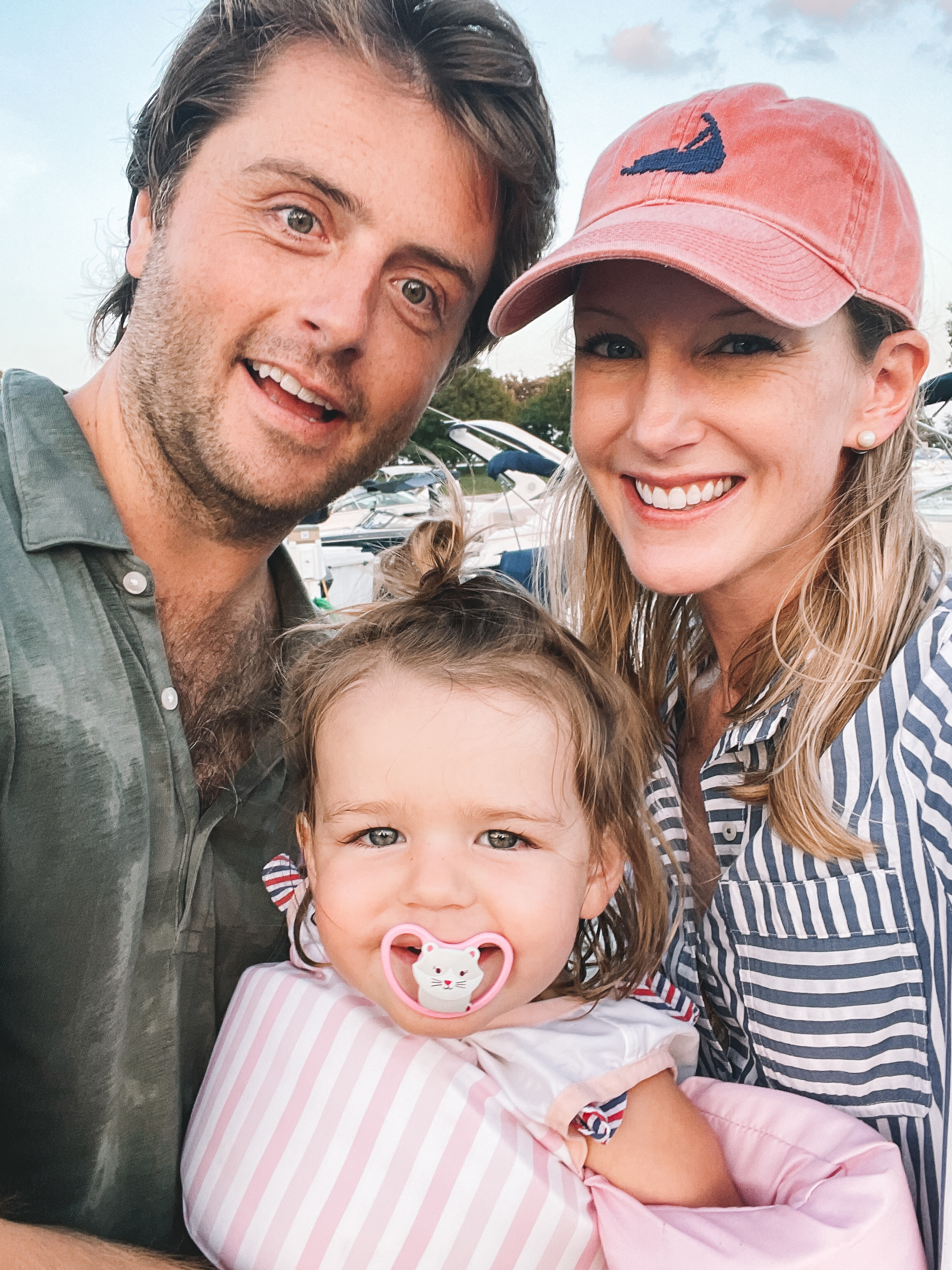 Did you know that Smathers and Branson needlepoint hats are on Amazon?! You can also find them via Tuckernuck.
Continuing on from yesterday's post…
We're headed down to my in-laws' lake house this coming weekend, and I had a revelation while thinking about what to pack: Why don't we just leave some stuff down there? Not a ton! Just some bathing suits, dresses, sweatshirts, jeans, pajamas, underwear, etc.—and boom. Packing becomes almost unnecessary, and it makes trips so much easier.
What's on your bucket list for the fall? Just off the top of my head…

Have fires/movies on the patio. (We're trying to get the projector set up this week or next! Experienced a few hiccups.)
Visit an apple or pumpkin patch. (Mostly to eat the apple cider doughnuts. Would also be fun to make apple pie!)
Read two books. (Need realistic #momgoals here, guys.)
Ride my bike every day.
Walk Noodle every day with Emma, Lucy or Mitch. (Or everyone!)
Make a fall family video.
Break out the fall decor ON TIME. (Ha.) 
Drive up to the North Shore for our annual fall excursion. (It's so pretty up there!)
Photography: Document fall in Chicago.

I need a good gift for Mitch's birthday in October! Anyone get their guy something special recently? I'm all ears! (And don't worry. No way he reads this, haha!)
Miracle hair product alert: "Don't Blow It" Fine Hair Air Dry Styler by Bumble and Bumble. It really works! It's for gals with fine hair who want to air dry their hair but usually fail because of frizz and unruliness. I'm very impressed. I try not to blow-dry my hair Sunday-Thursday, but I don't love looking like a ragamuffin, either. This stuff tames the flyaways and leaves my hair feeling super soft. Great for when I'm in a crazy rush, too. (Pro tip: If you want to look even more put-together, take two minutes and style just the front of your hair. My hair styler told me to do that years ago, and I remember it being mind-blowing advice!) It's available via Sephora, Nordstrom and Target.
Did you know that Smathers and Branson is on Amazon?! They make the best needlepoint hats. And they make for great gifts. ;) There's one for everyone!
I'm working on some things for my cousin's bridal shower right now and loving it! It's in October, so it's obviously fall-themed. Bring on the pumpkins! Love you, Sammy.
We're making clams again tonight. Just kidding. We didn't. But we were going to, until things got nuts with the girls. Here's the recipe we use!
Emma's already made her Christmas list. At first I was stressed, but now I'm counting my blessings. Is it possible that I could have this done before the fall sets in?! (Or will she change her mind, like most children do, and all of this comes back to bite me? Ha.) When do you start shopping for the holidays?

LOL Surprise dolls Camper: This is her #1 right now, and I really don't see this changing… though fingers crossed. It seems like one of the hot items that sells out every year so I went ahead and ordered it. Fingers crossed!
Playmobil Dollhouse: This is something else she talks about all the time. Despite the sale price, I'm definitely disappointed in the appearance of the quality, though; I had the Playmobil dollhouse when I was young (the "Victorian Mansion," I believe it was called), and it was so much nicer! Bummer that they're all going for like $500 on eBay. Playmobil, just bring it back!
Bed for Kate: She has no preference here, but I was thinking it would be fun to get bunkbeds so she and Lucy could play together?!

Which has me thinking about Christmas gifts for Lucy.

GUND Mickey Mouse stuffed animal: Lucy is Mickey Mouse-obsessed right now, and she somehow doesn't have a Mickey stuffy! (That's what she and Emma call stuffed animals. The sweetest.) Anyway, it took me a long time to find a Mickey that was actually cute and cozy, but thrilled that I finally did!
Princess dress: Are these not the most beautiful princess dresses you've ever seen?! I stumbled upon this Etsy seller while looking for Halloween costumes, and I'm in love. Lucy loves playing dress-up.
Doll stroller: This girl is all ABOUT strollers. It's all she did at the lake house! (Gammy had one for her in the playroom and it was a huge hit.) We used to have one, but it broke… so I think one sitting under the tree is in order.
Playmobil 123 princess castle or Playmobil 123 boat (Noah's Ark): I have the princess castle leftover from her birthday—ended up saving it—but Lucy loves boats. Decisions, decisions!
We're doing a collaboration with Studio41 in Chicago to gut the guest bathroom! WOW. So far, it's been amazing. We pretty much told them that we have zero time for the project 😆 and that we needed them to make our broad vision come to life. So we showed them this blog post for inspiration, and I'm so in love with all the products they've been sending us for options. They have way better taste than I do, and have made the process fun. I can't wait to share before + after photos!
I started shooting outfits again. Baby steps over here. ;) I took things easy this summer, but I'm excited about getting back into a routine now that our family is getting back into a routine. It's funny; I always assume that I'm just going to fall right back into the swing of things… but then it ends up taking a couple of weeks to adjust. Still, I'm enjoying it, even if I'm just taking some mirror selfie-style photos of transitional outfits. Stay tuned!
The famous J.Crew Sophie sweater jacket is seemingly being discontinued and is on MAJOR sale. I really can't recommend this more! There are a lot of them out there, but it's the best I've ever tried. The black, green and gray are all still available in most sizes! (Note: Go down at least one size.)