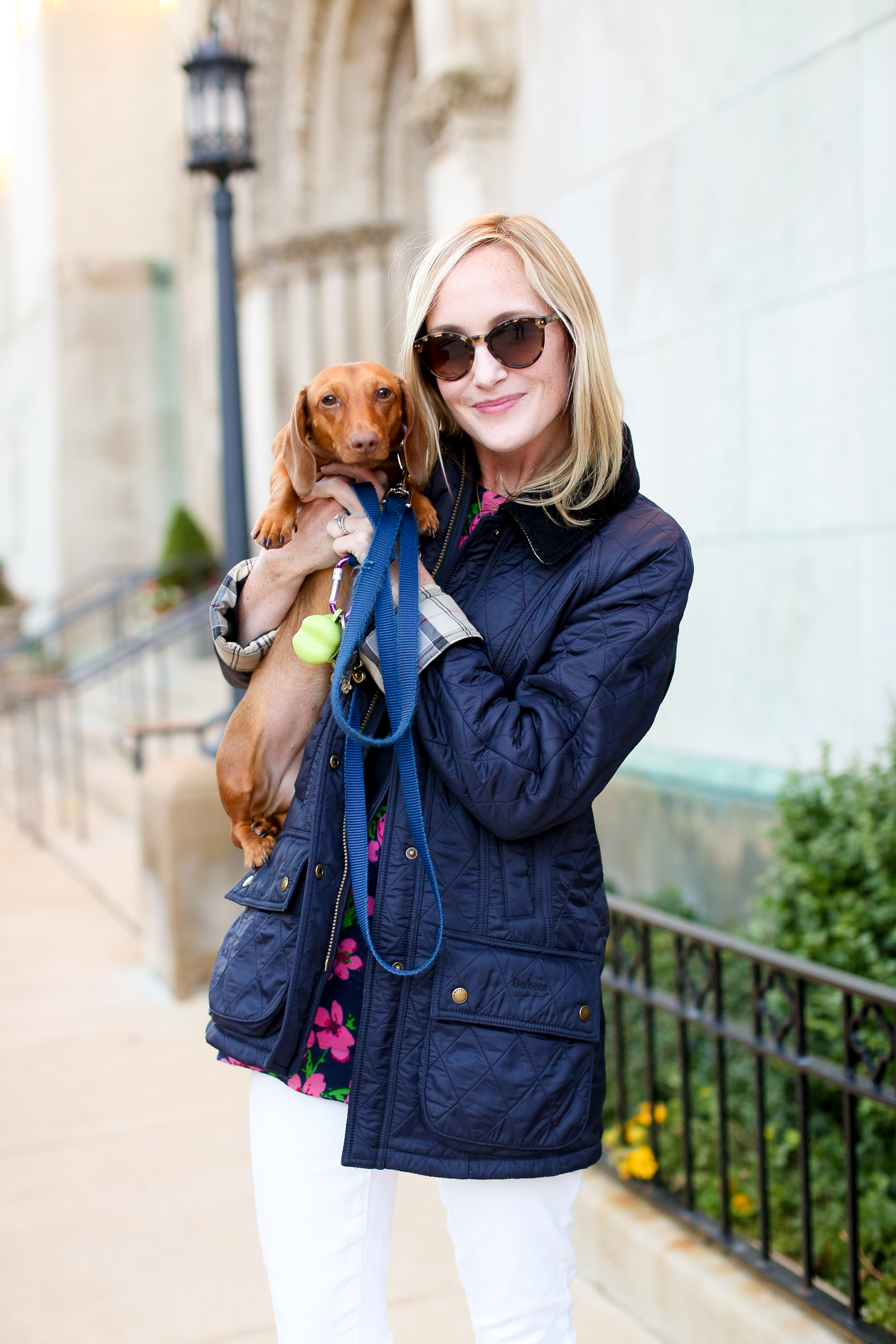 Barbour Jacket /  Emma McKinstry Bracelet c/o /  Jet Set Candy Necklace – Charm #1 and Charm #2 c/o / Lilly Pulitzer Sweater (Extremely old, but desperately need this sweater in my life. And this one, while we're at it.) / Louis Vuitton Tote / Brooks Brothers Bow Pumps (Old, similar here, here, here and here) / Blank NYC Jeans / Kate Spade Sunglasses (Old, similar here and here) and Earrings
Just as I promised no fall looks for quite some time, Chicago is hit with a cold spell. Must've been all that rain. (Smirk.) But know that while I might be sporting a sweater and a Barbour in these photos, I'm still in full-time summer mode and excited about sporting a summery dress tonight. ;)
Yesterday was spent on a few photo projects and (yet again) working on the carpeting, so I'm spending today catching up on life and preparing for our Denver friends' weekend visit! (Yay. Happiness.) But a few things before I go:
How gorgeous is this Emma McKinstry bracelet? I'd been looking for a classic gold bracelet for everyday wear–you know, something I can throw on without thinking–for a long time, and this is it. (J.Crew Pave Link bracelet, you can finally take a little break.) I love that it's both dainty and eye-catching, and that it goes with everything. Thank you for making my morning routine a little bit easier, Emma! :)
Still in love with my necklace from Jet Set Candy, and my two NYC charms. (Linked above.) Granted, I was very recently in New York and had the most fabulous time ever with friends and family, but I just found out that I'm going back at the end of September/Early October for a fun project, and I can't WAIT. Two homes are better than one, and this necklace reminds me of that every time I wear it!
Over and out! Stay tuned for a post about our new coffee table. We're slowly making progress on the living room!