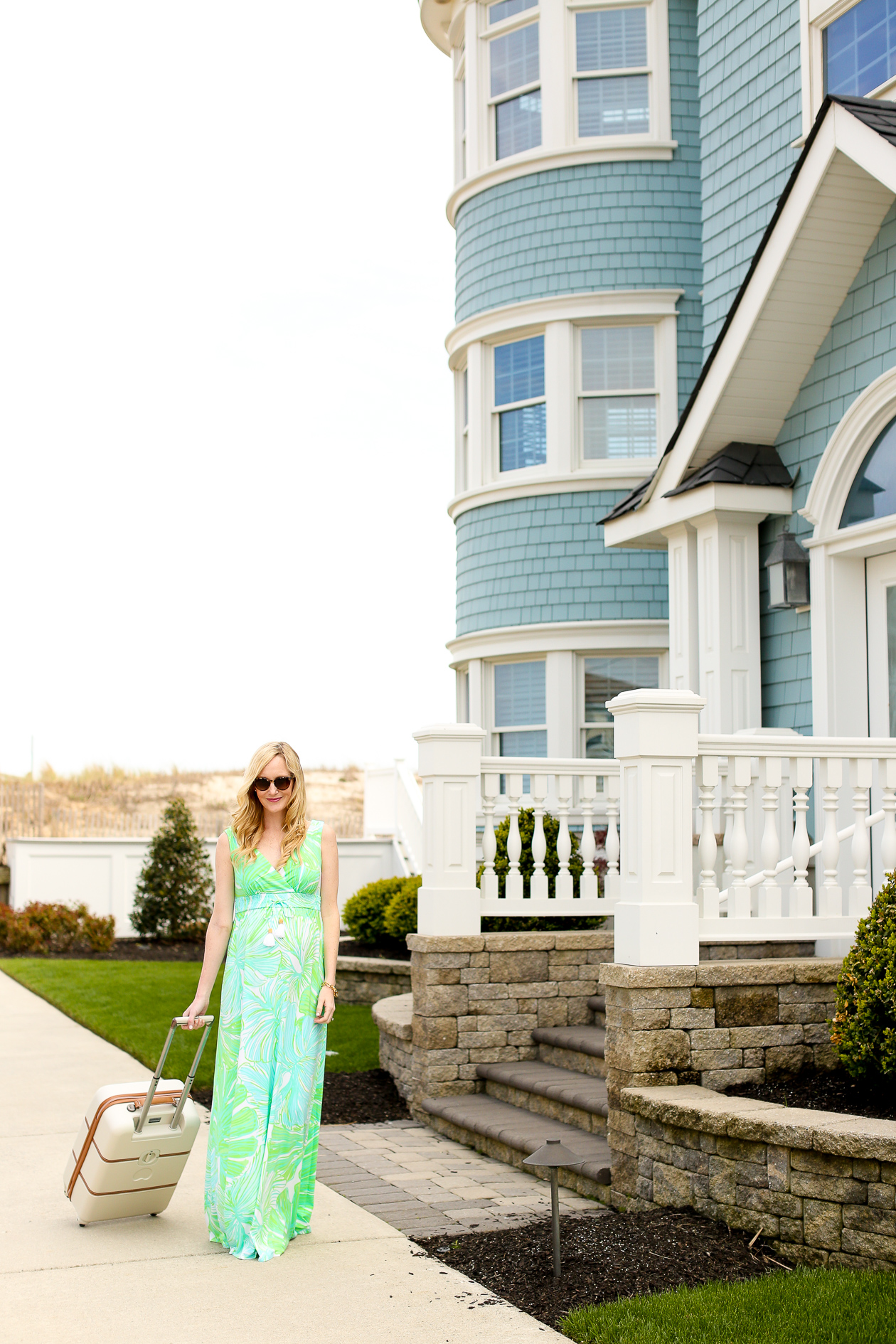 Lilly Pulitzer Maxi Dress, Jack Rogers Wedges and Delsey Suitcase c/o Zappos / C.Wonder Whale Bracelet (Old, but you can shop C.Wonder here! And similar whale tail charm here) / Similar Sunglasses
Oh my goodness. What a crazy week. (The fireplace project is underway! "Like" the Kelly in the City Facebook page for regular updates!) Somehow, amidst all of it, I totally forgot to mention that I did, in fact, leave Ocean City and return to Chicago.
I thought the car ride was going to be horrendous since my back has been giving me quite a bit of trouble now that I'm in my third trimester, but it really wasn't that bad! We simply brought along a lumbar pillow and made sure the back seat was clear so my seat could fully recline. We also stopped at all the rest stops. And had all the snacks.
Leaving was tough, though. While I blamed the tears on the hormones, I can't help but be sad about not spending a big chunk of this summer in OCNJ, like I've mentioned before. Of course, we have more important and exciting things to attend to in Chicago, but sigh. Truly thankful that the family is reconvening in Nantucket next month, and that my parents are coming out in July.
These photos were snapped when we first arrived in Ocean City, but they seemed perfect for today's post, considering all I want to do is pack my bags and head back to the Shore. ;) So let's talk about the cutest carry-on bag ever. It's the Chatelet by Delsey, and it was recommended to me by Jess. (She wrote about its magic here!) We're going to be quite the sight on Nantucket together next month with our matching spinners, right?! I promise to take lots of photos, haha.
Anyway, the thing is seriously amazing. It spins effortlessly, which makes for much less annoying travel, and its beautiful exterior wipes clean. (It's also trimmed with leather! Definitely reminds me of Louis Vuitton luggage.) I also love that the Chatelet has a ton of interior compartments, and one side zips closed so your stuff doesn't fall out all over the place when you open it up. Take it from me: totally worth the investment. I can't believe I survived up until now with just a duffle! No way to live travel.
And the wedges, guys! I'd been dying to try these beauties from Jack Rogers for a while, and they're everything I thought they'd be. I live in Jack Rogers Navajo sandals during the summer, but sometimes need a fancier shoe with some height to wear with dresses. The Clare Wedges still 100-percent look like Jacks, but I love that they class up my outfits. :) I also wore them for the majority of the day, and didn't experience any pain!
As for the dress, I know. The obsession continues. But now I have four dresses that work for pregnancy (#1 and #2), and that'll totally get me through until the end. I promise to NOT feature this one, as much as I love it, haha.
The best part about the suitcase, wedges and dress is that they all came from Zappos, which makes springtime shopping incredibly easy. Whatever you're looking for, the company's app (available for iPhone, iPad and Android) helps you find it quickly. Shipping and returns are free and ridiculously speedy, so whenever I'm in a pinch for an essential, I turn to Zappos. Take it from me, and download that app now! ;)
Also: I look WAY more pregnant than this in real life. Lilly maxi dresses are extremely flattering, and notice how I don't really turn to the side in photos. It's all about the angles, my friends! Next week, though, you'll see some pics that are more representative of the bumpin' that's going on! I'll also be sharing our story about our struggles with infertility and miscarriage, which I alluded to here. I've been trying to write the post all week, but it's been a challenging one, for sure. Almost done, though. :)
#thereisalwayshope <3
Outfit details:
Lilly Pulitzer Maxi Dress, Jack Rogers Wedges and Delsey Suitcase c/o Zappos / C.Wonder Whale Bracelet (Old, but you can shop C.Wonder here! And similar whale tail charm here) / Similar Sunglasses