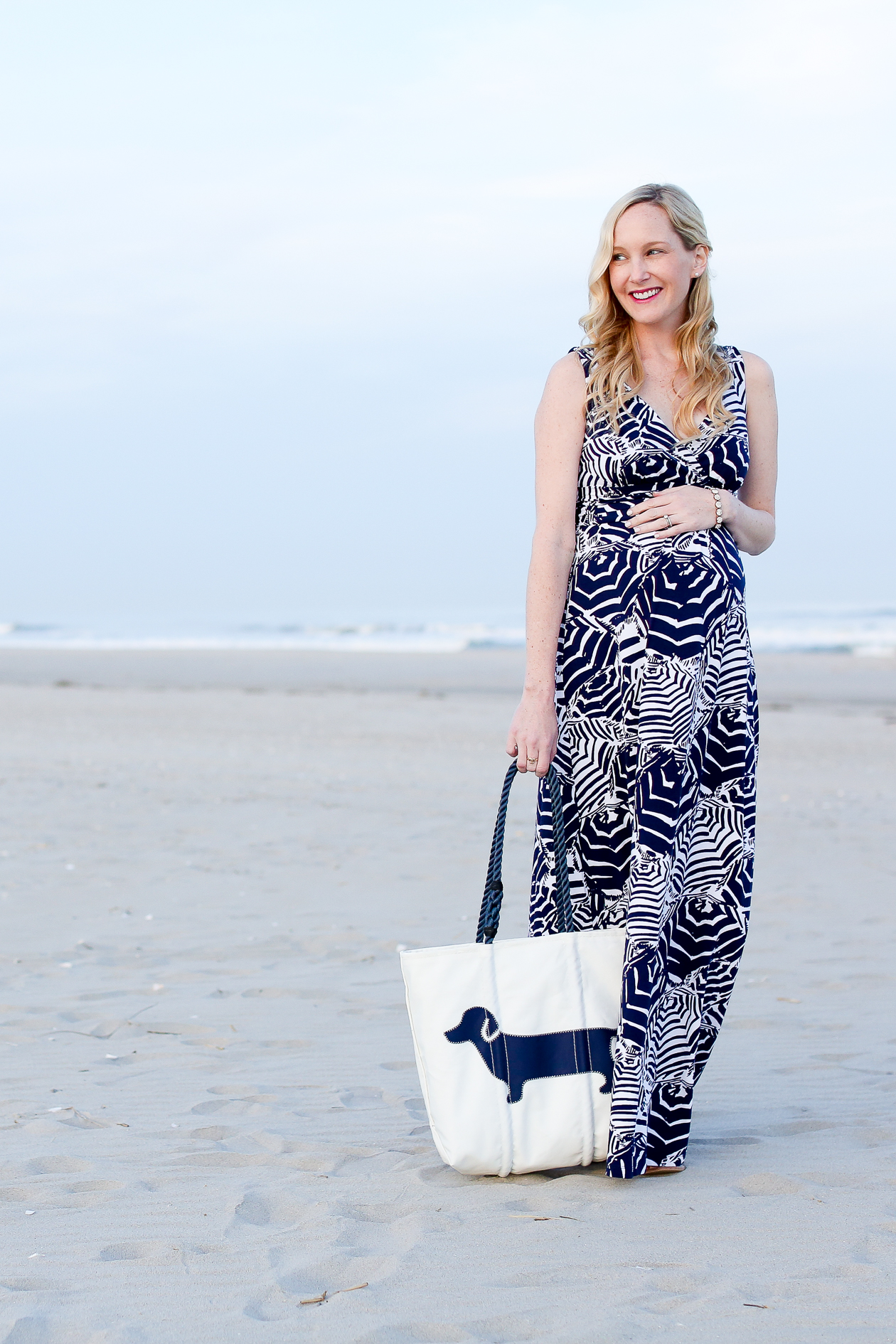 Lilly Pulitzer Maxi Dress (Old, this year's version here) / Jack Rogers Sandals (I'm wearing them in "Platinum," but the gold is majorly on sale!) / Sea Bags Custom "Noodle" Baby Bag c/o

Greetings from the Jersey Shore! I have to tell you: I'm utterly exhausted as I'm typing this, but the best kind of "utterly exhausted" possible. ;) Mitch and I arrived in Ocean City on Saturday night after a 14-hour-long car ride, approved by the doc. (Just lots of rest stops!) And since then, we've been packin' in the activities.
I'd be lying if I said I'm not a teensy bit sad that I won't be on the Shore this summer. The timing just isn't right: Baby Larkin is due in late July, Mitch doesn't get off work until late June, I'm too nervous to travel the month before my due date, and we're not traveling the month after, either. So we decided to spend Mitch's spring break in Ocean City, and my dad took a few days off so he and my mom could spend more time with us. (So sweet, right?) Things have been great. I mean, I'm wearing a sleeveless dress in these photos, and they were taken in New Jersey in April.  Seventies yesterday and even warmer today!
I'll be sharing more from our travels soon, but in the meantime, this is what I wore last night to the Lobster House in Cape May, where Mitch and I went right after getting engaged four years ago. We actually hadn't been back since, so it was an incredibly special night, full of oysters, clams, lobsters and laughs.
Oh, and how adorable is this custom baby tote by Sea Bags? I actually drew Noodle, and Sea Bags created the tote–made from recycled sails–for Mitch and me! So touched. :)
More on that later, too… but for now, I'm off to bed. Breakfast on the front porch tomorrow AM!
Outfit details:
Lilly Pulitzer Maxi Dress (Old, this year's version here) / Jack Rogers Sandals (I'm wearing them in "Platinum," but the gold is majorly on sale!) / Sea Bags Custom "Noodle" Baby Bag c/o