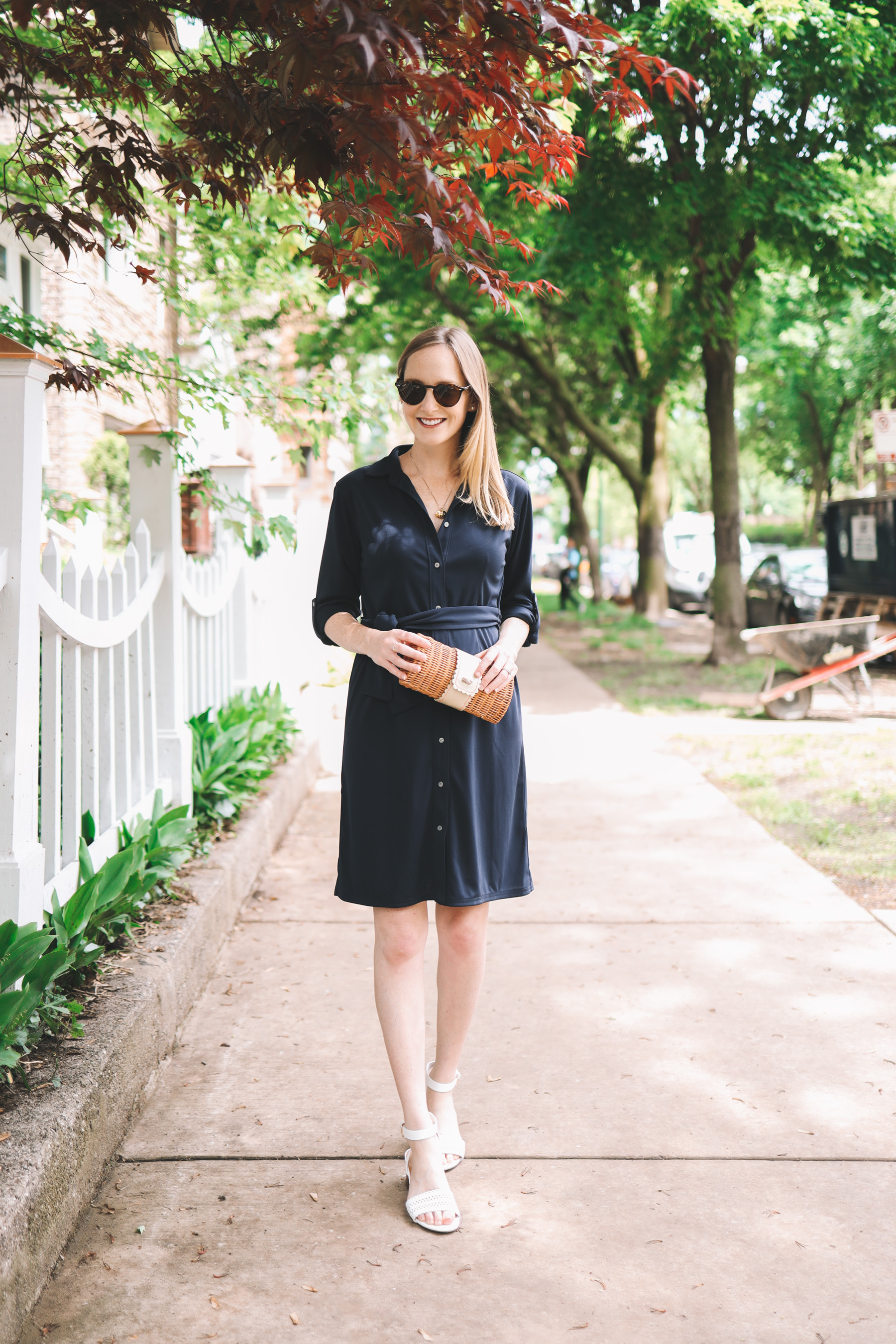 J.Crew Navy Tie-Waist Shirt Dress (Almost sold out, but love J.Crew's newer striped version and the solid one, too. And look at this one from Tuckernuck! This navy shirt dress from 1901 is nearly identical as well.) / Old Vineyard Vines Clutch (But this newer one is adorable, and you HAVE to check out all of J.McLaughlin's woven bags. They're the best of the best.) / J.Crew Factory Cutout Sandals (SO soft an comfortable! Can walk miles in 'em with no discomfort, and they're affordable. Highly recommend! They also come in brown, gold and black without the cutouts.) / Ray-Ban Sunglasses / Mark & Graham Stamped Initial Necklace
Shirt dresses are my THING. They've obviously great for nursing, but I've always loved them since they provide extra sun protection and they're more modest than most other summer dresses. The J.Crew one I'm wearing in these photos is almost sold out, but I thought I'd highlight a few current favorites:
Cute Shirt Dresses for Summer

Other awesome products worth mentioning:
Unbelievably comfortable, Friends. I really struggle with finding cute white sandals with a bit of a heel for the summer, and these are keepers. They go with everything–even dressier looks–and again, they're super soft. I can walk miles in them without any discomfort! They also come in brown, gold and black without the cutouts.
I finally sprung for the gold charms because Mark & Graham is selling out of the letters in the silver/gold combo. If you love that one, definitely buy yours before they're gone! Praying for them to bring the silver/gold combo back!
Not as great as my beloved old Kate Spades that I broke, but good enough for now. What do you think? Sniffle…
Over and out! Pray for us tonight. Lucy was sleeping WONDERFULLY for the last few weeks, but has had a tough couple of days… and Mitch and I are barely hangin' on. 🙈 Good thing she's so cute. ;) Fingers crossed that we all get some shuteye tonight!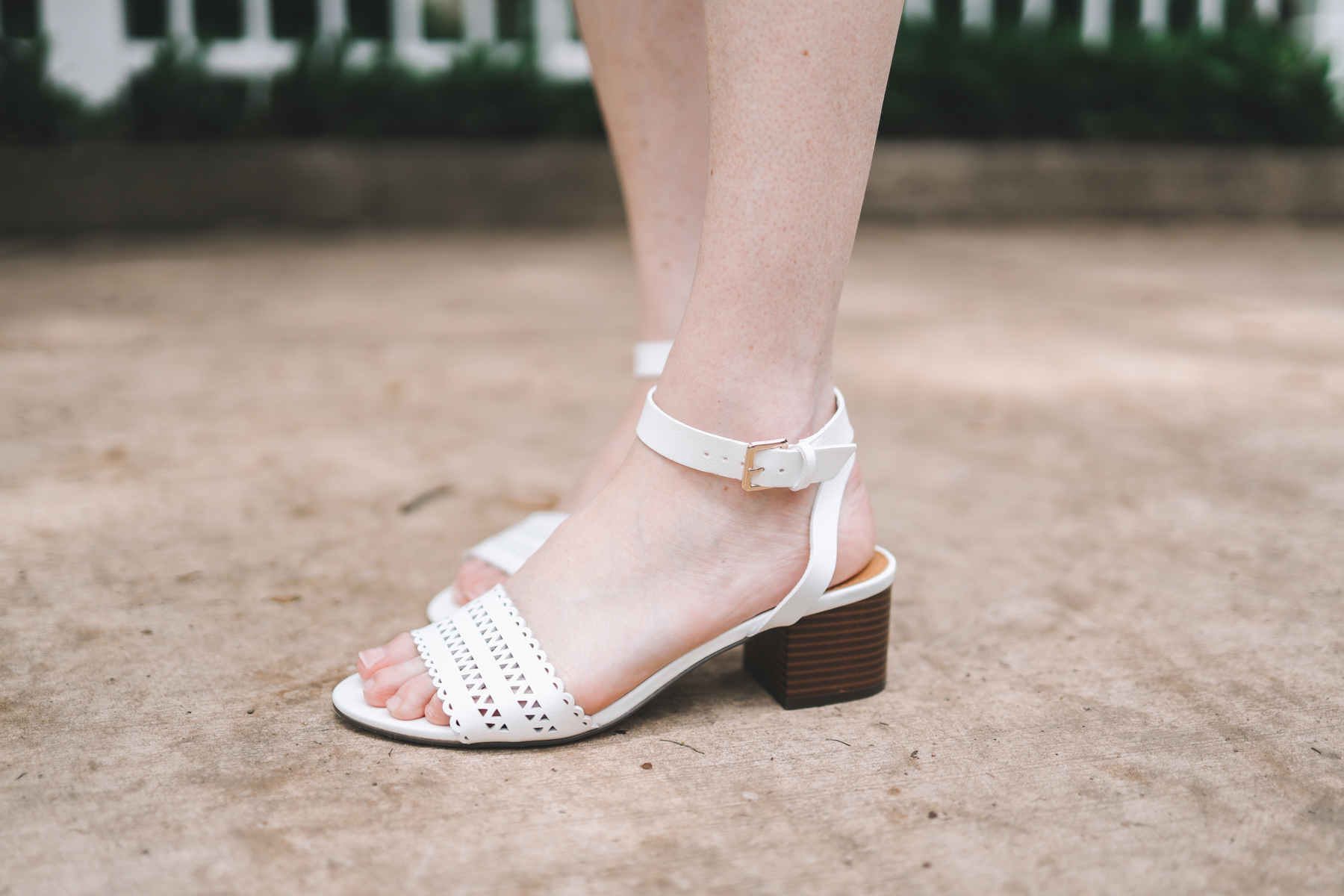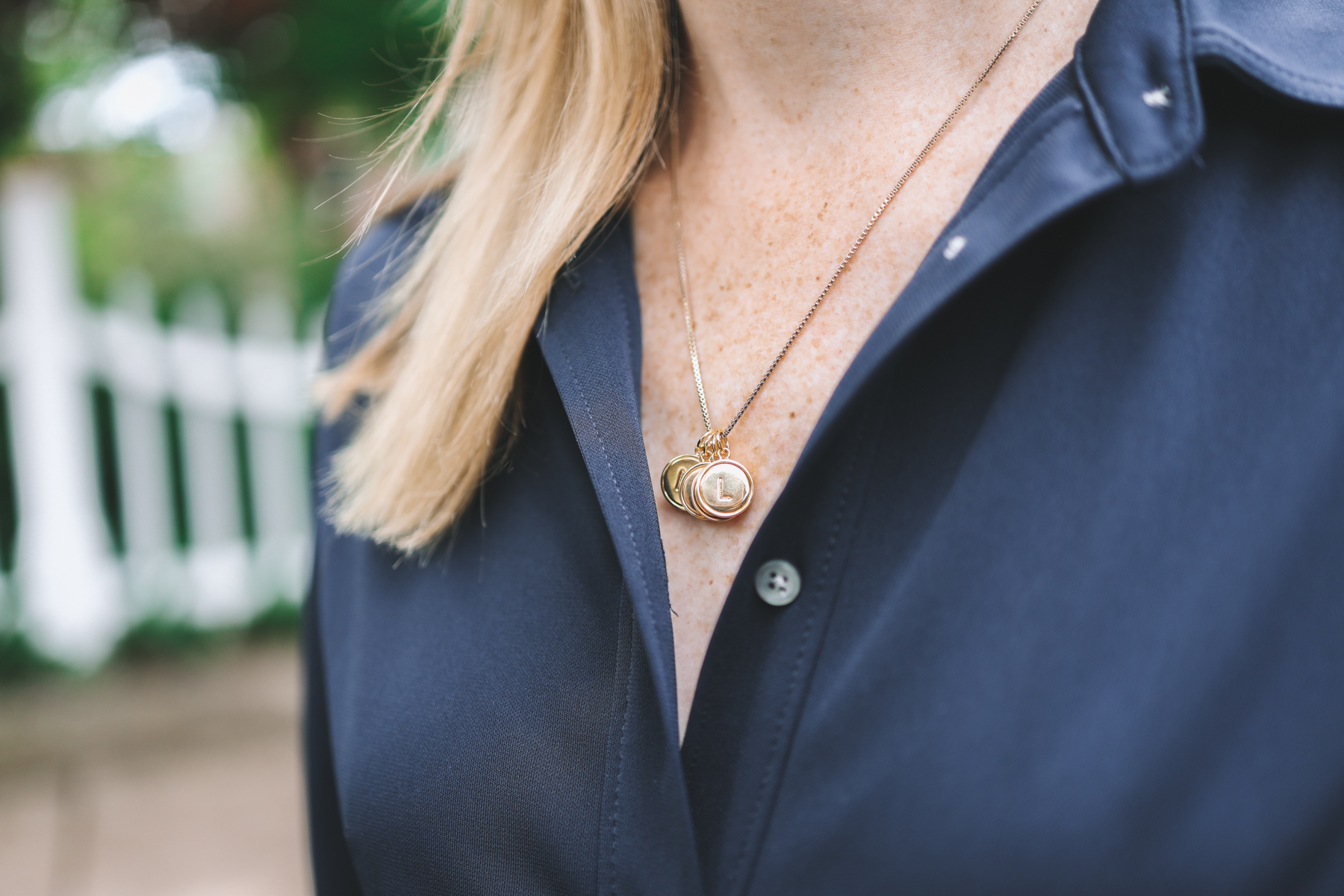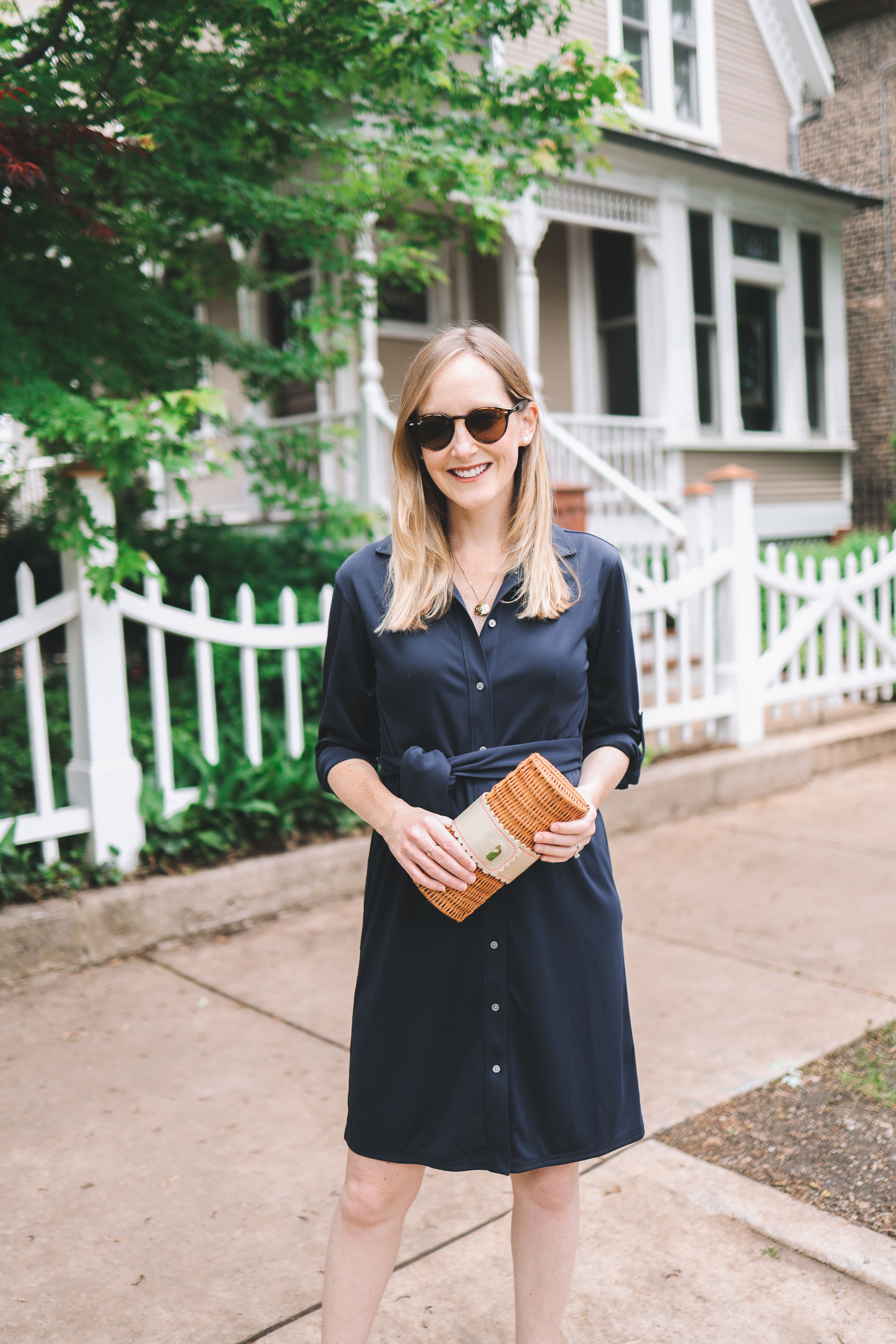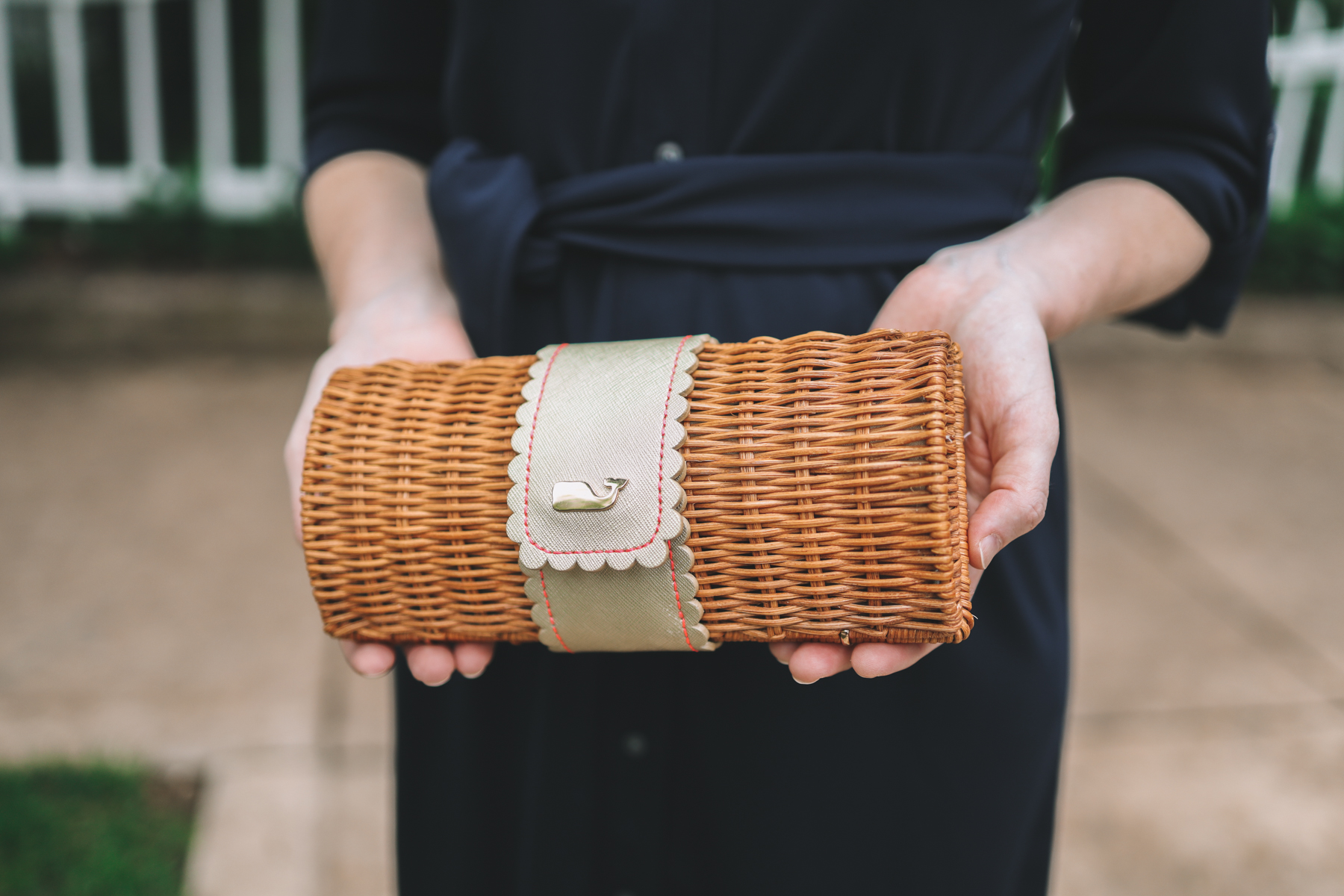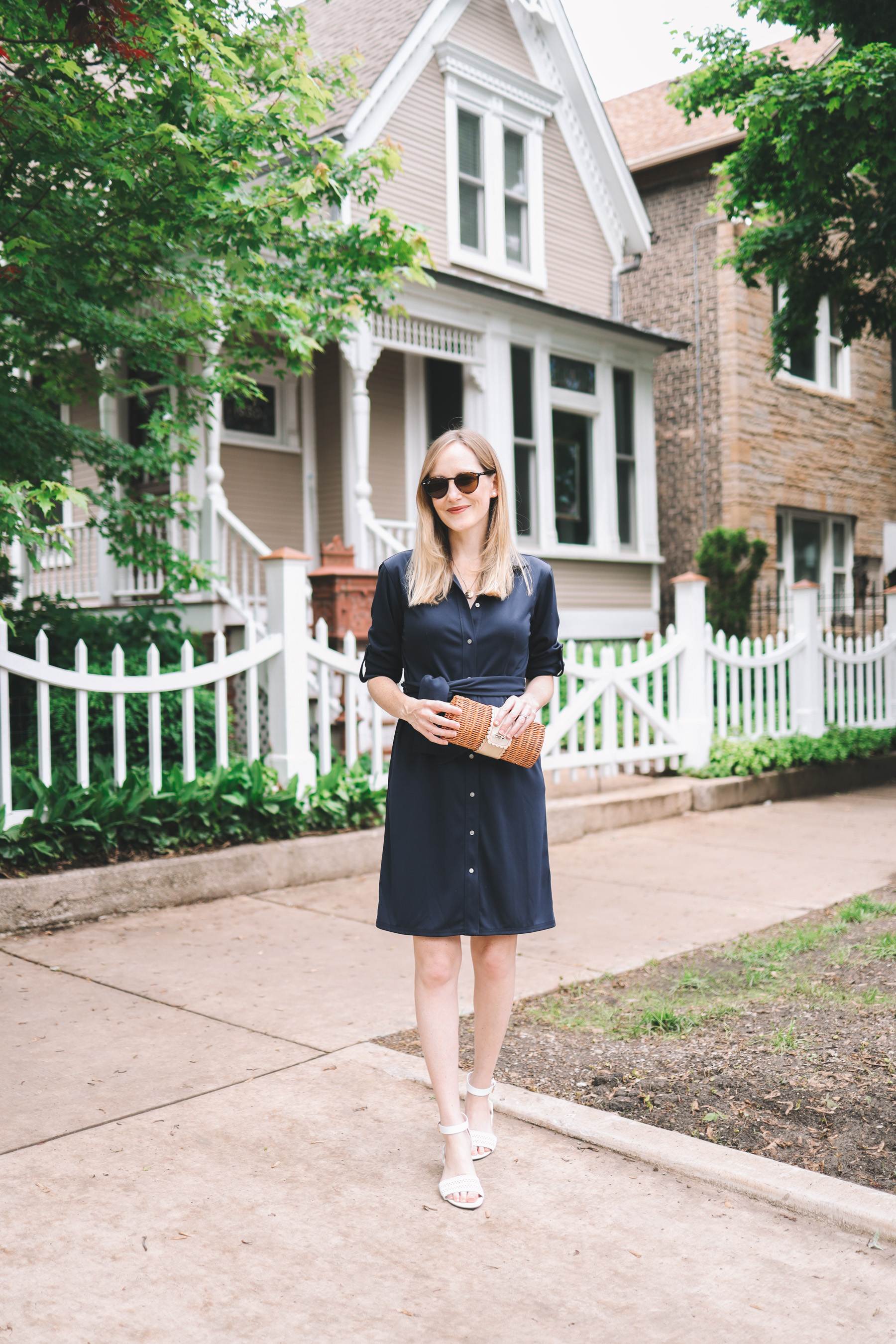 Shop the post:
J.Crew Navy Tie-Waist Shirt Dress (Almost sold out, but love J.Crew's newer striped version and the solid one, too. And look at this one from Tuckernuck! This navy shirt dress from 1901 is nearly identical as well.) / Old Vineyard Vines Clutch (But this newer one is adorable, and you HAVE to check out all of J.McLaughlin's woven bags. They're the best of the best.) / J.Crew Factory Cutout Sandals (SO soft an comfortable! Can walk miles in 'em with no discomfort, and they're affordable. Highly recommend! They also come in brown, gold and black without the cutouts.) / Ray-Ban Sunglasses / Mark & Graham Stamped Initial Necklace