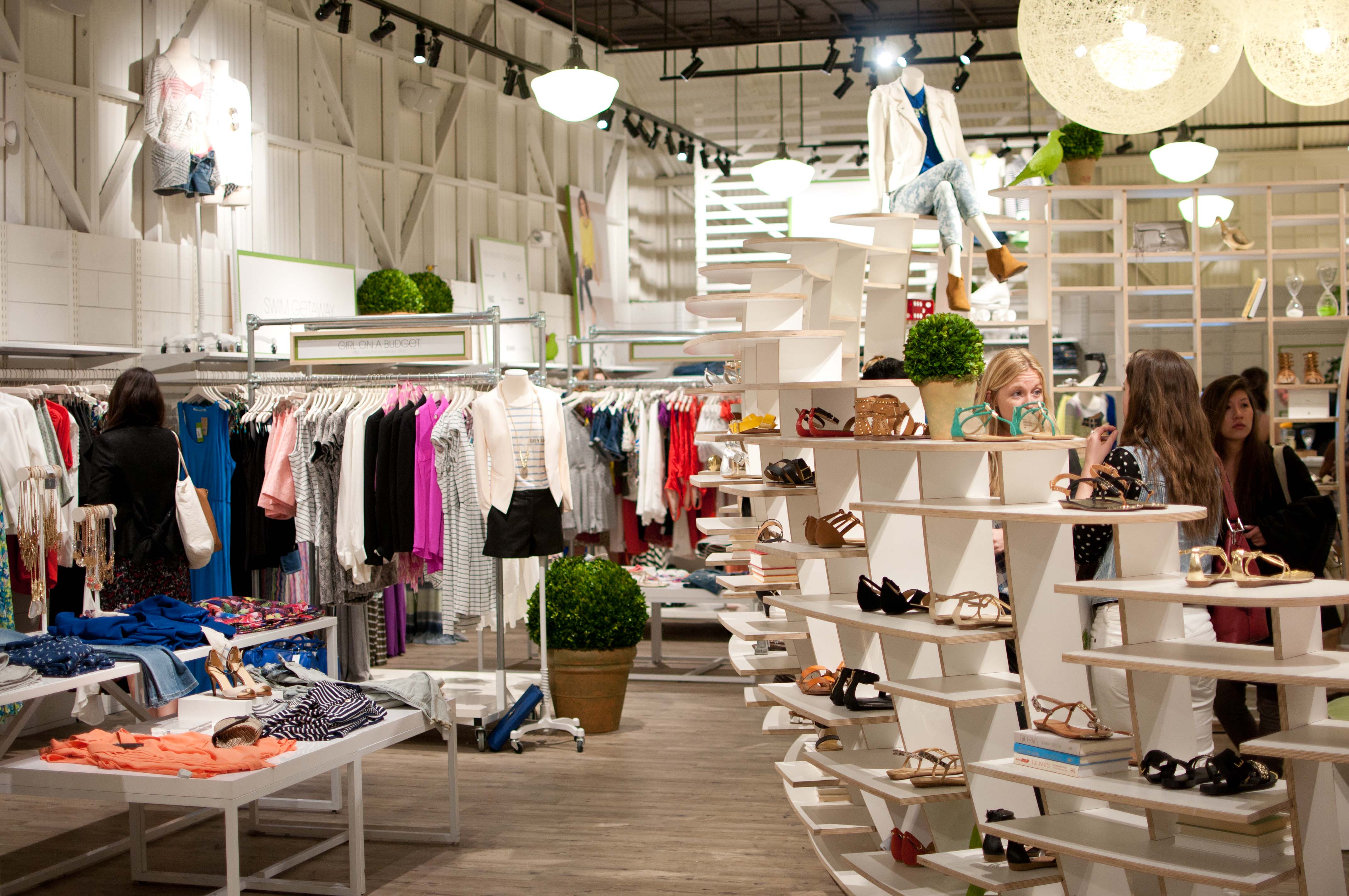 On Wednesday night, I had the pleasure of attending  Piperlime's "Best Friends & Fans" event at the brand's new store in SoHo. It. Was. Fabulous. What's not to like about shopping in SoHo with a glass of chardonnay and a complementary gift card in hand? Not to mention that Piperlime is my go-to online retailer for… everything fashion. ;)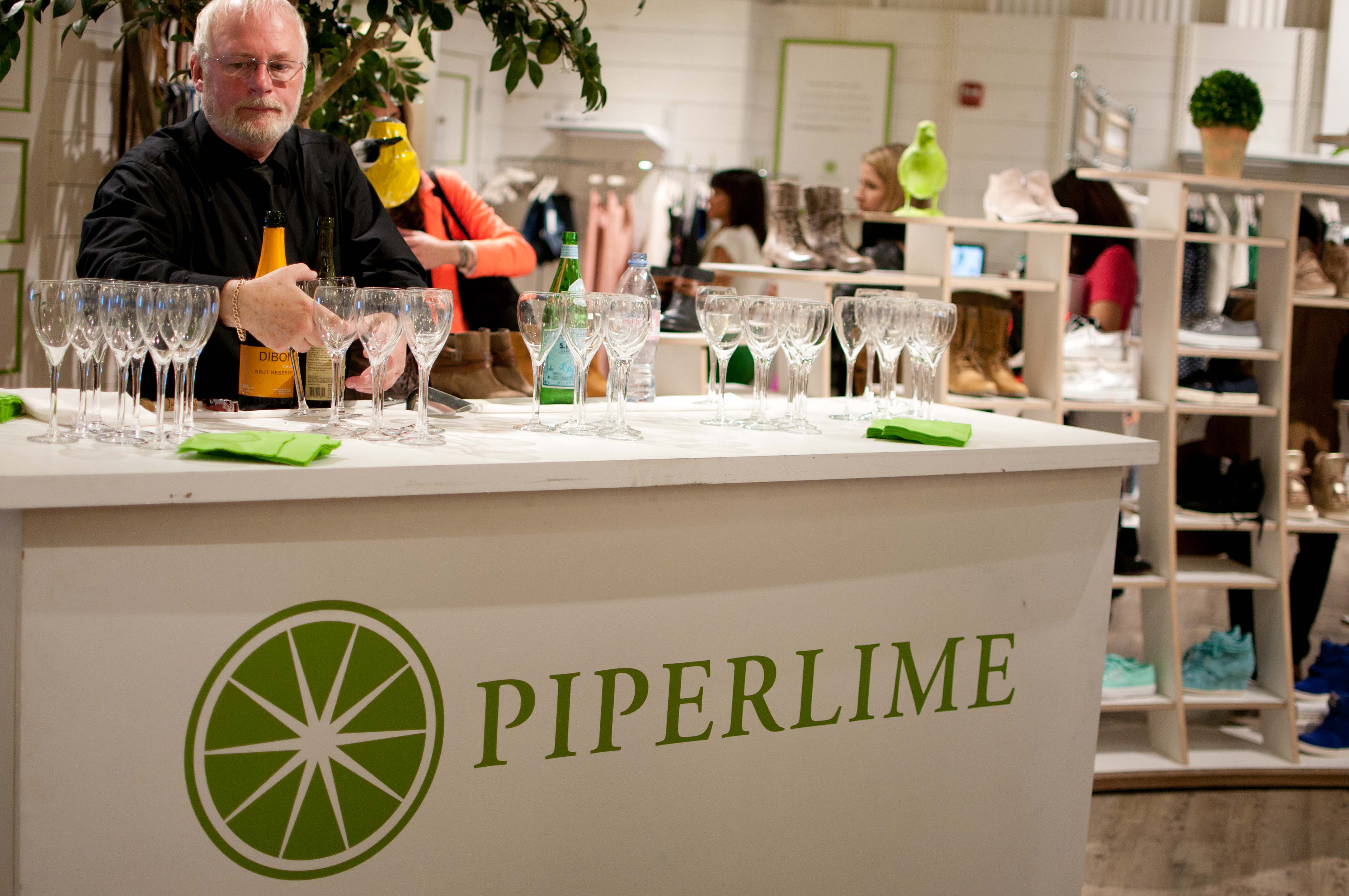 The store, which first opened its doors in September, is located on Wooster between Prince and Spring . It's close to every store your typical prep could ever dream of, like J.Crew, C.Wonder, Kate Spade, Cole Haan and Michael Kors. (Just to name a few.) But its proximity to these retailers isn't what makes the new Piperlime store so fabulous. It's the store itself.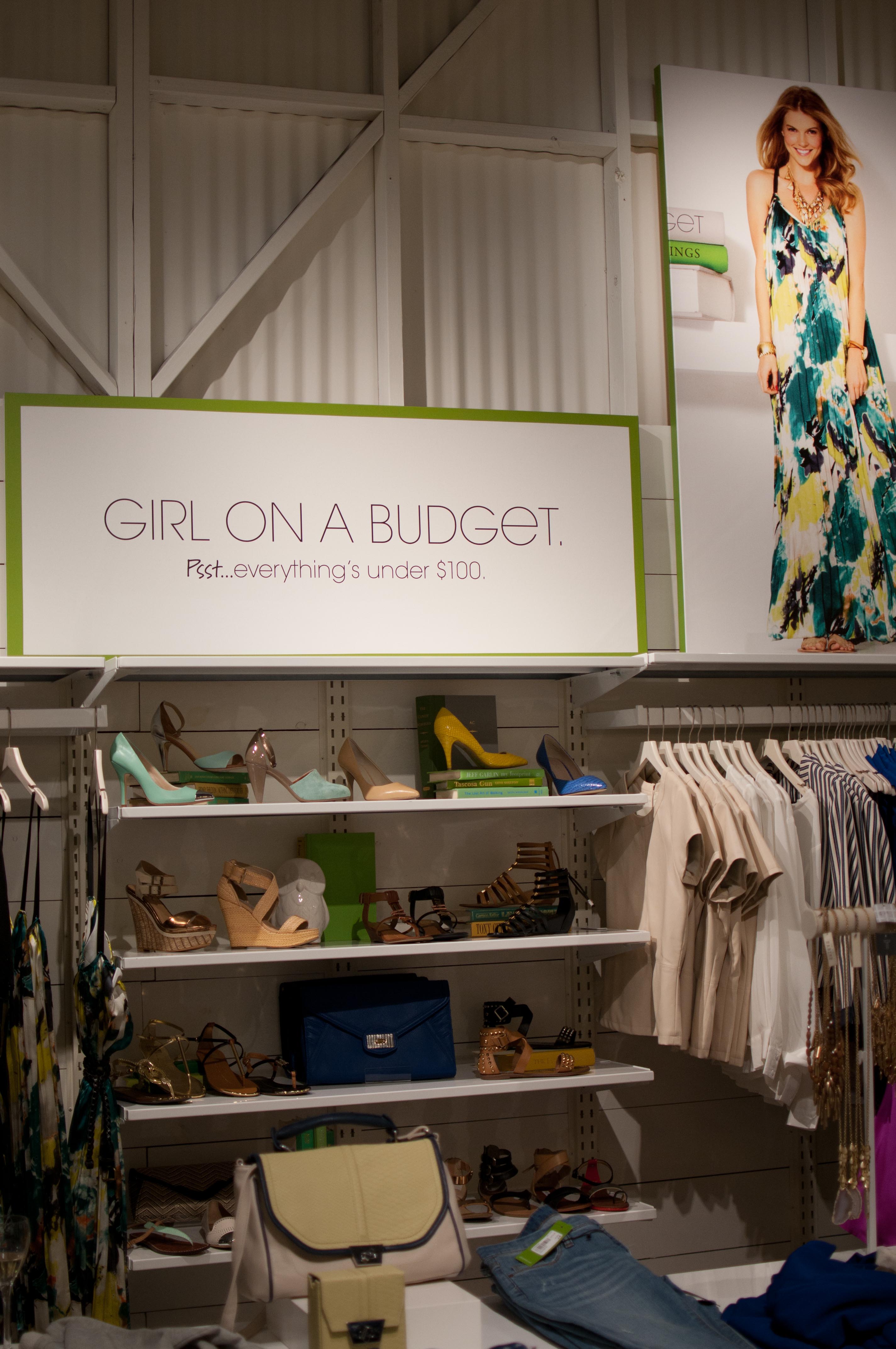 First of all, it's absolutely gorgeous. The space is completely wide open, with extremely tall ceilings and crisp white walls that give it a loft-like feel. The merchandise is conveniently displayed in different sections–e.g., "Girl on a Budget," "Bohemian," and "Suited for Summer"–made up by industrial clothing racks, so traversing the store is anything but overwhelming. The shoe display is out of this world, too. Piperlime certainly chose the right interior designer. ;) Oh–and there are plush boyfriend/fiancé/husband benches! My date, Mitch, was perfectly content just sitting there, playing on his iPhone. Thank goodness for smartphones and benches. Without them, ladies, I'm not sure what we'd do. ;)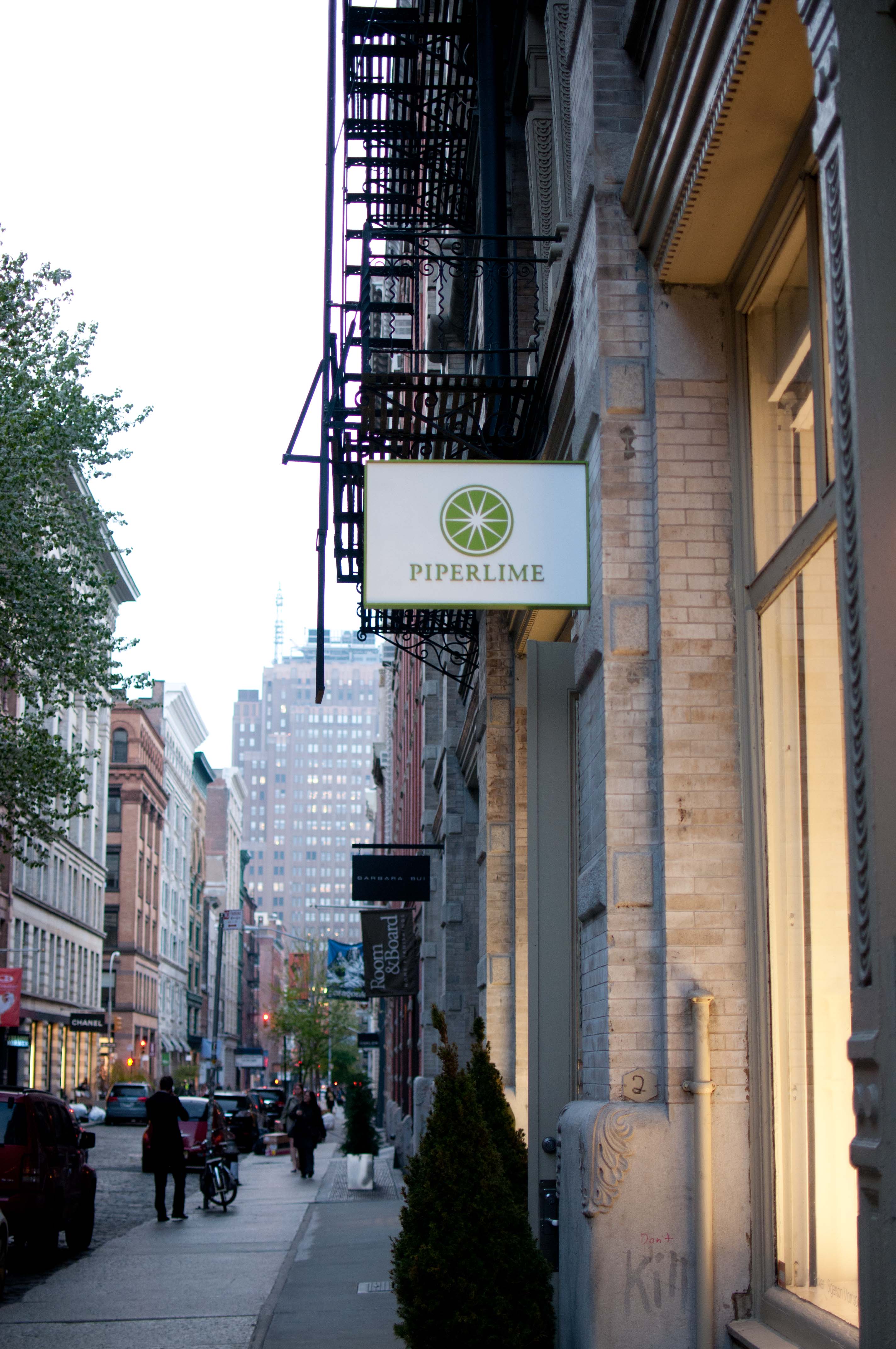 Anyway, I wanted to share some of my favorite finds from the night. These beauties are on my wish list! Of course, I won't be doing very much with my wish list until we find a home (ahhhh stress), but that's okay with me. A girl can dream. :)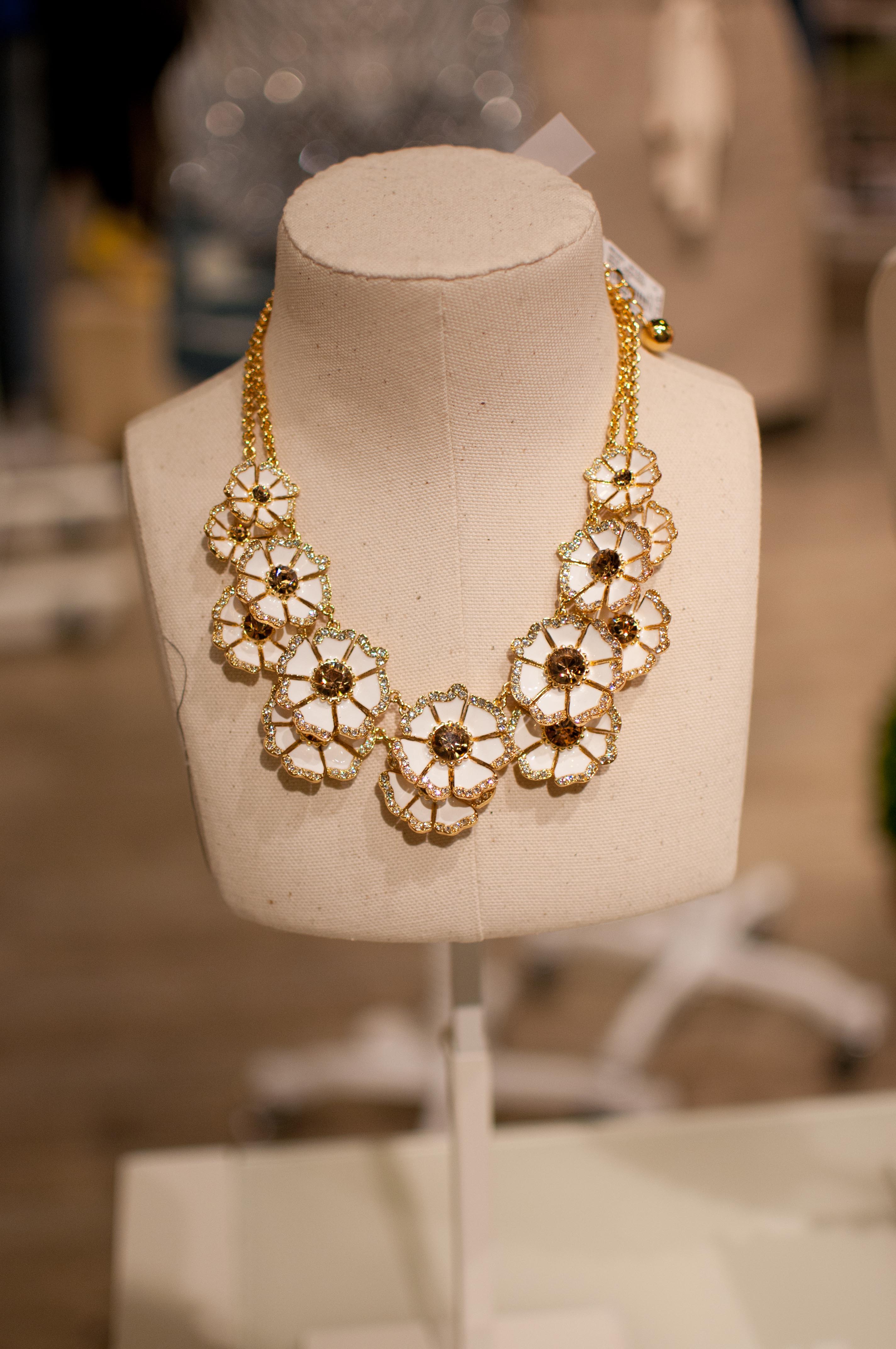 How adorable is this Kate Spade necklace? It also comes in orange, and there are earrings (white and teal) to pair with it! Looks like the perfect necklace for a graduation party, wedding or Memorial Day party. (Ah, so excited for upcoming spring events!)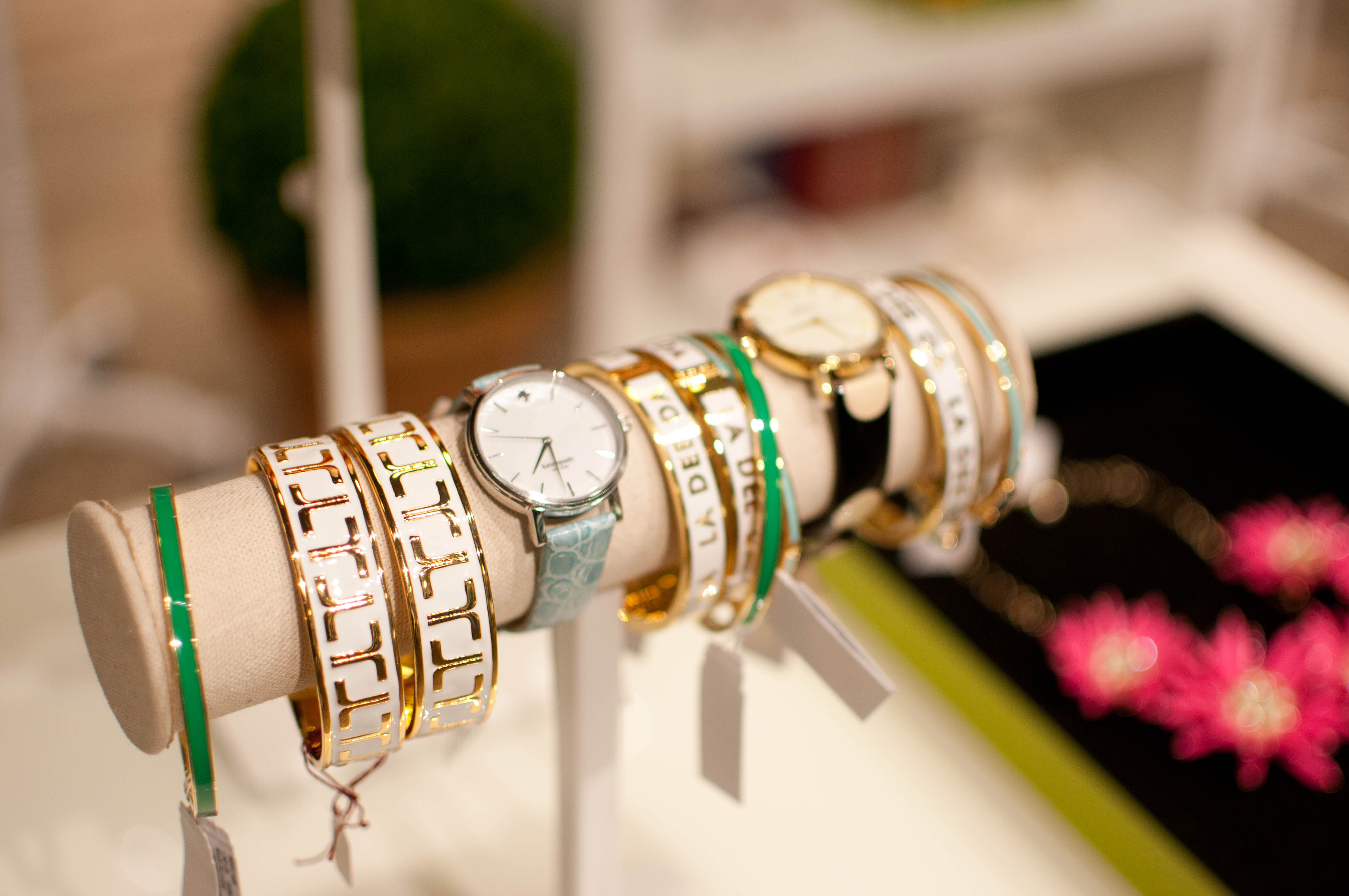 I'm loving the green "Stroke of Luck" bangle, turquoise "Sweeten the Deal" bangle, white "Footloose and Fancy Free" bangle (all Kate Spade, surprise, surprise ;)), and the white Trina Turk "Super T" bangle. And we all know I have a watch problem. While I really like the turquoise watch, I'm in love with the black-and-white polka dot watch on the end!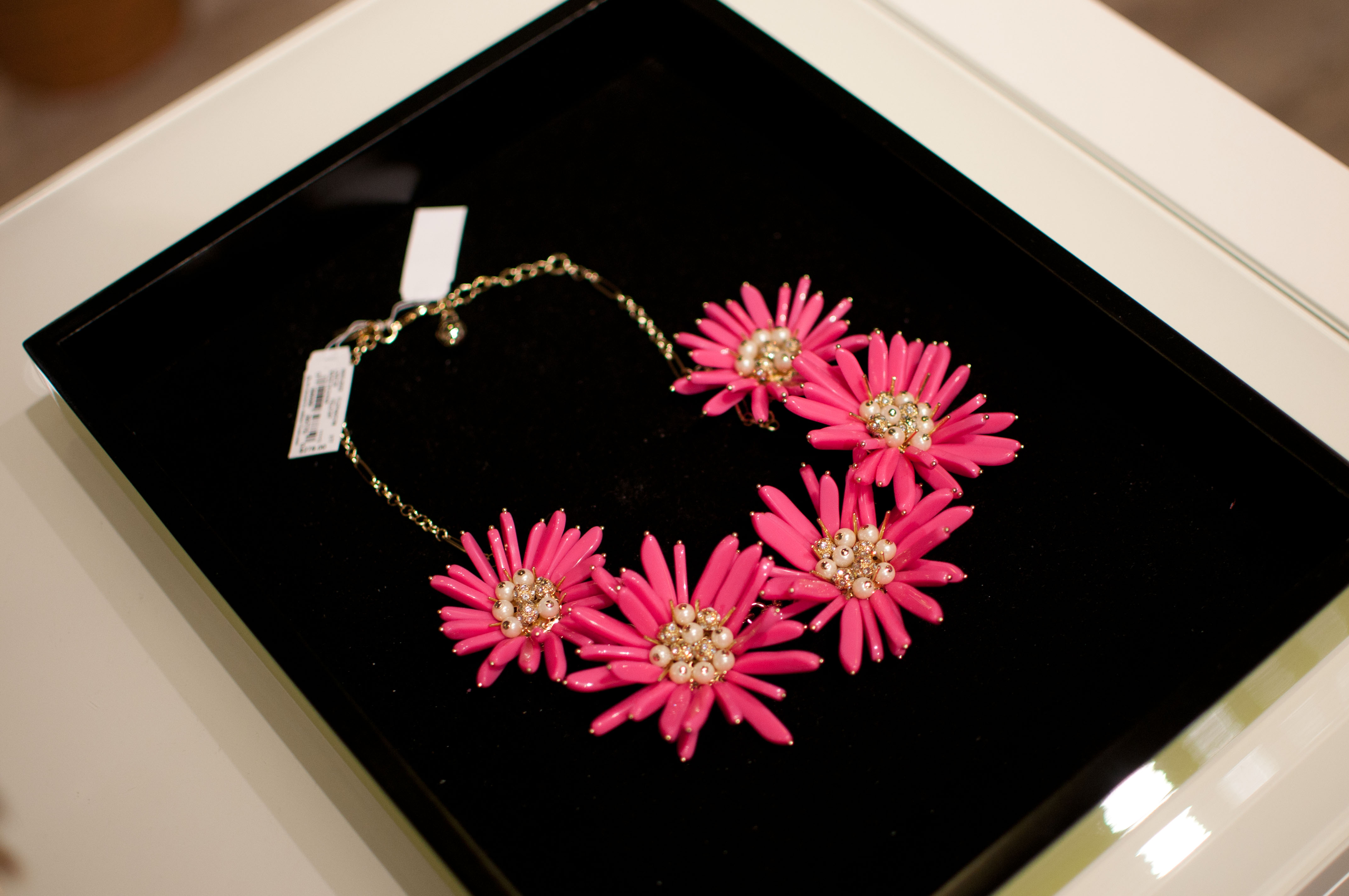 My favorite of all the statement necklace, as this one is hot pink and kind of wild. :) The ring and earrings are pretty cute, too. ;)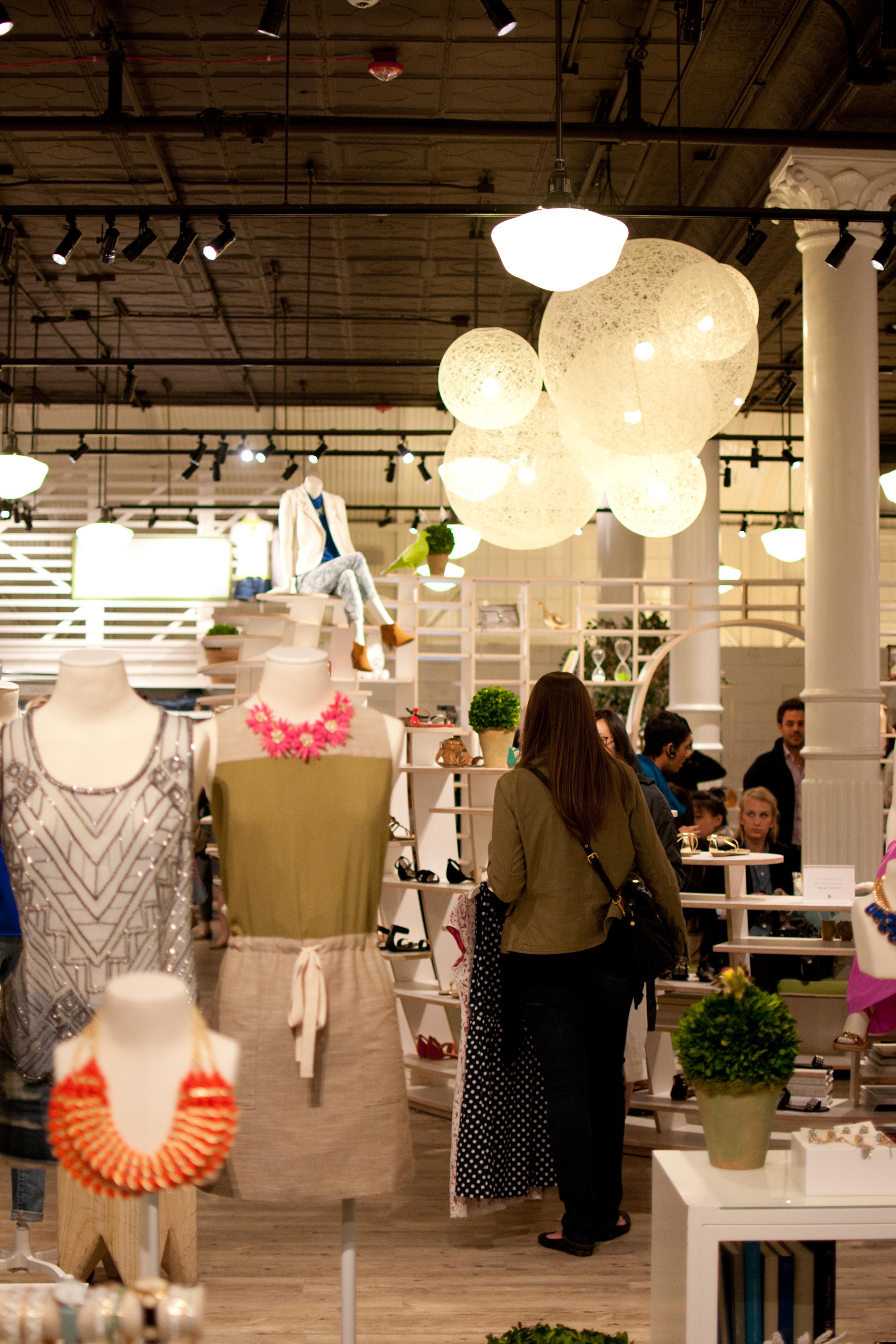 I kind of fell in love with the olive dress above, as it seems like the perfect article of clothing for those super hot summer days in the city, when there's little relief from the sun's sweltering rays. (Not that I'm complaining. Bring 'em on, sun!) Add a neon accent or two, and you've got a really cute ensemble that requires very little work or planning. Love that the dress is a Hive & Honey, too.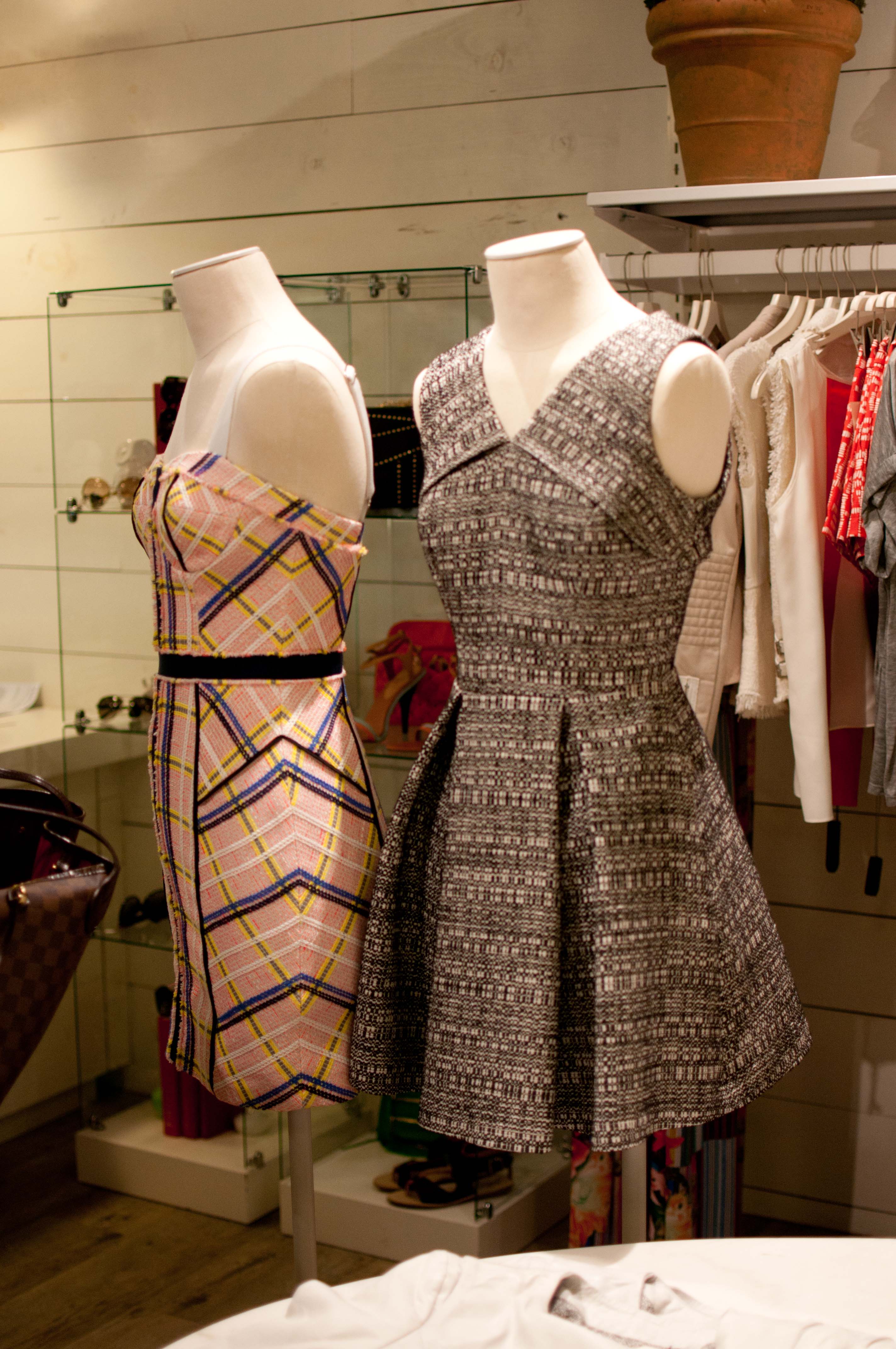 Leave it to me to love this tweed number from Robert Rodriguez. ($$$) What I love about Piperlime, though, is that the retailer has amazing sales. When a coupon code is applied to a sale, purchasing some of their higher dollar items can actually become manageable! (Once in a while.)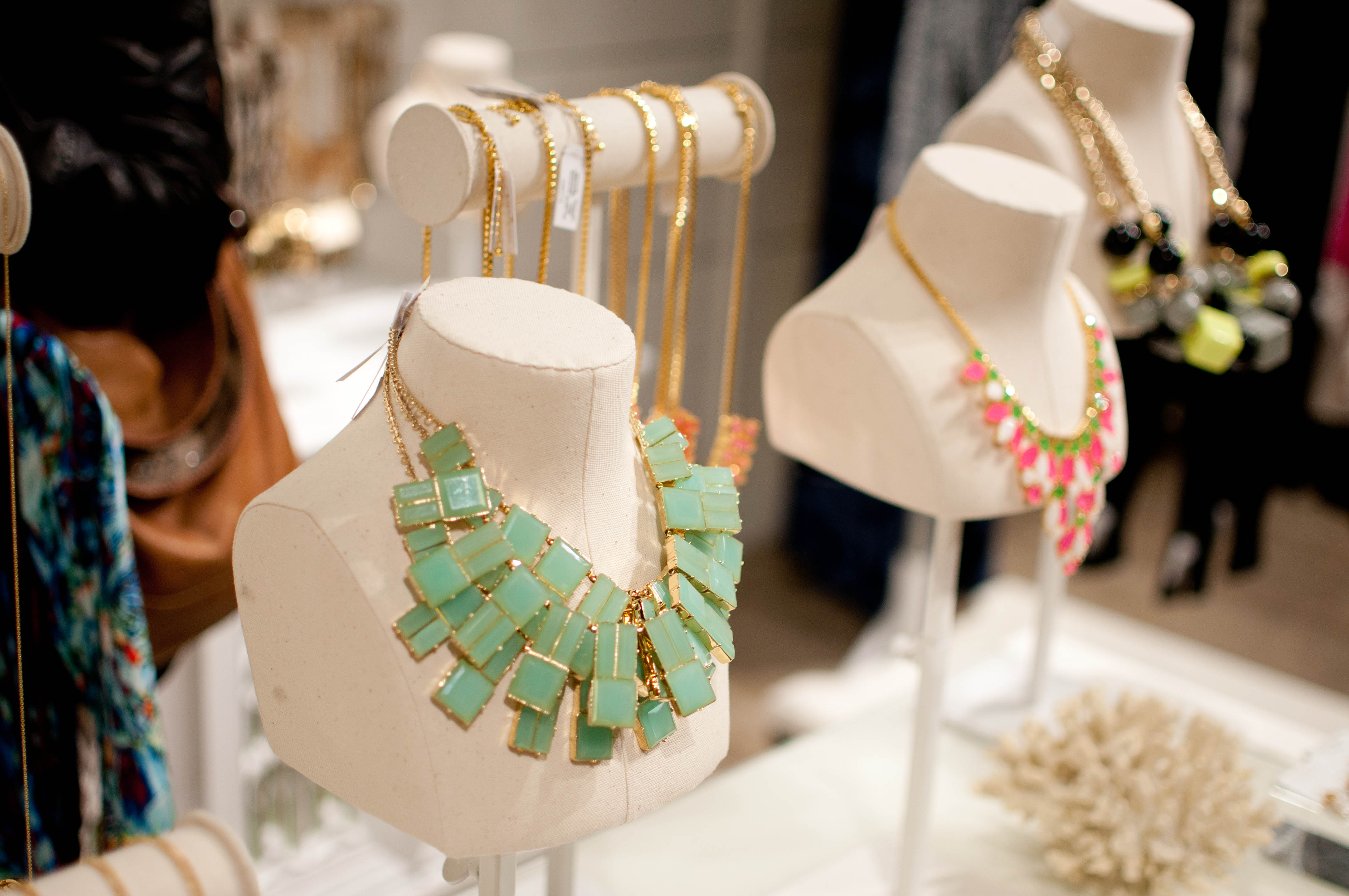 Another statement necklace. I know. But this mint necklace was a big favorite of the night. I used to think fashion jewelry just wasn't worth it. But it is. It can turn a simple outfit–jeans and a white t-shirt–into something stylish and fabulous. Invest. (Reasonably.) You won't regret it.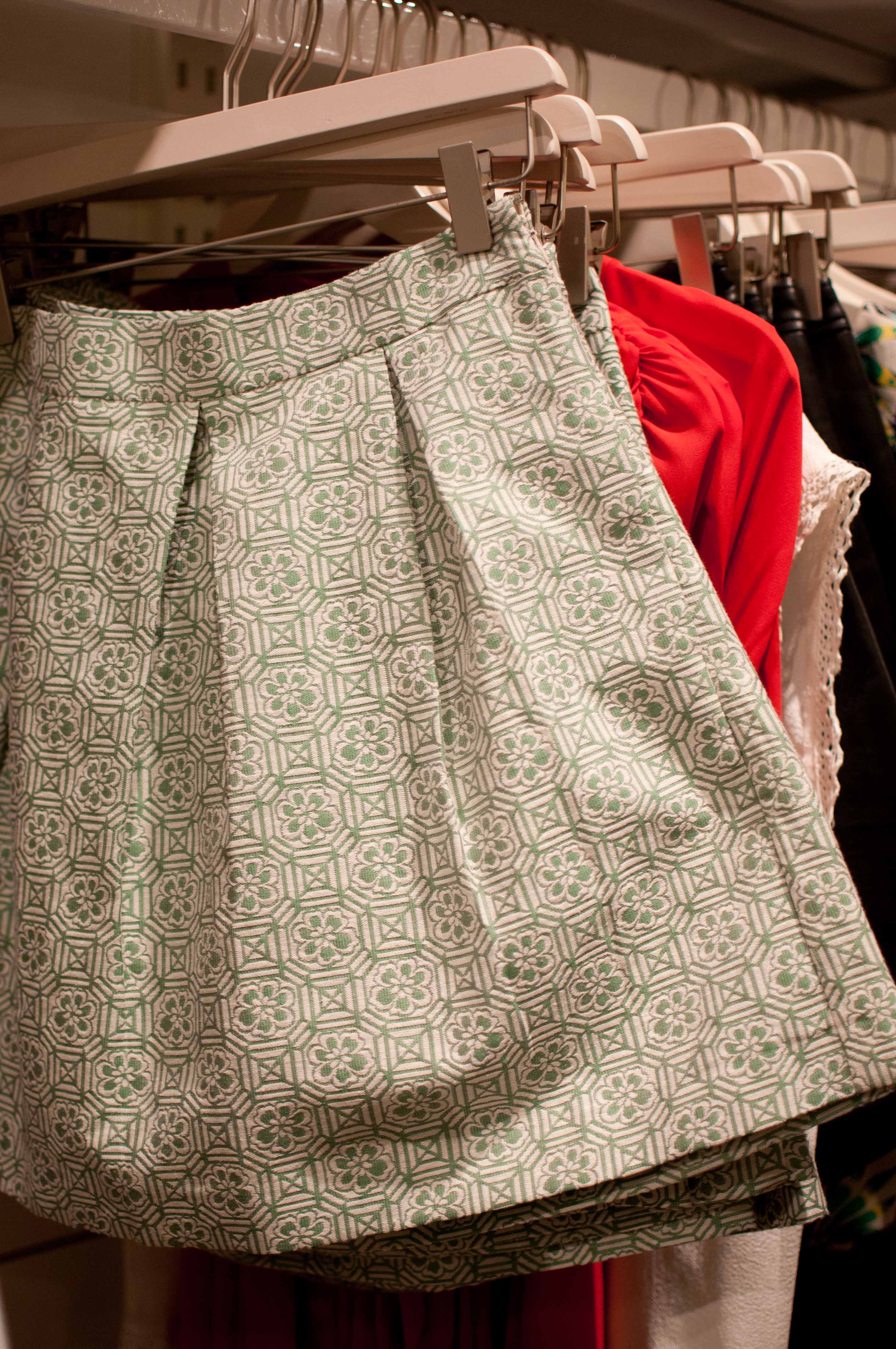 Mint, mint, mint. Maybe this isn't exactly mint, but close enough. I love the pattern–complete with little flowers–on this adorable spring skirt in jacquard. "Pim+Larkin" is a favorite Piperlime brand of mine, too. (Can you guess why? ;)) The pattern is also featured on shorts and a dress. And they're affordable!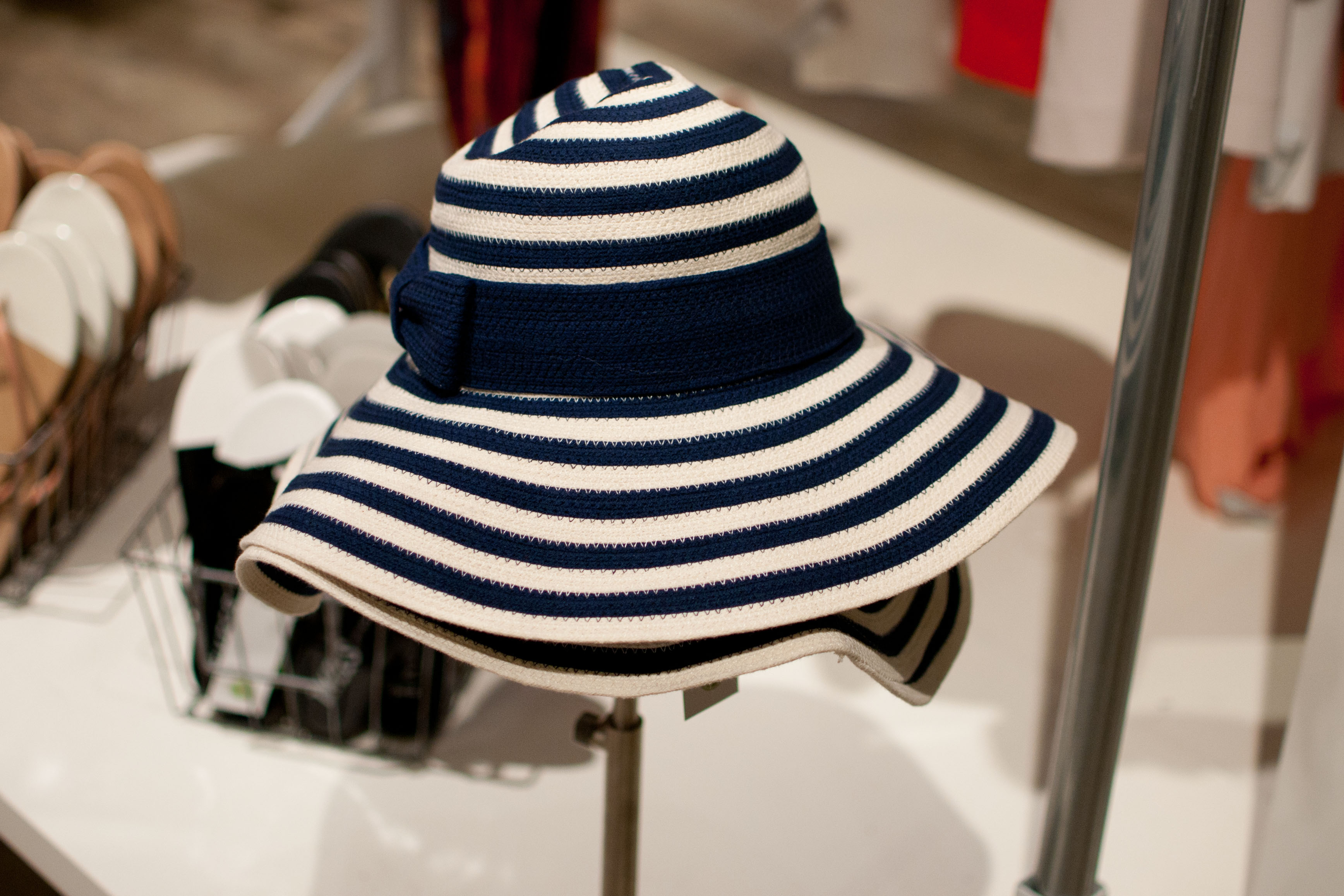 Even Mitch agreed that I need this Kate Spade sun hat, also available in pink! My skin needs major protection during the summer all months, and this would certainly do the trick. I'm thinking it will be perfect for our honeymoon in Culebra and Vieques this summer!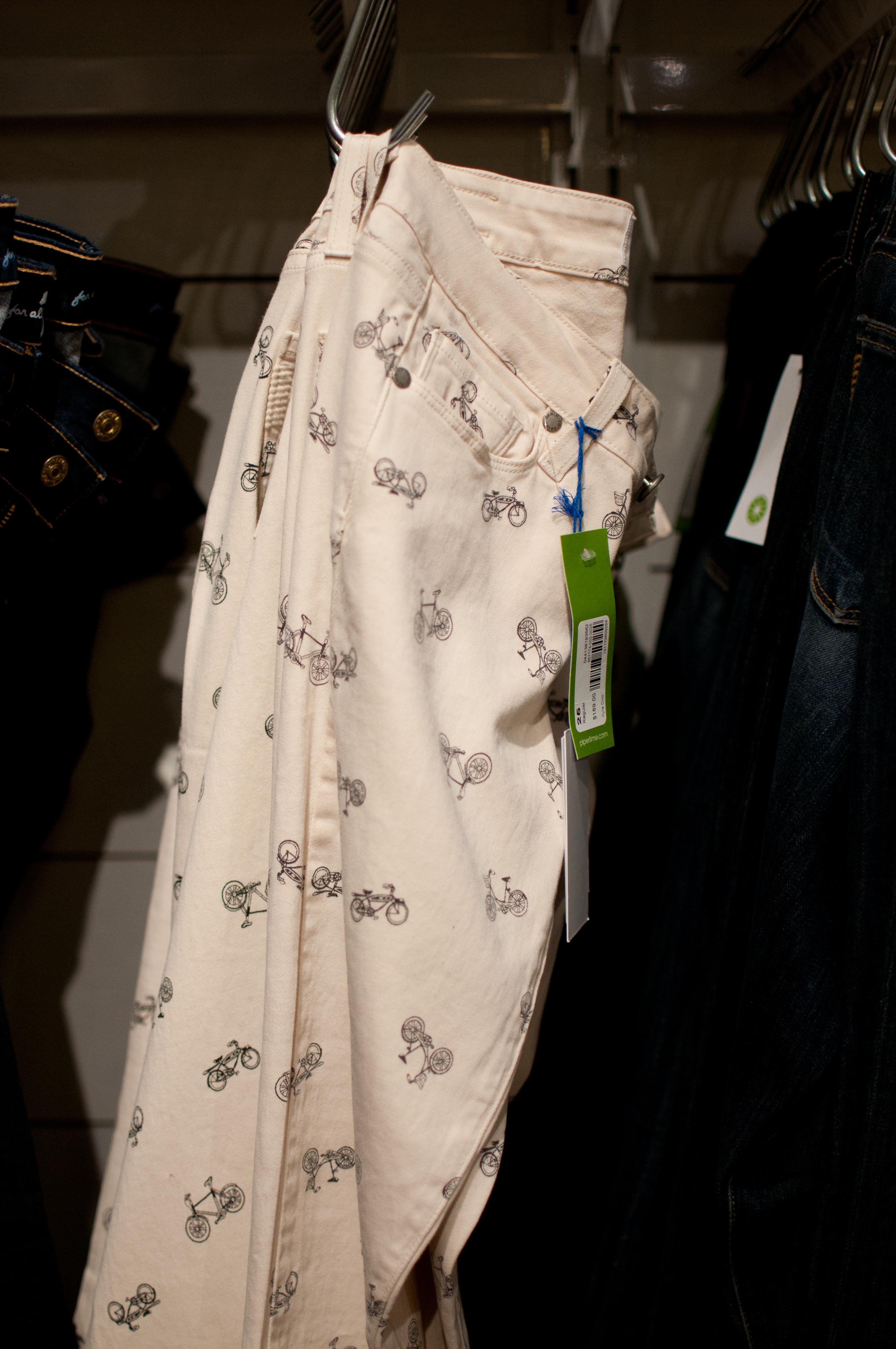 These bicycle jeans by Paige may have been my absolute favorite find of the night. Patterned jeans are all the rage this year, and I definitely have my fair share. I didn't think there was anything better than jeans with bows on them. But jeans with little bikes on them?! The bows have met their match.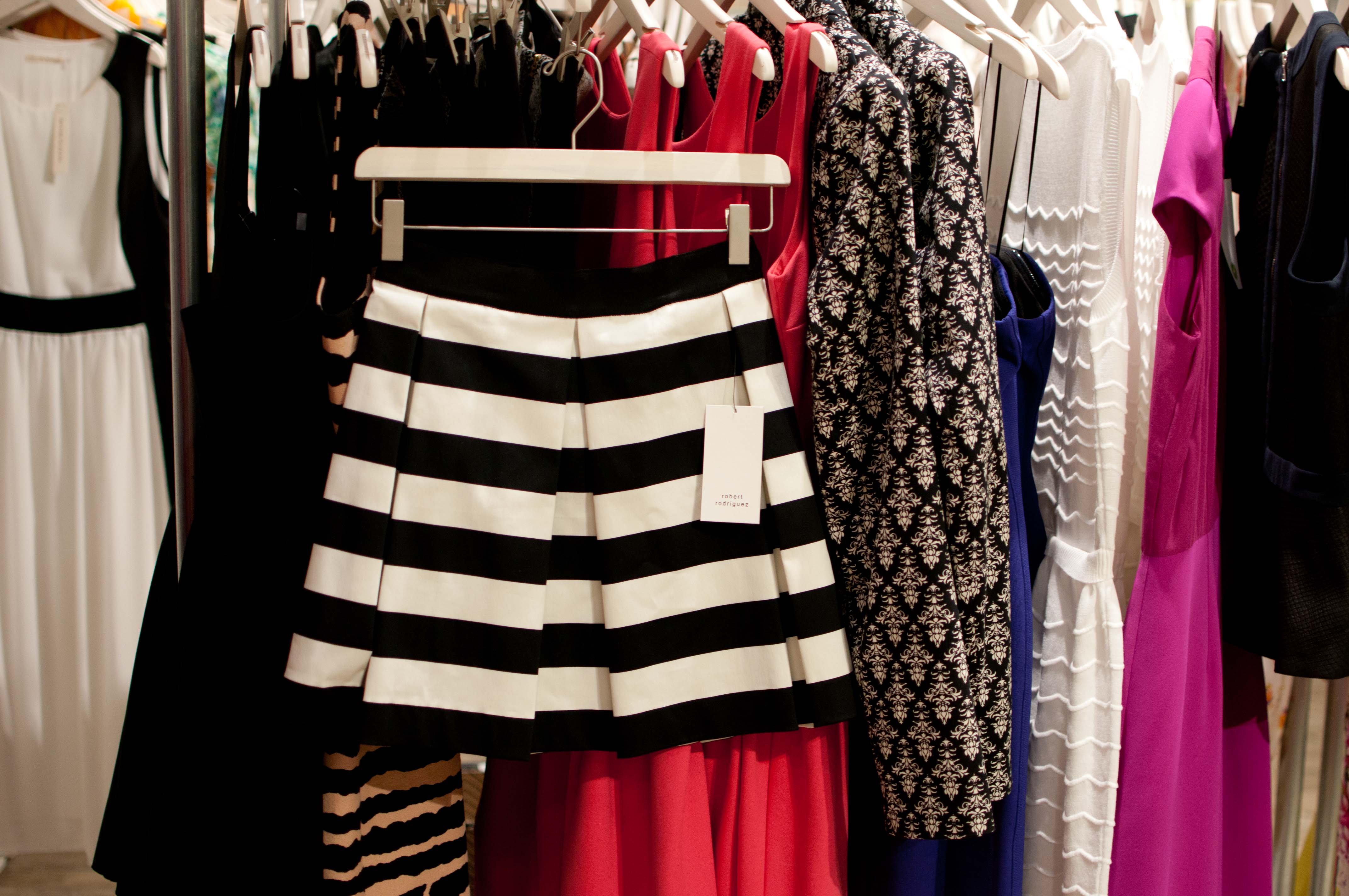 Another favorite from Robert Rodriguez. Swoon. Of course, it's out of my price range. But something else I love about Piperlime is that the company always offers comparable products with a more reasonable price tag. Just look at this skirt from Pim + Larkin. Much better! And this one, while different, is also adorable.
Vegan leather is one of this year's obsessions for me. It really gives my outfits a punch, and since it's vegan, it's not out-of-this-world expensive. Just take this peplum-style top from Piperlime's brand, Tinley Road. Something that's definitely made it to my wish list. And it's on sale!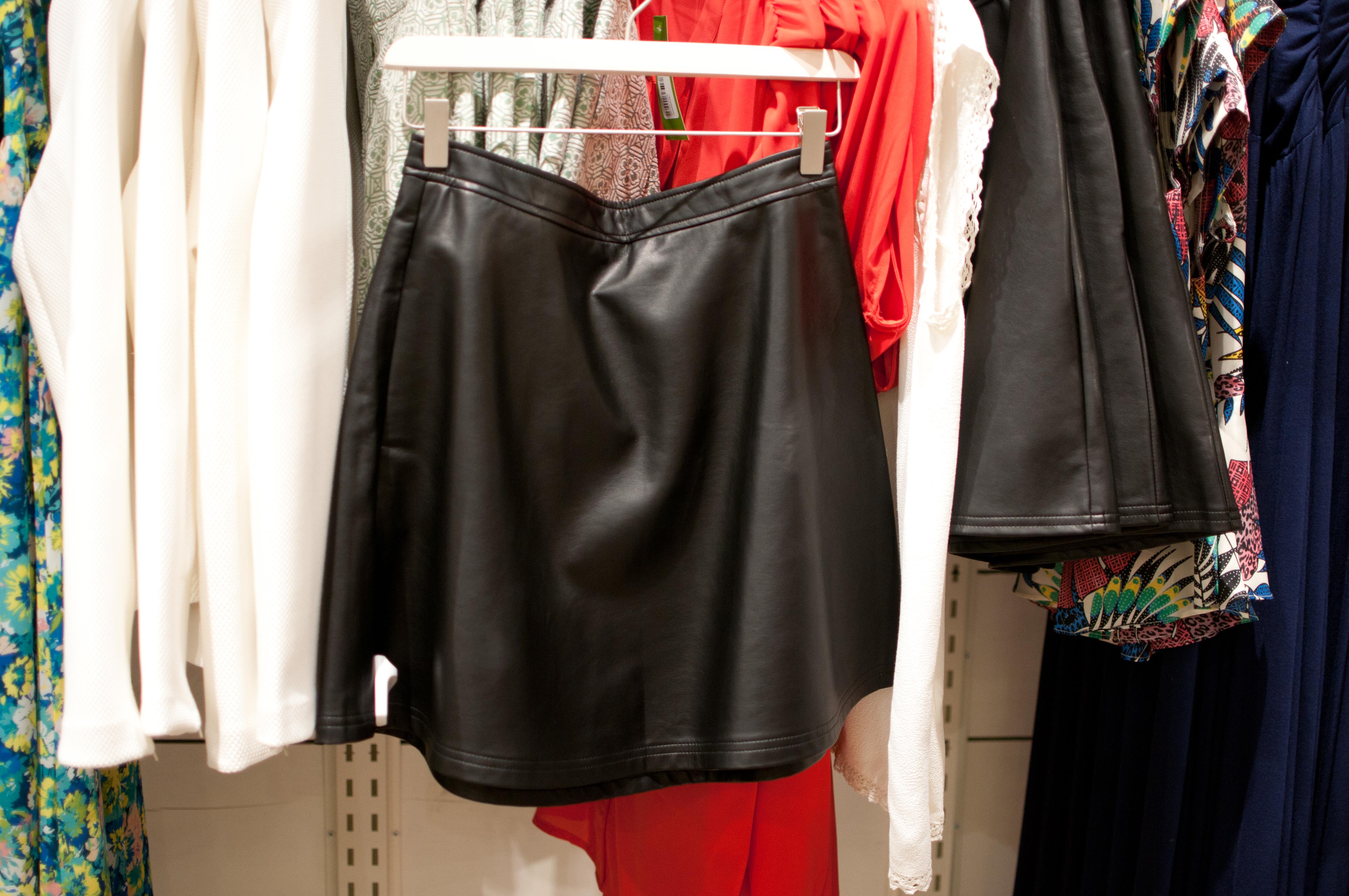 But I think I love the above skirt (also in vegan leather) even more. Just don't try to pair it with the top. ;) Another one of Piperlime's "Girl on a Budget" pieces.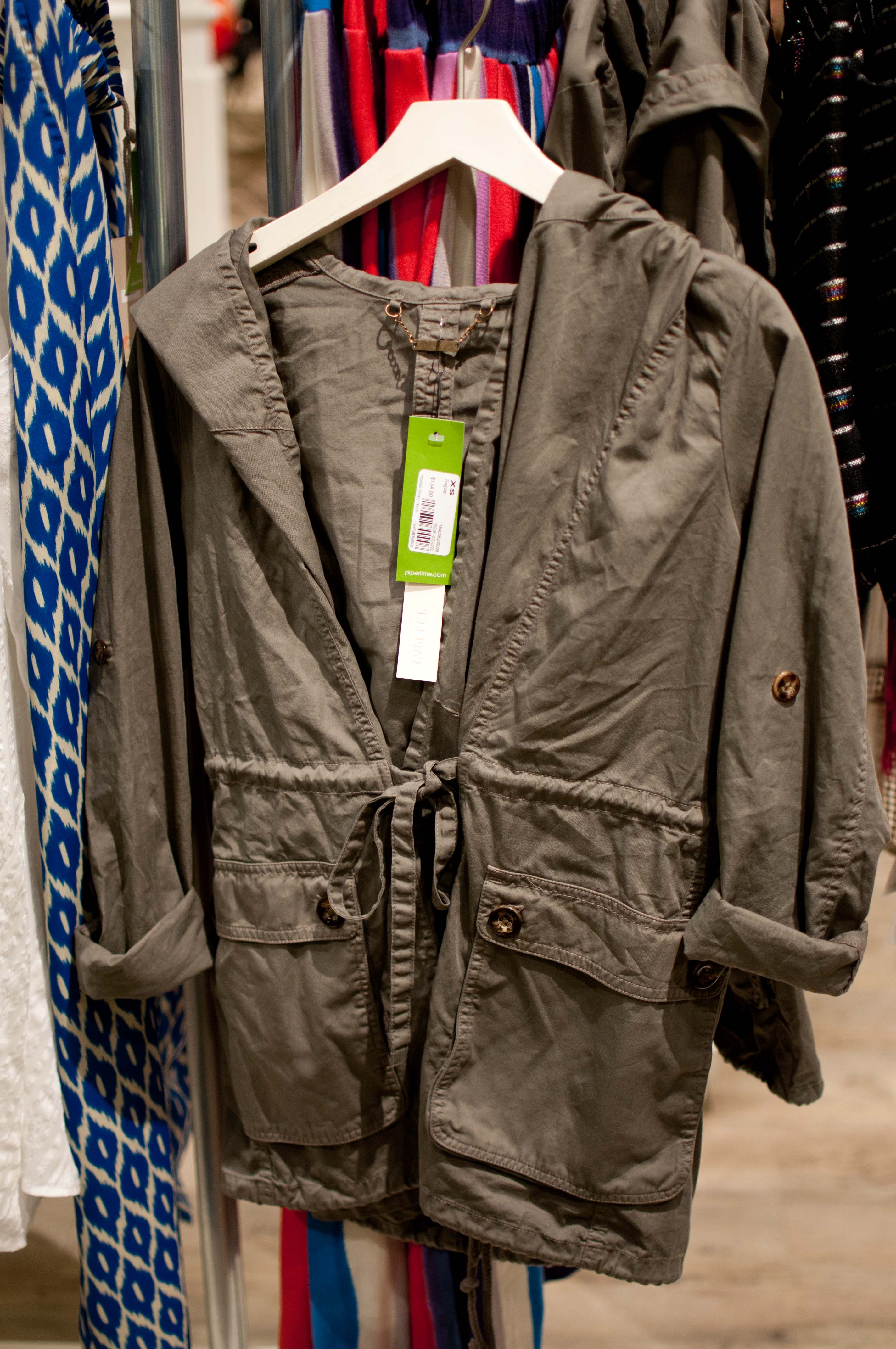 This jacket is definitely a spring wardrobe essential. But then again, I love anything in olive. ;)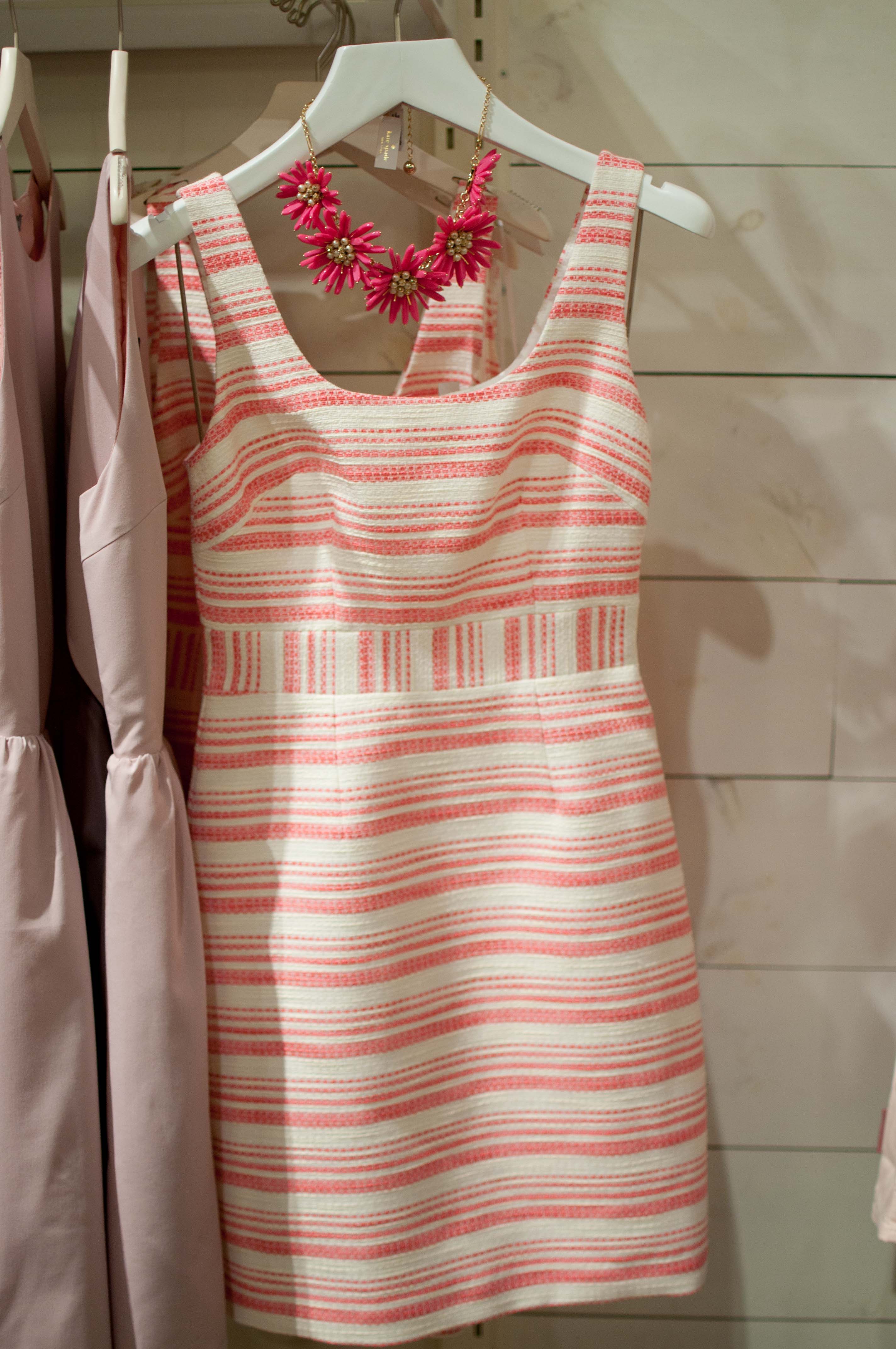 This dress shows up online in a light pink, but in person, it's a stunning coral-pinkish color. Almost resembles a Lilly Pulitzer dress. Definitely would consider wearing it to a summer wedding!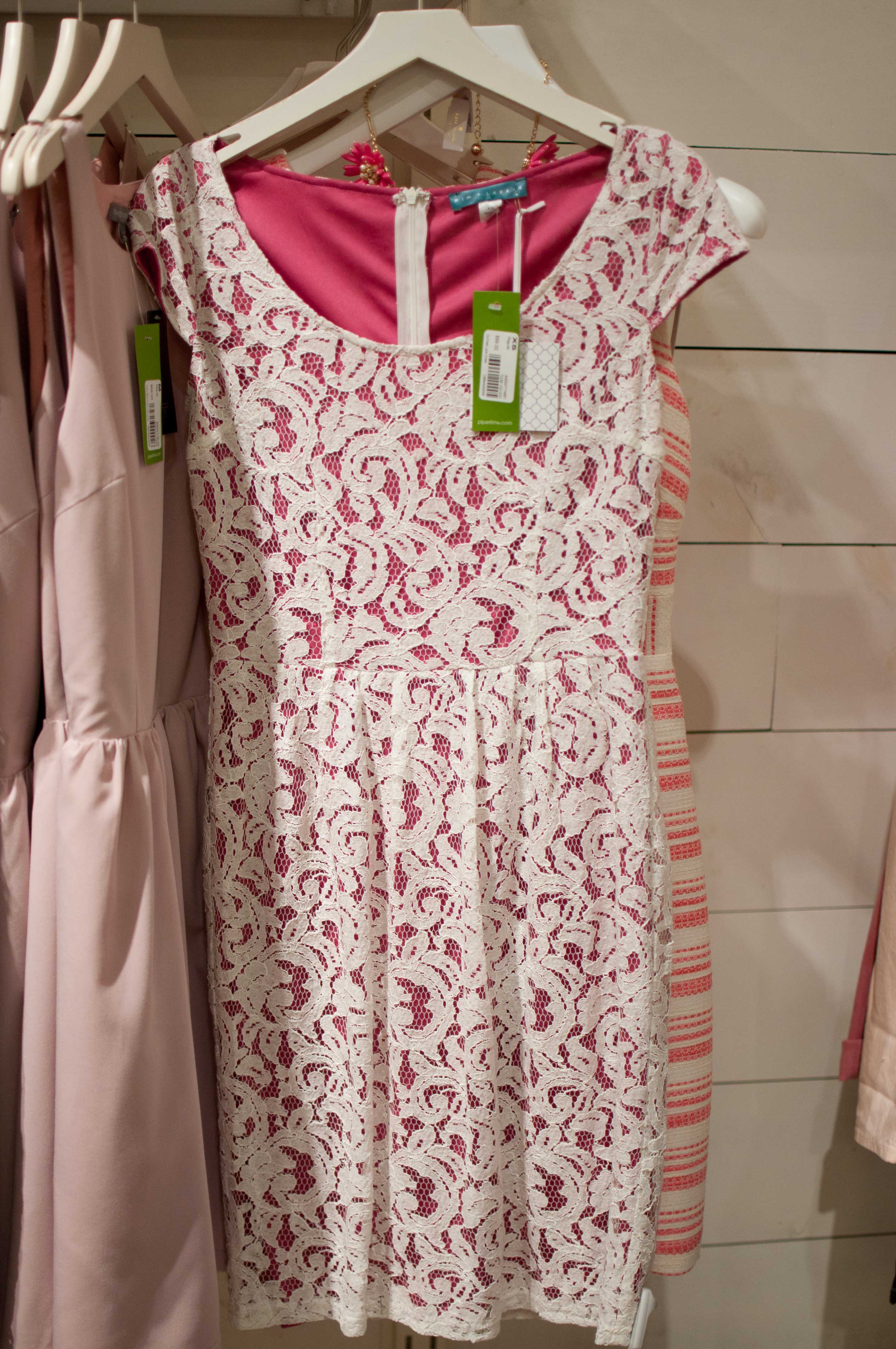 Another Pim + Larkin item. Love the deep pink underneath. Maybe it's because I'm getting married this year, but I'd drape myself in lace every day if it were socially acceptable. (Seinfeld reference. ;)) Funny thing, though: I think it is socially acceptable. Huzzah.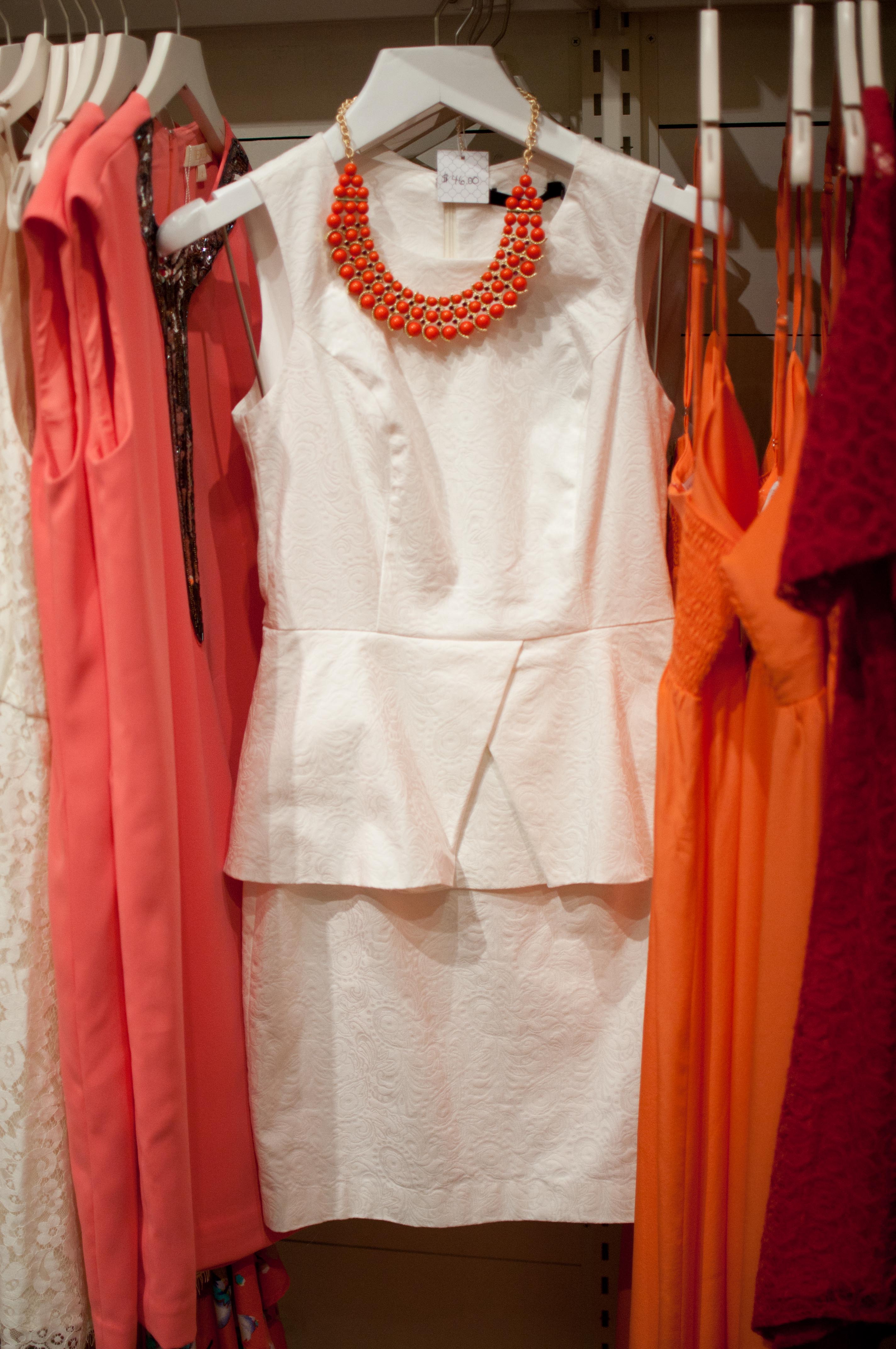 A brocade peplum dress in white? Enough said.
And, without further adieu, the shoes: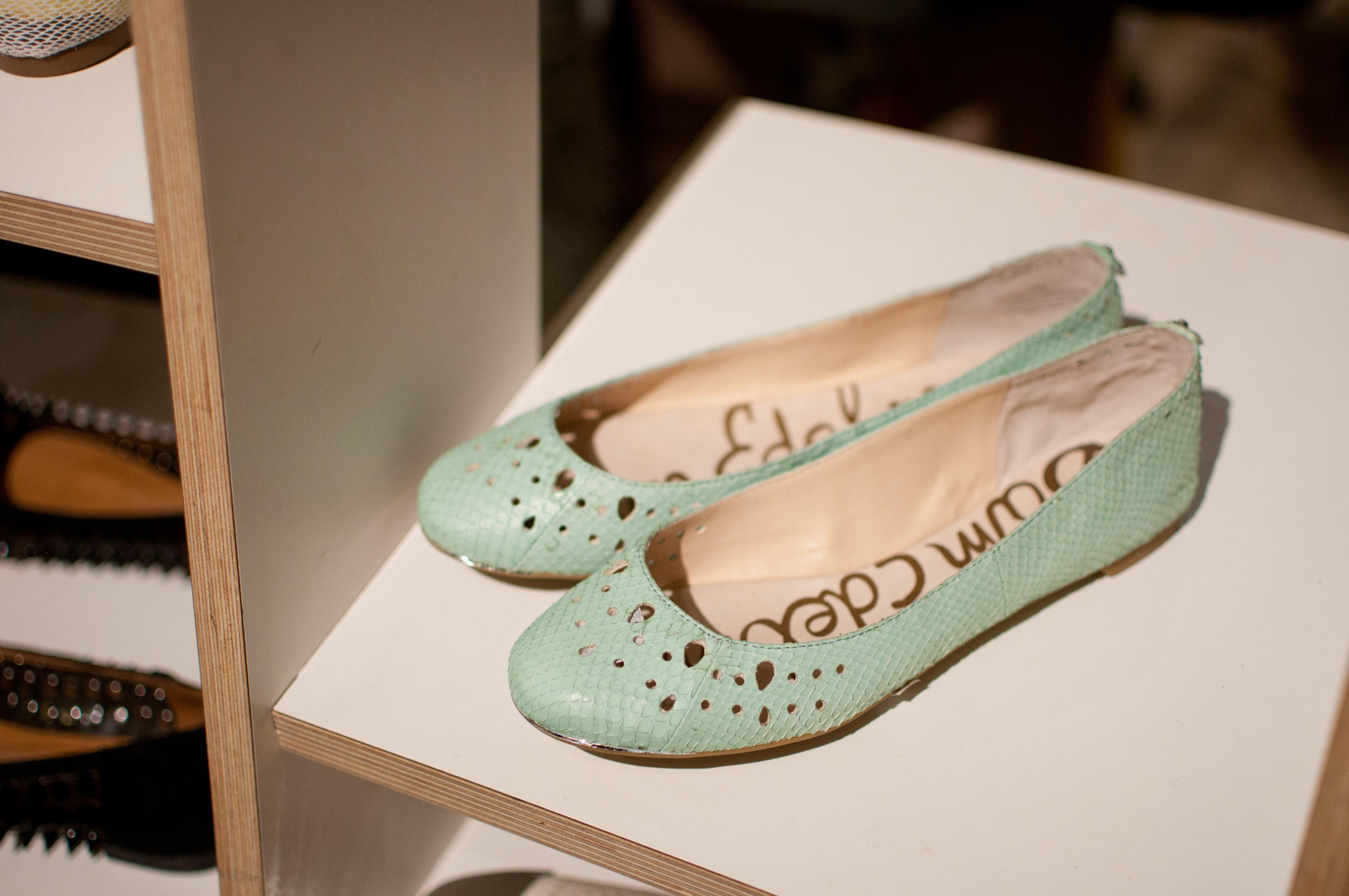 Sam Edelman mint flats. (On sale!)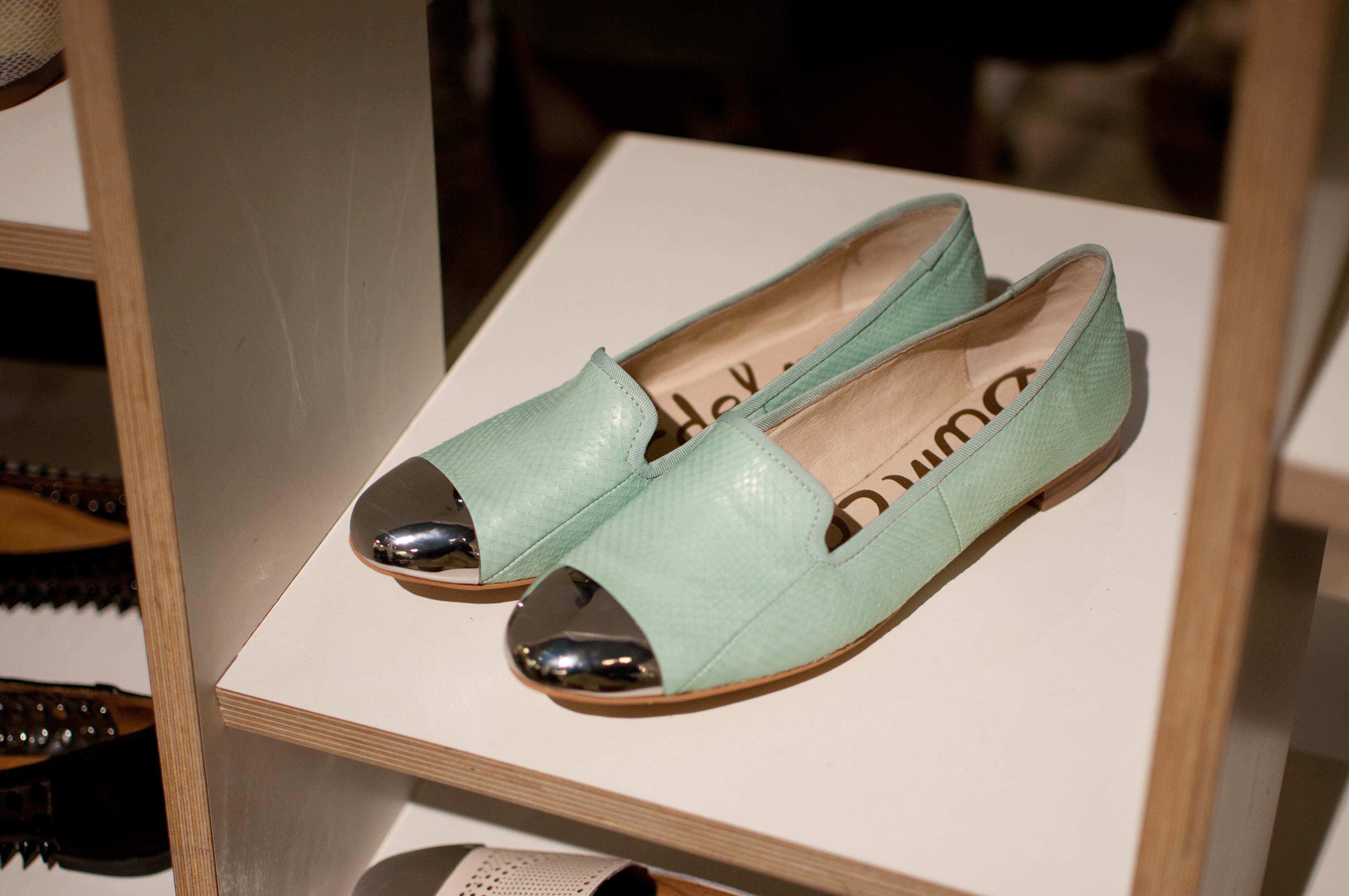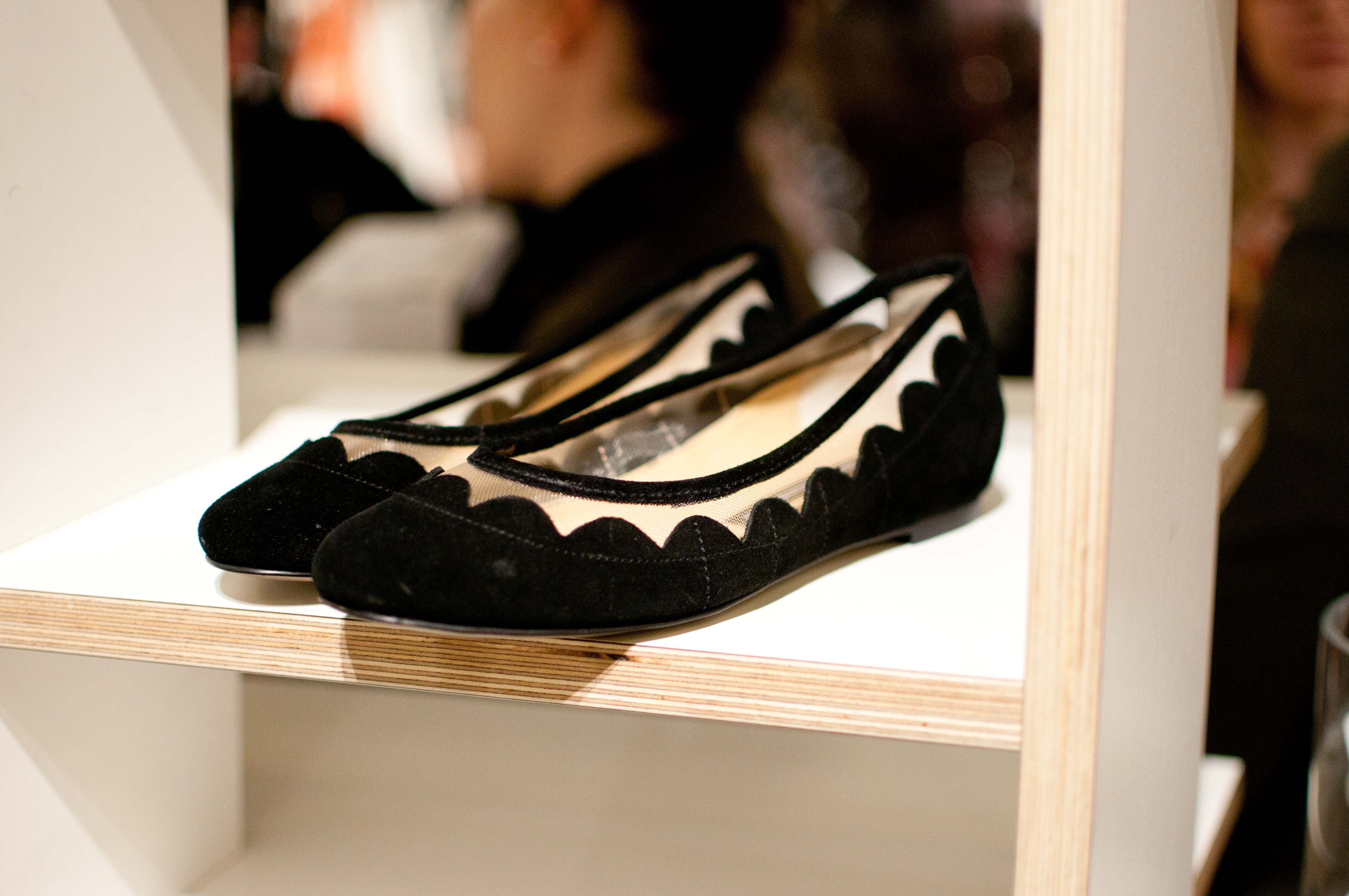 French Connection scalloped flats.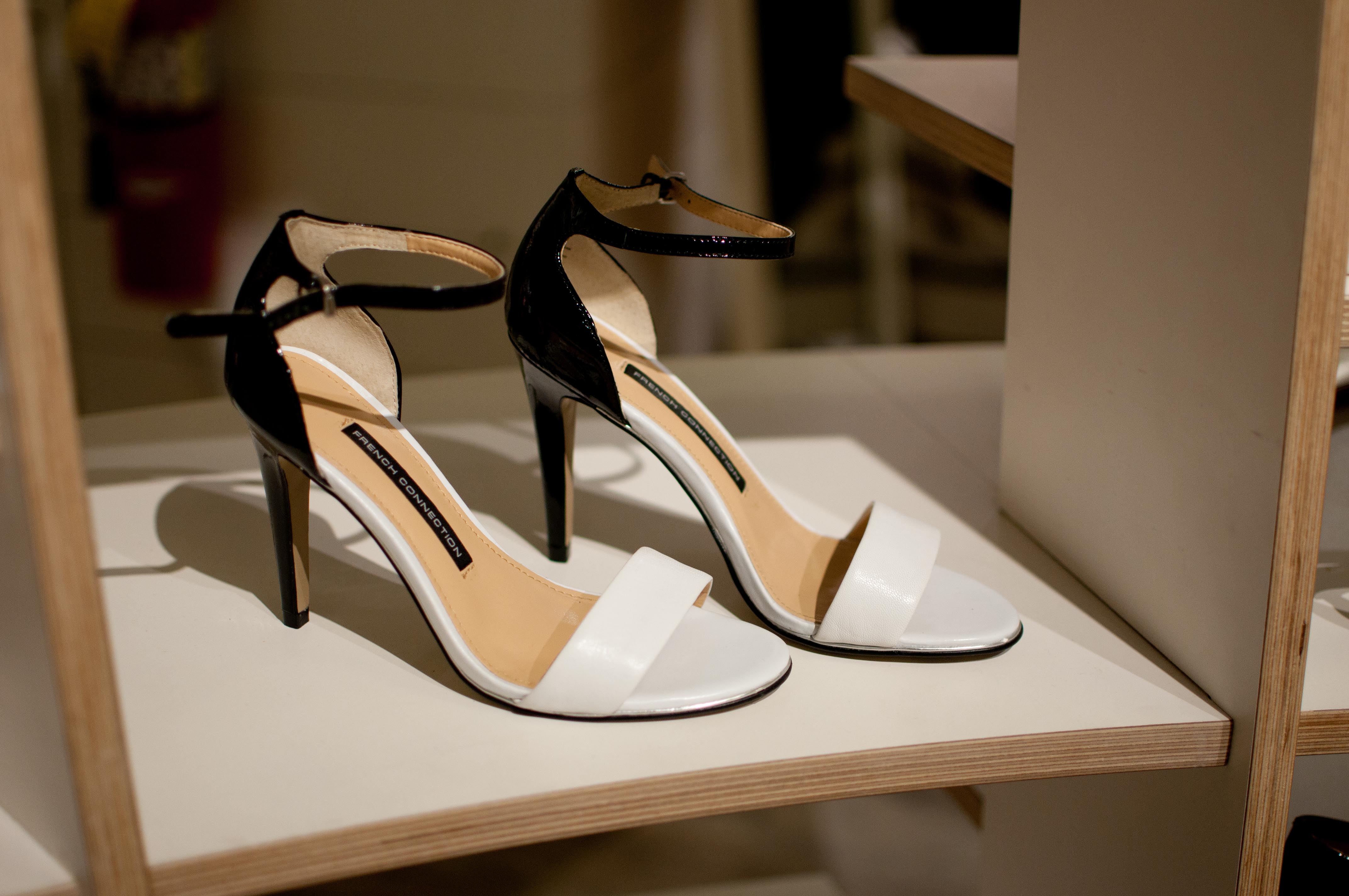 Chinese Laundry mint heels. (Also available on Amazon in mint)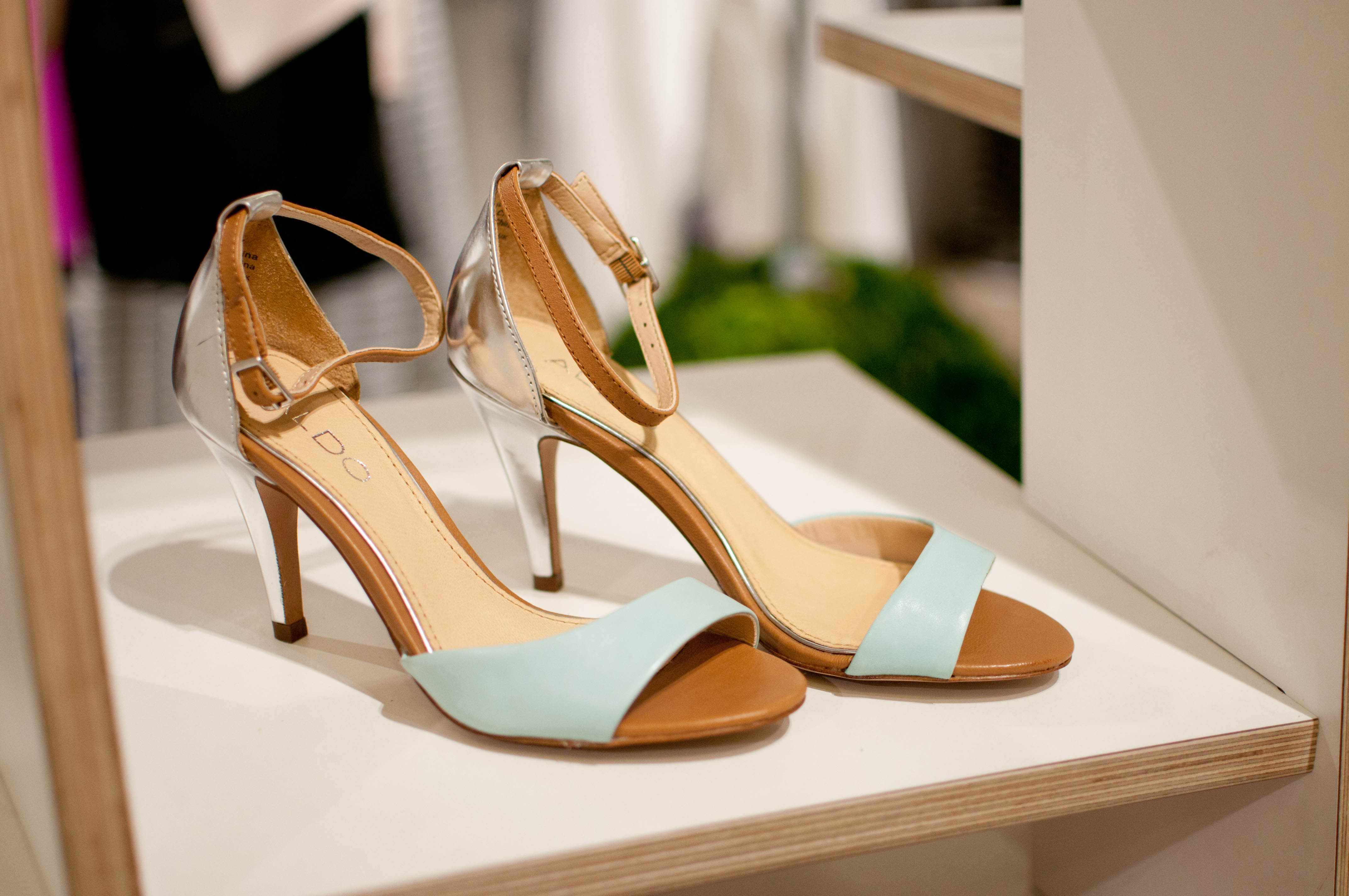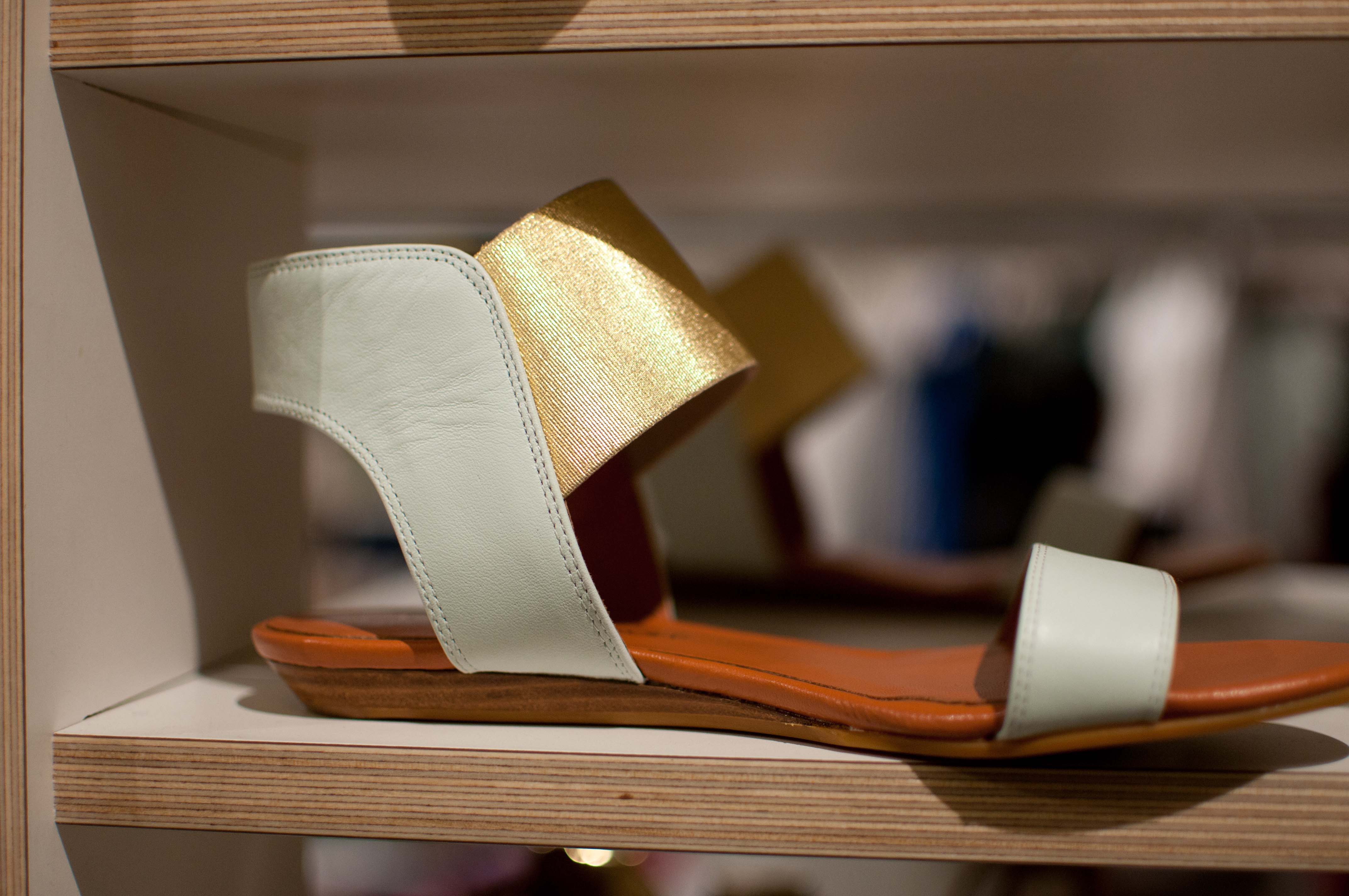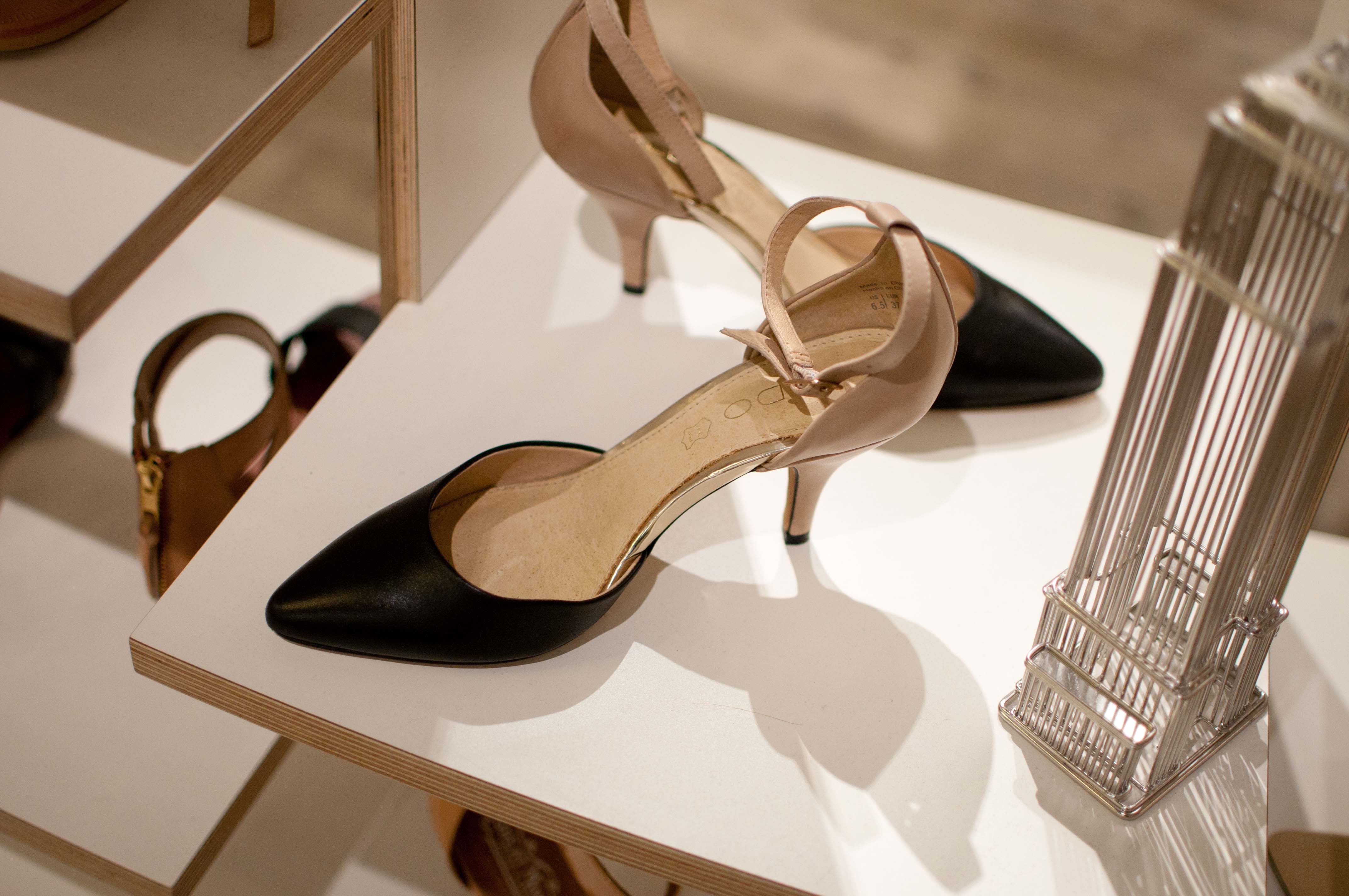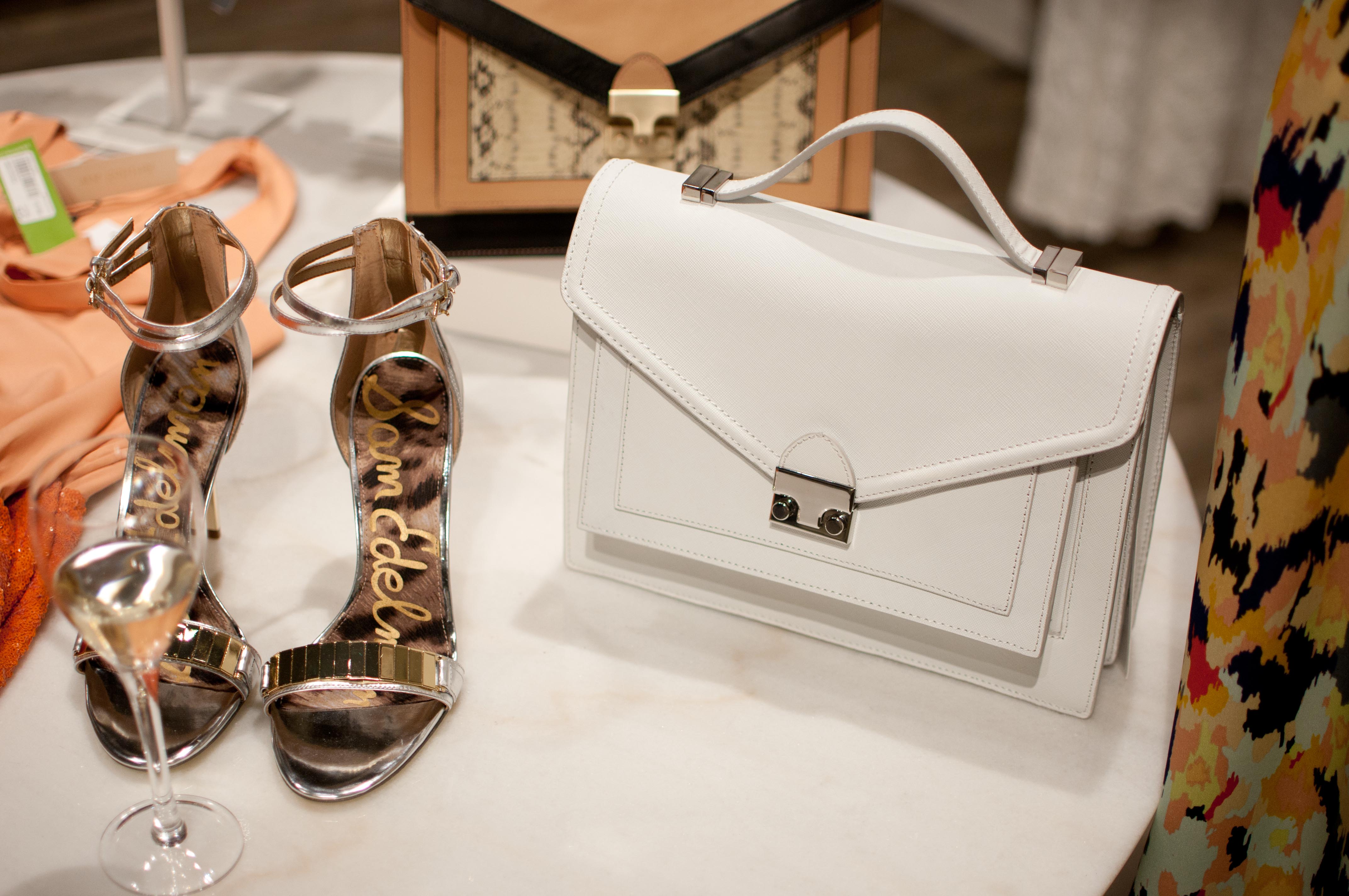 Sam Edelman heels and white bag.
Well, I'm off to Connecticut to see my two best girlfriends from college and their fabulous husband. Outfit post tonight. ;) Over and out, fashionistas! Happy Friday!