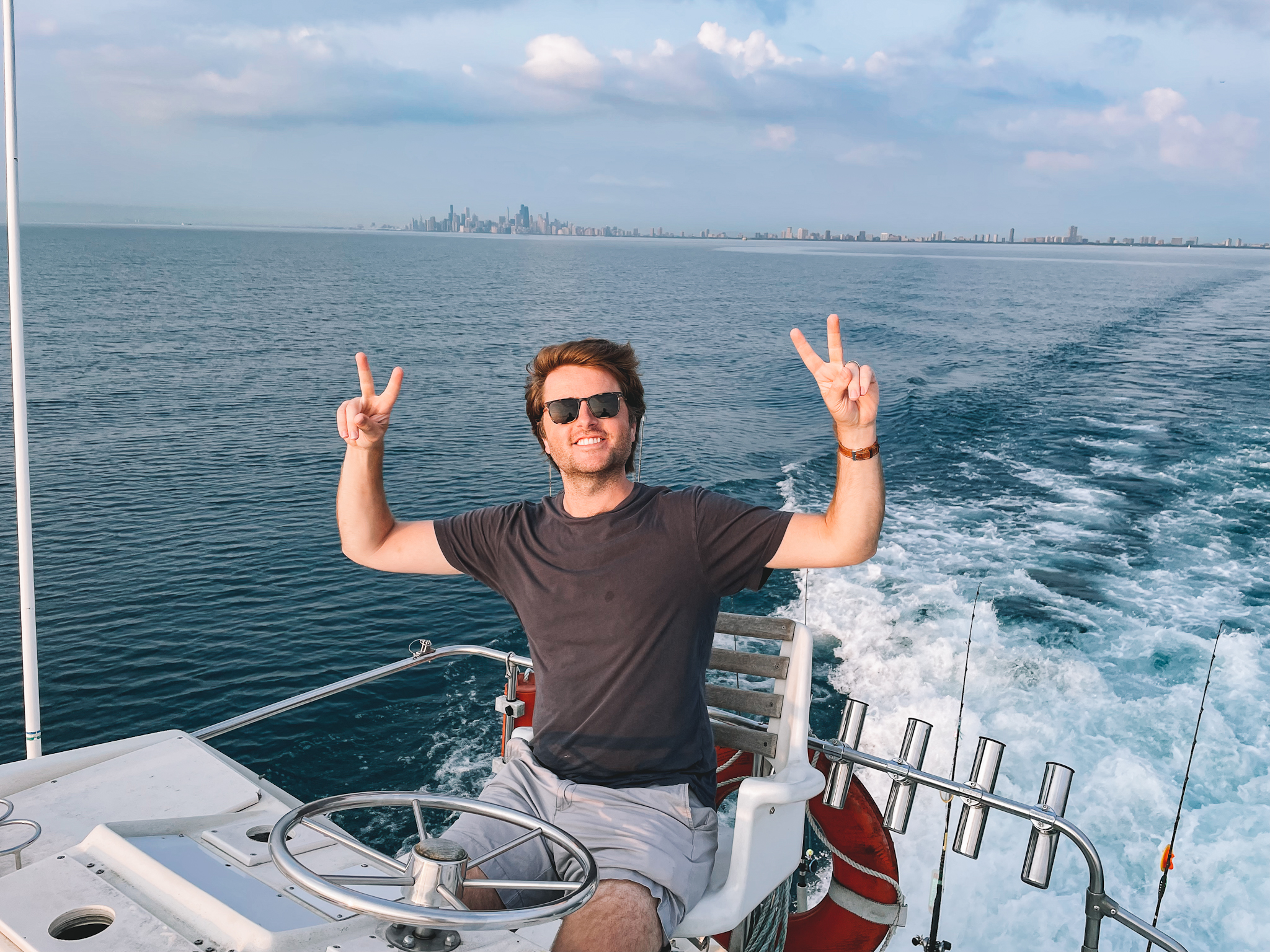 Mitch here!
I used to be a devoted fisherman. I took fishing trips around the Midwest as a kid, and even joined a fishing club in college. But as the responsibilities of adulthood set in, I lost interest in it. Recently, though, my friend Peter invited me on to go fishing at the crack of dawn out on Lake Michigan… and I remembered why I love it!
What to bring when deep lake fishing
I didn't bring my kids on this trip because, well, fishing with kids (especially in the early morning) is a struggle. So I packed a big bag for myself and slipped out of the house while Kelly and the girls were still asleep. (Don't worry. Kelly knew I was going.) Here's what I brought along:
A big backpack for all of the stuff. Boats are busy and cramped so I try to make it all fit in one bag.
Dramamine for motion sickness. It's recommended to take a dose an hour before you board the boat.
A battery pack for my phone. The lake has a weak cell signal that will obliterate phone batteries, so plan accordingly.
A bluetooth speaker so we could vibe to some tunes.
Sunglasses and/or a hat with a visor to keep the sun out of my eyes.
Sunscreen so I didn't get burnt to a crisp.
A layered outfit for quick temperature changes.
Shorts because I love shorts. Pants are ridiculous.
Backup pants and socks to keep the flies off. Oh, yeah, there are tons of flies out in the lake, and I suppose pants are better than shorts in this ONE instance.
Bug spray for the parts of my body that I can't cover up. 
Rain gear just in case.
Candy because I bring candy everywhere.
Drinks, snacks and candy because—did I already say candy?
A cooler filled with ice for fish meat. I left this in my car on shore.
Our fishing experience
It goes without saying that Lake Michigan is absolutely gigantic and while you can fish from the shore, the real action is out beyond the horizon, in the middle of the lake many tens of thousands of cubic miles of bubbling nothingness in all directions. The lake is teaming with scaly monsters including Coho and Chinook salmon, Rainbow and Lake Trout, Yellow Perch, Largemouth Bass, and the occasional Muskie or  Northern Pike. The fish move around the lake throughout the year so a fishing guide is a good idea if you hope to catch anything. Our guide suggested we fish for Lake Trout because they like to swim in 150 feet of cold deep water. So we aimed the boat 15 miles due east from Chicago's Montrose Harbor where the lake bed drops super deep within view of the city.
The Great Lakes are a secluded ecosystem of unfathomable scale cut off from the world's collective marine biologies, or at least they were before the Erie Canal, St. Lawrence Seaway and Illinois/Michigan Canal opened them up to a series of biological invasions. The result are lakes filled with trillions of zebra mussels, invasive lampreys, and stocked sport fish like the Lake Trout we are looking for today. Fish, apparently, like to eat as the sun comes up, so to up our chances of success it was recommended that we board the boat at 5 in the morning. We valued an extra hour of sleep over catching fish, so we boarded at 6 and hoped for the best. The hour cruise to the fishing grounds gave me a chance to build up my strength so I could act like getting up at 5 in the morning wasn't killing me… and to enjoy the sunrise over the lake, of course.
Our charter was called the Confusion (no joke), which was just perfect for my state of mind. Upon arrival, the Confusion's crew sprung into action setting up no fewer than 10 unique fishing poles in each of their respective fishing pole holders. On some they used mechanized down rigger wenches with 16-pound weights to pull the tackle to the bottom of the lake. On others they used woven stainless steel fishing line that, I was told, could hold me up by my belt loop. And they used weighted side planner fishing floats which surfed along the surface of the lake pulling the lines away from each other. In a span of about 10 minutes, our guides deployed this impressive array of fishing gear that stretched 100 feet on either side, 150 feet below and as much as 900 feet behind the boat. They then dragged this fishing armada at two miles per hour across the lake and sat back to watch for our first bite.
And, surprisingly, the fish eventually bit. The shiny spoon lures we used whipped back and forth in the water just wildly enough to convince a few fish to play along. With as much as 900 feet of heavy fishing line between the fish and the pole, it was nearly impossible for me to notice the bites as they came. But our guides were able interpret the subtle movements of rods and spring us into action at go time.
My fish, unfortunately, chose to bite out the rig with 900 feet of line attached to it. Things got pretty exciting as I ran to the pole, assumed my position at the back of the boat, and started reeling. I then became instantly exhausted and was mercilessly made fun of by every person on the boat until I landed the fish. (including triplet boys around the age of eight.) This took about 10 minutes and I only tried to give up three times.
What you see below is a pure-to-life giant Lake Michigan lake trout. He was the smallest fish we caught all day but I caught him all by myself and I'm pretty proud of that fact. Well, the guides really caught him, but I reeled him in. OKAY? In all, we caught four lake trout on the trip which is about one per hour and truly, that was plenty for me. I mean, would I do with even more fish? On the way back home, the captain cleaned the fish and tossed the fish guts to the throngs of seagulls following us into the harbor. We pulled in at 11 am which was bizarre because I was totally exhausted and I still had a whole day ahead of me.
I had an absolute blast on the boat. Shout out to my friend Peter and his cousin, "G," for bringing me along. A trip like this is only as good as the people on the boat with you—and they, along with the Confusion Boat crew, made for great company. We grilled up the trout for dinner that night and I realized that I want to go fishing again!
Mitch. OUT!