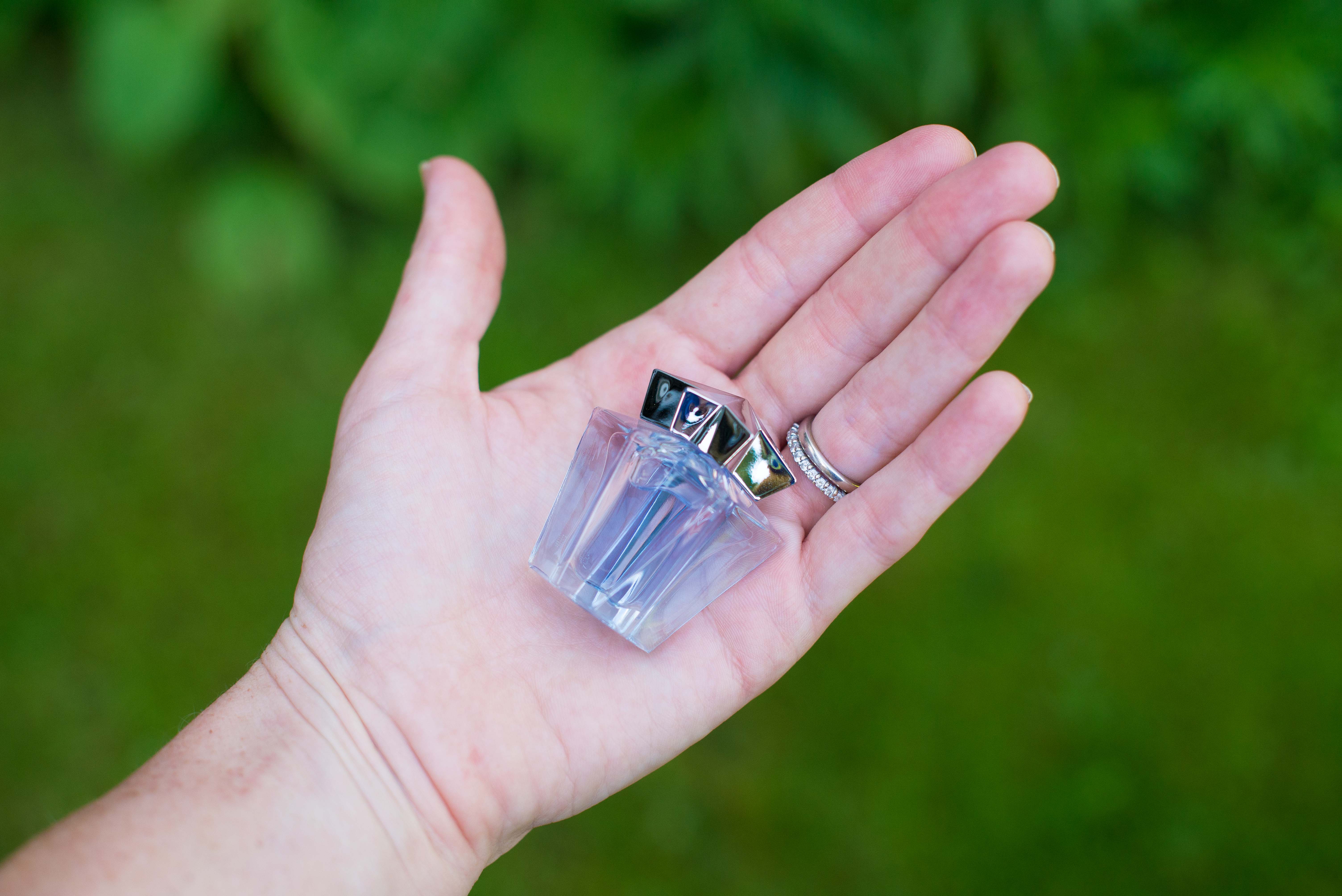 Ugh. I hate my morning routine. I so wish I were one of those people who can be up and out the door in 15 minutes or less, but alas—I'm not, and probably never will be. I have prescription contacts to worry about; allergy medicine to take; super sensitive skin to care for; makeup to apply; and frizzy, lifeless hair to blowdry and/or straighten. (#highmaintenance) It's pretty annoying… especially when I'm in a rush! (If this is my biggest problem in life, though, I suppose I'm doing relatively well, haha.)
Over the years, I've tried throwing perfume into my morning routine, but the bottles usually went unused. I assumed, up until now, that this was because it was just one more thing to remember. But recently, I was sent ANGEL perfume by French designer Thierry Mugler to try out, and I realized that perhaps my indifference was a result of not finding the right scent. Because—oh my goodness—ANGEL smells so good.
Over the last couple of weeks, I've remembered to dab it on nearly every morning… and have really missed it on the couple of occasions that I've forgotten. I love that it features notes of vanilla, caramel, chocolate and berries, and that it's not overwhelming or sickeningly sweet like other perfumes I've tried. I also find it interesting that ANGEL was designed to evoke childhood memories and awaken the senses.
Smell and memory are closely tied. (Read this article. So interesting!) And because we encounter certain smells for the first time as children, the memories triggered by scents are often childhood memories. They can be so powerful that they can affect our moods, influence perception, and significantly impact our days. Very cool.

When I put on ANGEL, I'm immediately brought back to my childhood days on Long Island. I remember my family's first house. I remember the tiny kitchen with red-and-white flowered wallpaper, the screened-in back porch, and my dormered bedroom that smelled of oak. I remember the red Radio Flyer wagon, my purple bicycle, and family dinners at the dining room table. I remember lying on the living room floor with Dad, listening to his stereo, and I remember hunting for (and eating the contents of) my Easter basket. I remember homemade Halloween costumes, my stuffed rabbit, a massive consumption of Fruit Roll-Ups, and getting on the school bus for the first time. I remember bedtime stories, lining up all my stuffed animals against one wall, and my very first experience with bubble gum. I remember planting saplings, picking cucumbers that grew up the side of our fence, and desperately begging for more outside playtime after dinner. I remember my parents telling me that soon I'd have another little brother, the time my aunt surprised us with a visit, and the day someone accidently exploded a bottle of soda all over the kitchen walls. I remember painting rocks in the backyard with Mom, the little nest of bluebird eggs, and eating honeysuckle. I remember the scary dog that lived across the street, my Little Mermaid-themed birthday party, and the pink backpack that Mom surprised me with. I remember running down the stairs on Christmas mornings, my beautiful bedroom furniture, packing the car for a day at the Bronx Zoo, and tacking my schoolwork on the bulletin board in the basement. I remember my dolls, the time we got a new station wagon, my parents' bedspread, and the sound of Dad coming home after work. I suppose I could keep going, but you get the point: happiness.
Not only does ANGEL evoke happy memories for me, I also get a ton of compliments on it. I can't even tell you how many people have told me how great I smell over the past couple of weeks, haha. (Kind of makes me wonder how I smelled before! ;)) And now for the fun part…

Want to try ANGEL? It can be purchased at Nordstrom, Macy's, Sephora, Amazon or Overstock. You can also comment below with your thoughts on ANGEL or what scents evoke memories for you… I'll be selecting one lucky winner and sending her both the perfume and body lotion to try out. Good luck! (I'll select the winner on Monday night.)
Thierry Mugler: