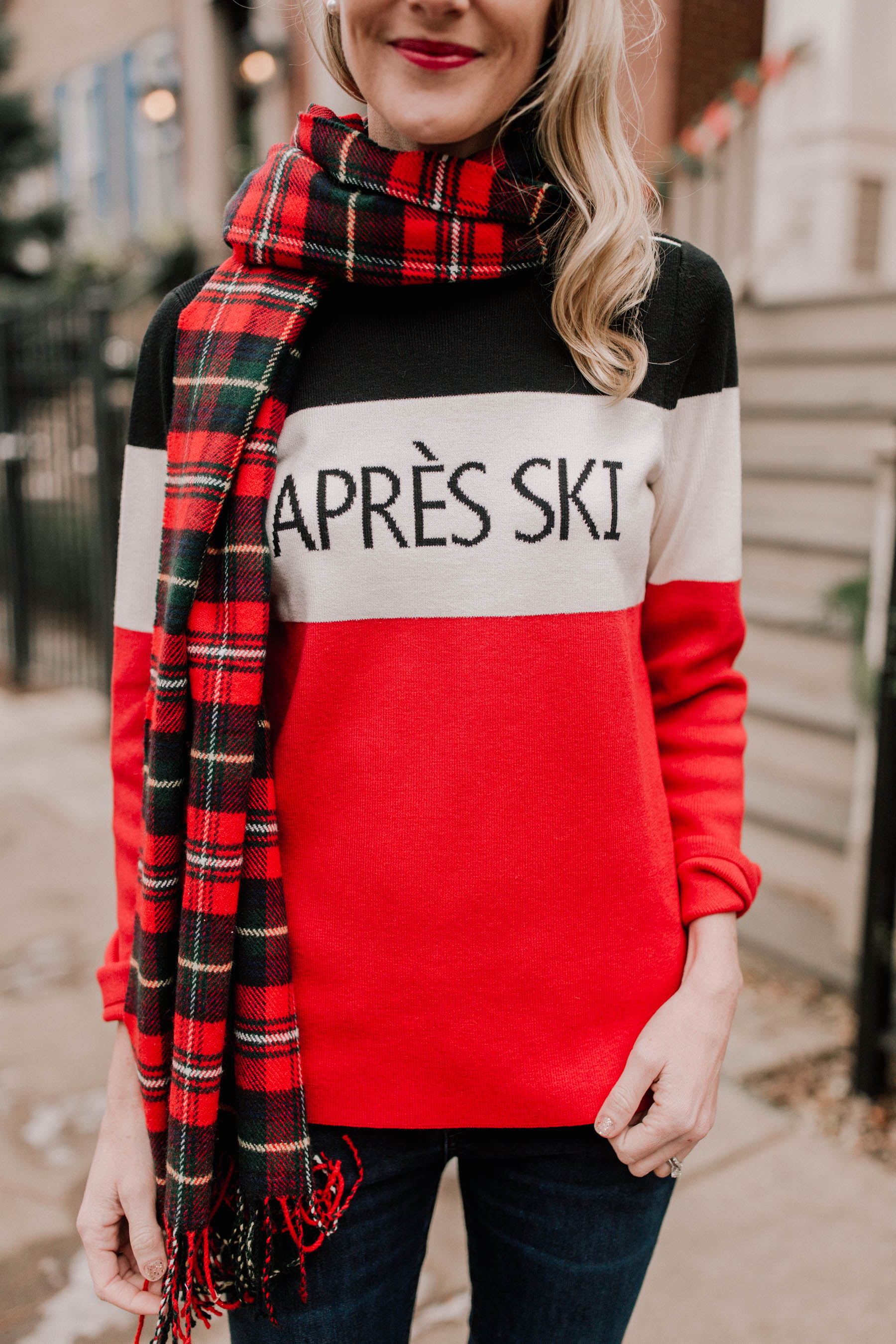 Barbour Scarf c/o / Ralph Lauren Puffer Coat (Available in more sizes here and here. Here in navy. Love the toggle version, too!) / Après Ski Sweater c/o / Rag & Bone Jeans (On sale! Fave pair of AG jeans on sale, too.) / Waterproof (!) Over-the-Knee Boots
Yes, I realize the irony of this sweater considering the background of these photos. (And the fact that they were taken in the morning. 😂) But it makes me happy, as I spent most of my Christmases at Mount Snow, Vermont and am definitely missing it (and everyone!) right now. ❤️
On a somewhat related note, Mitch and I decided to cancel our flight to New Orleans and rebook for Tuesday night.
All I can say is thank goodness for Southwest! (No charge for cancelling. Insanely awesome.) But we just couldn't get our acts together in time, and last night at midnight, we kind of looked at each other and said, "Yeah. This isn't happening." 🙈 We both still had a few work-related projects we needed to finish, the kitchen renovation was scheduled to be completed on Monday, and we hadn't done laundry or packed. And somehow, last-minute flights on Tuesday were cheaper than the flights we'd booked months in advance.
It was a Christmas miracle!
I think we're both feeling so much better right now. The holidays are a hectic time, and it's so easy to get overwhelmed, overtired, run down and sick. Yes, we're going to miss out on a couple of days in New Orleans, but my parents arrive on Wednesday anyway… and when we do arrive, we'll have a far more enjoyable time because we'll be healthy and well-rested. :)
Look at us being adults.
Anyway, can't believe there are only nine days left of #30daysofplaid! Haha — also until Christmas. ;) But a few notes about what I'm wearing:
Barbour Scarf: Obsessed. It's so soft (and very large!) and it comes in a blue/green plaid as well. I'm sad that I didn't think to give it this year as a gift! It's perfect, and it's the scarf I reach for first.
Ralph Lauren Puffer Coat: SO sad that this thing is selling out so quickly. I bought it because I wanted to offer readers a more affordable cute puffer option, haha, and then it was like–poof!–gone. It's available in more sizes here and here, though. And here in navy. Love the toggle version, too! It's SUPER warm (not as warm as Canada Goose but CLOSE!) and it has an incredibly flattering fit. (In case you're wondering, I'm wearing an XS, which is what I usually wear in coats. Would say it runs TTS.)
Après Ski Sweater: SO adorable. I get a lot of compliments on it, and I love how colorful it is. Soft and itch-free, and it has a little zipper by the collar. Runs TTS; I'm wearing a size small in these photos. Talbots, you won Christmas this year!
Rag & Bone "Capri" Jeans: I'm wearing a darker wash from a few years ago, but here's the current wash, which I love just as much, AND they're on sale! They run TTS as well, and you can read all about why I love them so much in this blog post. (Side note: they're not actually capris.) Fave pair of AG jeans on sale, too.
Waterproof (!) Over-the-Knee Boots: Love these because they're leather, over-the-knee, and WATERPROOF. I wear them on the reg these days because they're so warm, too. I'd order a half size up as I think they run a little small. (I always wear a 7.5, and took these in an 8.)
Over and out, guys! Happy Sunday!
Outfit Details:
Barbour Scarf c/o / Ralph Lauren Puffer Coat (Available in more sizes here and here. Here in navy. Love the toggle version, too!) / Après Ski Sweater c/o / Rag & Bone Jeans (On sale! Fave pair of AG jeans on sale, too.) / Waterproof (!) Over-the-Knee Boots