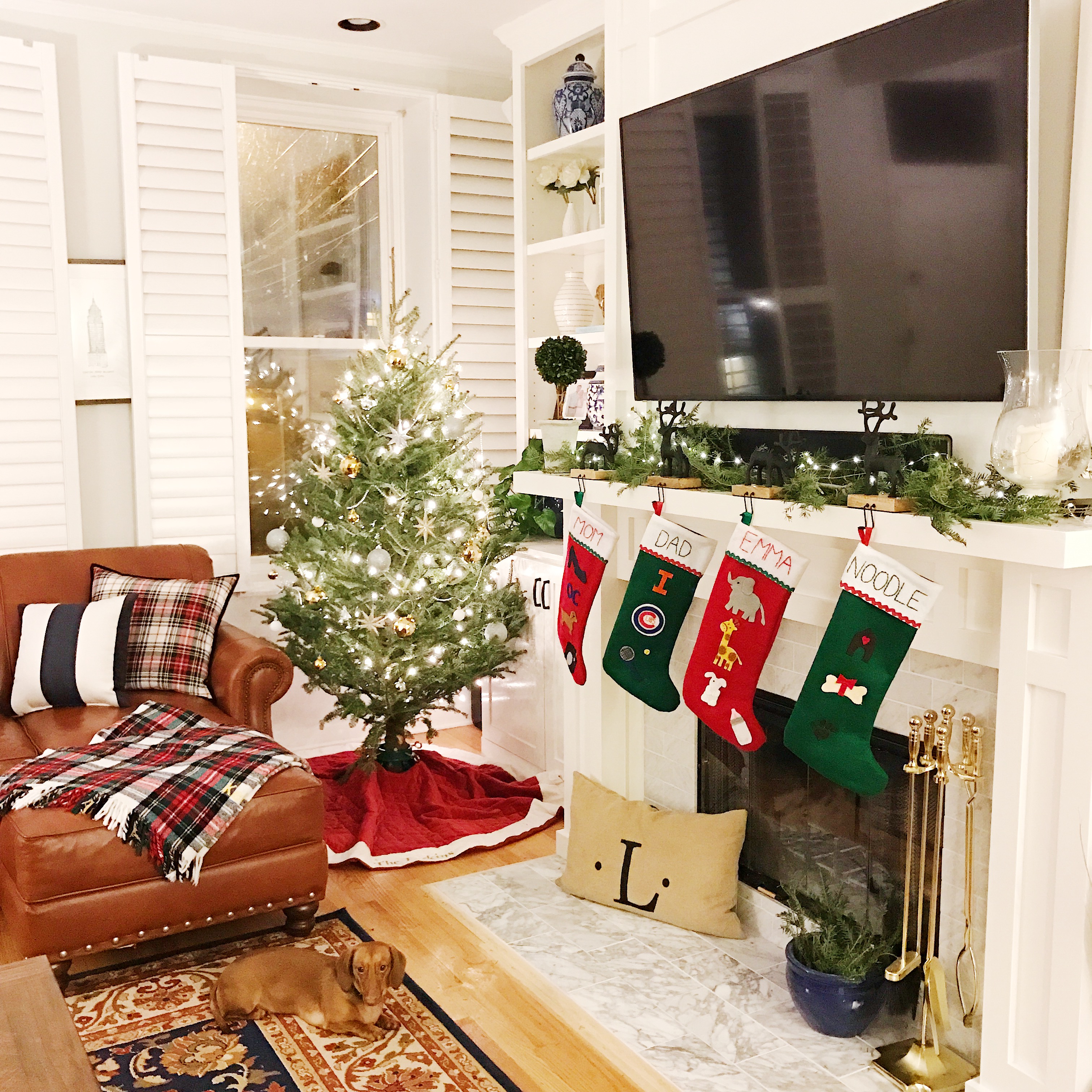 Leather Couches / Rug / Similar Plaid Pillow (Actually, this one is perfect!) / Ornament Set c/0 / Tree Skirt (And love this one!) / Striped Pillow (Also here) / Stocking Hangers c/o / Fireplace Set / Plaid Blanket
Hi! I'm in such a good mood today. Work is winding down, and I've been getting more quality time with Mitch, Emma and Noodle. We spent last night decking the halls finally trimming the tree we picked out last weekend. So fun! Did you see my Instagram Stories of Mitch trying to put ornaments together? Hysterical! The house isn't done yet–we still need to hang our wreaths in the windows and put out one last tub of decor, but everything looks magical and I'm so glad we finally got our acts together.
We're headed down to the lake house tonight to spend some time with my in-laws and brother-in-law. It's supposed to snow, and I can't wait to see the lake covered in a layer of powder. While I love the city at Christmastime, it's really fun to escape to the country every once in a while–especially since we're not going to be in Vermont for the holidays this year. (It's okay, though! We're having a big Christmas party with the entire fam, and it's going to be epic.)
Anyway, I should probably start packing so we're all ready to go before Mitch gets home. (Otherwise we'll be stuck in Friday traffic for HOURS.) I'll be back tomorrow, but in the meantime, here are a few good links:
♥  My favorite suede booties are on sale! I LOVE these. Investment booties for sure, but they're crazy comfortable and I've been wearing mine for two years and they still look brand new. My go-to leather booties are also on sale.
♥  I loved this dress on my friend Emily. You're gorgeous, Em!
♥  I can't believe I found a similar plaid throw to the one that we have. (It's been in my family since I was a baby!)
♥  This Lincoln Park/Old Town mansion is on sale, and Mitch and I are very interested. (HAHAHA.)
♥  Blair and Jess recently wrote this article and I think it's so helpful for bloggers.
♥  My neighbor, Cortney, recently started this design shop, and it's AMAZING. Such great Christmas presents for Chicagoans!
♥  My friend Kira wrote this post about her family's hometown in South Dakota, and it was SO interesting!
♥  Loved this article on how to decorate for the holidays. So simple and perfect for our crazy lifestyle!
♥  I love these boots. I wish they were flat, but if anyone is less of a complainer than I am and wouldn't mind the heel, these are gorgeous and such a deal considering they're Stuart Weitzmans!
♥  I wore this bow top on Instagram yesterday. It's adorable for Christmas! Can't wait to wear it again. (It also comes in white.)
♥  My favorite scarf is back in stock.
♥  I'm walking Emma down Burling Street to see the lights today. Remember this post from last year?
♥  I can't even tell you how much I love our homemade stockings. (Mom and Grammie made them for us!) Everyone in the entire extended family has one, and I could never imagine having anything else in our home. Thank you so much, M&G! Here's a great article on how to make your own.