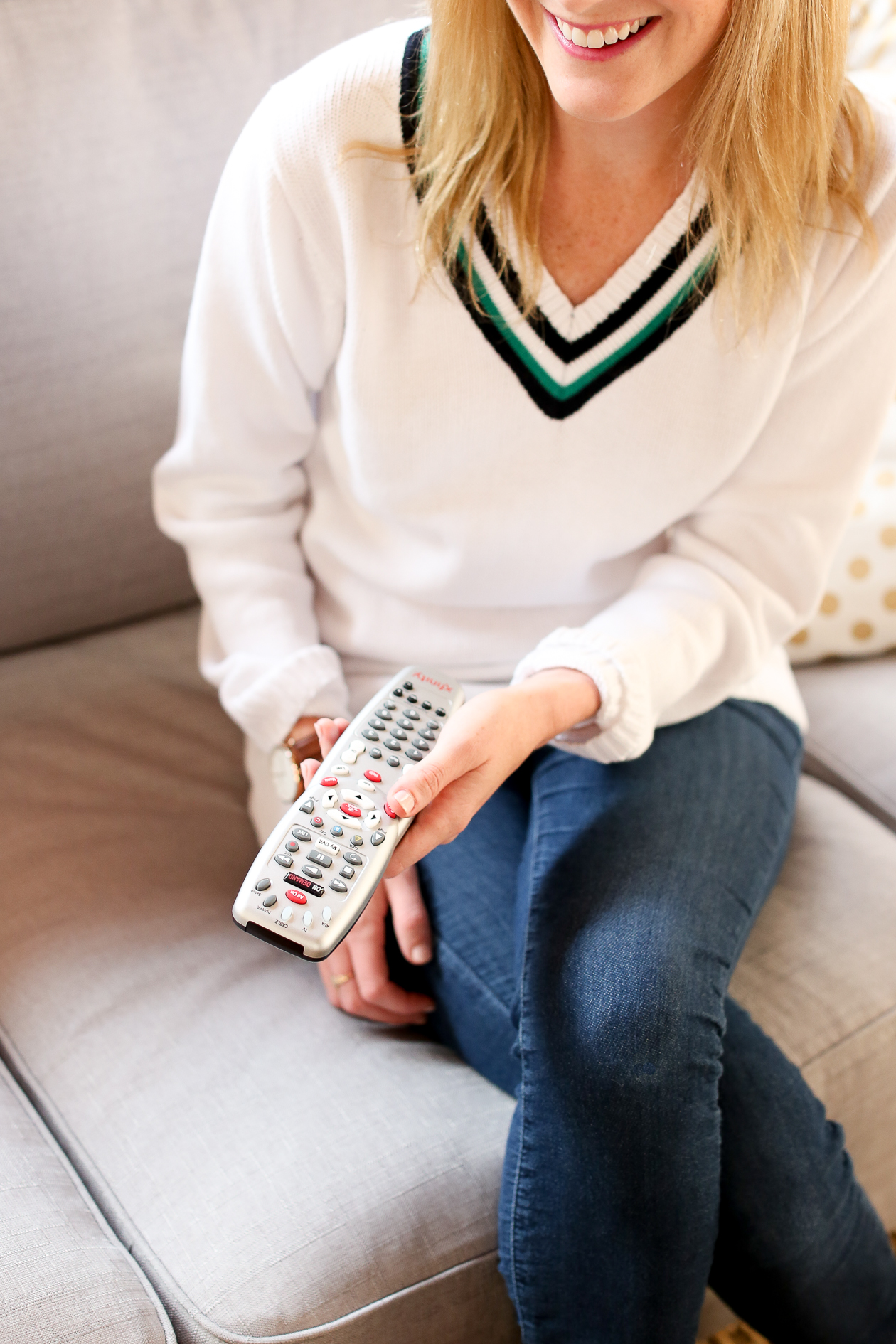 Disclosure: This post was sponsored by XFINITY, but all opinions are my own. Scroll down to see additional disclosure information, and, as always, thank you so much for supporting the partnerships that keep Kelly in the City up and running!
How's your weekend been going? I've been having an absolutely wonderful one! Yesterday was Mitch's birthday, and his parents drove up to Chicago to surprise him. He knew I'd made reservations at a restaurant, but he didn't know where and he certainly didn't think his parents were joining us! Seriously: cutest thing ever. The guy is a family man through-and-through (one of the many reasons I married him!), and I loved watching his reaction when the waitress led us to our table. :)
I should mention that Mitch did this for me last year (awww), and I just copied his idea. Couldn't help myself!
We've been spending our time watching the Cubs and the Bears, and eating and drinking our way through Chicago. ;) OH! And enjoying our new farmhouse table, which my in-laws brought up. (Thank you, guys!) Mitch and his dad built it down at his parents' house in September, and it's everything. I can't wait to share photos this week.
Let's just say it's been the perfect weekend. The October weather has been cool and crisp, and it finally feels like fall is upon us. It's time for football, pumpkin-flavored coffee, and of course, fall premieres! (Don't you just love snuggling up on the couch for a good TV show in the fall?)
With XFINITY On Demand, you can easily catch up on all the shows you've heard your friends and coworkers talking about but you haven't had time to watch. We're officially deeming it "catch up time" and with good reason: the more you watch, the more personalized your X1 system will make your experience.
The X1 Operating System includes features like:
The Top 100 shows preloaded onto your system
Access to XFINITY's extensive On Demand library, refreshed daily with new episodes
Personalized recommendations on what to watch
The ability to record up to five of your favorite shows while watching one live through Cloud DVR from XI
The ability to take your recorded shows with you, so you can always stay up to date
I'm most excited about Chicago Fire, which I'd never really watched before, but have LOVED catching up on. (I mean, hey! I'm a Windy City Girl now, right?!) I've been watching it at Jess' place (where these photos were taken) between work sessions, and I've loved having it on while working on projects. XFINITY On Demand has been awesome for bringing me up to date… I love that we can record old and new episodes episodes while watching other shows.
Other October premieres include:
1 – October 1: Sleepy Hollow, Bones
2 – October 2: Dr. Ken
3 – October 4: Madam Secretary, The Good Wife, CSI: Cyber
4 – October 6: The Flash, iZombie
5 – October 7: Arrow, Supernatural
6 – October 8: The Vampire Diaries, The Originals
7 – October 9: Undatable, Reign
8 – October 13: Chicago Fire
9 – October 19: Jane the Virgin
10 – October 26: Supergirl
11 – October 27: Wicked City
12 – October 30: Grimm
On to the fun part: Today, I'm teaming up with XFINITY to give away a $100 AmEx gift card!
To enter to win, all you need to do is comment in the comment section below with the fall premiere you're most excited about. (Remember to include "#giveaway" in your response.) Good luck!
Disclosure: XFINITY partnered with bloggers such as me for their Fast Life program. As part of this program, I received compensation for my time. They did not tell me what to purchase or what to say about any product mentioned in these posts. XFINITY believes that consumers and bloggers are free to form their own opinions and share them in their own words. XFINITY's policies align with WOMMA Ethics Code, FTC guidelines and social media engagement recommendations.