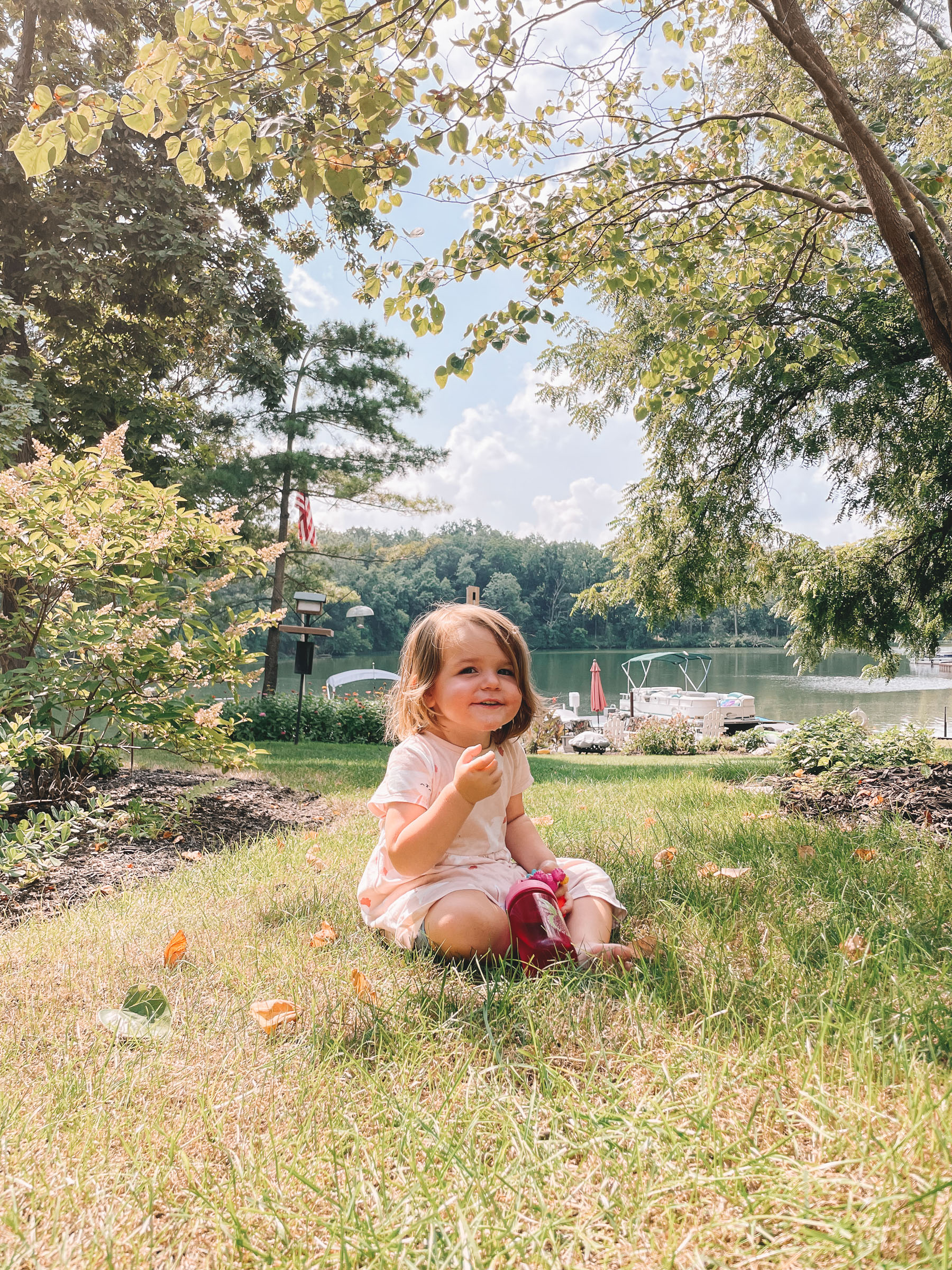 Fall, is that you?
Hello!
We're down at my in-laws' lake house for Labor Day! Feels amazing to be back. Last time we were down, Gammy Camp was just finishing up, and there was a race to the finish line to pack and get everyone on the road on time. This trip, though, the mornings are hazy, and the days are long and lazy. I actually think my favorite part thus far was a boat ride in the mist. We all bundled up and headed out to the water, and it was that perfect end-of-summer/beginning-of-fall excursion. 🍁 Actually, wait. Favorite part was seeing the girls with their Great-Grandma Gigi. She gave them new "stuffies" (stuffed animals), and they were in heaven. So thoughtful. Hugs and smiles and laughs all around!
J.Crew is still offering 40 percent off most products! This is probably the last day. Use code "HELLOFALL." I particularly love these sweater pants, this striped cable-knit sweater, this quilted barn jacket, this cashmere rollneck sweater, and this quilted puffer lady jacket. Oh! And the longer quilted cocoon puffer.
We struggled through last week's earlier mornings. Our school year mornings are only an hour earlier than our summer mornings, and yet they're impossibly more difficult! We're just all dragging, and getting out the door on time is very challenging. My biggest problem is that I can't bring myself to wake Lucy up, haha. She's a sleeper, man, and never wake a sleeping baby. Anyway, my personal goal this week is to be totally unlike last week's version of myself. 😐 PULL IT TOGETHER, KELLY.
In an effort to help Emma transition back into a somewhat "normal" school routine, we're limiting after-school activities to two per week. My own parents actually limited after-school activities to one per week while I was growing up, and I'm forever grateful! As a child, I loved having an activity I loved—or was simply interested in experimenting with—but also having lots of time for friends, family, imaginative play, and rest. And since Emma is only in Kindergarten, I really want to make sure she's not over-scheduled. Right now, she has swim class during the school week, and field hockey on the weekend. Depending on how things go, we might add dance in the winter when field hockey ends, but we'll see. Childhood first.
I've also taken on very little for fall 2021, and I'm so happy about it. Fall (leading into the holidays) is always my busiest time with work, and it tends to do a number on me. But no more! I do have a few campaigns on the docket, but a manageable amount. Fall 2021 is all about family, friends, self care, and enjoying Chicago. :)
Lucy will not stop saying "I'm excited about Mickey Mouse Halloween." It's so cute. Did I show you her Halloween costume? As the kids say (or used to say), I am deceased.
Fingers crossed that Lucy gets into a longer-day preschool soon. Girlfriend is ready. She's on the waiting list at three, and our hopes are high. Right now, she gets out at 12:30, and we can tell she's in need of something more—and more interaction with peers. (All the other kids on our block are in school!) Kind of crazy that we're entering this stage of life. We were just in baby mode. How did this happen?!
I am obsessed with bareMinerals loose foundation powder (which also comes in matte). HOLY EASINESS. Guys, if you want to spend zero time on your makeup in the morning, get this. It makes your skin look flawless, and it's next to impossible to mess up! I was pretty hesitant to make the switch from liquid foundation, but I was out of my old stuff and figured why not. I wear the bareMinerals Complexion Rescue Tinted Moisturizer, which has a higher SPF in it, underneath. (Or by itself in the morning when I'm riding my bike.) Note that bareMinerals is also available via Nordstrom.
"One Home Project Every Day" update:

After tidying up my laundry room cabinets recently, I started looking for nice organizational products to KEEP it tidy. I've finalized absolutely nothing and it'll honestly probably take me a year 😆, but I love the idea of coordinating detergent containers. (I particularly love this company, and these stickers to put on your own amber glass containers or white plastic jugs! Which is obviously more cost-efficient.) Not sure if I need them, but I like these clear storage bins from mDesign on Amazon. These glass canisters with wood lids from Target might make more sense. On a related note, might I recommend these mesh bags for washing sheets. No more getting stuff stuck in fitted and flat sheets because they stay separate! They're spectacular.
I finally settled on curtains for the living room. They're custom length, so they'll work with our ceilings! I'm thrilled. Next step is measuring, haha. Give me a few weeks on that one.
I organized Emma's dresser for fall. This is a boring one, but I moved all the bathing suits and stuff that's inappropriate for school 😉 down to the bottom drawers and passed everything that was too small on to Lucy. Much easier getting dressed in the morning!
I set out our sunflowers on the front stoop. They're the perfect September flower, in my opinion. Ours have since sold out, but WOW, these are good. Too bad they're so ridiculously expensive. These are my artificial mums, btw! They're incredible. (These are great, too.)
Mitch got all the hardware we need to set up the outdoor projector screen! We tried last week and failed, haha. But we're going to get it accomplished tonight!
I unpackaged all our new Framebridge frames and determine where they're going.

Looking for the best sports bra ever? It's this one. It's so wonderfully soft that I often sleep in it. I'm a size 34A and took it in a size 6.
This lululemon t-shirt is the best activewear t-shirt I've ever owned. It's pricey, but it's so comfortable and breathable, and it also looks cute when flying. For reference, I wear a size 2 in J.Crew and wear this t-shirt in a size 6. (lululemon sizing can be confusing if you're new to the brand!)
This is one of the most beautiful photos of Chicago I've ever seen. Is the artist not insanely talented?!
I'm working on designing some new t-shirts for Emma's school. Some friends and I agreed that the kiddos' tees are in need of some updates, so I've been having a lot of fun dreaming up with ideas! The plan is to have 10, and then send them to Mitch's company's designer to make them come to life. Hopefully coming spring 2022. ;)
Can we talk about how perfect this cashmere sweater is in camel? Really into the brand Reformation right now. Also, these glove shoes—which are ULTRA comfy due to the flexible backs and super-soft leather—are on sale.