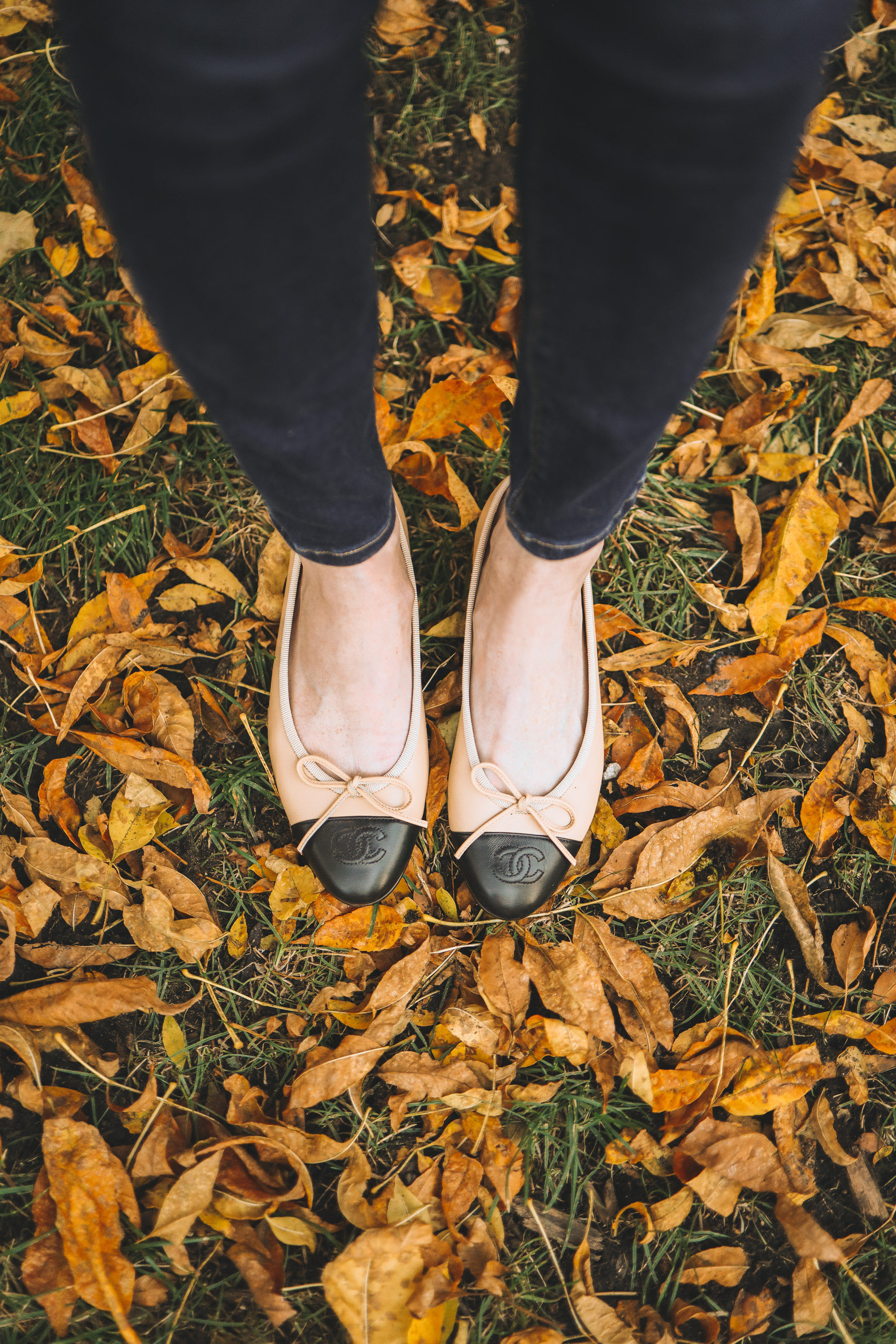 Here are the first 10 things that randomly come to mind right now:
IT'S FALL. How can this be?! I was initially extremely stressed out about the change of seasons; fall means one step closer to another COVID winter in Chicago with two littles. But autumn is amazing in the city, and we're planning on getting out as much as possible before the frost sets in. We also plan to go all out for the holidays—Halloween, Thanksgiving and Christmas—so that our days can be centered around them, if that makes sense. A mundane breakfast, for example, is made more fun if you're serving bat-shaped pancakes! Similarly, arts and crafts time is made more exciting if you're painting pumpkins. And outdoor exercising is made more interesting if you're collecting leaves and figuring out what types of trees they come from! (Watch me not do any of that. In my mind, though, I'm totally doing it. 😜) And, of course, we plan on visiting my in-laws at the lake house quite often. Can you tell that I'm just over here trying to psych myself into staying calm? 😆 Positive thoughts. Positive thoughts. Positive thoughts. Spiced lattes. Cozy nights in. Pumpkins. Board games and movies near the fire. We've got this, Friends!
We drove home from Ocean City and we're alive to tell the tale. Before the big drive, we stayed at my parents' home in Yardley, Pennsylvania to (safely) see Grammie, who's 88 years young! (It was wonderful.) So that lobbed off a couple of hours, which was nice. We left the following morning around 9 a.m. and arrived around 9:30 p.m.—not great but not terrible. I'd actually really cleaned our Chicago house beforehand, and then Mitch arranged for Maria, our beloved cleaning champion, to do a deep clean while we were gone. Between that and some mastermind packing/organizing of the car, I had a clear head going into the drive… and overall, it went pretty well. Sure, Lucy really lost it in the last hour of the trip, and we may have gotten Happy Meals twice. But we survived. We watched Sesame Street, did tons of activities that I'd Amazoned ahead of time, and sang songs/screamed. (Because really, they're one and the same when it's a four- and one-year-old "singing." 😉) I'll write a blog post that goes more in depth about road-tripping with littles in 2020, but for now, I'll just say that it is possible.
I'm feeling somewhat put-together. Three weeks is a long time to be away! Typically, when coming back from a long trip, I feel crazy overwhelmed and behind and like a total mess. This time, though, not so much. Sure, I have stuff to do… but I'm enjoying it. I'm enjoying doing the laundry, organizing the kitchen, cozying up the house, and swapping out the family's summer clothing for fall-ish clothing. And while I do have a lot of work-related projects on the horizon, I'm actually still ahead and not late on a single one. Crazy. First time in four years! Anyway, yeah. Had the best time in Ocean City, but I'm happy to be back. :)
My brother Danny moved to New Orleans. He decided to relocate down to NOLA to be closer to Patrick, as they're best friends 😭, and to go on an adventure. I'm so happy for him! I think it's a wonderful move for him; he's big into the New Orleans food scene, loves golfing in warm weather more than anything, and really enjoys life in medium-sized cities. (Philadelphia is his first love, but Philly is unfortunately very cold in the winter. 😉) His move is going to make things a lot easier for our family! When my dad retires, his kids will be in two cities instead of three, and therefore we'll be able to get together way more often. As for Mitch and me, we're staying in Chicago for the long haul. ;) But love that there's a non-stop flight to NOLA, and that during COVID, it is possible to drive it. Congrats, Danny! Love you!
I MET CHRISTOPHER. As you may have seen on Stories, I finally met my nephew in Ocean City. (That was the whole reason for the trip!) He's perfect. He's the jolliest baby and is smiling or laughing 99 percent of the time. Emma also fell totally in love with him, and was obsessed with caring for him. I'm so happy the kids are all close in age so they can grow up playing together! Anyway, it was unbelievably surreal to hold my brother's kid. He looks so much like him but also so much like Kim. I adore him. Okay, I'm stopping. But I'm counting down the months until Christmas, when we hope to see him next. Wait until you see the Christmas card photo we took in OC.
I really loved this piece that appeared in The Atlantic. The loss of Ruth Bader Ginsburg late last week was a tough one, and my heart was heavy when I received the news. I truly hope that the nation continues to celebrate her life and continue her work. At the same time, though, I hope that we don't make the Supreme Court the focus of the election, as doing so could negatively affect its outcome. While the author's plea—to not fixate on the Supreme Court right now—is unsettling upon first read, it's likely a very valid one.
My friend Neeti started an awesome IG account called @booksgrowminds. Neeti is a former school counselor and teacher who was reluctantly forced to step away from her job this year because of safety concerns. She was heartbroken, but her family had to come first. ♥️ (Proud of you, Neeti! You've got this!) In the meantime, though, she's been thinking about ways that she can stay involved in the field. She recently started @booksgrowsminds, and it's awesome. The account features wonderful children's books that focus on social-emotional learning, diversity and inclusion. Definitely follow; it's great to have her posts pop up in the feed!
I'm even more in love with TouchNote now. I think there was a little confusion the last time I posted about this app! I stumbled upon it recently and fell in love with it because it sends physical cards and postcards for you. (Not e-cards!) It's the.best.thing.ever for anyone—especially for the person ridiculously short on time and can't seem to send a thank you note to save her life. (I actually use TouchNote way more for "thinking of you" purposes, but it's phenomenal for thank yous, too.) It's super simple and incredibly fast! Emma's a huge fan, too. She tells me what she wants to say to her grandparents, we pick out a photo (of herself or of her artwork) to put on the cover together, we select right person from the address book, and then she gets to hit send. We send postcards, and including the postage, they cost $3.60 each to send. (Less if you sign up for a plan, but I hate plans.) Give it a try! I can't stop raving about it.
I'm still shooting with my little mirrorless camera and will likely never go back to DSLR cameras. Tiny but mighty. It's life-changing. Because it's far lighter than my old DSLR, I use the Canon EOS R more. And the camera you actually use will always be the best camera. I pair it with this inexpensive 35mm lens which is also lightweight but remarkably sharp and great in low light. (It seriously competes with L-Series lenses.) I gave the whole setup an A+ when I first switched to it, and I give it an A+ now.
I'm in fall-decorating mode like whoa. When Mitch and I walked into my parents' home in Yardley, we were both shocked by how wonderfully warm it felt for the fall season! My mom is an expert at making spaces inviting, and now we're all inspired to do the same in our home. Before we left, we teamed up with Target to do just that, and I'm in love with the results. But now I'm on to crafting, haha. I just ordered burlap, gingham ribbon and a hot glue gun, and this week I'm decorating my planters. THIS IS 35, GUYS. 😜