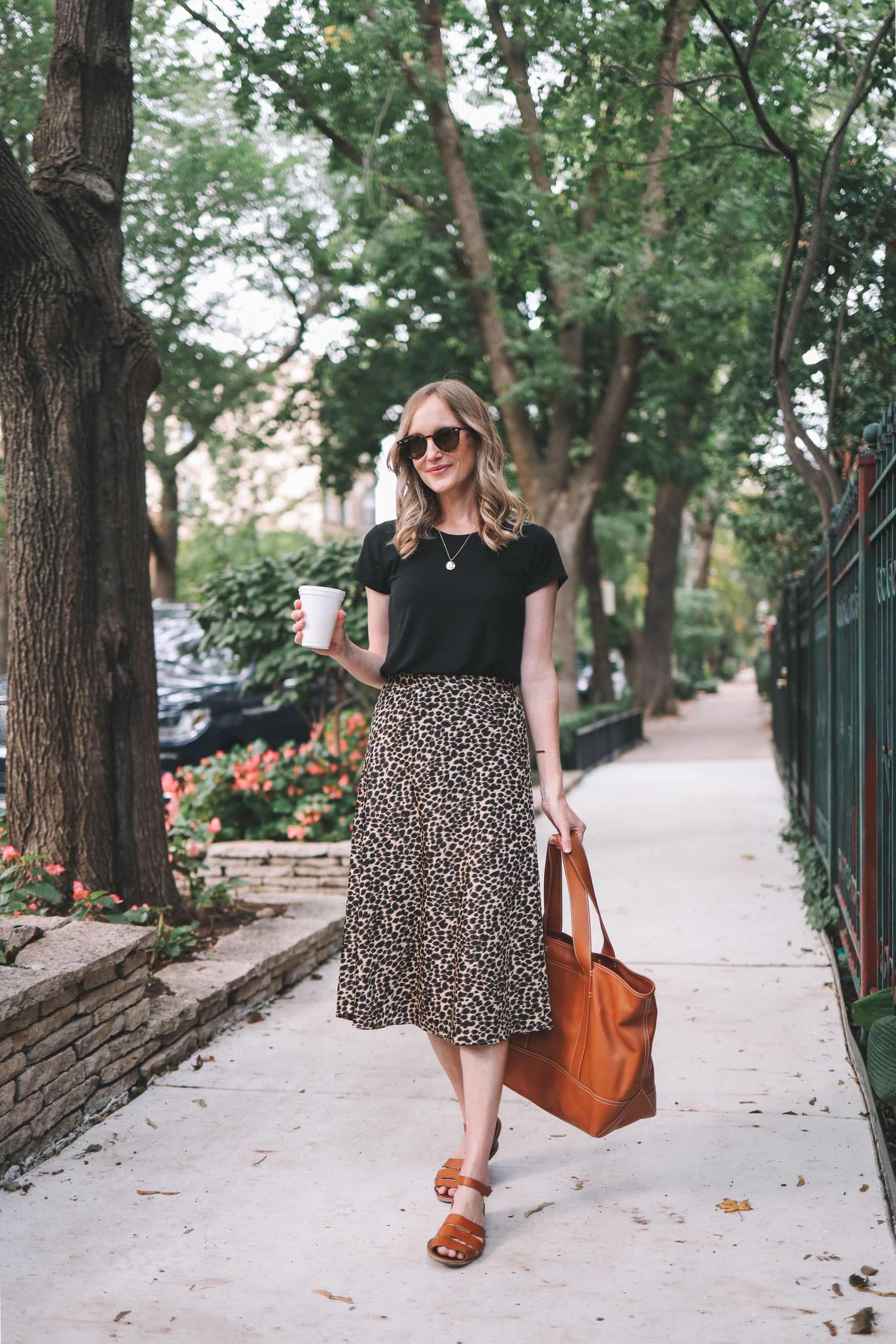 Older Version of the J.Crew Slip Skirt (I also love this one, this one and this one. And then of course there's the Jenni Kayne one, which is 😍.) / Leather Tote (LOVE the weekender version, too!) / $39.99 Similar Sandals / 365 T-Shirt (The only t-shirt I wear!) / Gorjana Coin Necklace and Engraved Bracelet (Only $60! Makes for a great gift.) / Sunglasses

This is a skirt that survives every closet clean-out.
It's just so easy, and the leopard print packs a punch! It goes with pretty much any white, black or camel shirt or sweater, and can be worn year-round. Mine is old, but I love this one, this one and this one, which are all available in most sizes at the moment. The Jenni Kayne one is a splurge, but WOW.

Now that the cooler temperatures are here—first chilly day in Chicago today!—I'll be pairing it with sweaters, of course. Above are some of my favorites right now that I think would work well with the skirt. :)
Other style notes:
Leather Tote: This is the tote of the year. It's so nice. Looks just like a classic boat tote but in leather, and it holds everything I could possibly need for both the girls and myself. The leather is substantial but soft, and the tote fits perfectly over my shoulder so I can be hands-free when I need to be. Love the exterior and interior pockets, too! Note: The new weekender version has me swooning!
$39.99 Similar Sandals: WHAT A DEAL! My sandals are like six years old from Tommy Bahama, and they are beloved. Even bought a backup pair on eBay in case they ever get worn out beyond repair! 😆 But I stumbled upon this sale pair on Madewell, and they look so similar. And they're kind of scalloped! What a deal, too.
365 T-Shirt: The only t-shirt I wear! I talk about it very often, but the material resists wrinkles and is fancy enough that you can dress it up or down. Because of that, it's great for travel. Runs small. Size up.
Gorjana Coin Necklace: Gorjana recently arrived on Armitage in Lincoln Park, and they sent me a couple of pieces! I love this necklace. The price point is great, and it's a daintier necklace that I could keep on for weeks since it goes with just about everything.
Engraved Bracelet: And this is my real obsession. Sorry for the weird photo of my arm, haha, but I had to show the engraving on it: "Emma + Lucy." So special. It's also only $60! Makes for a great gift.
Shop the post:
Older Version of the J.Crew Slip Skirt (I also love this one, this one and this one. And then of course there's the Jenni Kayne one, which is 😍.) / Leather Tote (LOVE the weekender version, too!) / $39.99 Similar Sandals / 365 T-Shirt (The only t-shirt I wear!) / Gorjana Coin Necklace and Engraved Bracelet (Only $60! Makes for a great gift.) / Sunglasses