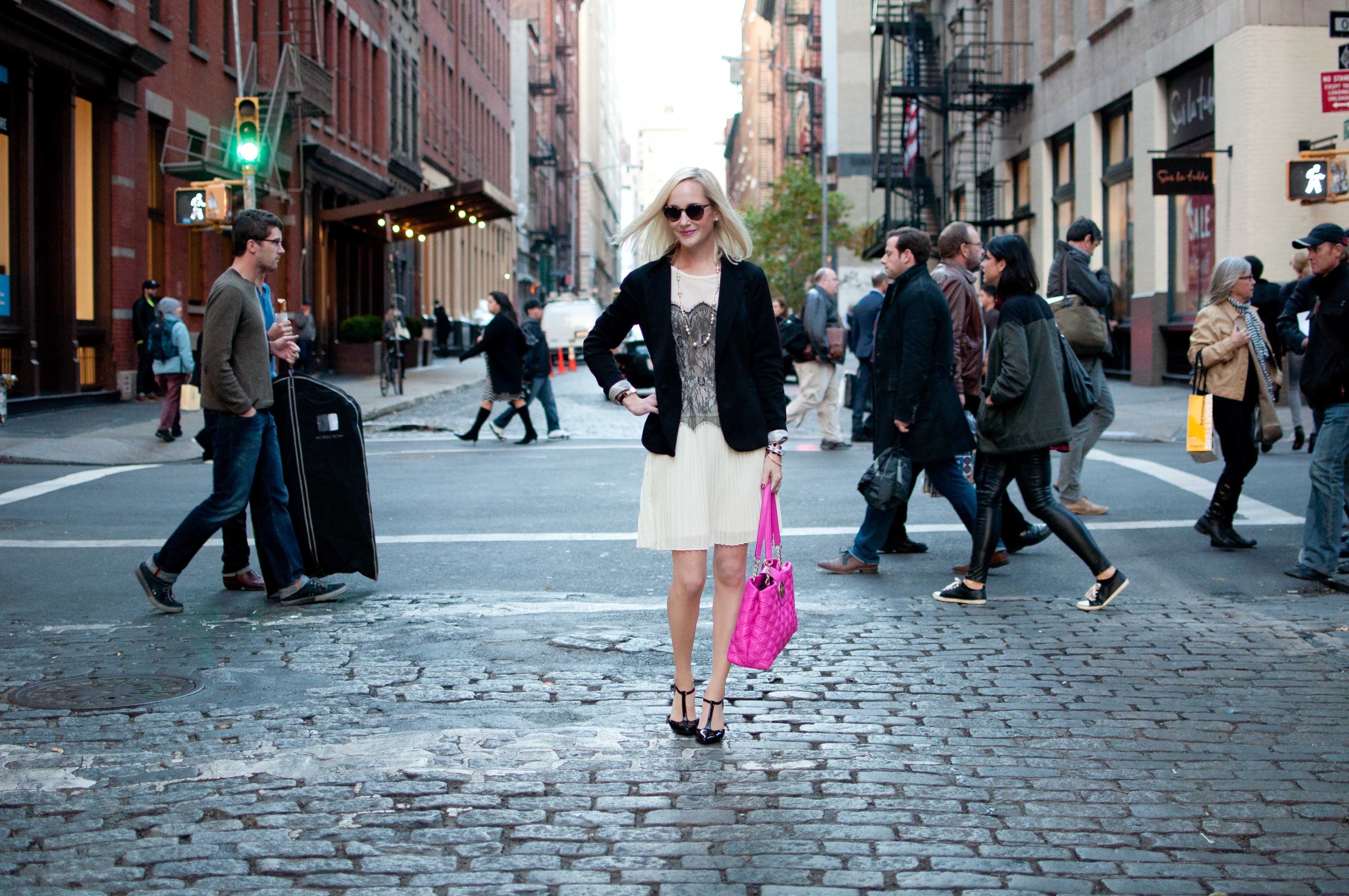 First of all, let's talk about how difficult it is to take a decent photo after 4 p.m. during daylight savings time! (Major frustration.) I started blogging late last winter, so I guess this is my first time really running into the "not enough light" problem. My apologies in advance, as I've realized that quality is certainly going to suffer this season, haha. Also, what's up with all the trash in the background and surrounding my feet in a bunch of these photos?! Definitely didn't notice that at the time. Oh, New York.
Dress: Darling (c/o) Coming soon! Also loving this Darling dress! / Bag: Kate Spade (Sold out), similar here (On sale!) and here (Both by Kate Spade) / Pumps: Adrienne Vittadini (My go-to pumps for the season!) / Blazer: Forever21, but lusting over this black blazer* (and this one in navy*) / Necklace: J.Crew Factory (Old), similar here (Take 15 percent off with code "VETSDAY") / Bracelets: Kate Spade (Sold out), but loving this black bracelet; Fornash; and J.Crew (Sold out), available here / Watch: Kate Spade, also available in pink. Bracelet version: gold, silver, white, orange, black, and rose gold / Lipstick: Clinique / Earrings: J.Crew*, less expensive version here / Sunnies: Kate Spade (Sold out), available via eBay
*Take 25 percent off your purchase of $100 or more with code "GOSHOP"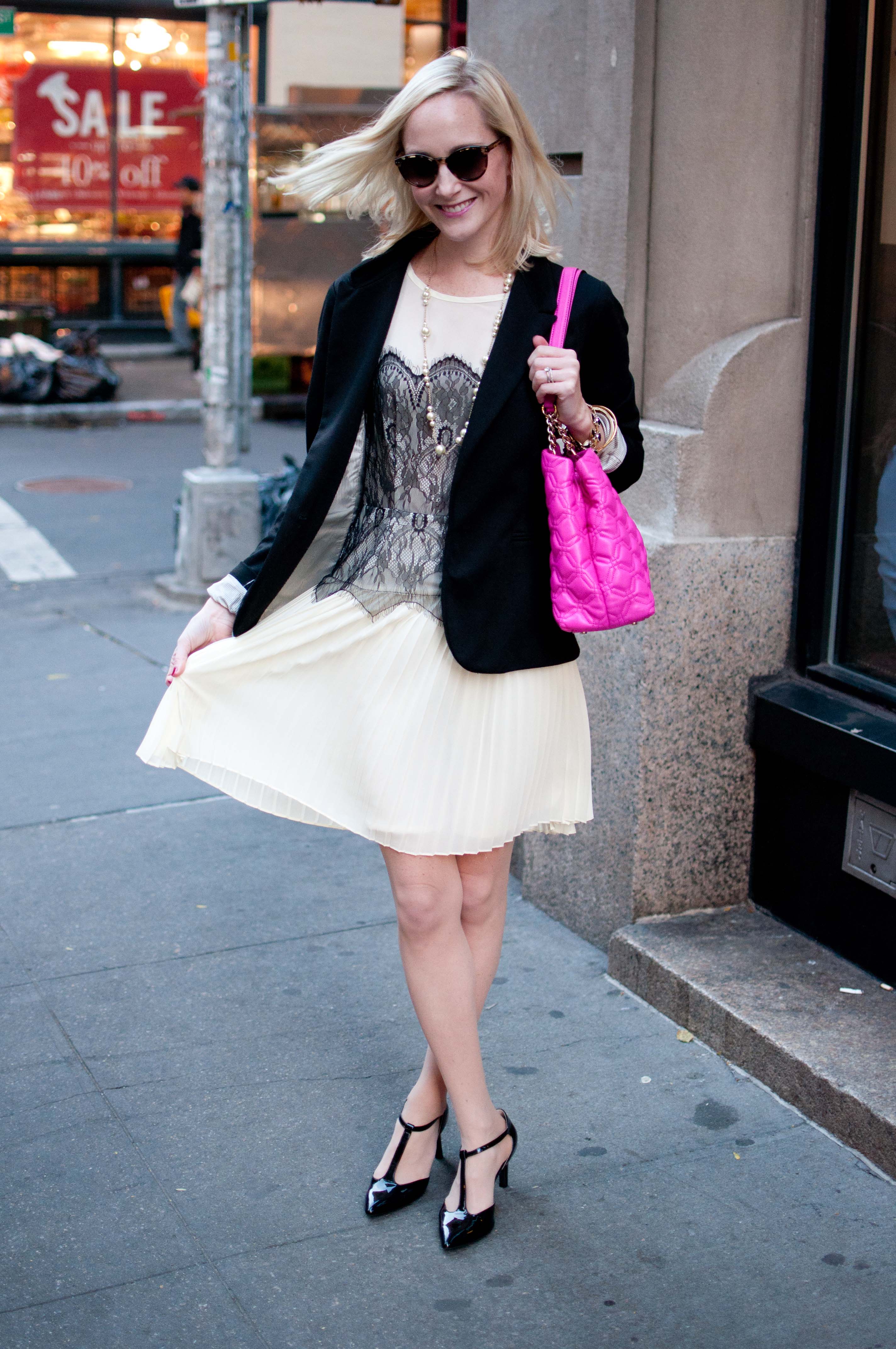 Anyway, I'm sick. Again. For the ninth time this year. Grrr! But the good news is that I nipped it in the bud early this time. I marched right over to the doctor's office this morning, got the antibiotics, and–I swear to goodness–was feeling 50 percent better within five or six hours. Ahhh, the magic of a Z-Pack. (For those of you who missed my August posts, I suffer from chronic sinus infections, and complain about it on Kelly in the City pretty often, haha. ;) My sincerest apologies to my readers.) Hopefully, once the allergy shots start to take effect, I'll no longer have to rely on antibiotics, and be cured of this annoying illness. And you'll no longer have to listen to me complain. (Fingers crossed!)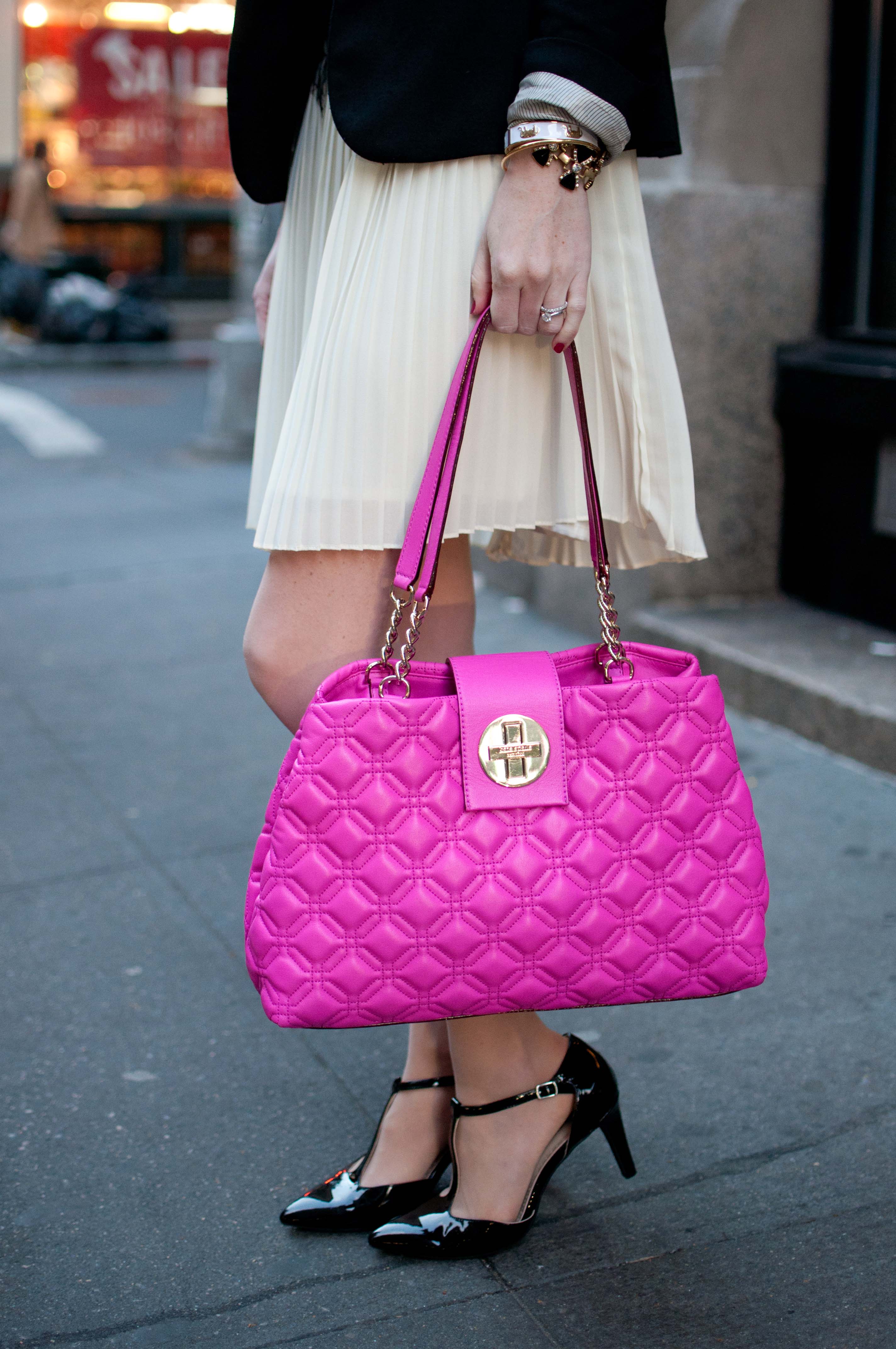 After today, I realize that I am not the kind of girl who would be able to work from home. I constantly fantasize about it (you know, at 5:30 a.m.), but I think it takes a special sort of someone to be able to do it, and do it well.
For those of you who do work from home, you're amazing. How do you do it?! Do you get distracted easily? Is it lonely? Do you get stir-crazy? Do you miss face-to-face interactions? Do you struggle to eat well? Do you struggle to get out of bed at a normal hour? Do you not shower until right before your significant other comes home? Do you–Okay. Stopping. I have so many questions. Someone answer them, please. ;)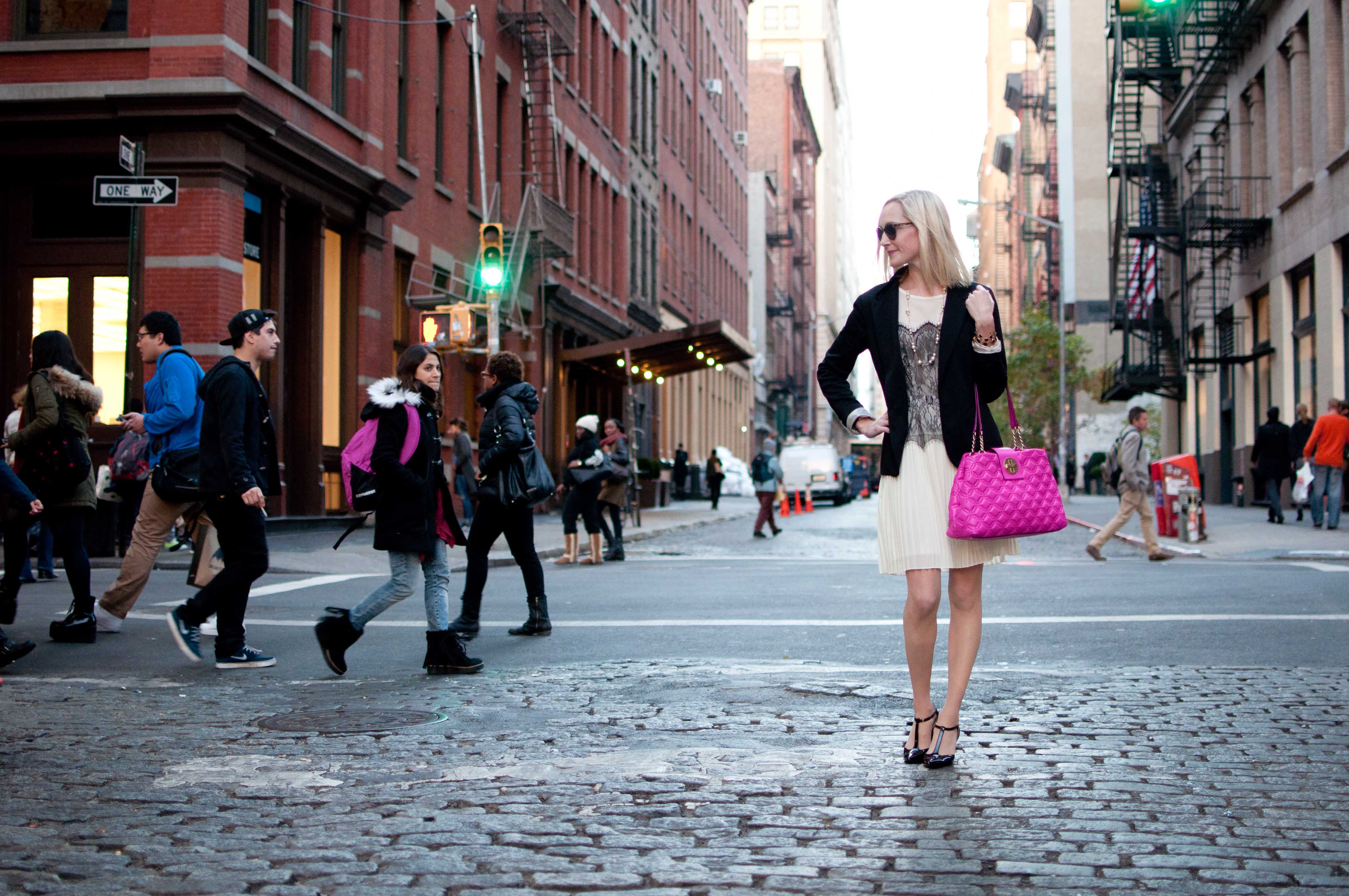 But back to today (because I'm clearly in the mood to chat). Around 6 p.m.–when the antibiotics had started to kick in–I was losing my mind. So I got my behind out of bed and over to the tiny Upright Citizens Brigade theatre in Cheslea to meet up with Mitch and a few friends. I was a little woozy, but I'm so glad I went. Great company, a great show, and a great way to relax while also getting out of the apartment for an hour or so. And guess what?! Aidy Bryant performed! (She's my favorite comedian on SNL of all time. The girl cracks me up.)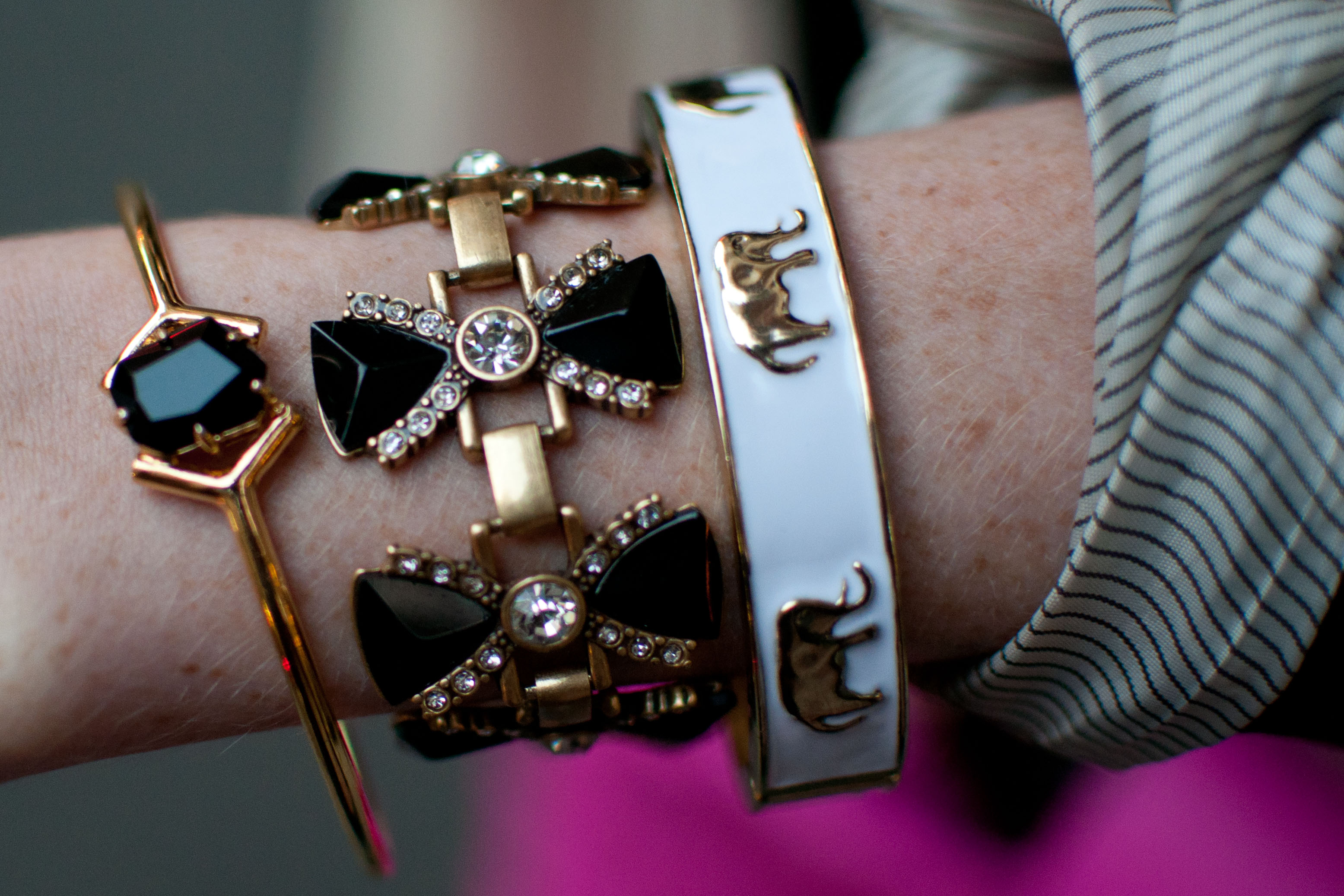 On our walk home, Mitch and I ran into the "Stand up for Heroes" concert's red carpet, and saw some stars. (So fun!) Also, alert the presses: I excitedly waved at Jim Gaffigan, and he excitedly waved back. It seemed that he was kind of making fun of my demeanor, but I was totally okay with that.
Over and out, fashionistas! This little sicky needs her sleep, as she can go back to work tomorrow! Woo! ;)
Word up to the photographer, and love of my life: