This post is sponsored by Kohl's, but all opinions are my own. As always, thank you so, so much for supporting the partnerships that keep Kelly in the City up and running!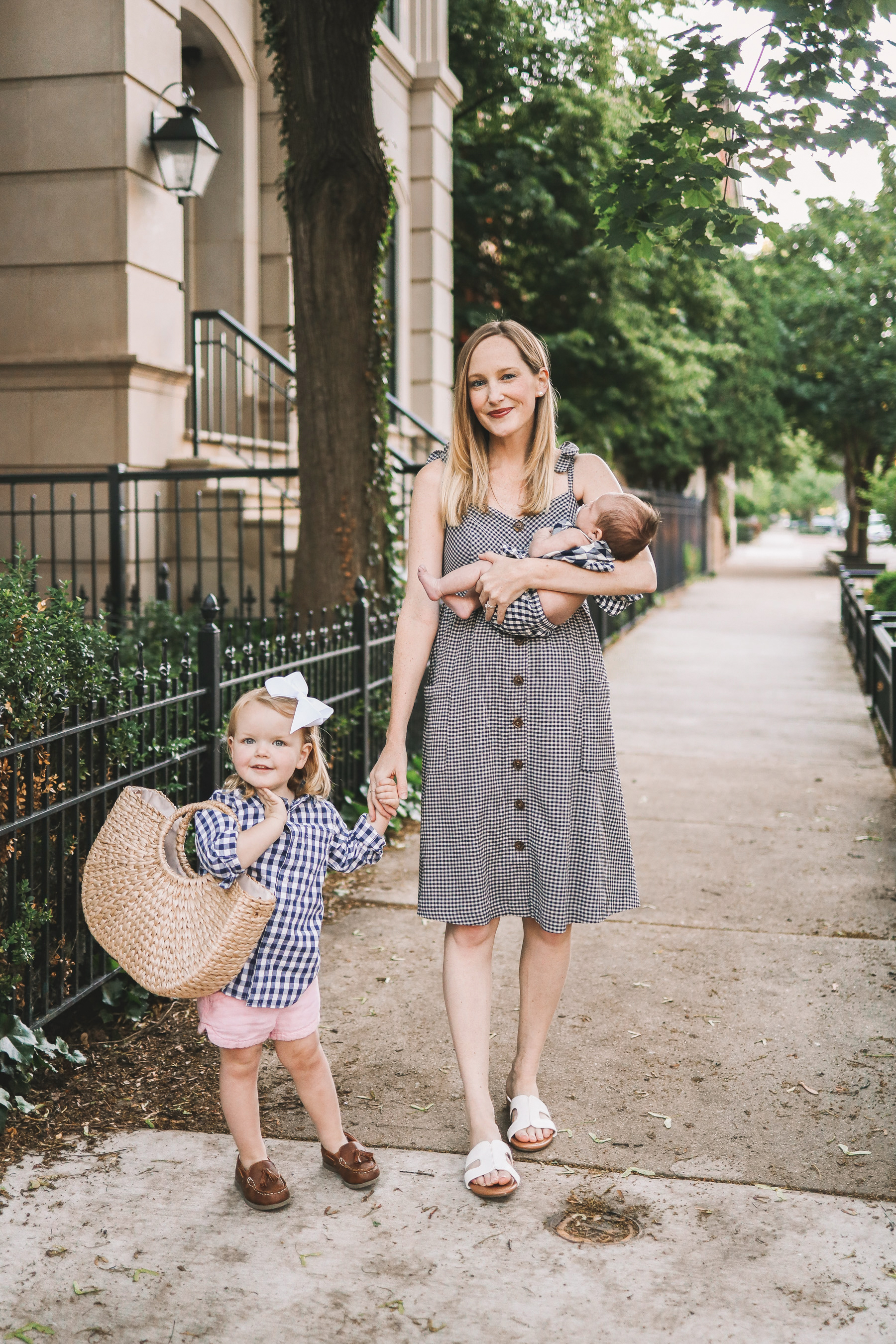 Gingham Look: Button-Front Dress / White Sandals / Half-Moon Tote
Striped Look: Maxi Dress / Half-Moon Tote / White Sandals
Kids' Looks: Lucy's Gingham Outfit (Similar) / Emma's Pink Shorts and Gingham Button-Down (Similar) / White Toddler Sandals (Similar)
Recently, Kohl's invited me into The Outfit Bar, curated by style expert Lilliana Vazquez, to help me transition my wardrobe from spring to summer. And since I'm kind of hurtin' for cute stuff that fits in this postpartum phase, I was pretty excited about it!
Our family has long loved Kohl's, as my brother- and sister-in-law worked at the company's corporate offices in Wisconsin for over a decade. Word on the street is that there's even a photo of Emma on the corporate offices' walls! So working on this project was extra special… and, understandably, we pretty much skipped into the store.
It takes pieces from brands that are exclusive to Kohl's and pairs them with pieces from national brands, providing beautiful head-to-toe looks for women who want to look and feel awesome even when they're short on time. All the pieces are versatile and can be worn in lots of different ways, and everything is affordable.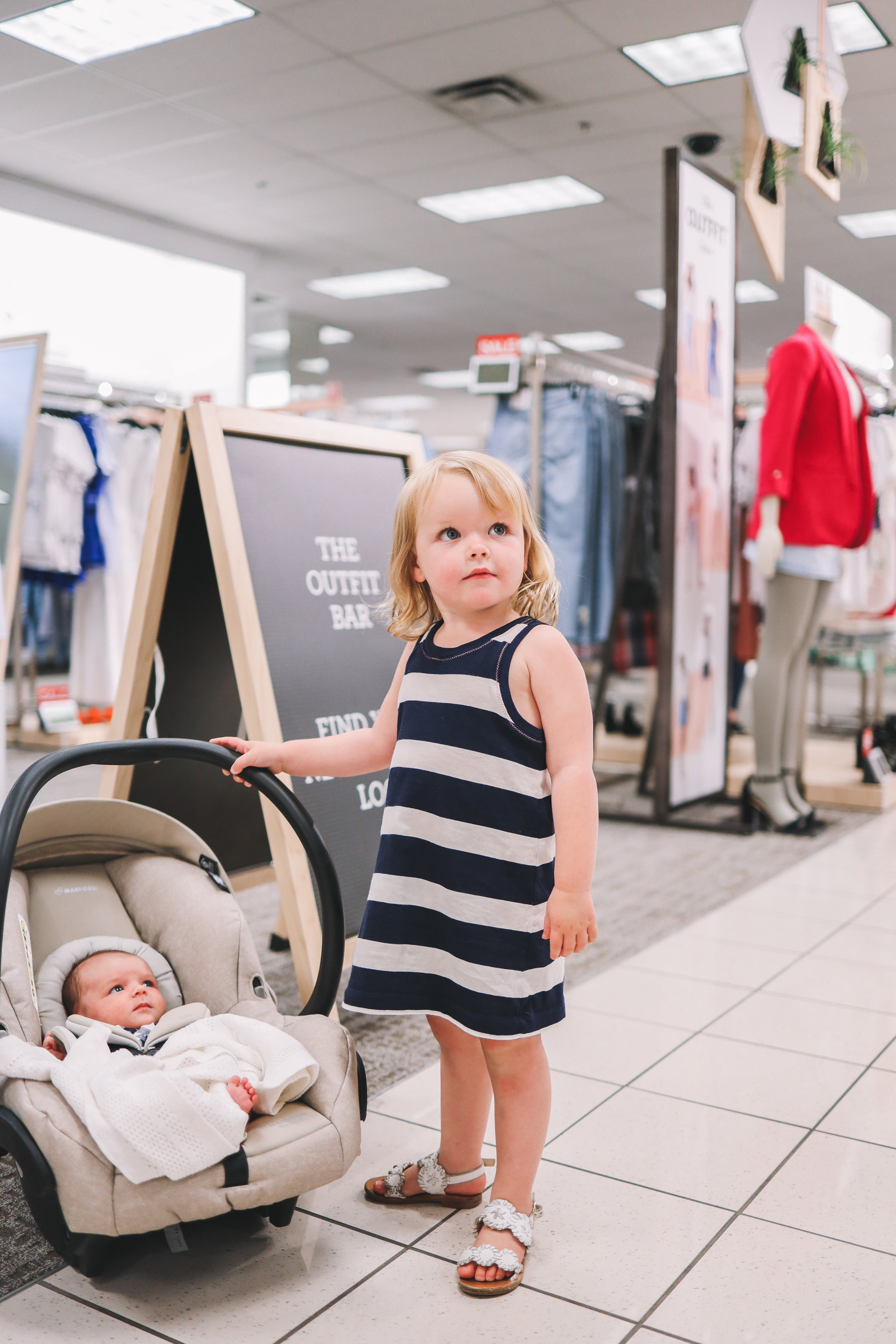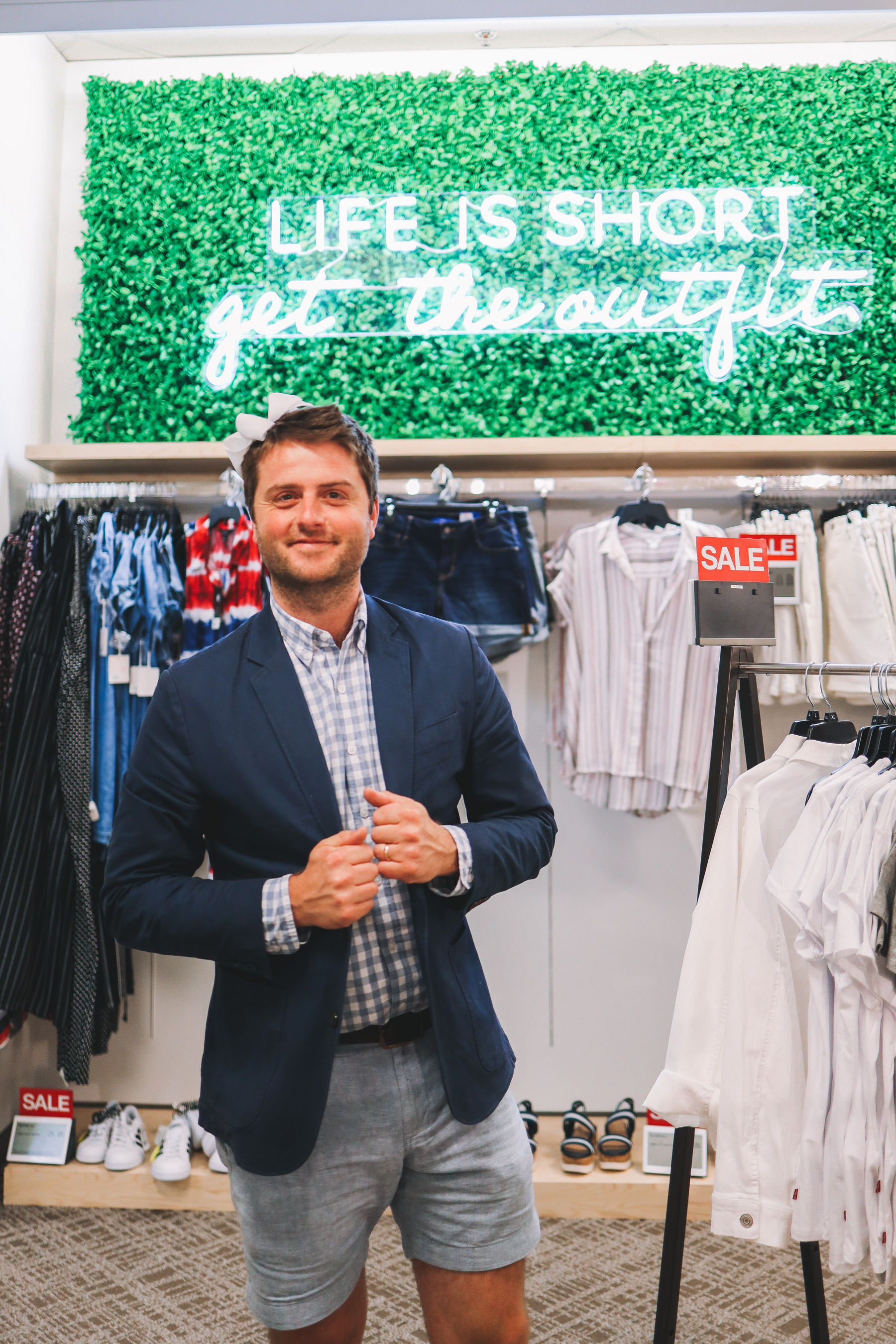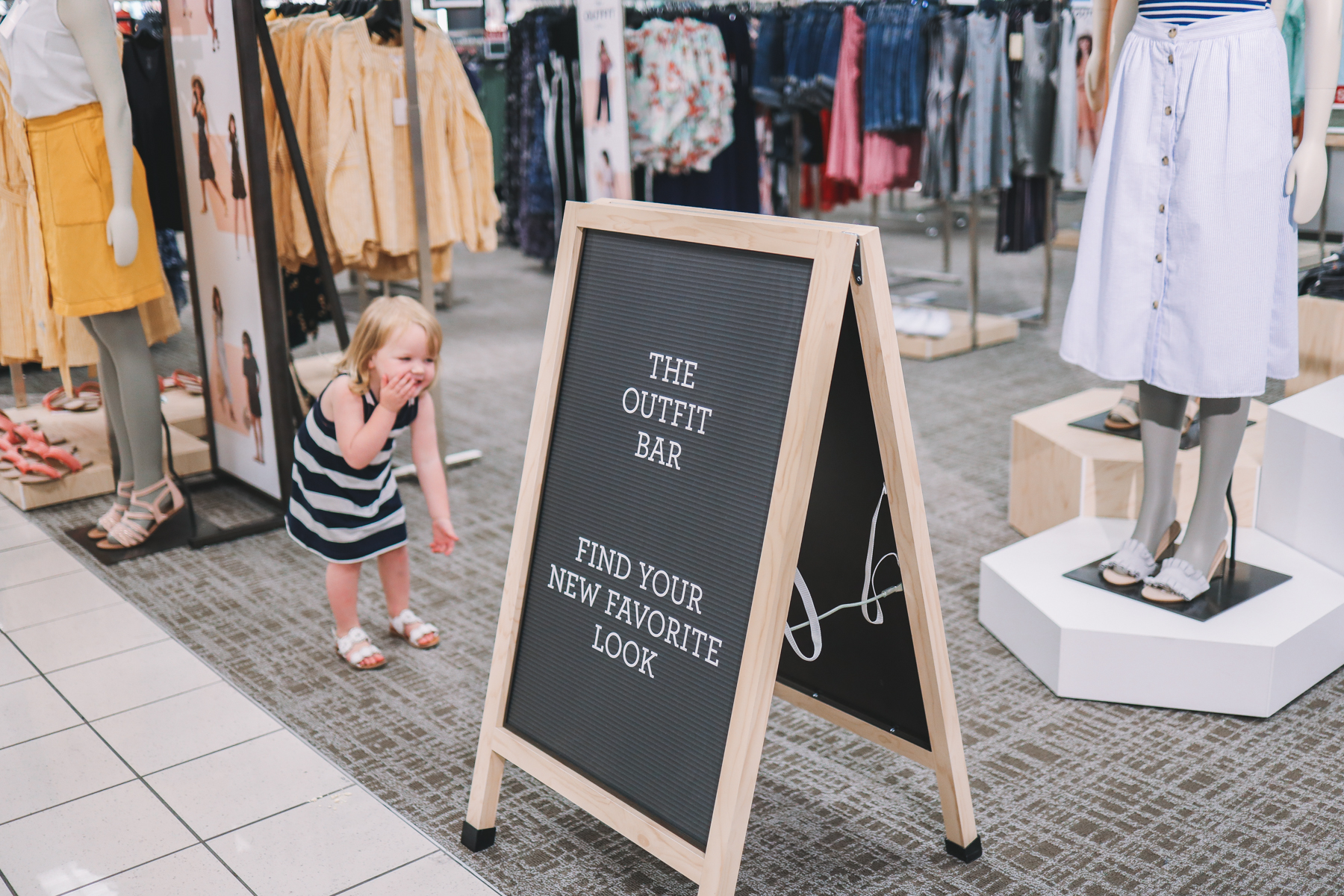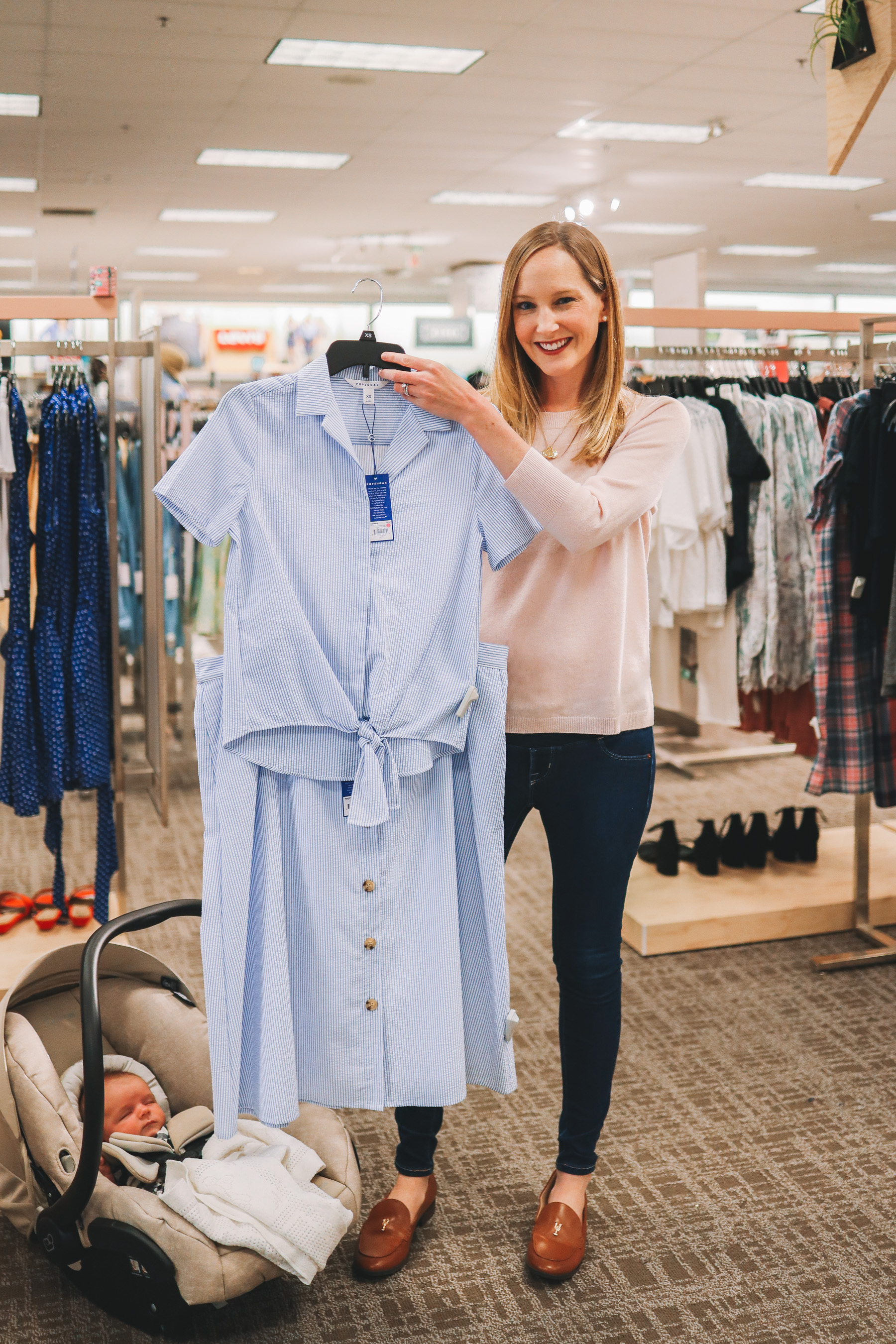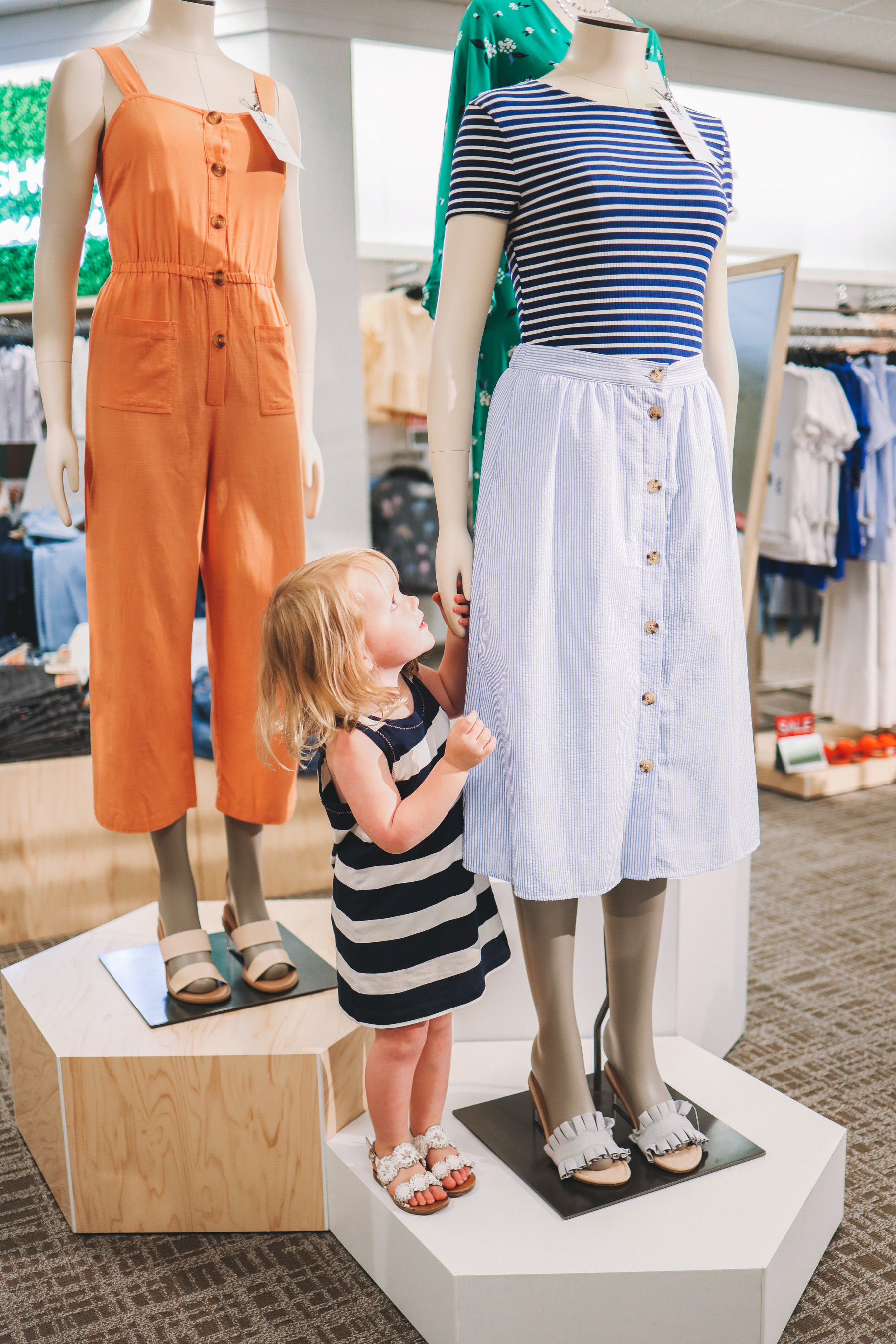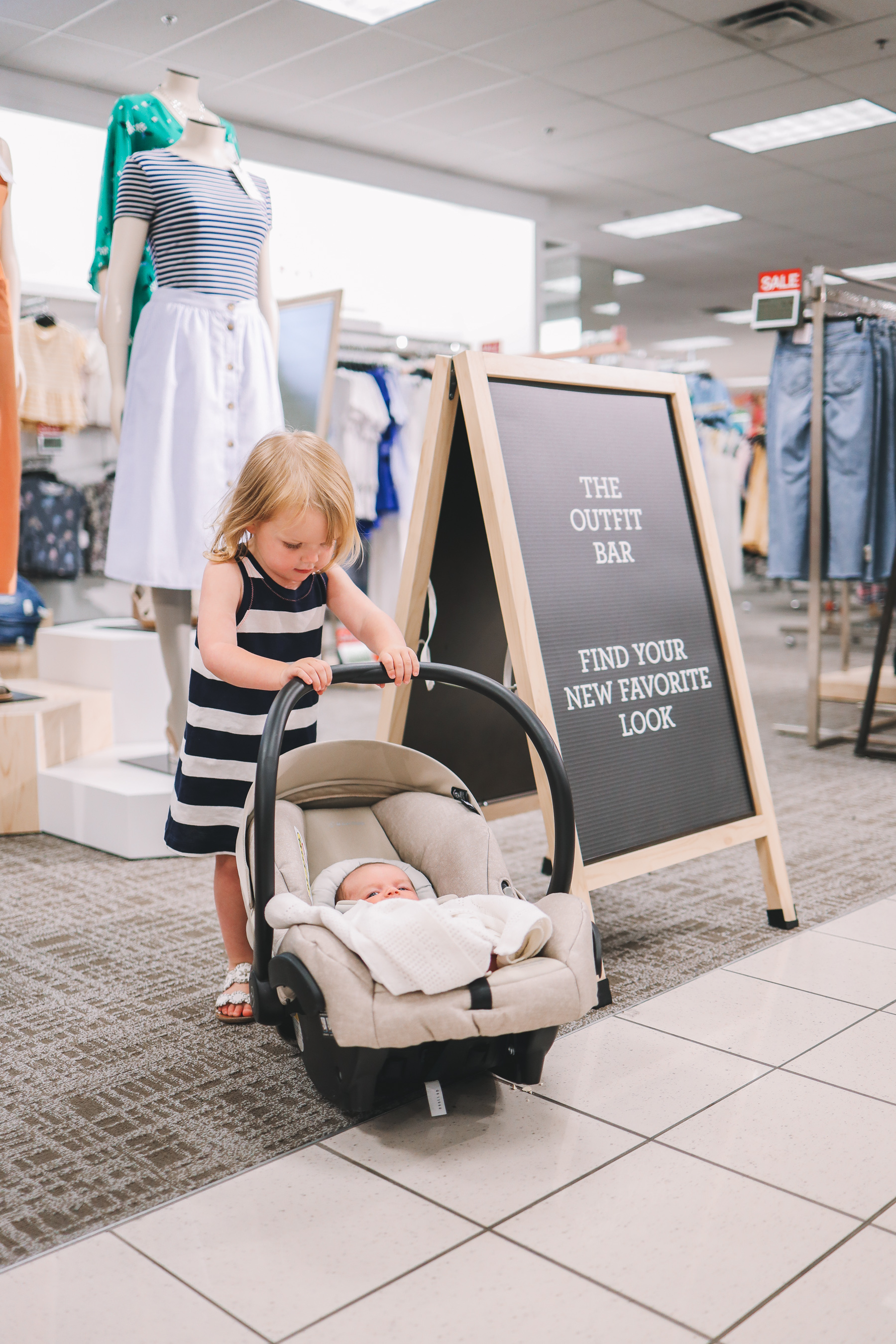 Emma is basically the cutest ever and actually helped me pick out my looks when we went into the store. She immediately ran to the stripes, gingham and polka dots, and selected some adorable pieces. My favorite, of course, was this gingham button-front dress. Because it's patterned and made of rayon, it disguises wrinkles and stains (which are such a part of my life right now 😜), and it has pockets (!) — perfect for pacifier storage. :)
We paired it with these super comfy sandals as well as pieces, which Emma commandeered almost immediately. I love that both go perfectly with the striped maxi dress, too. (Btw: I'm just under 5'5 and the maxi is the perfect length. Normally I have to get maxi dresses hemmed, but this one was no-fuss, which was really nice!)
Anyway, The Outfit Bar is clearly perfect for me, but Mitch and I love that Kohl's is a one-stop shop for the entire family. Because it's right in our neighborhood, I've been popping in for baby and kid essentials since Emma was born, and I love that I can buy online and then pick up in the store when I'm short on time. And there's just nothing as satisfying as putting my Kohl's Cash to good use!
Two Easy Summertime Looks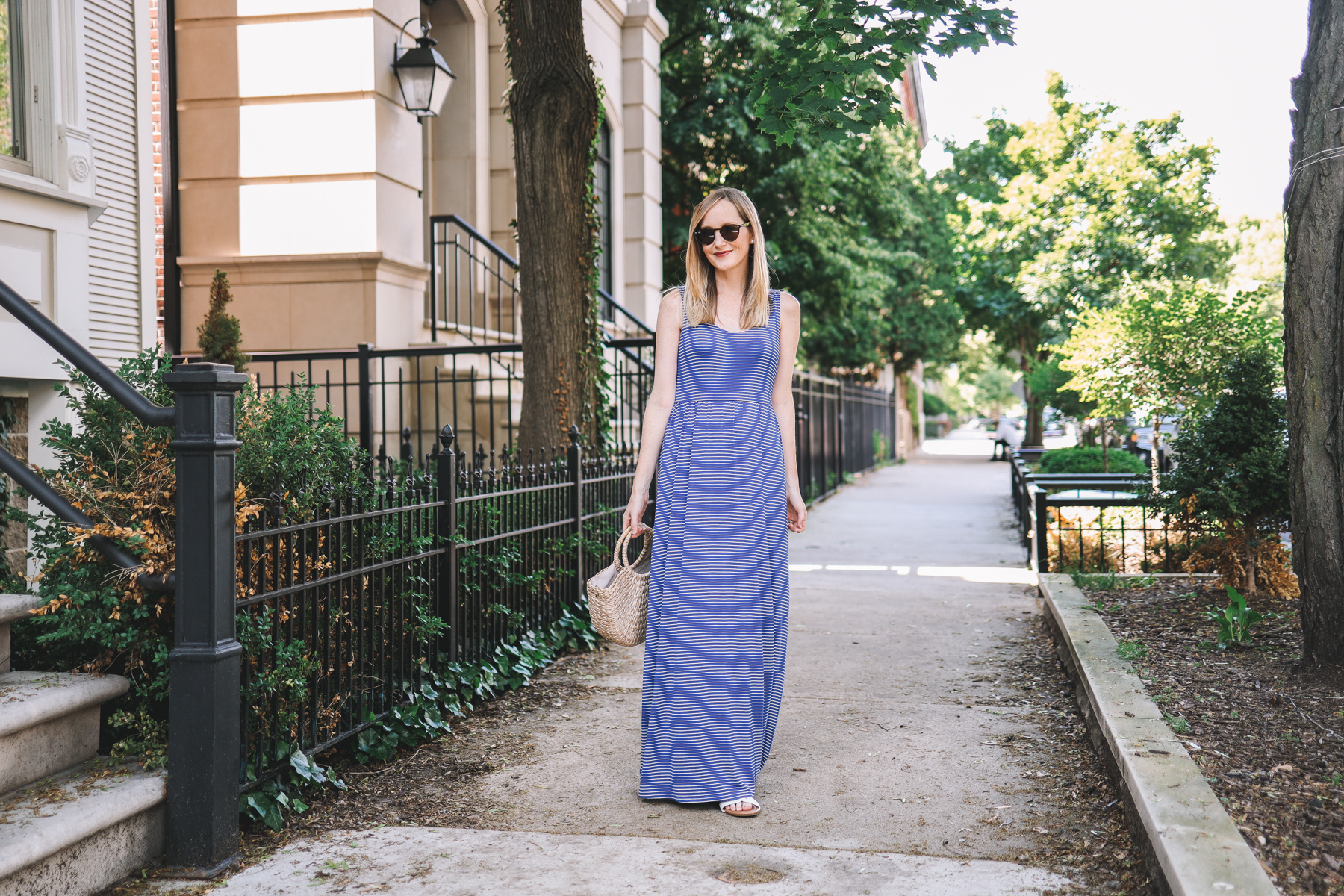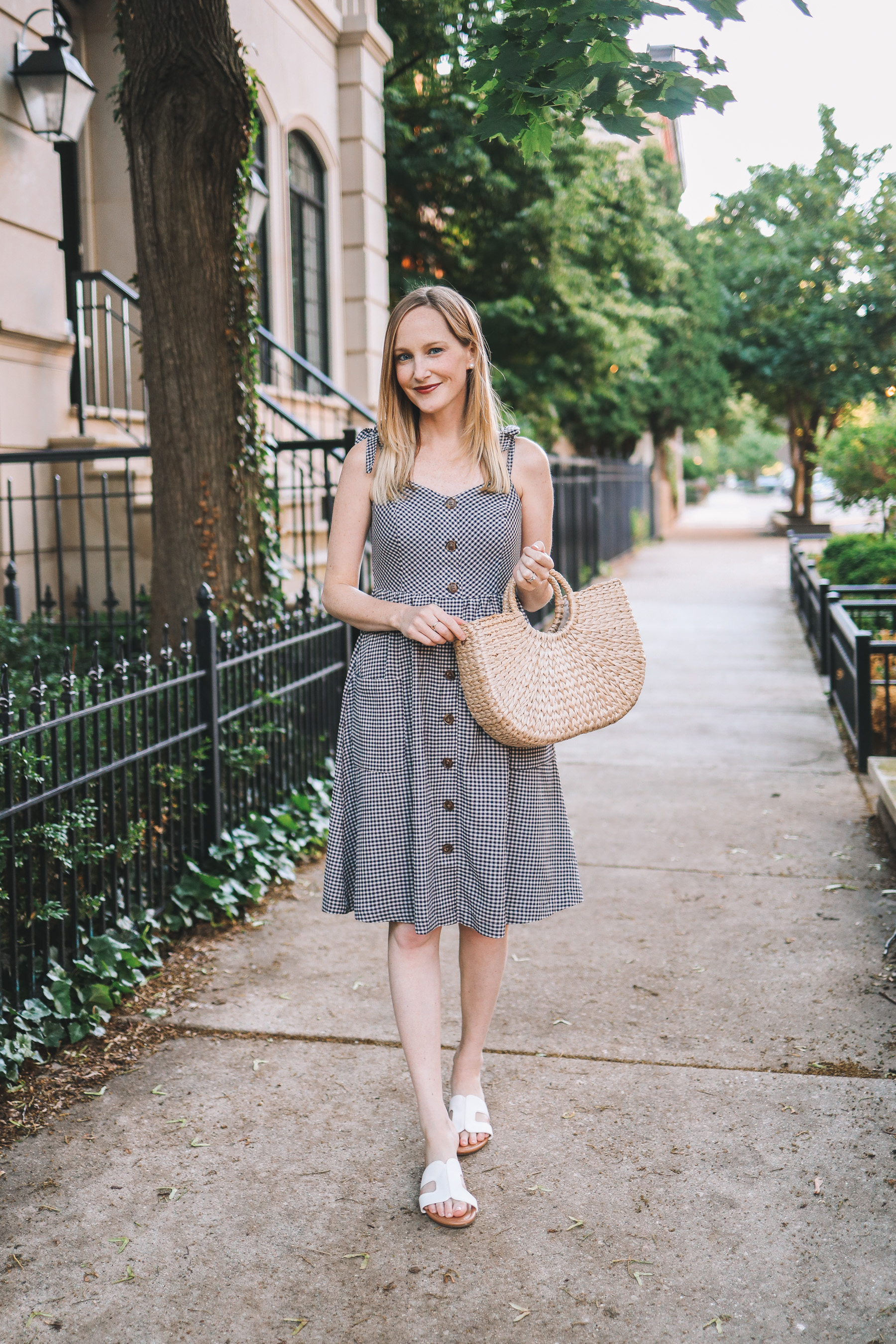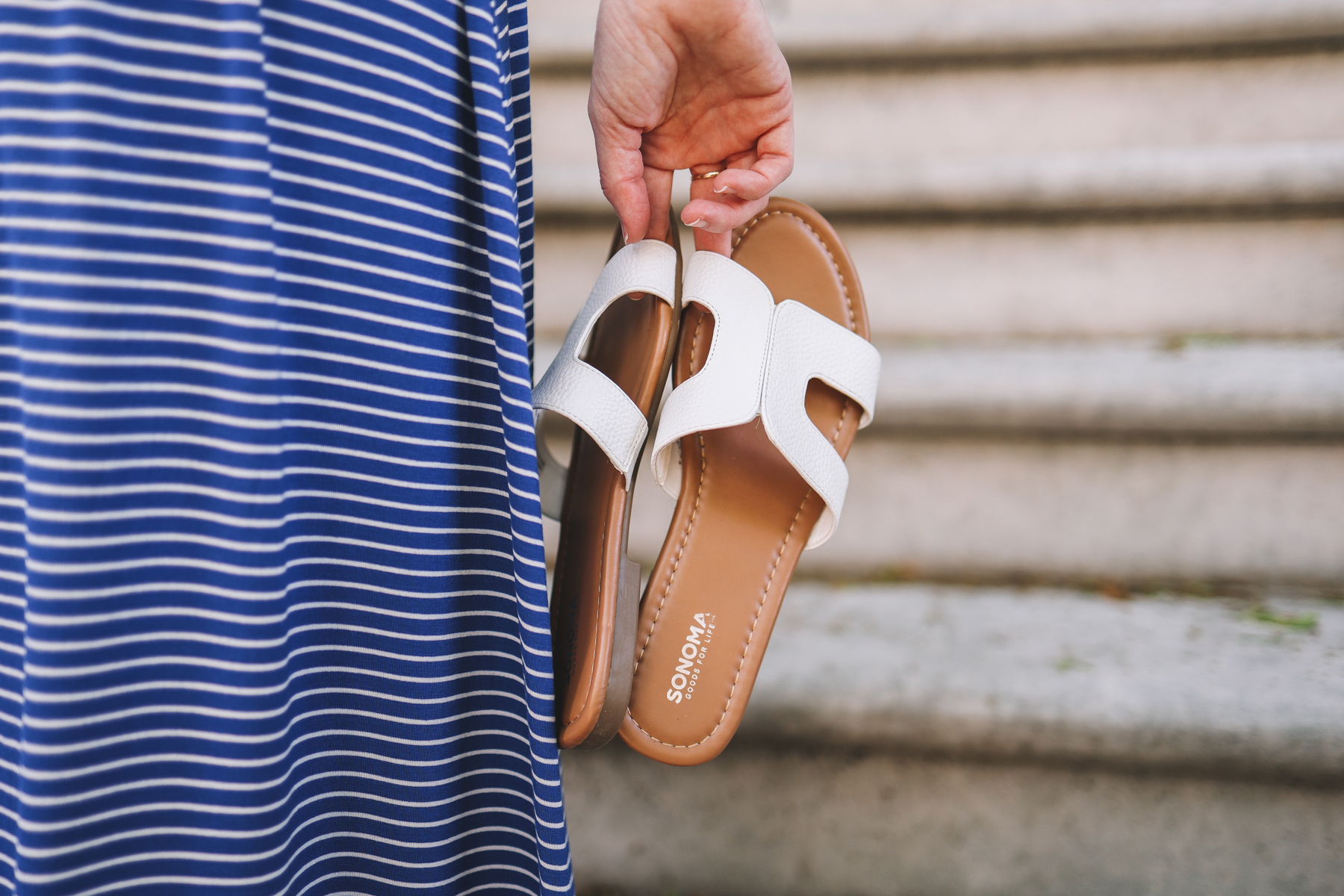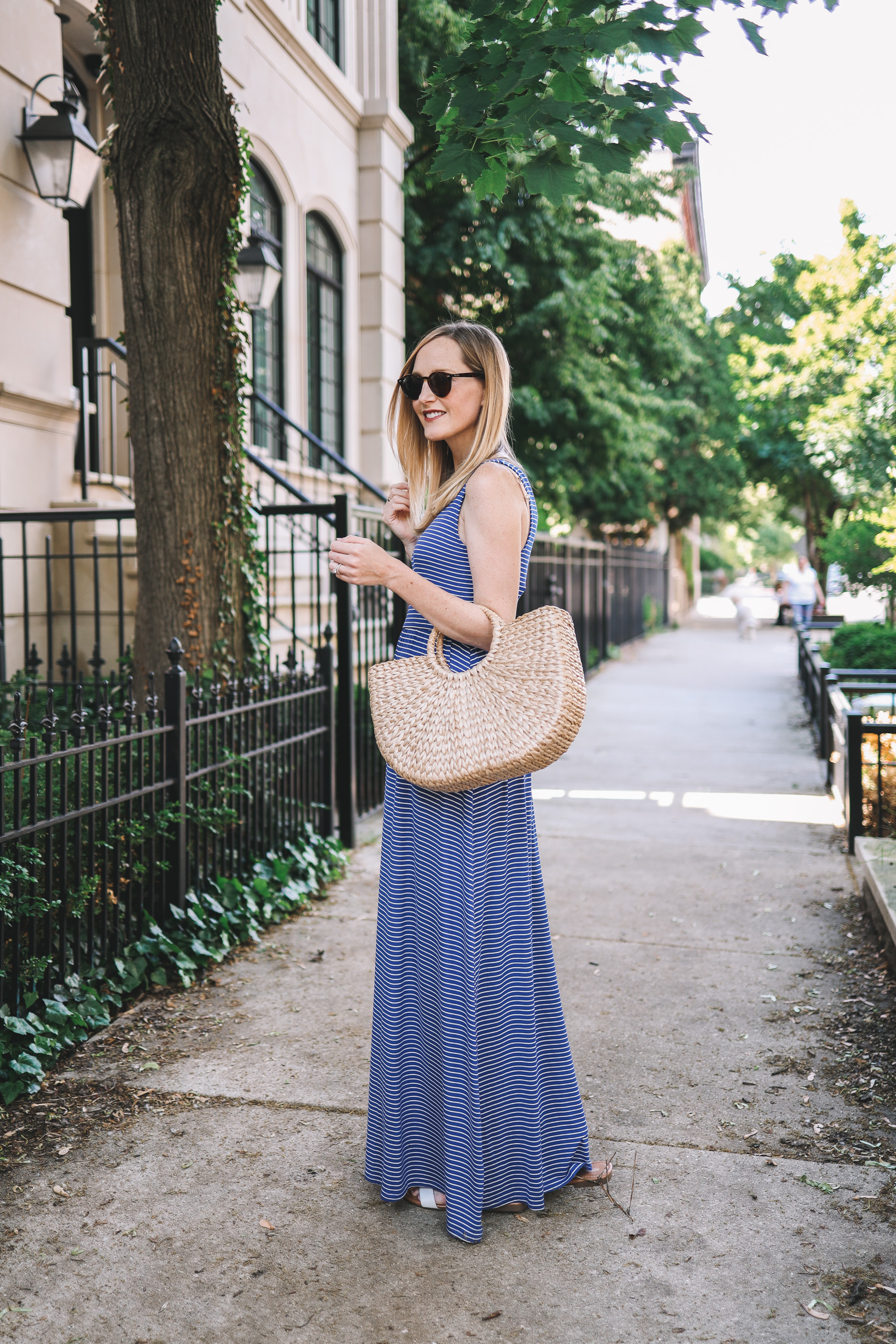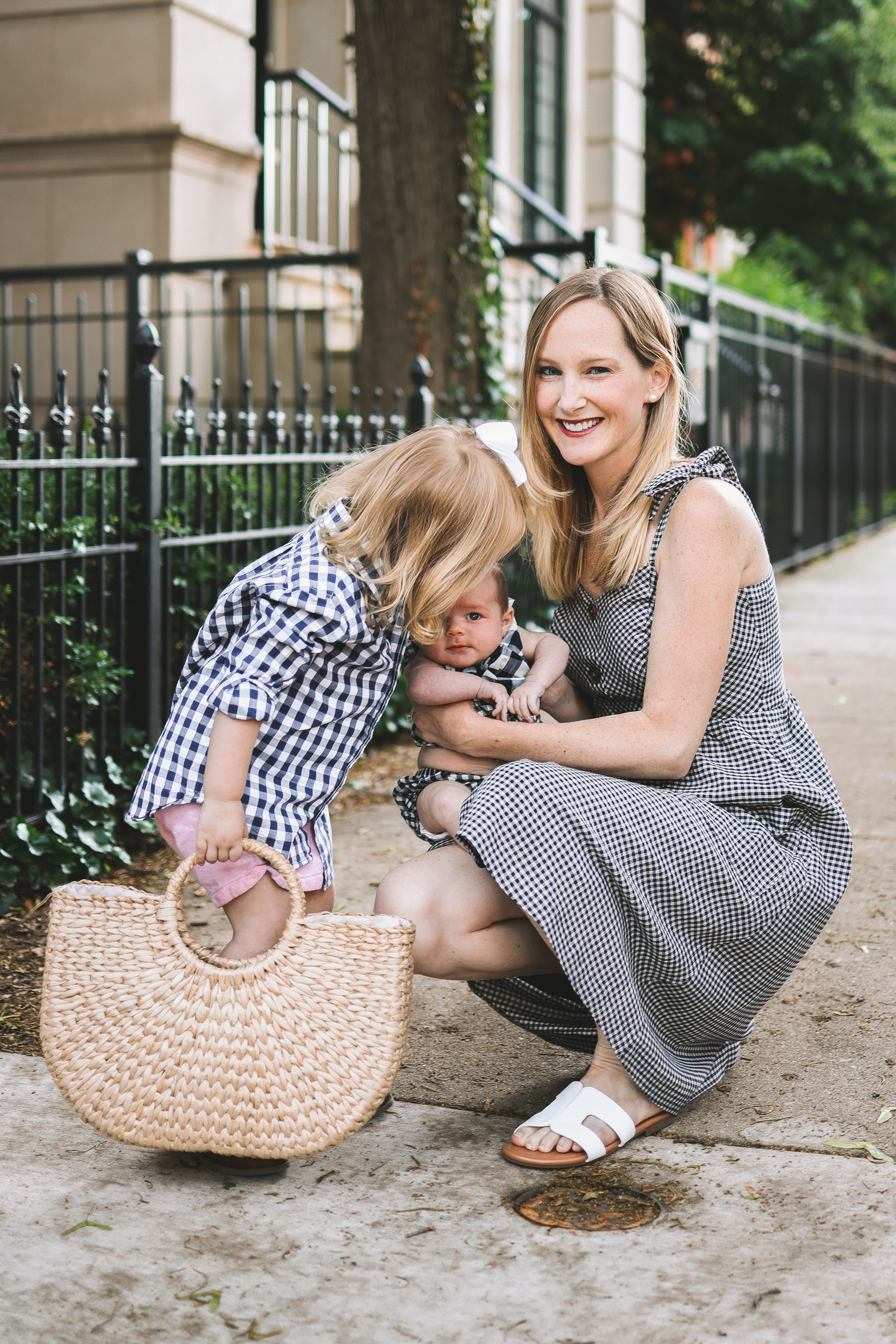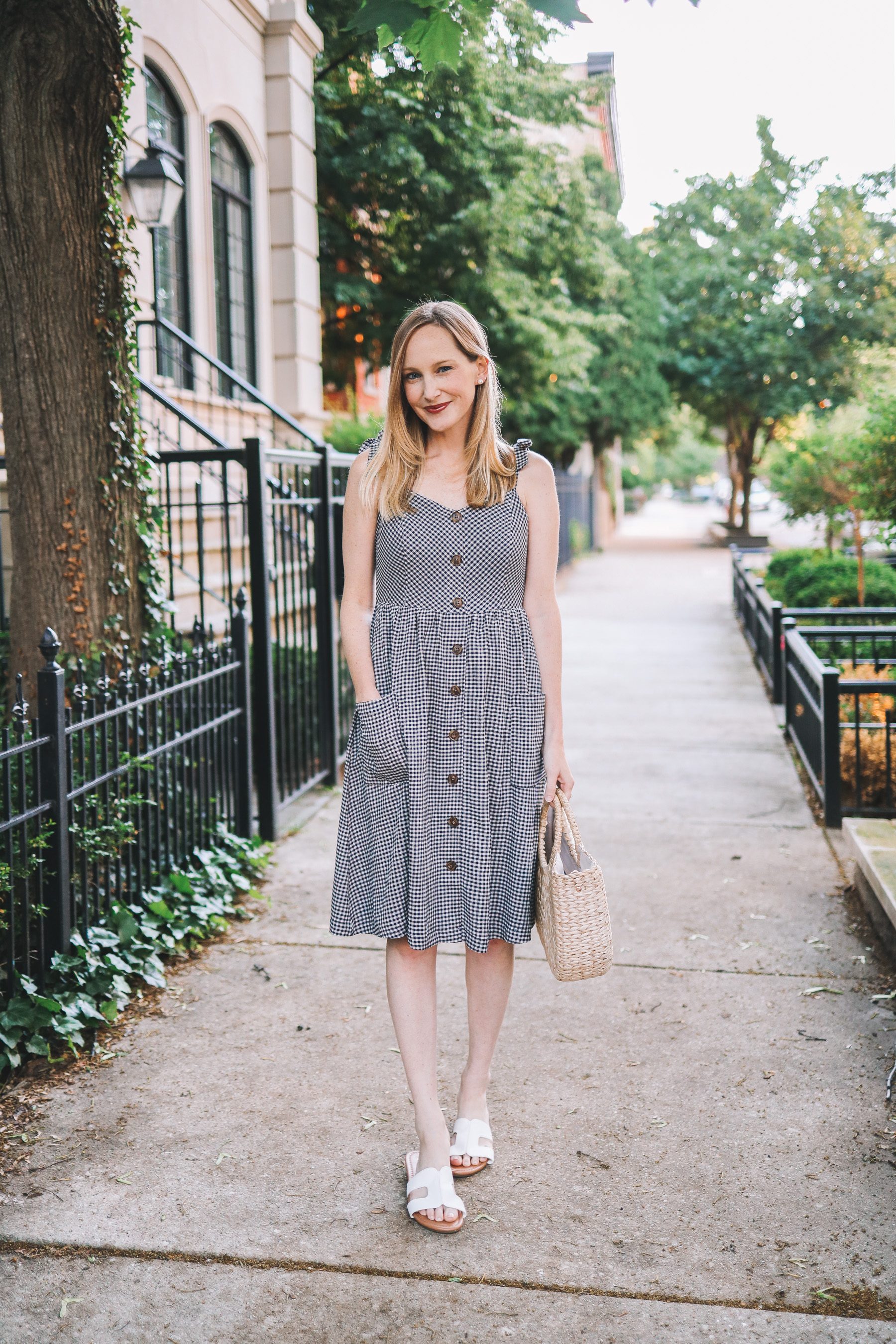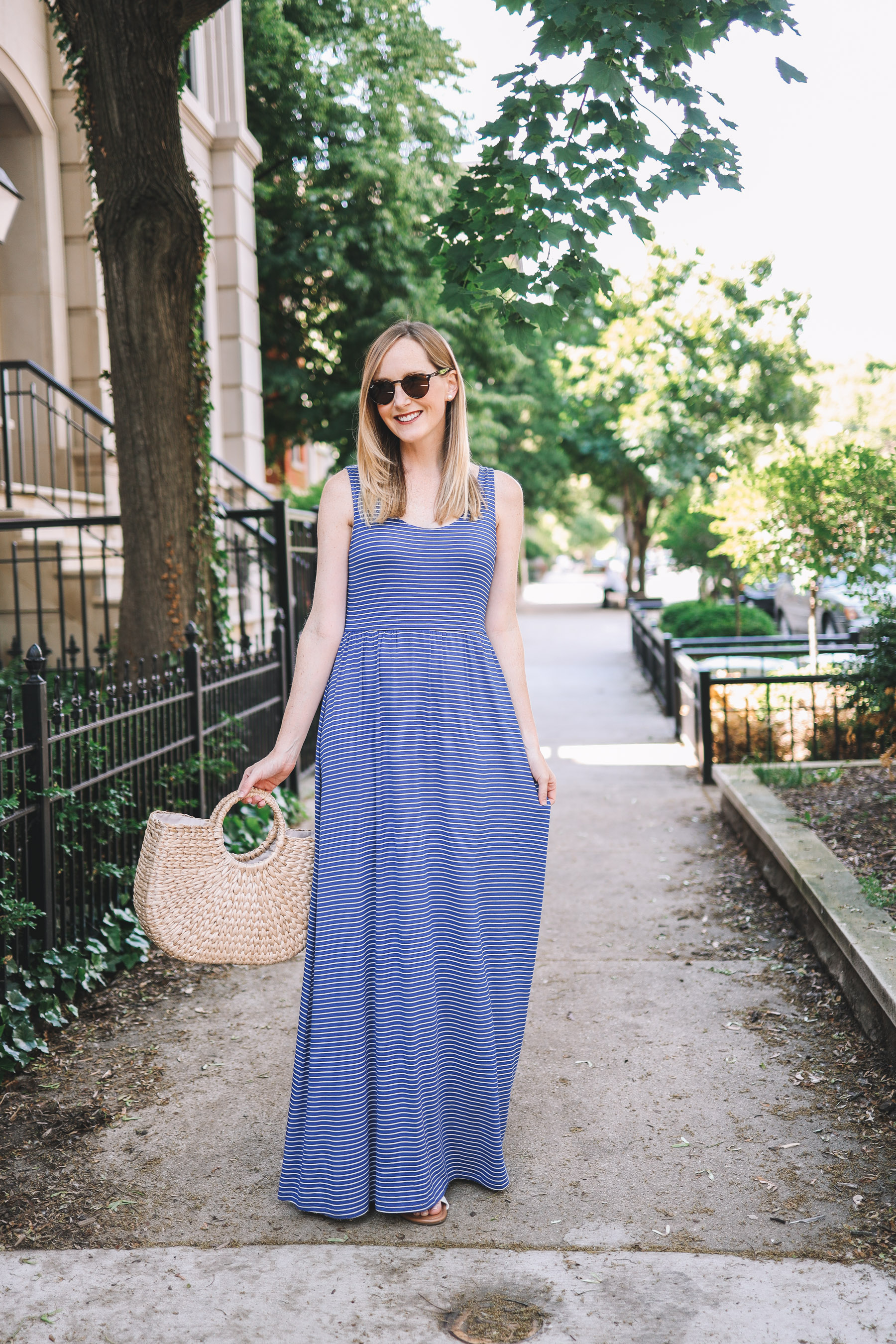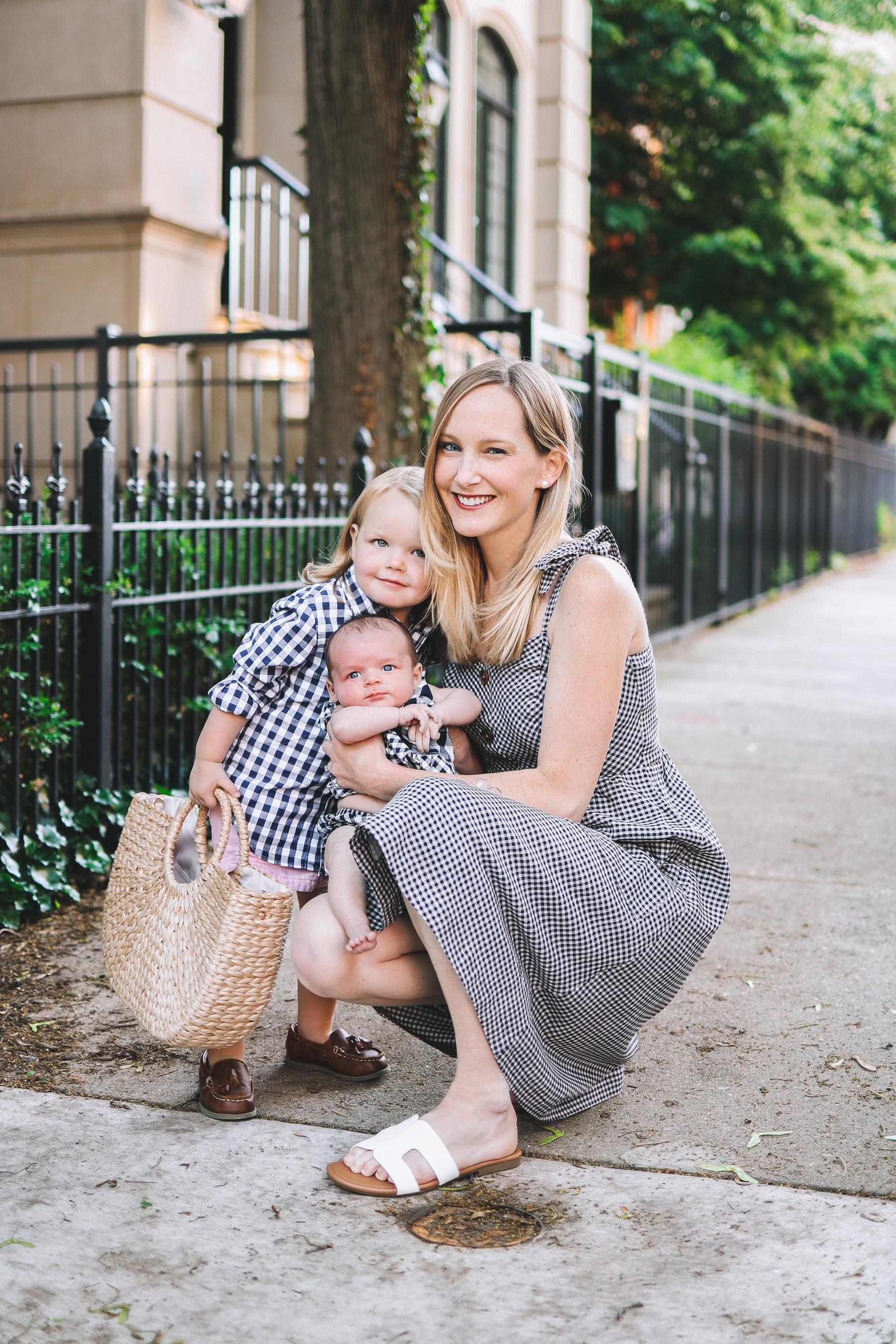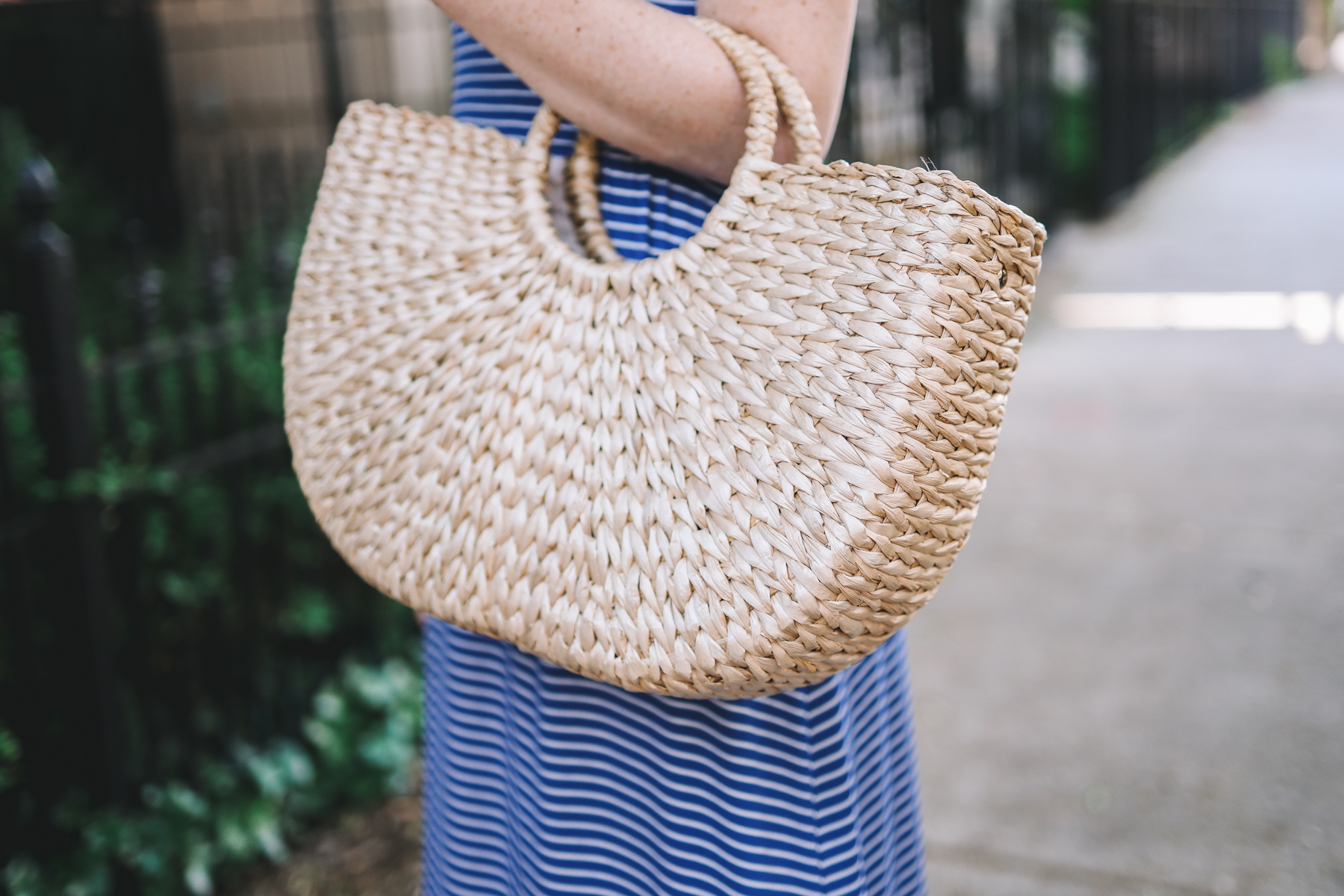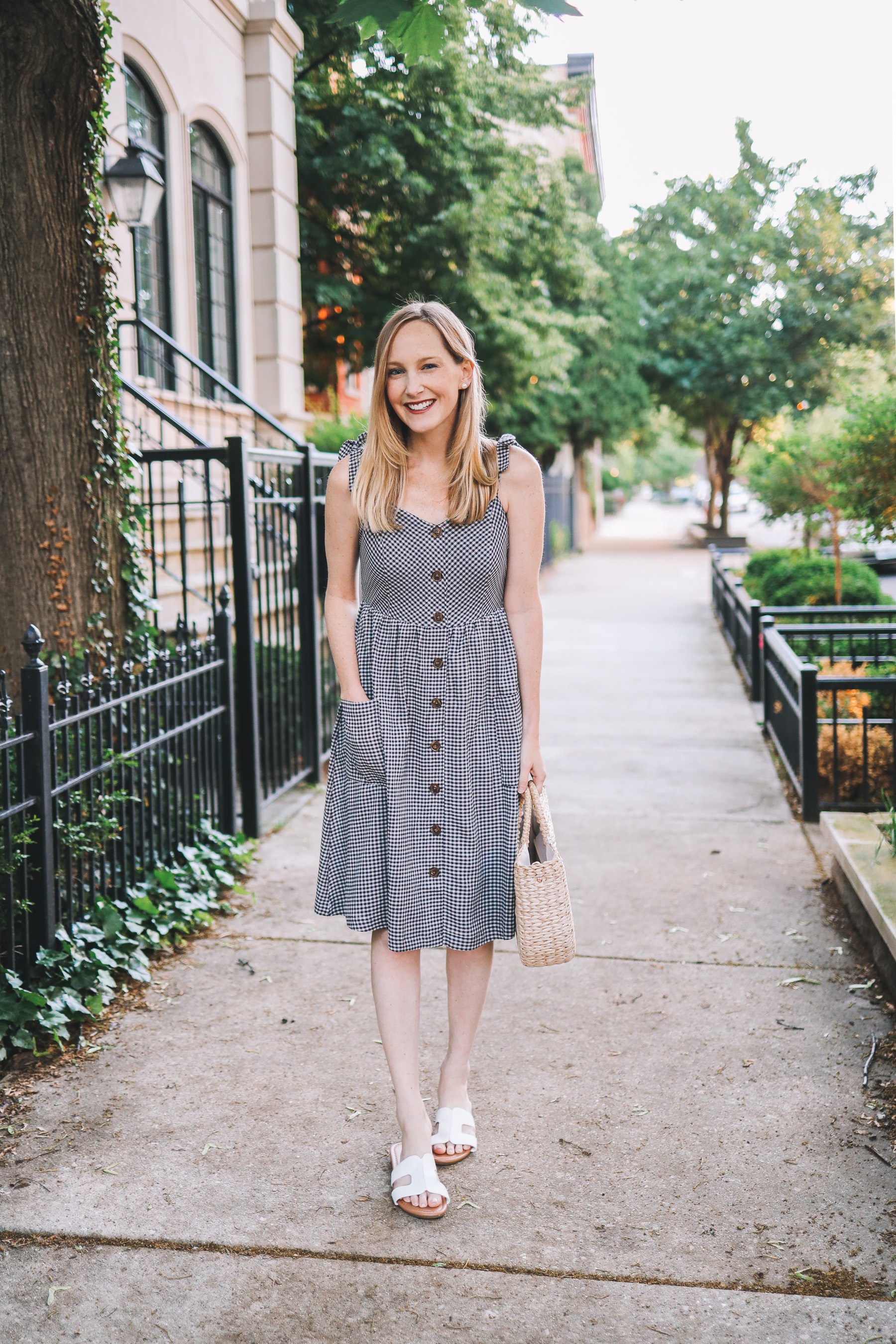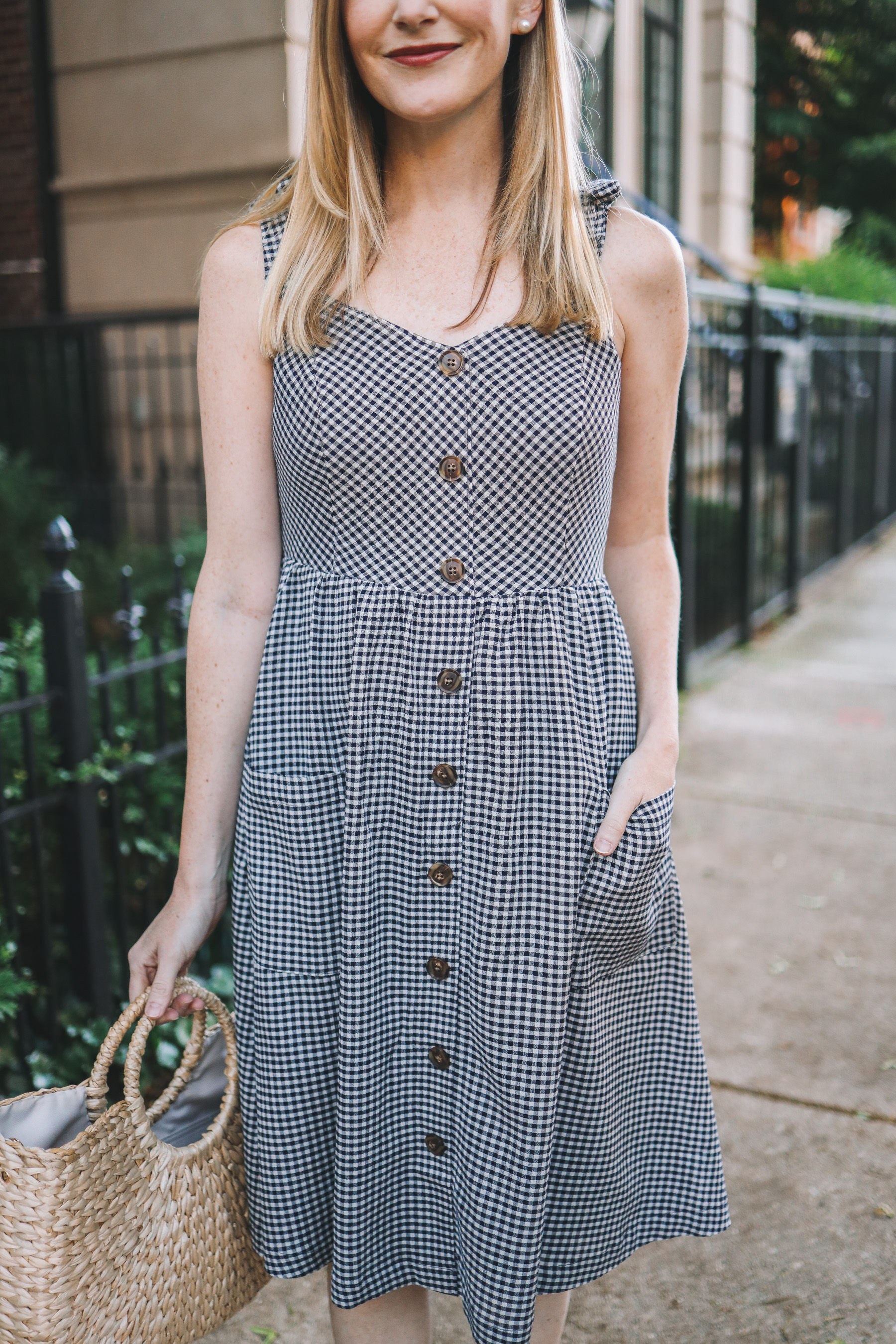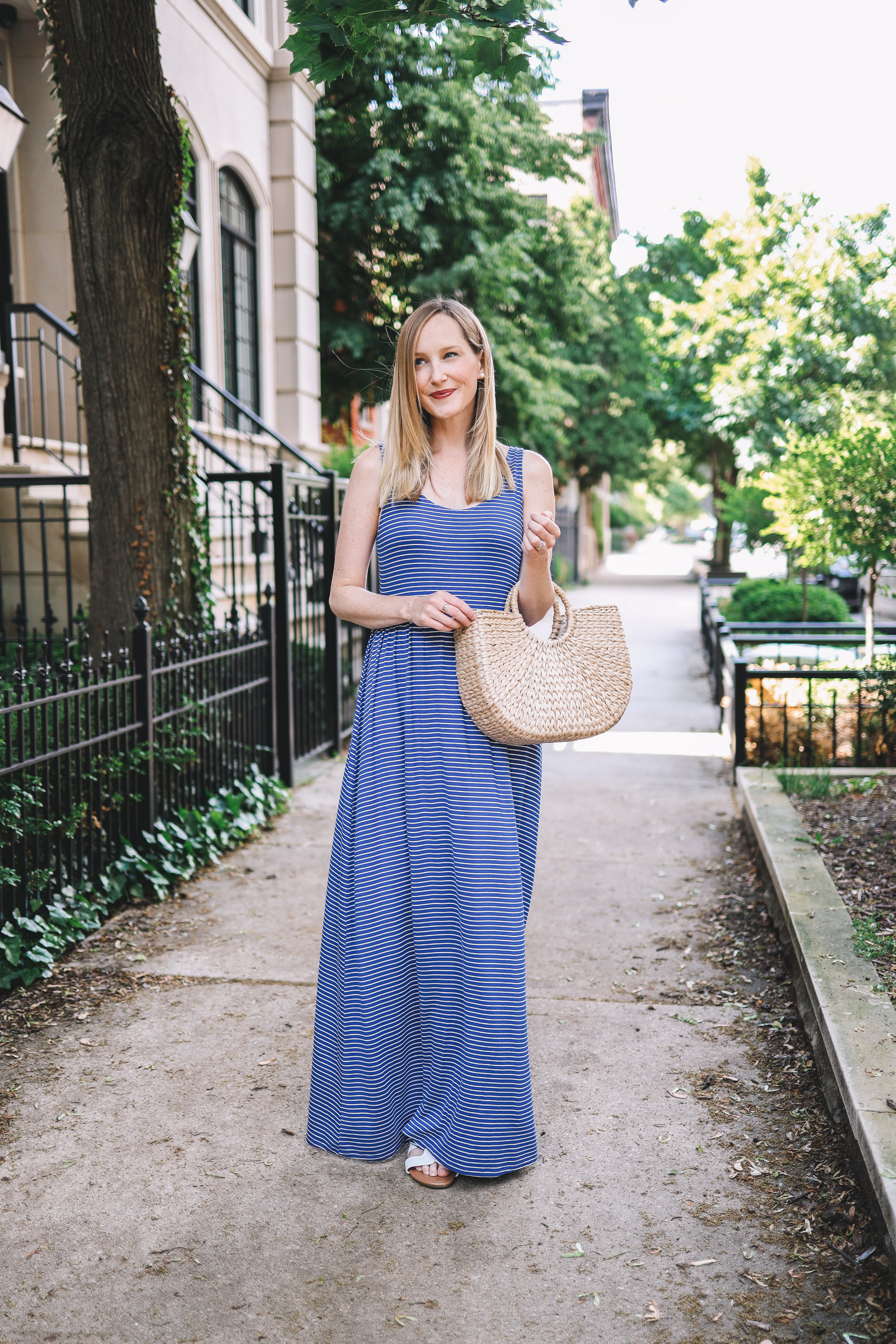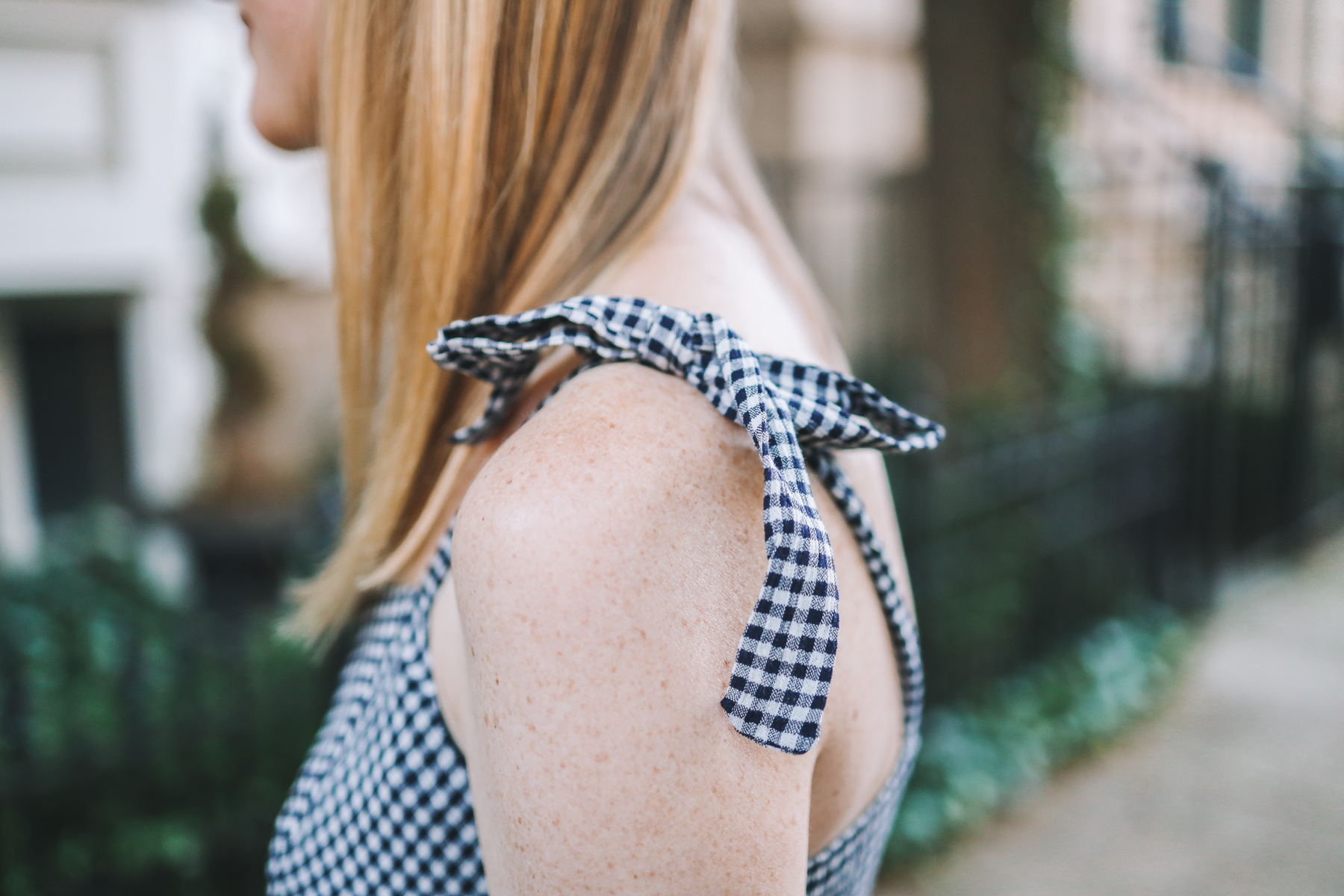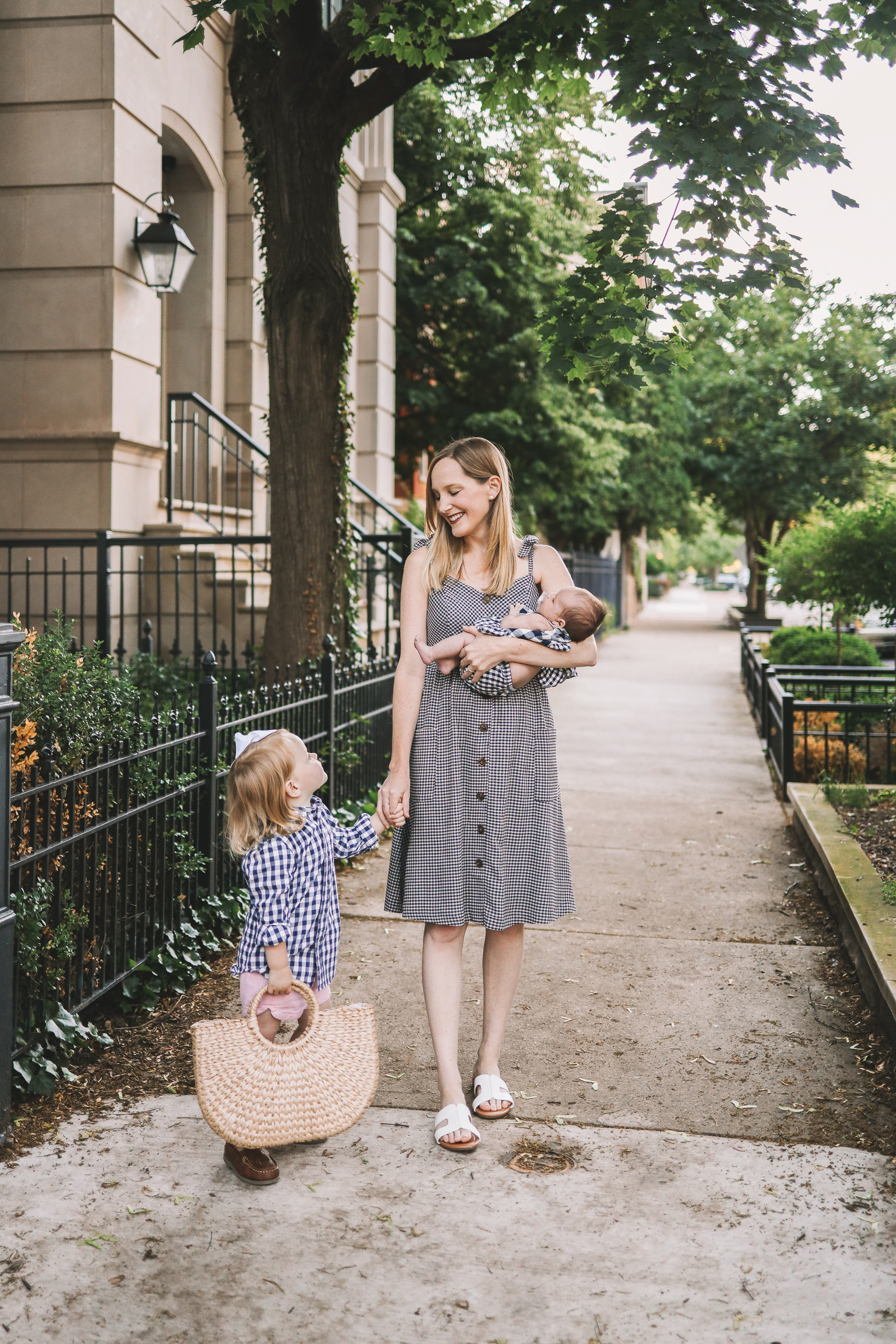 Be still, my heart. I can't get enough of Emma and Lucy together; they're the sweetest little duo!
Shop the post:
Gingham Look: Button-Front Dress / White Sandals / Half-Moon Tote
Striped Look: Maxi Dress / Half-Moon Tote / White Sandals
Kids' Looks: Lucy's Gingham Outfit (Similar) / Emma's Pink Shorts and Gingham Button-Down (Similar) / White Toddler Sandals (Similar)