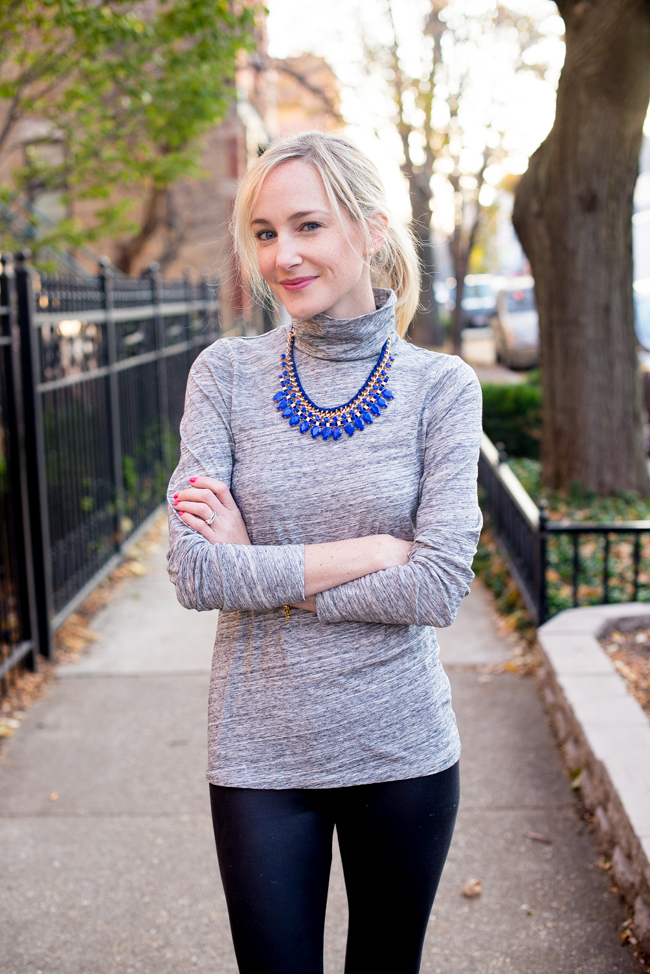 Trend Tribe Necklace (c/o — Use code "kellyinthecity" to get free shipping!) / J.Crew Factory Tissue Turtleneck (See the regular  J.Crew version here, as well as the striped version and thicker, oversized version!) / Legwear Loft Faux Leather Leggings (c/o) / C.Wonder Kitten Heels (Old, but similar here… and check out C.Wonder's new line of shoes. THESE?! #omg.) / J.Crew Earrings / Henri Bendel Tote (c/o) / Joyiia Elephant Bracelet (c/o — A portion of Joyiia's proceeds goes to Safe Passage!) / Kate Spade Sunglasses (Old, newer styles here)
Today, I'm teaming up with Trend Tribe, a New York-based accessories company, to give away the gorgeous cobalt statement necklace featured in this post! If you haven't heard of Trend Tribe yet, it's a pretty cool company. It provides college students with hands-on business experience, as well as a fun, new way to raise money on campus for charities. Campus representatives–called "Trendsetters"–participate in training programs (which teach everything from marketing to interpersonal communication skills) and then host on-campus trunk shows. A percentage of sales are donated to a charity of the Trendsetter's choice. All accessories are under $50, too!
The company was founded by Samantha Cooper, who as a young college student wanted a hands-on summer job, and so began designing and selling her own jewelry. Her experience made her realize that there was an opportunity to provide other students with fulfilling internship-like experiences that could one day help launch their careers. Interested in becoming a Trendsetter? Learn more here! And don't forget to enter the giveaway!
**Use code "kellyinthecity" to get free shipping on your Trend Tribe order!**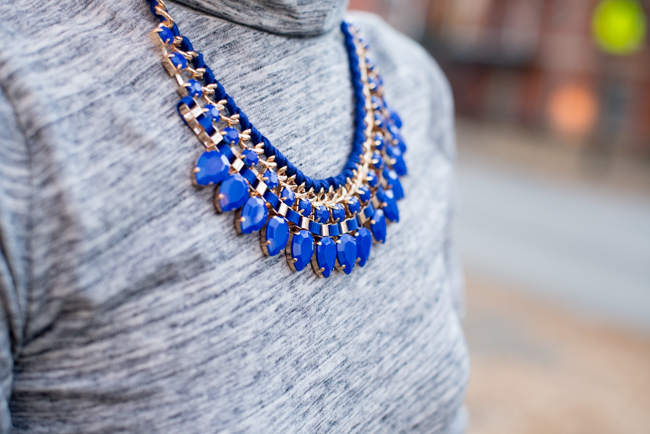 In other news, I'm obsessed with J.Crew's Tissue Turtlenecks. I first fell in love with them when Jess and I shot these photos a couple of weeks ago. I'd always thought of turtlenecks as being frumpy and very 1980s/1990s, but the trend is back. (And how gorgeous does Jess look, btw?!) I'm wearing them under oversized sweaters, sleeveless dresses and three-quarter-length tops. (I mean, who hasn't seen this pic? I'm workin' on looking as chic as Jess and Blair, haha.)
I'm wearing the Factory version in these photos, which–as far as I can tell–is the exact same thing as the regular version, just with a nicer price tag. :) (Only $13.50 right now!) They're soft and cozy yet lightweight and flattering… just perfect. Need help with sizing? I'd recommend going one size up in the Tissue Turtlenecks, and staying with your normal size for the Oversized Turtleneck, which is a lot thicker (and obviously larger).