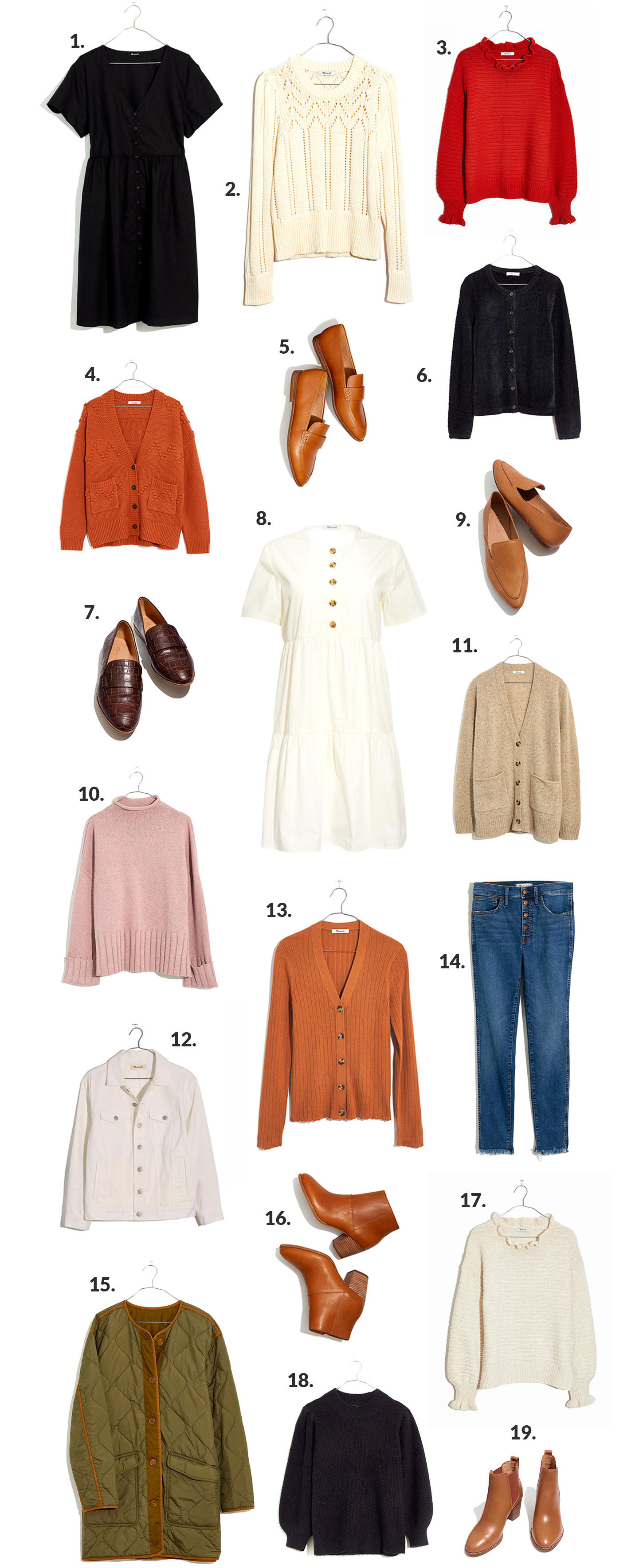 Use code "SPREETIME" to take an additional 30 percent off already-reduced sale products.
While the big Madewell event did end a couple of days ago, the brand put many of its most popular products back on sale, and is continuing to offer an additional 30 percent off with code "SPREETIME." The best part is that there's no $200 minimum this time! The prices are phenomenal, and the selection of basics is, too. So here are my suggestions:
1. V-Neck Button Front Dress: Such a cute dress! I might live in the tundra, but many of you do not and are currently wishing for cooler temps. Paired with cute booties and a touch of olive green, this would be the perfect fall number for gals in warmer climates. :)
2. Pointelle Sweater: This is stunning! I definitely have a cream-colored Madewell sweater obsession and cannot add more to my closet, haha. So I'll live vicariously through you!
3. Ruffle-Neck Pullover: This is one that lives in my closet because of said obsession. ;) It comes in cream, yes, but THIS RED! Most of us are going casual for the holidays this year, and I think this would be perfect for smaller-scale and at-home festivities.
4. Bobble Cardigan: Who doesn't love a good bobble?
5. Alex Loafer: I'm a diehard fan of the Frances line, but these get great reviews and are said to have no break-in time. Also, the product description is hilarious: "Like penny loafers minus the coin slot (because, credit cards), these casual yet refined leather flats have hand-stitched details." Hah!
6. Super-fuzzy Cardigan: Again, another top that could come in handy for the upcoming holiday season! I love a fancier-looking sweater that throws the festive vibes but also provides all the warmth. (What? Need more coffee. Continuing on…)
7. Croc-Embossed Loafer: The croc-embossed version of the Alex Loafer! So snazzy. Yes, snazzy.
8. Tiered Button-Front Dress: Probably for the spring and summer, but what a deal on a timeless dress that'll remain a staple for years to come.
9. Frances Skimmer: A lot of the Frances line is majorly discounted right now! This pair is a classic.
10. Glenmoor Mockneck Sweater: I somehow missed this during the original sale, maybe because it came up in the other color? But the light pink is beautiful! (Again, paired with touches of olive green and 👌!)
11. Donegal Cardigan: This is the cardigan that Madewell is known for! With a striped long-sleeve turtleneck tee underneath, you can't go wrong.
12.  Oversized Jean Jacket: Take a look at all the oversized jean jackets, and here are some photos of me in mine! HUGE FAN.
13. Ribbed Cardigan Sweater: So seasonal.
14. Extra-Comfy High-Rise Jeans: I own last year's version and adore them. They really are as comfy as they claim to be. (Yet they're thick and warm!) I also love these, though they're far pricier.
15. Reversible Quilted Liner Jacket: I can't help myself with olive jackets. They perfect most fall looks!
16. Rosie Ankle Boots: I went with this pair of booties because they're waterproof and AWESOME (also 40 percent off right now!), but the Rosie boots really are beautiful.
17. Ruffle-Neck Pullover: Definitely my favorite pick from the sale. So nice I included it twice. ;)
18. Puff-Sleeved Sweater: Another great basic.
19. The Regan Boot: I'm embarrassed that I included 19 and not 20 selects but I cannot bear to redo the above visual because they take me so long. So with that, goodbye. 😜