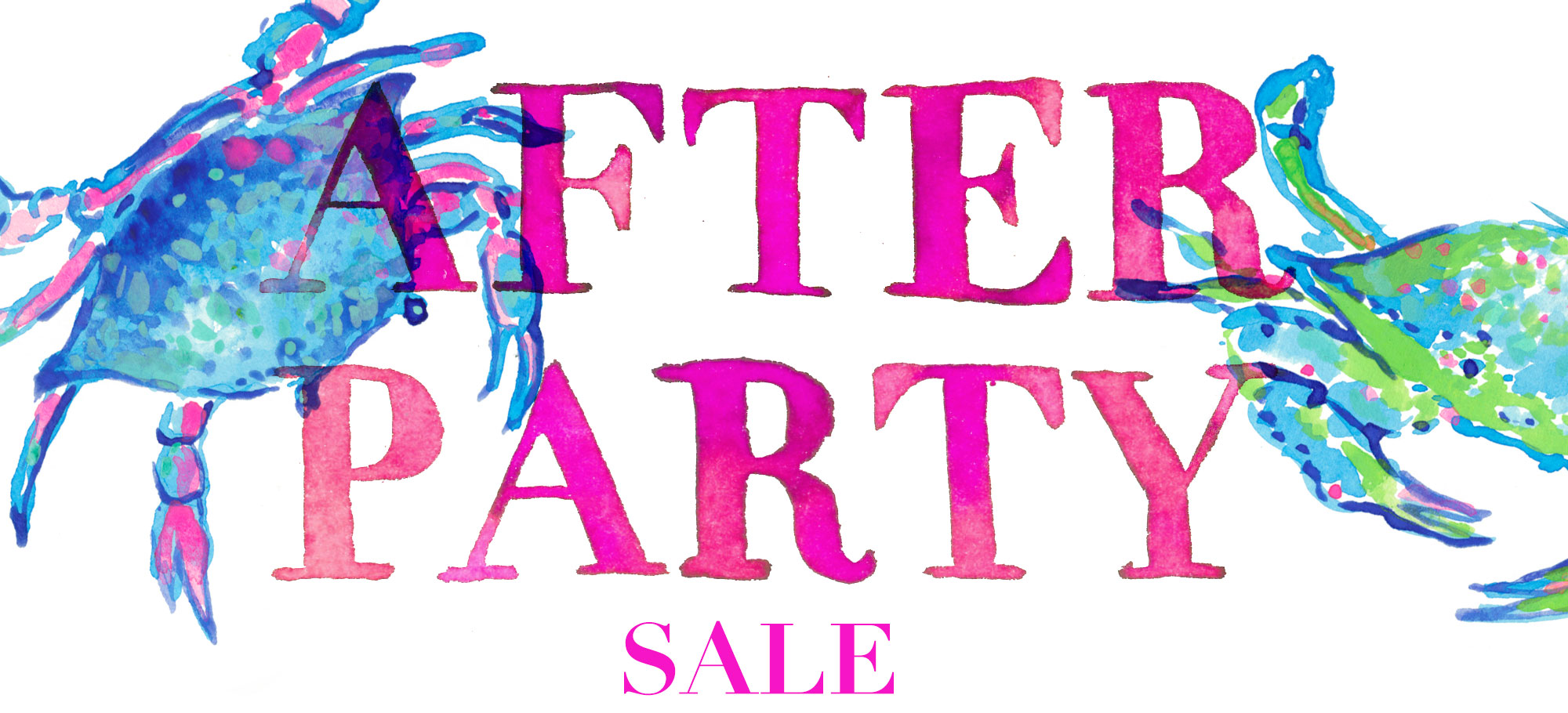 About a month ago, I wrote a post about how to find deals on Lilly Pulitzer. Well, it's finally the most wonderful time of the year for Lilly addicts who aren't down with paying full price! (Or who don't live near the company's headquarters in King of Prussia, Pennsylvania, where the Warehouse Sale takes place.) It's time for the After Party Sale! It's scheduled to start on Monday, August 18th at 8 a.m. EST and end on Thursday, August 20th at midnight EST… so mark your calendars.
The thing about this online sale–previously called the "Endless Summer Sale"–is that while it's absolutely phenomenal (some of the best prices I've ever seen), it can frustrate the heck out of a first-timer. Because there are so many people logging on at once, the site tends to experience hiccups and crashes. So, without further ado, below are my tips for shopping the sale!

Make sure your Lilly account is up to date before Monday. Look over your billing address, shipping address, and credit card/PayPal information ahead of time, and then double check. (See Lilly's guide to creating an account here.) I'm one of those people who moves nearly every year, and therefore it's pretty normal for me to have out-of-date account info. The site will be down from 7 a.m. EST to about 8 a.m. EST for sale preparation, so set it all up before that time. I recommend pre-loading both your credit card and PayPal info, as it's possible one payment method will be less glitchy.
Set a reminder (or an alarm). The sale starts at 8 a.m. EST, so if you're elsewhere in the country (like I am!), account for that.
Remember to sign in before you start shopping. Actually, I'd recommend signing in the night before, that way you're all set to go in the morning. Leave the window open, and simply hit "refresh"–over and over again, haha–right before 8 a.m. EST.
Realize that the site will probably crash. Like I said, Lilly will be working to prepare the site from 7 a.m. EST to 8 a.m. EST, but I can almost guarantee that there will be problems–and that we'll all see the cute "Oh Shift" message a few times. Things to expect: site crashes, issues with checkout, and late e-mail order confirmations. An influx of traffic will do that to any site. Be patient and understanding. No need to get ugly and send nasty Tweets or post mean comments on Lilly's Facebook… it's super nice that the company is doing this in the first place! :)
Use multiple devices. Last year, I had a lot of trouble accessing the site on my computer, but it worked on my cell phone. If you have a tablet, it might be worth utilizing that, too. (Update: Lilly just weighed in and said desktop shopping may actually be smoother than mobile shopping this year, so that's definitely something to consider!)
Know your size. Lilly sizing is pretty consistent, but from time to time, certain pieces–like the brand's shifts, for example–run large or small. (FYI, I typically go one size down in Lilly shifts.) If you don't own many Lilly pieces or are at a complete loss, do your research beforehand by reading product reviews and visiting fitting rooms. If you don't live near a Lilly Pulitzer Signature Store, try department stores–like Nordstrom or Bloomingdales–that carry the brand.
Be aware of what you're looking for, and set a budget. It's pretty easy to get caught up in the excitement of a really good sale, but it's also important that you don't empty your bank account and buy things you don't need. Need a dress for an upcoming event, and that's it? Then stick to that. Would you have serious regret if you spent over a certain amount of money? Then know what that number is, and don't go over it.
Narrow your search–quickly–by size and price. On the upper right-hand corner of Lilly's site, you'll see two options: "sort by" and "narrow by." There's no use in wasting your time looking at products that aren't available in your size, so click "narrow by" and select "size" first. During online sales, I tend to then click on "sort by" and select "price – low to high" next. But everyone has her own method.
Act fast, and place individual orders for individual products. Just because a product is in your cart doesn't mean it's yours. Sizes go quickly, and products sell out fast. If you're over-the-moon in love with a particular item and you have to have it, check out immediately. Shipping is free, so you can place multiple orders guilt-free.
Understand that particular stages of the ordering process might be running slowly. According to Lilly, after you order, you should receive a confirmation e-mail. Next, your order will appear as "processing" as it's being selected and packed up. After that, the order is marked as "shipped." While this process normally takes two to three days, understand that it might be completed faster or much slower during the sale. Some people receive order confirmation emails immediately, while others see them a few hours later… and some people receive their products within a day or two, while others see their orders two or three weeks later. It's normal! You can check your order status here.
Follow Lilly's Facebook and Twitter accounts for "Fan Only Flash Sales," and check the site regularly for new products. Typically, Lilly adds a few new products every day, and provides a link to them–along with updates about the sale–through the brand's social media accounts. Use 'em!
Check Lilly Pulitzer Signature Stores for products. They're allowed to participate in the sale as well, but Lilly fans often forget to check in with them. Because of this, they often have some of the best stuff, long after products sell out online!
Do the right thing. I'm not a huge fan of people buying up a ton of stuff during these sales just to turn around and sell it all on eBay for a profit. If something doesn't fit you, fine. Sell or trade it. (Re-Lilly is a great option.) But it kind of takes the fun out of the sale when people use it simply to make money! Just think of the joy you got out of your first Lilly dress. Don't you want some girl out there to have that same magical experience?
Don't be crazy. If you can't be at your computer or on a mobile device at the start time, it's not the end of the world. (I've actually scored some great pieces on the last day of the sale!) I'm certainly not going to judge if you feel compelled to call out of work so that you can have first pick or employ your family members and friends to "divide and conquer," but remember to stay grounded. ;) It's just a sale. While they're rare, this one won't be the last. (Plus, there are other ways to find deals on Lilly! The "New Cheer Sale" takes place in January, and RueLaLa will likely have a Lilly sale shortly after the After Party Sale, too.)
Did I miss something? Please add your own tips or advice below in the comment section!