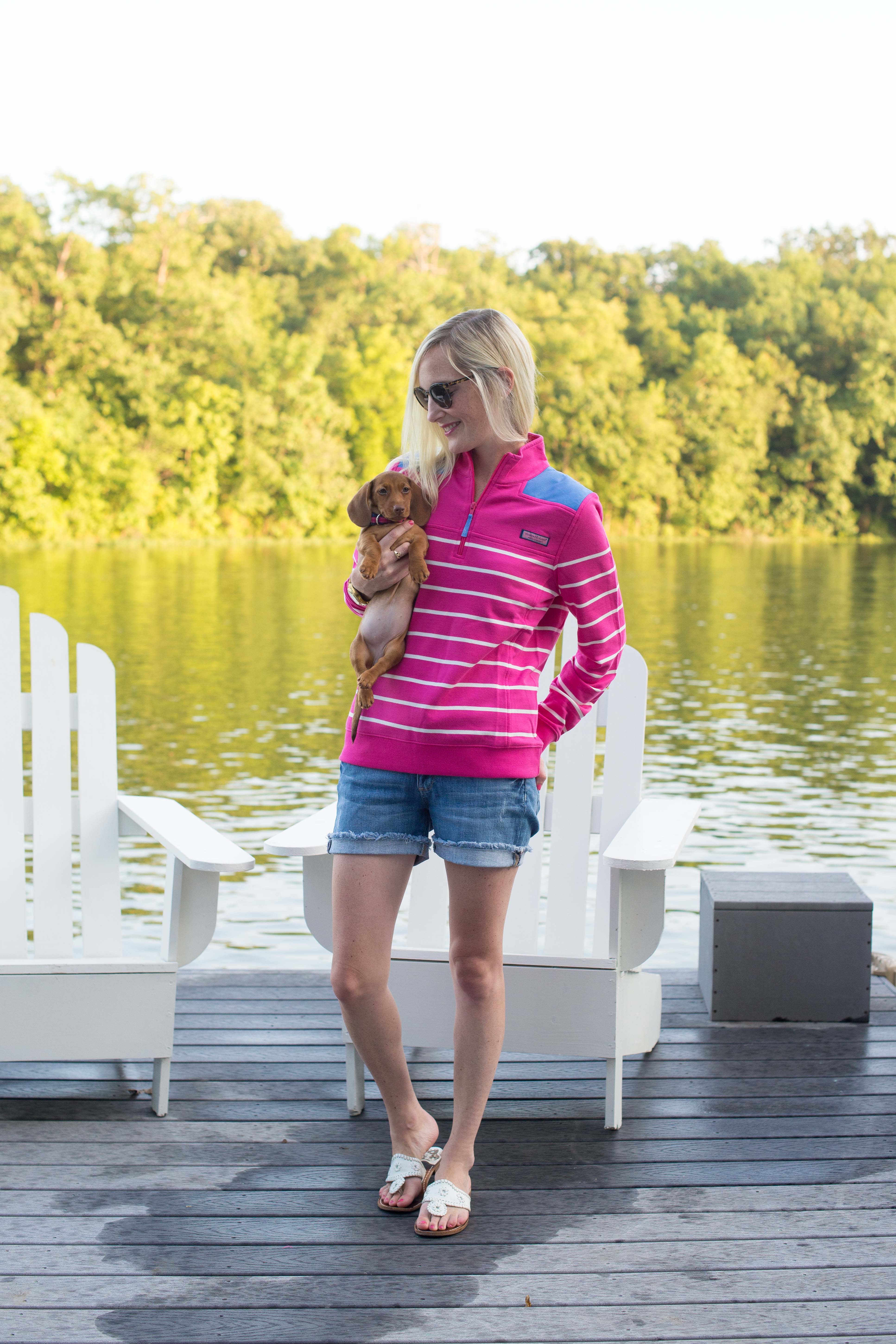 Vineyard Vines Shep Shirt (c/o) / Jack Rogers Sandals (While they're certainly well-worn, these Jacks have lasted for such a long time. I've had them since 2006!) / Paige Shorts / Kate Spade Sunnies (Old, newer styles here) / J.Crew Earrings
The Vineyard Vines Shep Shirt has long been a favorite of mine. Sure, it's a sweatshirt. But it's also incredibly well-made and soft, and seems to class up the most casual of outfits. It's made out of the perfect blend of cotton and French terry, making it a comfy-cozy wardrobe staple that I rely on year-round. I always travel with one!
This Striped Shep Shirt was–not surprisingly–perfect for this past Labor Day weekend, as nights on Lake Bloomington were on the chillier side. While I'm obviously a huge fan of the Shep Shirt I'm wearing in this post, I'm also crazy about some others that are currently available. Check out the classic navy version (which I live in) as well as the Shep Shirt in Whale Patchwork, Color Block ("Marshmallow"), Chambray, Nautical Signal and Harrington Plaid. Adorable.
Hope everyone had a great holiday weekend! Below are some photos and iPhone snapshots from my three days at the lake with the Larkins. So sorry about the overabundance of miniature dachshund pics, haha. I swear I did more than just photograph Noodle over the break! ;) We went boating, swam in the lake, fished, visited the farm, roasted marshmallows, made homemade doughnuts, relaxed, and played games. It was the perfect weekend. What did you guys do?!