Next Friday, Mitch and I are setting off for West Dover, Vermont, where my family celebrates Christmas every December. How it's nearly that time of year already, I have no idea. But I'm so excited. Even though it entails a 14-hour drive! :)
While I'm a summer girl through-and-through, the holidays are undoubtedly my favorite time of the year. It's the one occasion that gets everyone–parents, brothers, husband, aunt and uncle, grandmother, four cousins, soon-to-be sister-in-law, cousin's girlfriend, and three dogs–under one roof for more than a few hours. It's the best. So many people, so much laughter, so many traditions, so many fun activities, and so much love. (And so much cheesiness right there, haha.)
(See above: Horrendously compiled/edited video I made a few years ago.)
I'm looking forward to candlestick bowling, Christmas crackers (Irish/British family here), hanging homemade stockings, skiing at Mount Snow, making the gingerbread house, game night, hanging out downtown, having A Christmas Story on repeat, pizza on Christmas Eve, and introducing Noodle to my cousins. :) Most of all, though, I can't wait to be together.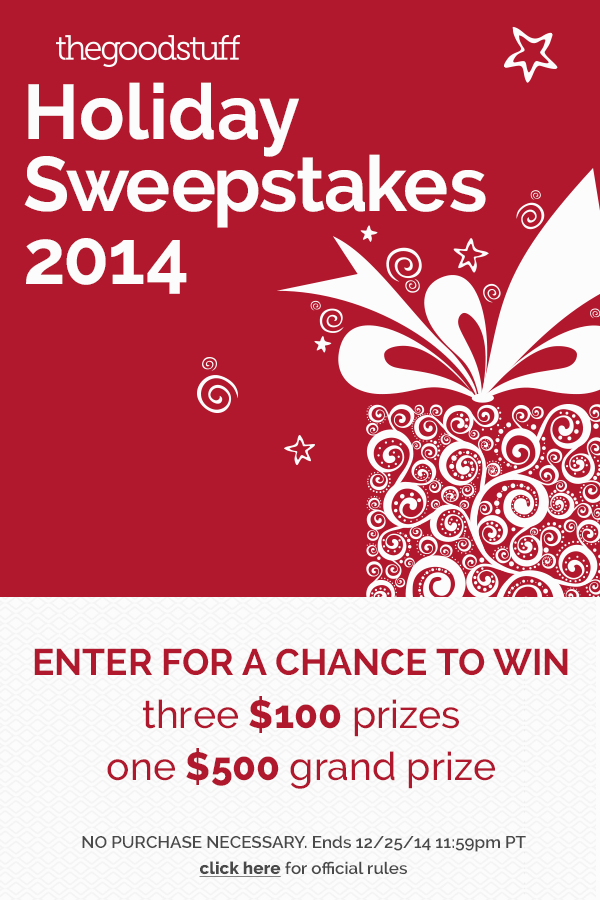 I'm also pretty excited that the holidays are starting early and ending late for me this year. My dad's side of the family is having their annual Christmas bash out on Long Island the week before, and after "Gallagher Christmas" up in Vermont, Mitch and I are headed back to Illinois to have a week-long celebration with his family. We're even doing Christmas morning all over again!
Needless to say, I'm counting down the days… and desperately trying to finish up my holiday shopping in time for all the trips. :) But in the meantime, I'm entering The Good Stuff 2014 Holiday Sweepstakes, which is is running from Dec. 8th to Dec. 25th.
Who couldn't use a little extra spending money during the holidays?! There are three $100 Amazon gift cards and one $500 "grand prize" Amazon gift card to be won. Fingers are crossed!
Enter today! And be sure to check out The Good Stuff's gift guides. They're sure to help you save!