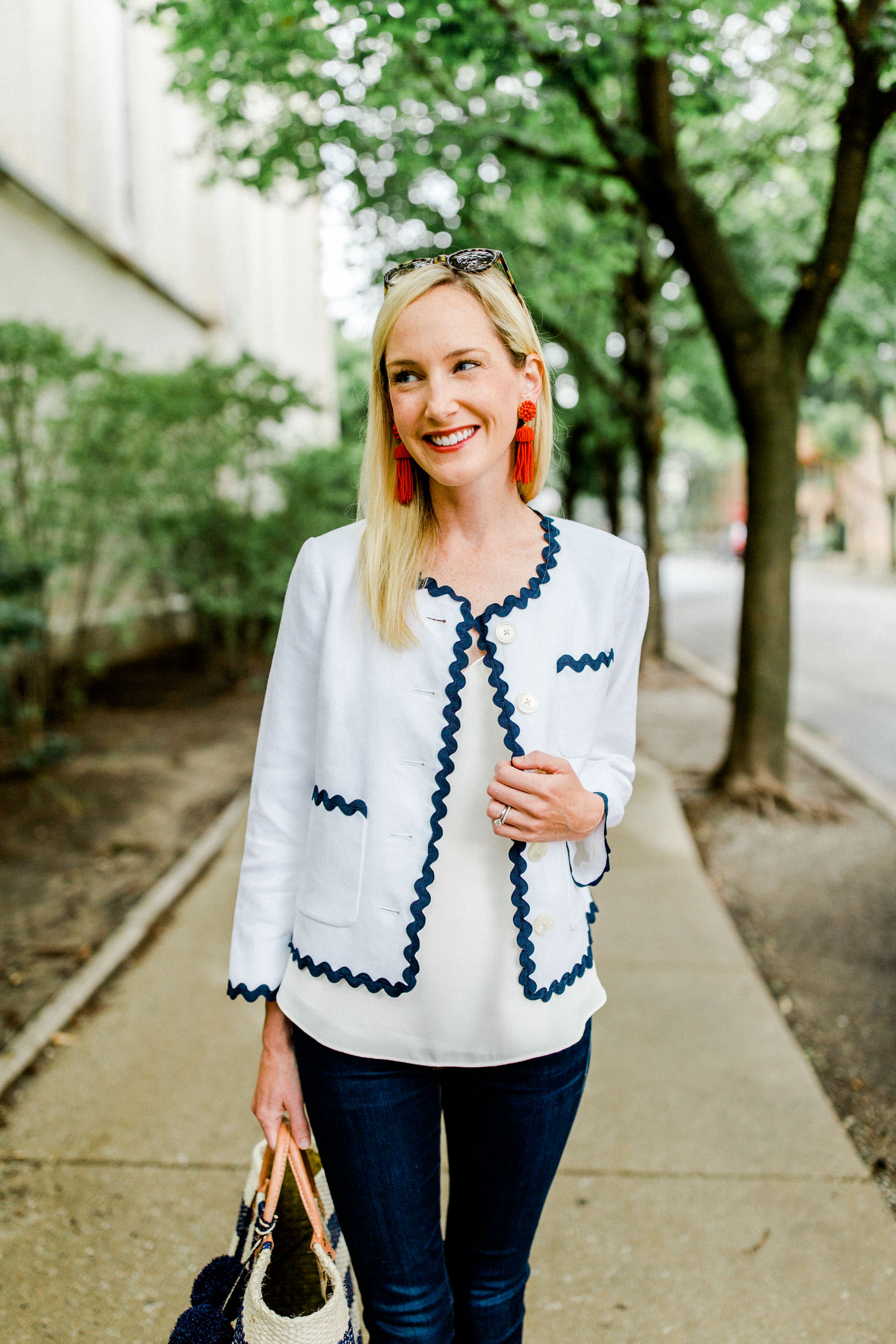 Ric Rac Blazer (On sale! I also love this scalloped blazer from Draper James and this blazer (and its striped sister), all on sale as well.) / Mar Y Sol Tote (Actual one here, and all Mar Y Sol bags are on sale!) / Hudson Jeans (But I just ordered this pair, and my eyes are on this pair, both of which are on sale!) / Block Heel Sandals (They also come in navy, red and jute.) /  Scalloped Cami / Lisi Lerch Earrings c/o / Replacement Sunglasses
As I'm sure you guys have heard, the Early Access for the Nordstrom Anniversary Sale starts tomorrow, which means you can shop before the masses if you have a Nordstrom credit or debit card. But a little known fact: Nordstrom actually puts a TON of its merchandise on major sale right before Early Access. Which means that you can get a head start today. You don't need a Nordstrom card to shop the selection, products don't rapidly go out of stock, and everything ships and returns for free–just as usual.
It's kind of like avoiding Black Friday madness. ;)
Anyway, let's talk sale favorites!

I'm clearly crazed about ric rac this year, so when I saw this blazer was on sale, I jumped on it. I think I clearly should've worn a navy cami under it, but whatever. You guys can see how adorable it is despite the fact that my whites are a little clashy, right?! Even style bloggers make mistakes, haha. In terms of sizing, it fits pretty true to size. I always go up one size in J.Crew blazers, as I like to have a little extra room in the shoulders so I can comfortable pick up babies. ;) I'm wearing a size 2 here, and it works well! Other blazers currently on sale include this scalloped one from Draper James (#omg); this knit one, which is GREAT for over-air-conditioned offices in the summer; its striped sister, which is the cutest; this structured white one; this linen one, great for summer parties; and this crepe one.

Mar Y Sol captured my heart this year, and it's pretty exciting that all the Mar Y Sol bags are included in the sale. My bag keeps selling out, but this one is super similar and I think I might like it even better. I also love this woven tote, which isn't Mar Y Sol, but looks like it would go with everything and it's SUCH the steal.

I'm a huge fan of Hudson jeans. I wear this pair of white skinny jeans on the reg, and I just ordered this pair yesterday. Love this darker version, too!

I can't tell you how much I wear these sandals. They're so comfortable, and they go with every summer outfit… yet transition perfectly into warm fall nights, as they're suede. They also come in navy, red and jute. Side note: I've included some of my favorite Sam Edelman sale picks above, but the beloved tan booties are back and on sale! I know, I know. It's July. But fall is just around the corner, and you'll be thankful you got 'em for a good deal. So comfy!
Happy shopping!
Shop the post:
Ric Rac Blazer (On sale! I also love this scalloped blazer from Draper James and this blazer (and its striped sister), all on sale as well.) / Mar Y Sol Tote (Actual one here, and all Mar Y Sol bags are on sale!) / Hudson Jeans (But I just ordered this pair, and my eyes are on this pair, both of which are on sale!) / Block Heel Sandals (They also come in navy, red and jute.) /  Scalloped Cami / Lisi Lerch Earrings c/o / Replacement Sunglasses