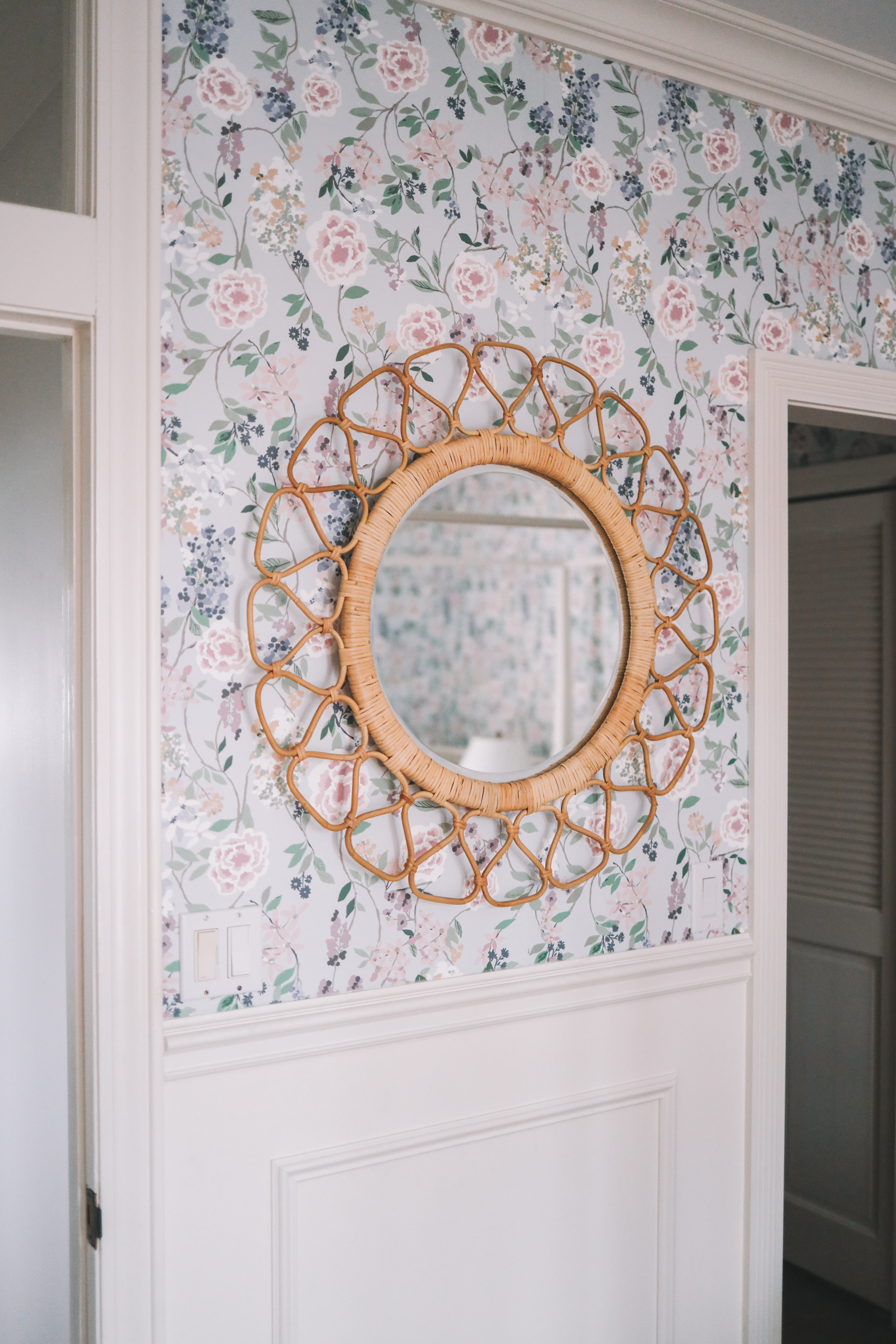 First, I can't get over how long decorating a new home can take. There are so many small tasks that pile up! Take the girls' rooms. I've been working on them since last May. LAST MAY. 😂 And only now are they just about done. (The only remaining things are hanging a roman shade on Lucy's door, and getting art for both rooms.)
It's been incredibly enjoyable, though! I haven't rushed anything, and I've put a good amount of time and thought into picking out things that I love–and that I think the girls will love once they're a little older, too. You can see what the rooms looked like when we moved into the house in this blog post; I'm so happy with how much warmer everything feels!
If you've been following along with our renovations and design adventures this year, you probably remember that a big part of the reason we bought our home is because the girls' rooms also function very well as guest rooms, with bathrooms and space for queen-sized beds. (My parents live on the East Coast, and Mitch's parents are 2.5 hours downstate, so we wanted them to want to come and be comfortable when they stay with us.) In our first home, we kind of freaked out before guests arrived because we were so short on space, but we now genuinely look forward to it! It's been awesome. (Btw: The girls usually double up and sleep in Emma's room if we have guests staying. If both rooms are in use, they sleep in my office, which is attached to our bedroom! It's a great setup.)
Anyway, Serena & Lily recently invited us to up our guest room game and make the girls' rooms more inviting for friends and family. And since the company is obviously my favorite home brand–carrying best-in-class bedding, furniture and decor–I can't tell you how excited I was! So today, I'm going to walk you through the updates we made. A huge thank you goes out to Serena & Lily for helping us outfit the spaces. It's a dream come true, and I'm extraordinarily grateful for the opportunity!
I've learned that a good accent pillow can make the bed. (Not literally, of course. Then it would be a PHENOMENAL accent pillow. 😂) But when I saw this one, I fell head over heels. I loved the texture it would provide, as well as the fact that it would work well in either room. (One of our best decisions was going with similar color palettes for the girls' rooms; we can switch stuff depending on our needs!)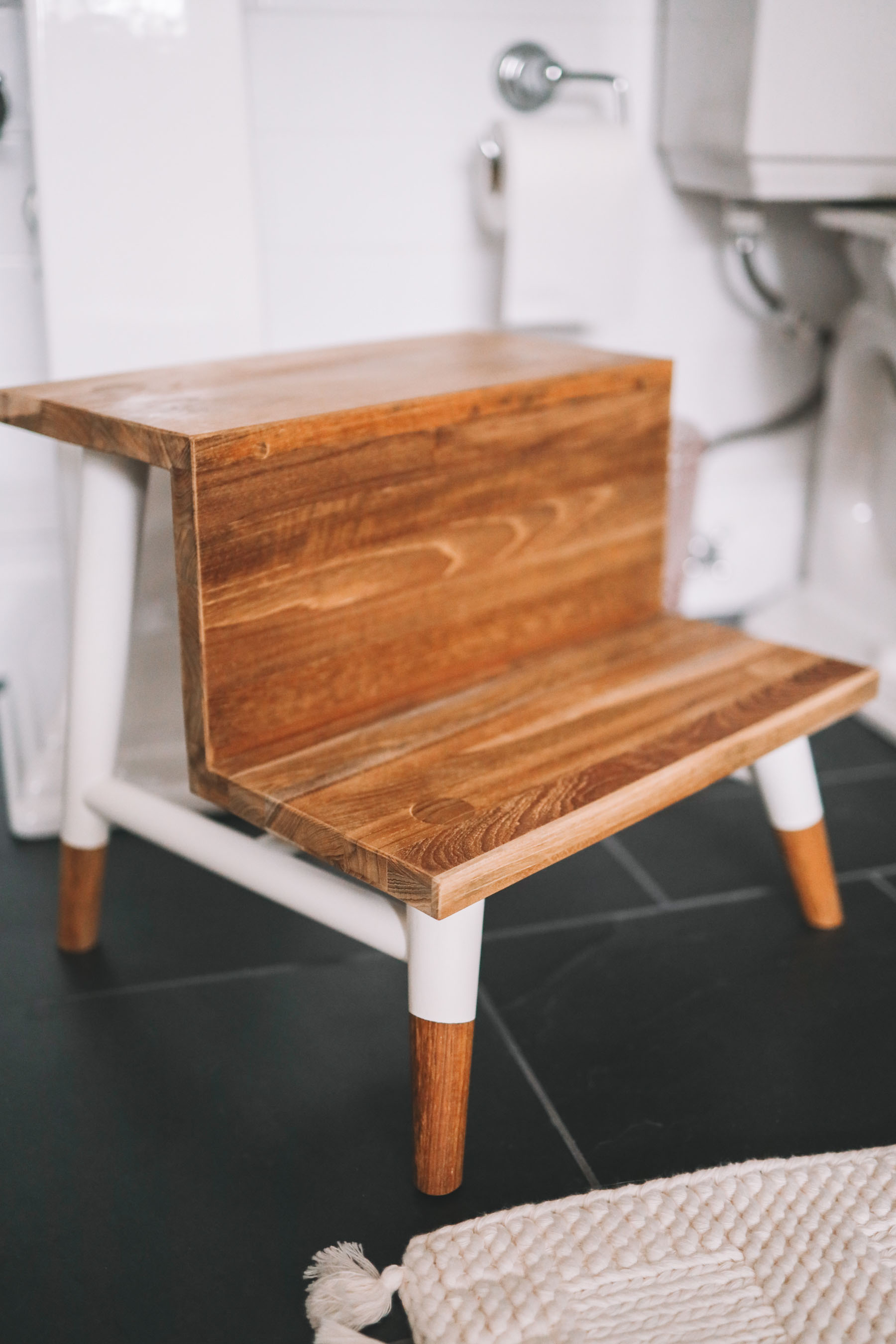 I've spoken about this before, but this step stool is a MUST if you have little kids. We have one downstairs for the kitchen/powder room, too. It's fantastic because it really can't flip over, and it gives kiddos accessibility to the potty and sink. Even better is that it's beautiful and I'm not dreaming of the day when I can get rid of it. ;) Well done, Serena & Lily! This is sure to make a LOT of moms happy.
Having a couple of sets of guest towels is so important, that way I'm never scrambling to get the wash done in time. (We tend to have back-to-back guests for some reason… never spread out, haha!) I love these because, well, they're striped… but also because the pattern works well with the busy wallpaper. I assumed I'd always have to go with solid-colored towels, but these are awesome! So soft and fluffy, too.
I can't lie: I'm probably going to steal this for the master bathroom, haha. It's stunning! Really soft on the feet, too.
Call me crazy, but we also have the Westport Duvet in our master, haha. I just love how soft it is, and the embroidery is so beautiful. I almost got it in blue for Lucy's room, too, but my friends convinced me that that would actually be crazy. So we compromised and I got it in white for her.
I did put my foot down about the shams, though. ;) I'm a big fan of how they add a little depth to the pillow situation on the bed, and of how they complement but don't match everything else. Super soft, too!
ALL THE STRIPES, guys. The sheets are crisp keep you cool. I've slept in the bed once when Lucy was having a particularly difficult night, and I loved how clean everything felt! It was like slipping into a hotel bed.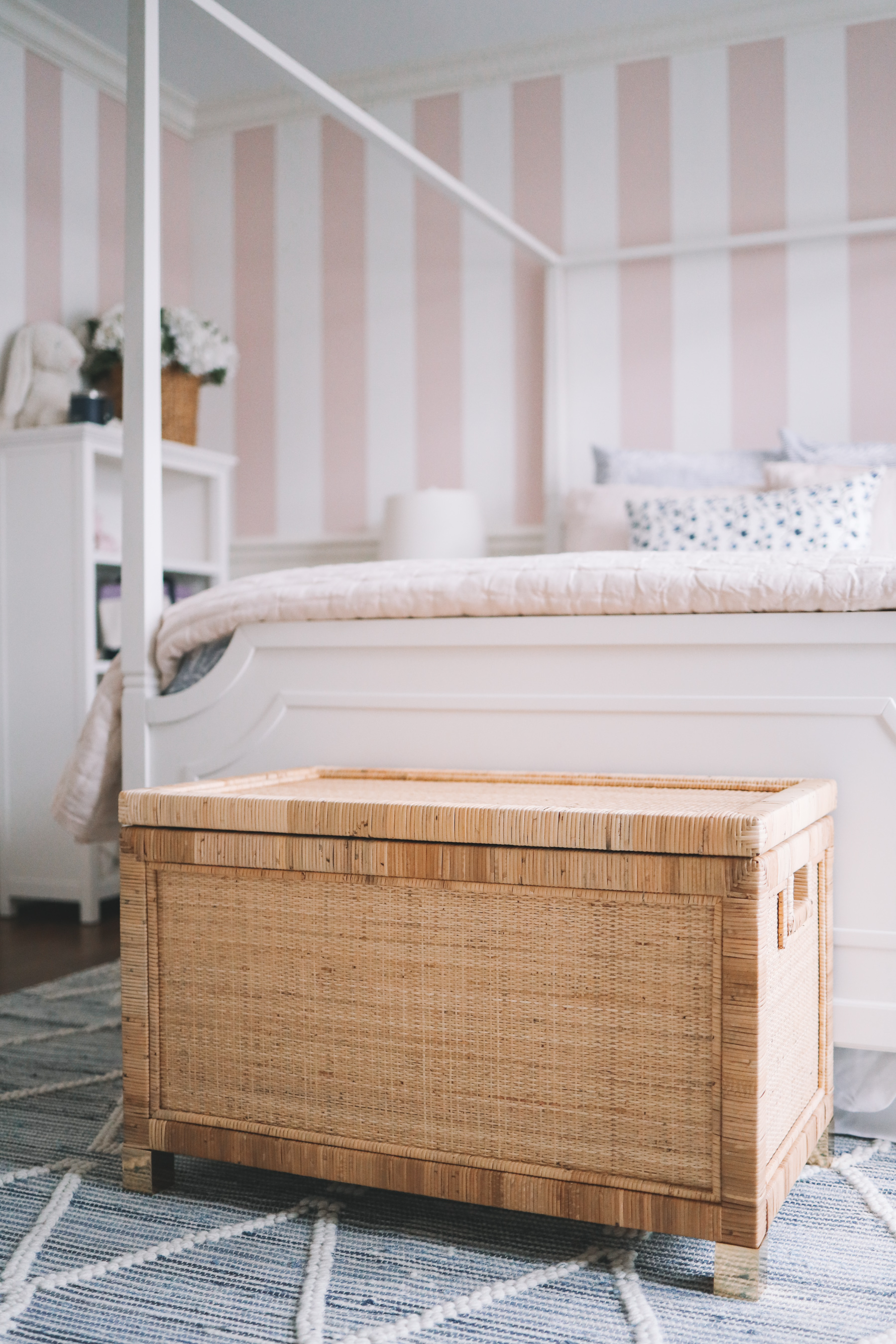 Both girls have this trunk! Emma's stores toys, that way she can play if she gets up too early. ;) And Lucy's stores extra bedding and other essentials for guests. It holds a ton and the top doesn't slam closed–great for kids!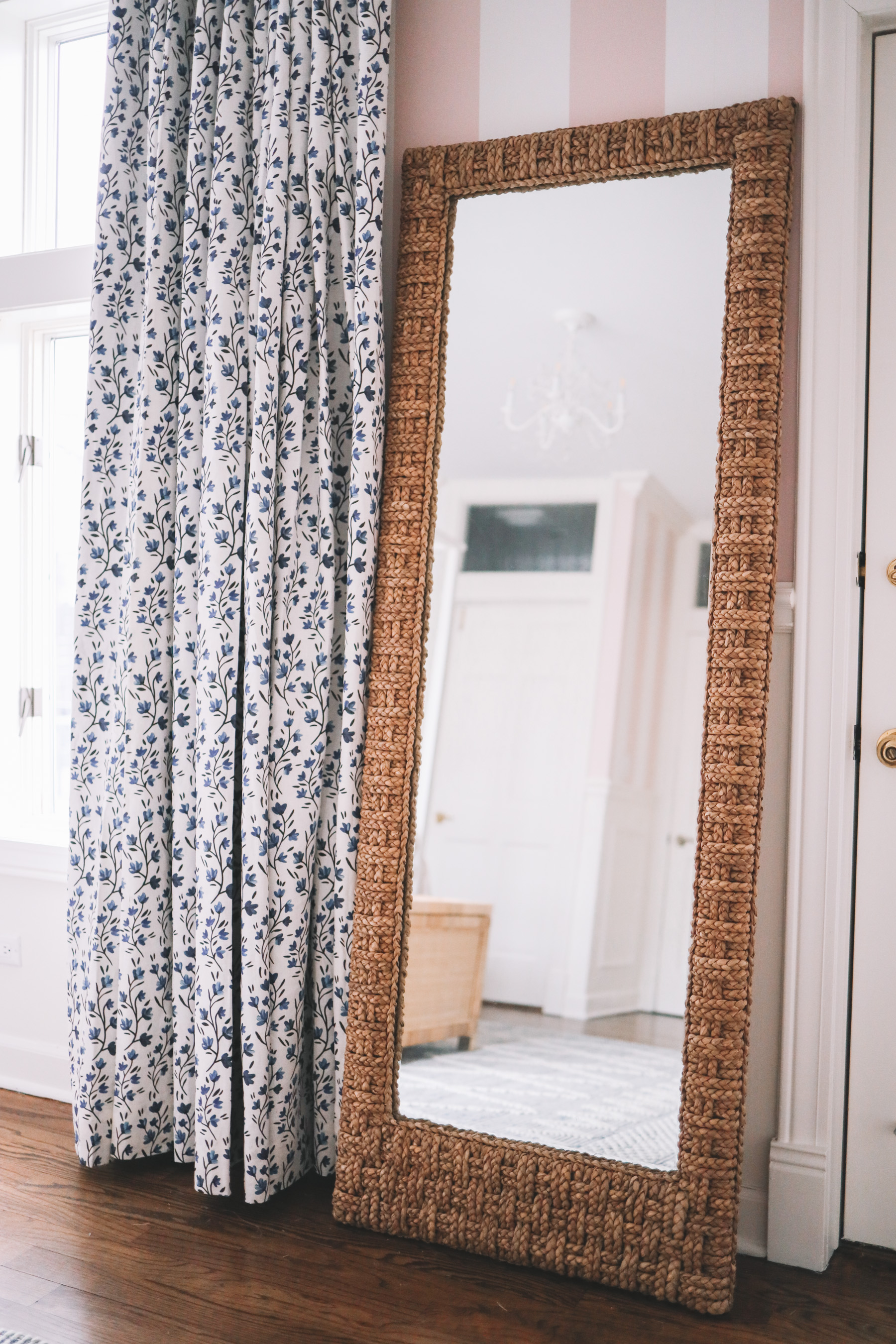 So nice for guests when they're getting ready in the morning. It also opens the room up so much, and adds texture! Lucy loves sitting in front of it and waving at herself. It's pretty adorable.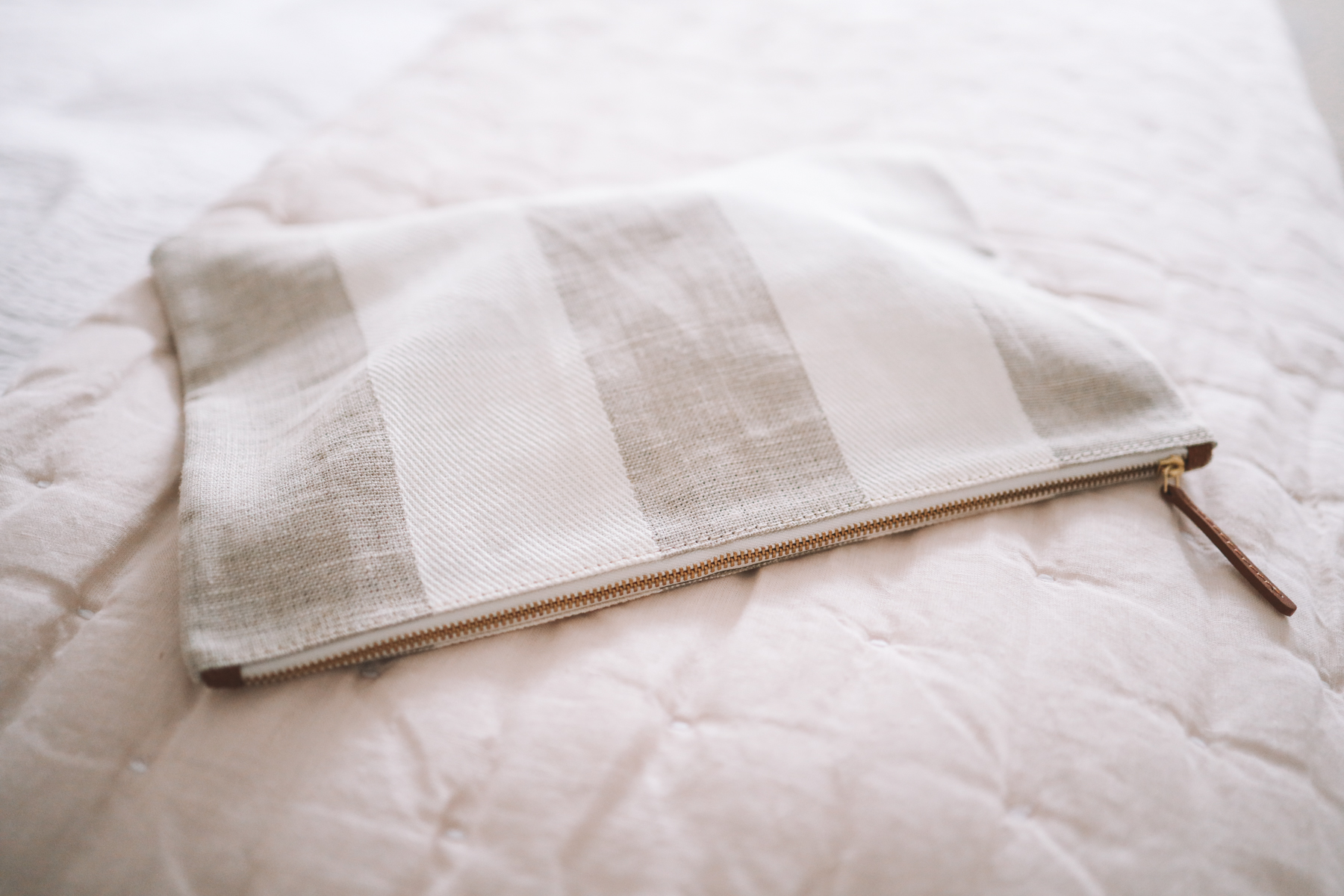 I keep a hairdryer in this! Anyone else hate packing a hairdryer when traveling? The darn thing just takes up so much space. Having an extra one in the guest bathroom is a lovely touch, though. Shows you care, I think? ;)
Okay, Mom and Dad… we're ready for you! (Slash we need a date night pleasecomethankssomuch. 😜)
In partnership with Serena and Lily; all opinions are my own. Thank you so, so much for supporting the collaborations that keep Kelly in the City up and running!