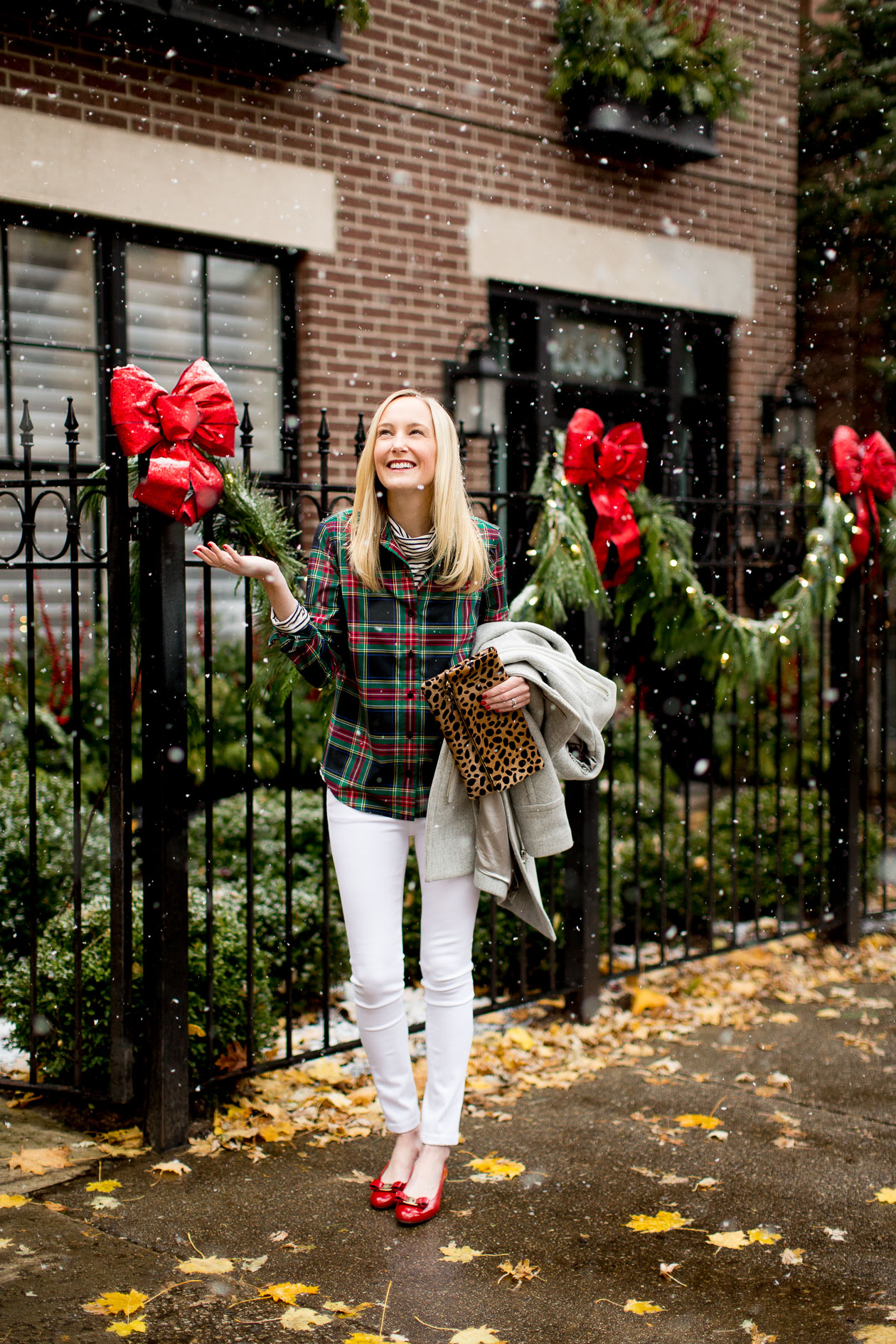 Salvatore Ferragamo Low Pumps (Flat version here, and I LOVE this low heel and this flat.) / J.Crew Coat, Turtleneck and Nearly Identical Top (Also love this one and this one) / Rag & Bone Jeans (Fave regular jeans and black jeans) / Clare V. Clutch (Also love this version and here's a similar style that's way more affordable!)

(There are two posts up on Kelly in the City today! Did you see "White Oak Tavern"? So many cute Emma snaps!)
The Investment Piece. It's a hotly debated subject. Does it make more sense to "invest" in a single designer piece every once in a while since these items tend to stand the test of time and hold up well? Or is it more sensible to buy from more affordable brands? So that you can buy more, have fun with trends, buy whenever you want, and/or (potentially) save? (Who says designer brands hold up better anyway?!)
I don't know if there's a right answer. Maybe it's one or the other. Or maybe you don't have to go one "route." I think it depends on the person, where she is in life, and what makes her life easier and more enjoyable. Either way, people seem mighty opinionated about the topic. ;)
~
Favorite investment pieces:

Currently, I'm someplace in the middle. I used to never go the "investment piece" route, as the money I would have needed to shell out upfront scared me. Yes, I probably would have spent that same amount on clothing, shoes and bags over time, but shelling it out all at once was terrifying. Now, though, I'm a bit older. Shelling out the cash still isn't easy for me, but now more than ever, I find myself going for more never-go-out-of-style investment pieces and making fewer impulse, on-trend purchases. Maybe it's because I've always leaned toward classic styles, but now that I'm doing this, I've found that I don't need to replace things as often as I used to, and my closet is more manageable. And what's so interesting is that those investment pieces are worn nearly every day. Even Mitch will tell you that I've gotten way more wear out of my Louis Vuitton tote (which took me nearly a decade to pull the trigger on) than I have with any other bag in my closet. (And the same goes for my Burberry coat, Burberry scarf, Christian Louboutin pumps, Stuart Weitzman over-the-knee boots, Barbour jacket, Canada Goose jacket, Rag & Bone jeans and Tory Burch flats.)
And while I'm not necessarily ready to go one route or the other, I've also learned that I'm happier with fewer possessions. I've learned that I get overwhelmed when my closet and dresser are bursting at the seams, and that I don't even use everything in there when getting to it requires work. I'm short on time, all the time. And so I just reach for my faves… every single time. So let's all welcome a new investment piece into the Kelly in the City closet. ;) The Salvatore Ferragamo Vara Pumps!
They're just as magical as I always thought they'd be, and I love that they have a low enough heel height that I can actually wear them around town without packing a change of shoes. I'm all about practicality these days, and these shoes fit the bill. :) The "Rosso Red" packs just the right amount of punch, too. They're going to be perfect for the holidays, yet they'll also bring a little cheer to my "going out" outfits once everything's all over! In case you're wondering, the Vara Pumps run true to size. I nearly always wear a 7.5 (though sometimes a 7 in heels), and I took a 7.5 in these. I also love the flat version, this low heel and this flat!
Favorite Bow Shoes:

Of course, I'm never buying another pair of red shoes again, haha, but goodness, Vara Pumps… I love you. ;) Searching for a similar looking with a better price tag? Try these, these, these, these, these, or these! These are these aren't red, but so cute, right?
As you guys know, Nordstrom is my favorite place to shop for shoes, as the selection is nothing short of incredible. I absolutely love going to the store in downtown Chicago, but as I have Emma at home, I've been shopping online more often… and it's been wonderful. The customer service is amazing, and I can't get over how quickly my orders ship out! Shipping and returns are also free. :) OH! And get this: you can place orders with Nordstrom up until December 23rd for guaranteed Christmas delivery. Procrastinators unite!
So here's the question: How do you feel about investment pieces? Investment shoes?
Shop the post:
Salvatore Ferragamo Low Pumps (Flat version here, and I LOVE this low heel and this flat.) / J.Crew Coat, Turtleneck and Nearly Identical Top (Also love this one and this one) / Rag & Bone Jeans (Fave regular jeans and black jeans) / Clare V. Clutch (Also love this version and here's a similar style that's way more affordable!)

Favorite Other Bow Shoes:

This post was sponsored by Nordstrom, but all opinions are my own. As always, thank you so much for supporting the partnerships that keep Kelly in the City up and running!