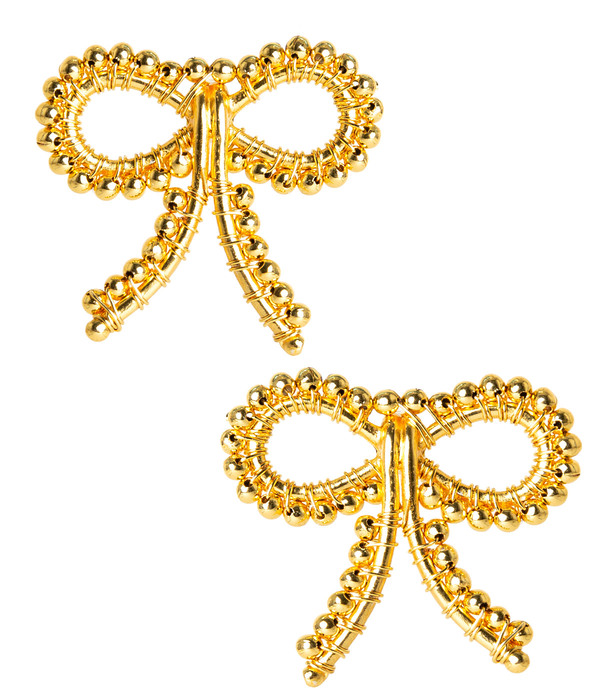 Little Bow Earrings: What I'll be wearing to holiday parties!
Hi, Friends!
Had a busy, family-focused and holiday-themed weekend over here, so I was a little MIA on the blog. (Highlights included watching holiday movies, playing with a unicorn, making a forest of felt Christmas trees, trying out a new pizzeria, baking homemade bread, a painting playdate with our neighbors, visiting the Kohl Children's Museum to meet Anna and Elsa, and getting our real Christmas tree!) But I'm back with a pretty solid shopping post 😜, and a few other things:
J.Crew is having a massive sale today. You can take 40 percent off your purchase–and then an extra 15 percent off!–today only with code "MONDAY." Guys. Now is the time to just do all your holiday shopping and be done with it. 😂 If you find something better over the next few weeks, you can always return what you originally bought. But take it from the ultimate procrastinator: It is ALWAYS better to shop early during the holiday season. Procrastination leads to stress! If you're looking for some guidance with the J.Crew sale (or holiday shopping in general), here are a bunch of my gift guides! Hope that helps! (Note: I haven't finished my holiday shopping, either. No shame, haha!)
Can we talk about "Eyelash Sweaters" for a second? I'm crazy obsessed. They're these wonderfully soft and furry sweaters that look fancy yet are super warm and cozy. I HIGHLY recommend getting one in black or white for the holiday season. You can pair them with dress pants, sweaters, jeans; you name it, and the eyelash sweater classes it up! (I will say, however, that everyone wants to pet you throughout the night. Not a good or bad thing; just something to be aware of. 😂) If you're interested, scroll to the bottom of this post for some of my faves!
Everlane is offering a pretty exciting promotion on its Day Boot–pretty much my favorite boot to have ever existed–TONIGHT. Everlane rarely offers discounts, so stay tuned for that if you've had your eye on the Day Boot! (Super soft leather and no break-in time. Runs TTS but I order a half size up so I can wear thicker socks.)
On to this/last week's Recent Finds:
This is the most perfect leopard vest. However, J.Crew has a Crew Cuts version that *could* work for some adults if ordered in size 14 or 16. FOOD FOR THOUGHT, haha. It's on super sale.