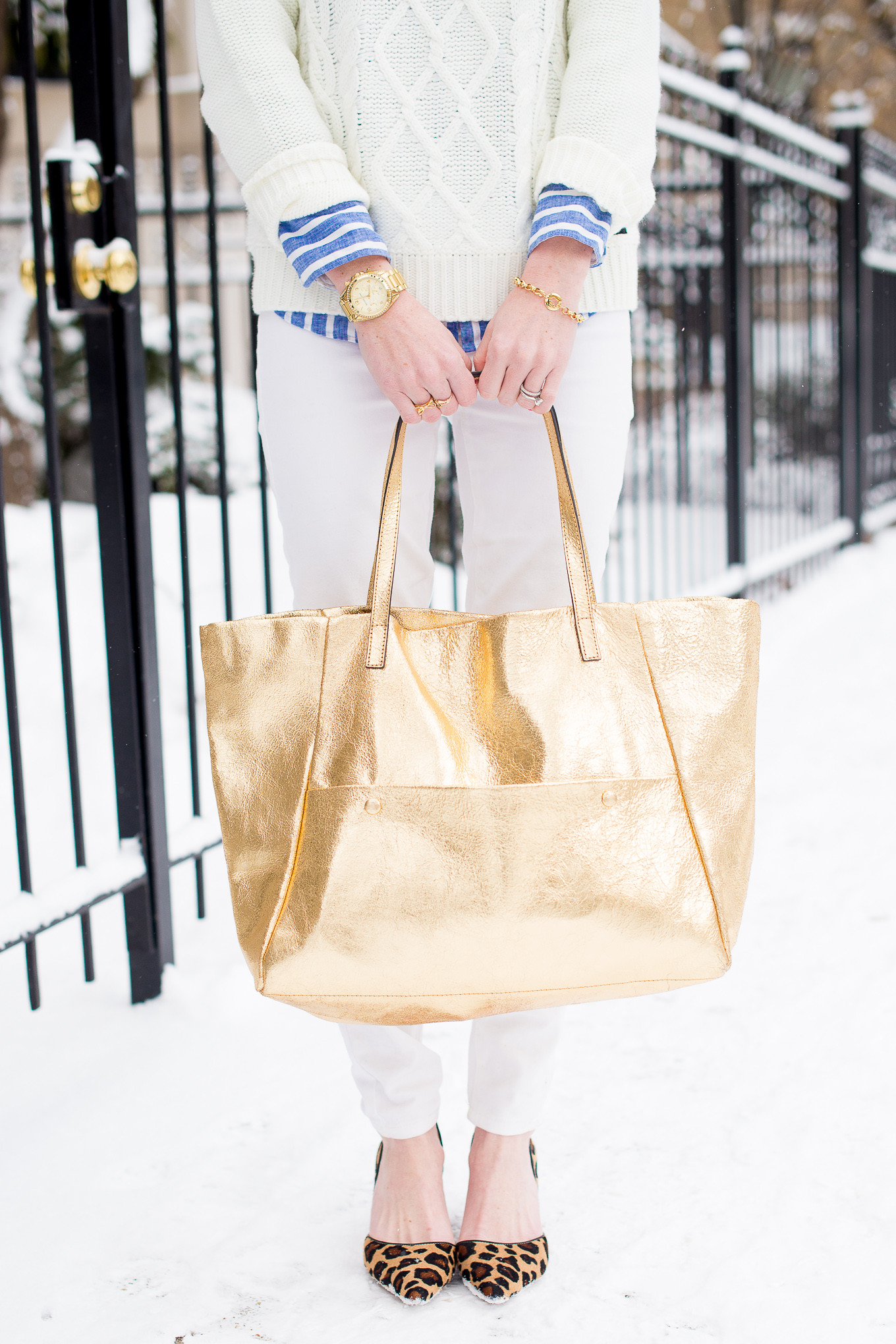 LuLu's Sweater (c/o) / Hayden Harnett Tote (c/o) / J.Crew Linen Shirt / BlankNYC Jeans / Sole Society Pumps / Michael Kors Watch (And I love this style! Other colors here) / Kate Spade Sunnies / Tory Burch Earrings / Joyiia Elephant Bracelet (c/o)
Disclaimer: I wear a pair of massive snow boots everywhere I go these days, and change into my pumps once I get to my destination. So don't worry. :) I promise I'm not walking around in these beauties on the reg! I've also worn this pair of white jeans three times this past week, but whatevs.
~
A new week. Last year, I would have cringed at the thought of Monday morning. (Mitch and I seriously had a conversation about whether we'd rather go to work or have a Velociraptor loose in the city for a day. We both chose Velociraptor.) But this year, I truly think of the beginning of the week as a fresh start. I'm excited to tackle new projects, and grateful that my mornings are, in comparison, stress-free. It only took me 10 years!
This Monday is even better than most, though. Because Mitch has off for Presidents' Day! I plan on working in the morning, and then spending the rest of the day with him. :) We're going to hit up Shed Aquarium (I know this isn't going to happen, but hugging a penguin is on my bucket list), Home Depot (seems like a scene out of "Old School," but I really want to get started on my project!), and The Container Store for some storage bins. (Navy-and-white stripes! Swoon.)
I'm excited! I'm also old, haha.
On a somewhat unrelated note, how perfect is the gold tote I'm carrying in these photos? It's from Hayden Harnett, which is available at Anthropologie and Nordstrom. I first fell in love with the bag when I saw Jess carrying it recently, and was ridiculously excited when the brand graciously sent me my own! I'm in love. It's made of the softest leather, and fits a laptop and a miniature dachshund at the same time. It goes with everything, too! Plus, I'm now all matchy-matchy with my #blogwife. So there's that.
Thank you, Hayden Harnett!
Hope your week is off to a great start!