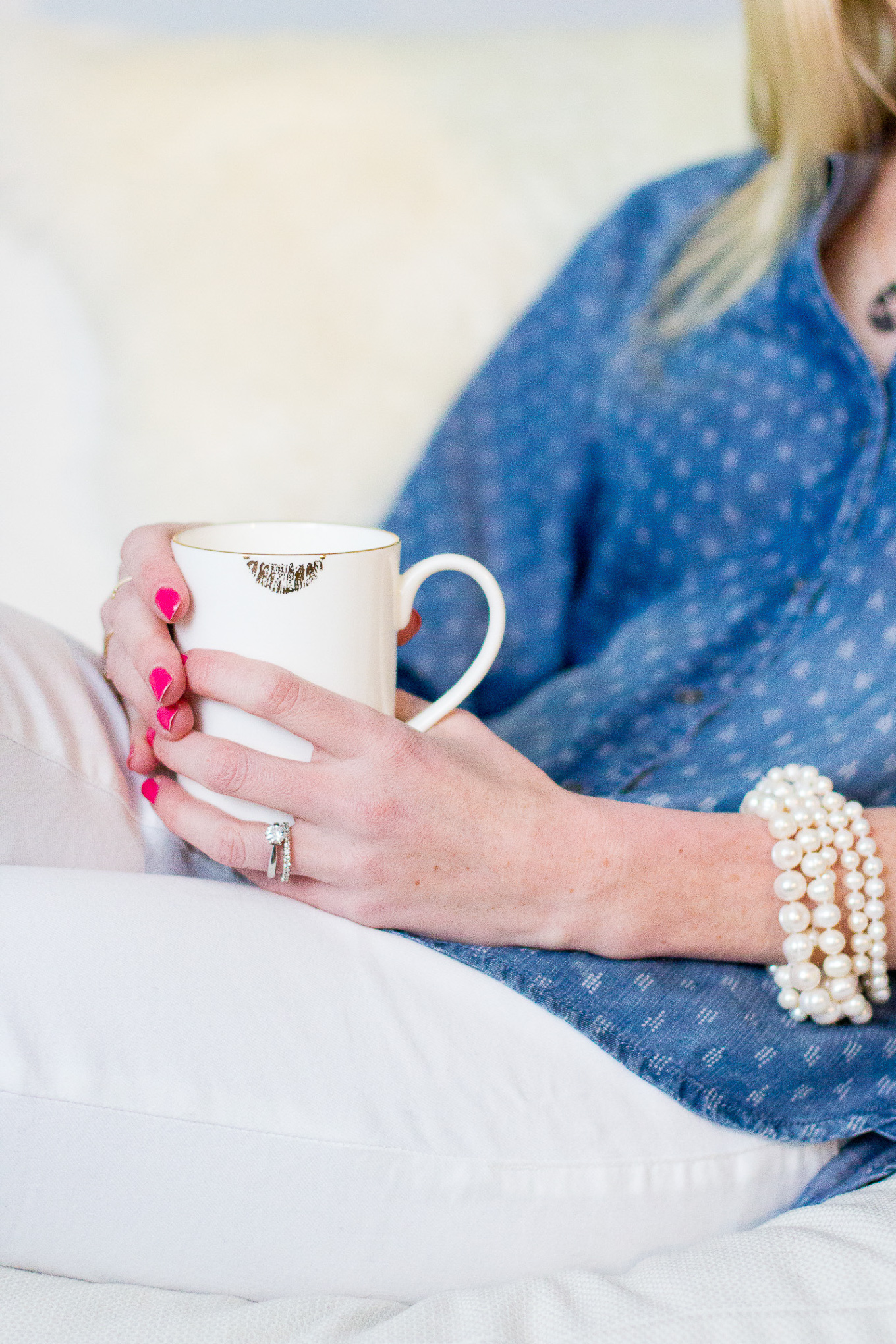 Bella Dahl Top (c/o — Also available at Tuckernuck. You can shop Bella Dahl at Bloomingdales and ShopBop, too!) / Daniel Wellington Watch (c/o) / BlankNYC Jeans /Hazel & Marie Pearl Bracelet (Similar here) / J.Crew Pearl Earrings / Kate Spade Bow Ring (On sale for $19, and free shipping!) /Chinese Laundry Booties / Miriam Merenfeld Necklace (c/o)
Goodness. It's snowing again.
To tell you the truth, the winter is really only now starting to get to me. Up until this point, I've braved the cold and snow, and I've made sure to get out of my apartment every day, whether I'm shooting with blogger girlfriends, walking Noodle, attending meetings, grabbing dinner with Mitch, or working at coffee shops. But this week, Chicago is in for some really rough weather, and temperatures are projected to plummet into the red.
Yesterday was rough. In the morning, Mitch and I wanted to walk Noodle to Barker and Meowsky for a Valentine's Day treat, and we almost didn't make it, haha. Everything hurt! Getting downtown for dinner was a disaster, too. In the words of my good friend Maya, my bones were cold.
Ugh.
But yeah. This week, I kind of foresee myself holed up in my apartment. And while I always put in at least eight hours of work, I'm certainly not interested in putting in 16-hour workdays!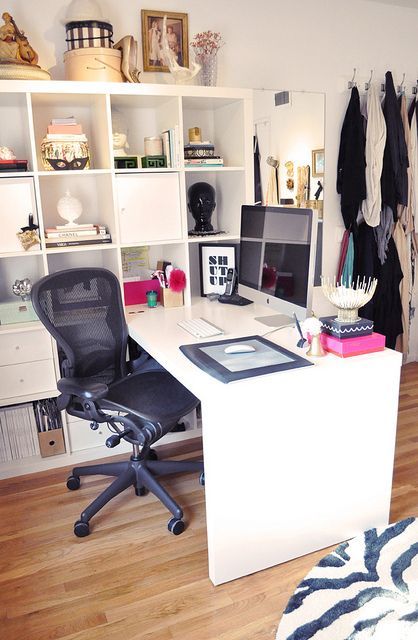 (Source)
So this week, I plan on tackling a big project: redecorating our tiny office. Right now, it's a complete mess. There are boxes everywhere, our one set of Kallax shelves is overflowing, and our gallery wall is–well–pathetic. So many of the frames are still empty, and it's been a good six months since we moved in! Sigh.
Last weekend, I bought two more Kallax shelves, and I hope that three of them fit across the back wall. (Probably should have measured, but whatever.) Above is what I have in mind. (And this was the inspiration!)
I'll be sure to share the finished product this week. :)
And while we're on the subject of redecorating, our living room also needs some help. I'm so over our black furniture. We've had our coffee table, television stand and end tables for about six years now, and they've made five moves. (One of which was cross-country!) While they've held up incredibly well for Target furniture, I'm ready for a white refresh. That said, I'm not ready to drop the big bucks on new stuff, as Mitch and I are hoping to buy our first home in the next couple of years. So I'm thinking about sanding them down (they're solid wood!) and painting them. This blog post says that sanding might even be unnecessary! Am I crazy?
Have you guys ever refinished furniture? Is it worth the hassle?
Happy Sunday! Stay warm!