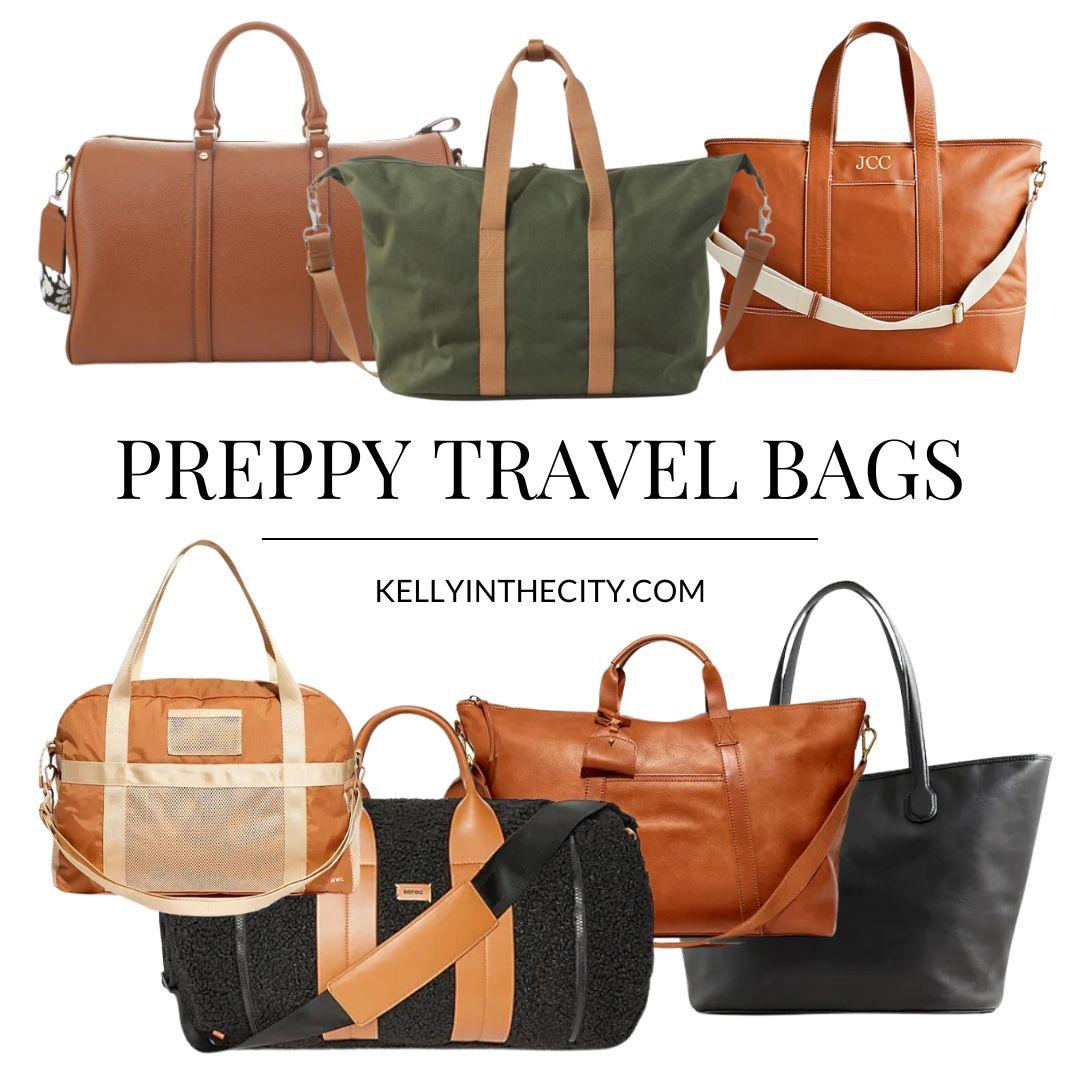 I've mentioned this before, but I feel like I'm getting worse and worse at traveling. Whether it's an age thing or not, there's no denying that preparing to travel stresses me out like crazy. Do I enjoy the trips we take? Absolutely! But getting ready is just such a daunting task to me.
Fortunately, there is one thing that makes packing less stressful and traveling easier: using the right travel bag. I've found that the right travel bag really does make a big difference. Plus, fun preppy overnight bags save you from having to sacrifice style for function. These are my favorite preppy travel bags that make all the difference when it comes time to hit the road (or the air).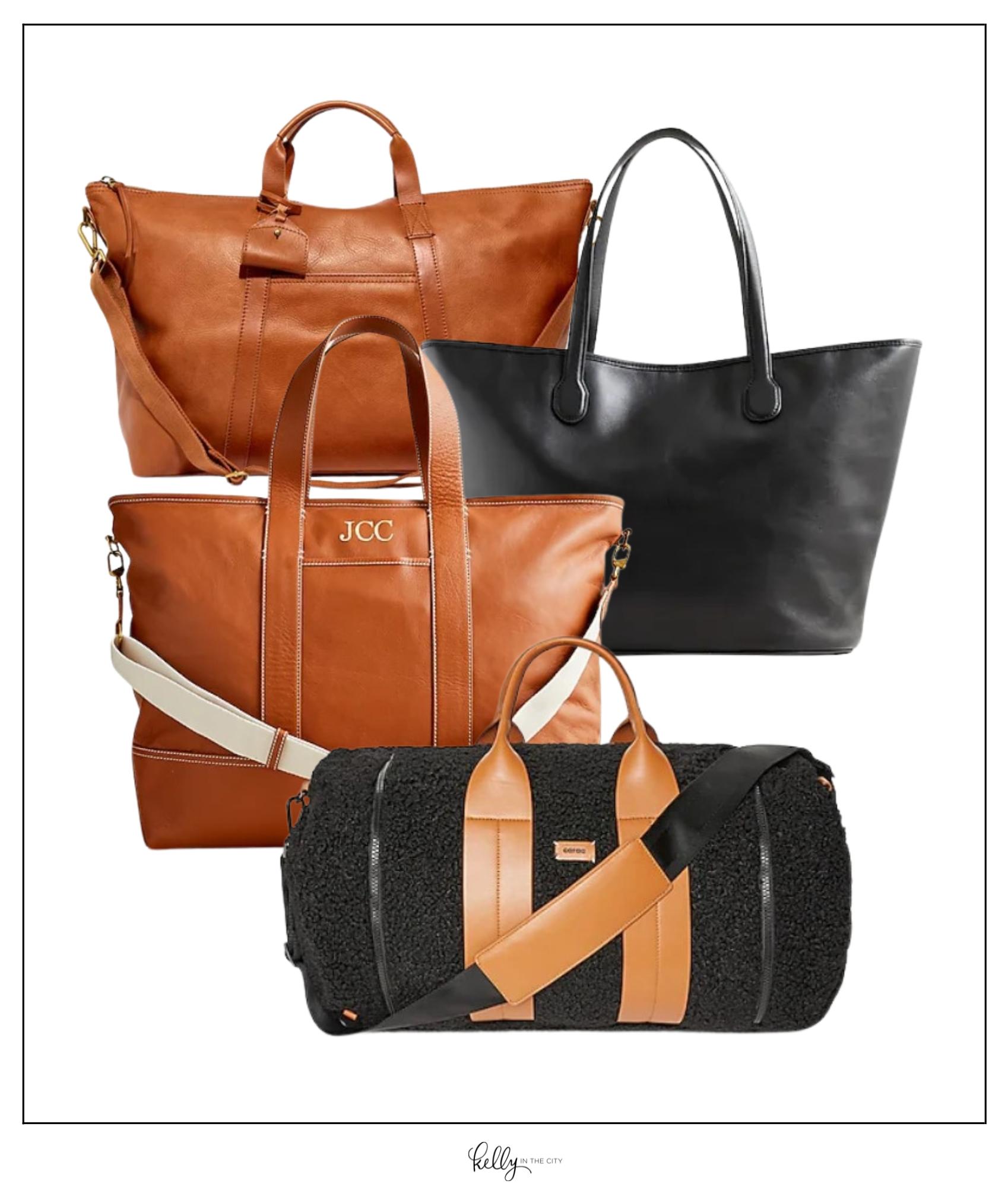 Preppy Travel Bags
This bag lives up to its name; it really is an essential overnight bag. I love the timeless, classic leather material. It's a zip-top bag with a removable webbing shoulder strap and top handles. The interior is incredibly roomy. You can fit a change of clothes, a pair of shoes, a laptop, and your toiletries. The divided compartments inside make it easy to keep your items organized and the exterior pocket is perfect for stashing your phone. This leather duffel bag is quickly becoming my number one travel bag. 
I adore a good tote bag and the Berkeley Tote from J.Crew is no different. It's the perfect travel bag that doubles as an everyday tote bag. J.Crew's heritage is evident in the design of this classic tote, which I immediately noticed in the oar-shaped base of the handles. So chic!
This carry-all tote bag is large enough to fit your laptop, with an interior zippered pocket for everything that you want to keep organized. With such a large bag, I love that the pockets make it easy to find your most-used items like your phone, wallet, and keys.
This is a travel bag worth investing in. J.Crew designed their Montauk tote to be "the perfect take-it-everywhere bag" and that's exactly what you get with this leather tote. The Weekender features a zippered top, an inner pocket, and a removable over-the-shoulder strap. It's roomy enough for all your weekend trip essentials, including shoes. The rich oak leather is so beautiful, you'll love taking it with you on every weekend trip.
This large duffel bag is made from Sherpa and vegan leather. It's large enough to hold a 17-inch laptop with plenty of room to spare. It's designed by Caraa, a New York City-based company, and sold by J.Crew. 
The Remus Duffel Bag is lightweight and wrapped in sherpa fabric, which means it can easily double as a pillow on those long, exhausting trips. It features compartmentalized pockets, a luggage sleeve, and backpack straps to keep your hands free whenever necessary.
This duffel bag was designed to go with Madewell's MWL workout gear, but it makes a great travel bag as well, thanks to its roomy interior and multiple pockets. There's even a mesh pocket for your sneakers that is great for keeping your shoes separate from your clothes. 
The MWL (Re)Sourced Nylon Duffel Bag is made from recycled ripstop nylon (I love a good eco-friendly product). It features a shoulder strap and long top handles, so it's easy to carry even when you have your hands full otherwise.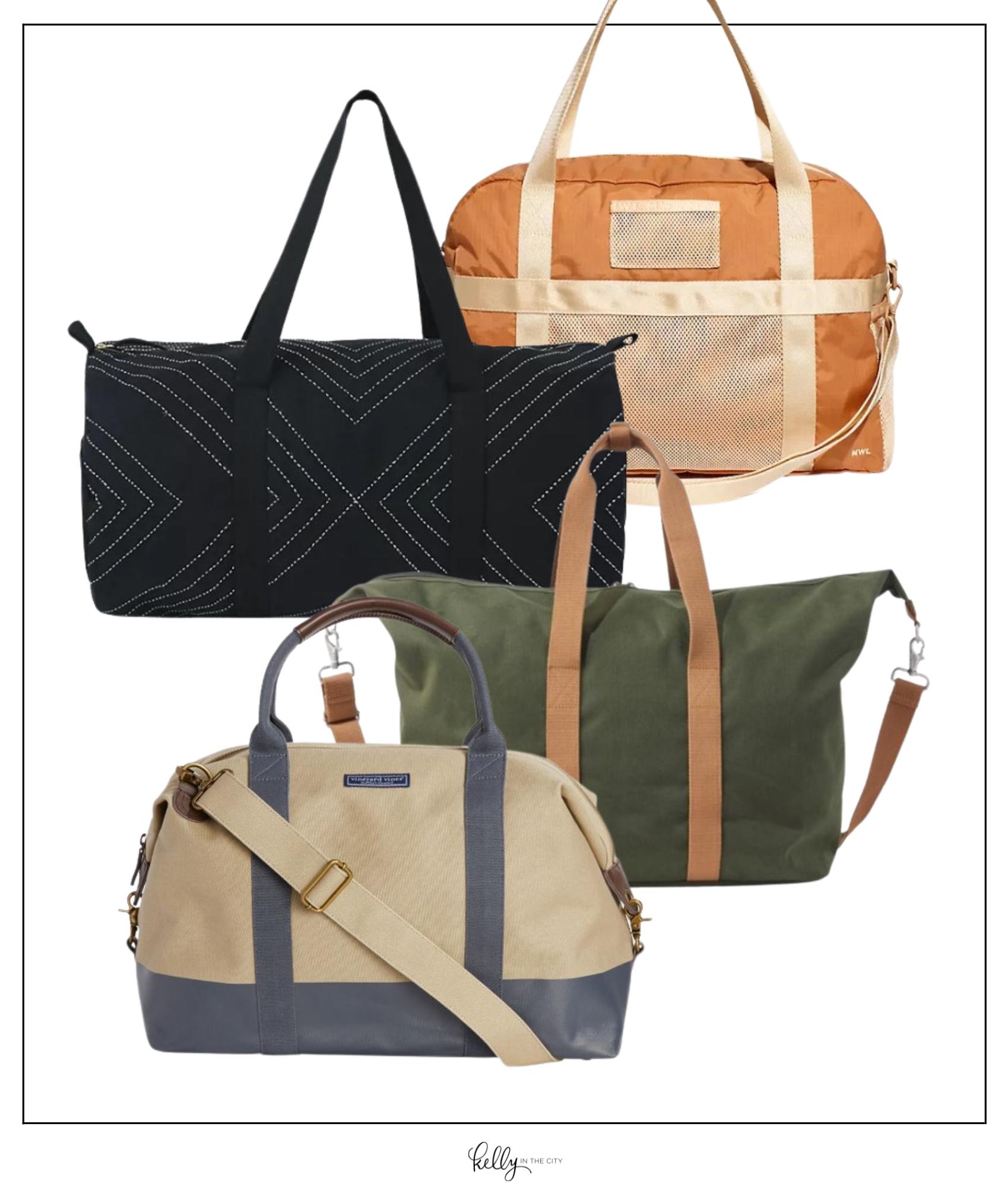 How cute is this weekender duffel? The stitching is more on the simple side, but so gorgeous. Then there's the embroidered interior complete with the signature of the Ajmer seamstress who handmade each bag. I love that! 
This duffel bag is large enough for a three-day weekend. There are two side slip pockets and one interior slip pocket that are great for your smaller items. The shoulder straps are long and sturdy and the gold zipper closure adds a nice touch. 
The spacious, structured barrel silhouette of the Jamie Vegan Leather Weekend Bag is large enough for all your weekend essentials. You could even fit a good-size garment bag inside this extra-large duffel. 
It features rolled top handles, as well as a removable, animal-spot jacquard crossbody strap. Because it's a structured bag with a flat base and metal feet, it can stand up on its own which is great for easy packing.The nylon lining is super chic and durable, and the exterior is made from PETA-certified vegan leather. 
The Go Getter Bag 2.0 bag is every preppy girl's dream on-the-go bag. It has padded handles to make it easier to carry even the heaviest load. And with so much room inside, it's easy to see how quickly this bag can become weighed down. There's enough room for a 16" laptop and a designated pocket to store it in. 
The Go Getter 2.0 also has an exterior water bottle pocket and more interior pockets for your phone charger and other essentials. There's even a buckle strap hidden inside the back pocket. 
L.L.Bean designed the Utility Weekender Duffle for weekend adventures. L.L.Bean is one of the most well-known heritage brands. Their products, like this bag, truly get better with age. These duffle bags are the perfect blend of rugged, durable construction and classic preppy style.
The Utility Weekender Duffle features leather zipper pulls, a water-resistant finish, and an extra-strong, reinforced bottom. A full extended zipper allows you to open the bag wide so it's easy to pack. The two outside pockets with hidden zippers and two zippered interior pockets help to keep your items organized. It also comes with a detachable, adjustable crossbody strap.
You can also get this duffle bag monogrammed, because what prepster doesn't love a monogrammed bag? 
Vineyard Vines is a great source for all things preppy and their Canvas Heritage Weekender is no exception. Every preppy girl has at least one Vineyard Vines item, and if you're in need of an overnight bag or a weekender tote, this bag combines the best of both.
This weekender is made of durable cotton-canvas and features brass hardware, a tonal navy logo box, a striped woven interior, and a detachable shoulder strap. I especially adore the leather accents on the handles and pulls.  Both color options – khaki and Summer Evening – are fabulous. 
How To Choose A Travel Bag
Determine how much space you need. 
You should have enough space for everything you need to take with you, but you don't want a bag that is so large, it's uncomfortable to carry. Depending on what kind of trips you take most frequently, you might need a large suitcase, or you might be better off with an overnight tote. There are plenty of great options in between as well. 
What features are important to you?
Consider which features are most important to you. What would make traveling easier for you? Some popular features to consider when selecting a travel bag include wheels, shoulder straps, multiple exterior and interior pockets, waterproof interior, personalization, and more. 
Look for high-quality, durable materials.
From leather or faux leather to nylon or cotton, there are several materials to consider when shopping for a travel bag. Bags that are made of more durable material are better able to withstand frequent use. If it's a suitcase that you plan on checking at an airport, you'll want it to be sturdy enough to make it from one location to the next without falling apart. 
Invest in a heritage brand.
A heritage brand is a brand that has been around for decades, even centuries, and has therefore established a reputation for longevity, good core values, and a good track record. A heritage brand often uses symbols or icons that represent the brand's important history.
Which travel bag is your favorite? Do you have a go-to bag that isn't on this list? Tell me about it!
I love learning about new brands and products. If you swear by a product that isn't mentioned on my blog, I would love to hear about it! You can also check out more of my favorite travel posts HERE. 
Shop Preppy Bags For Travel: