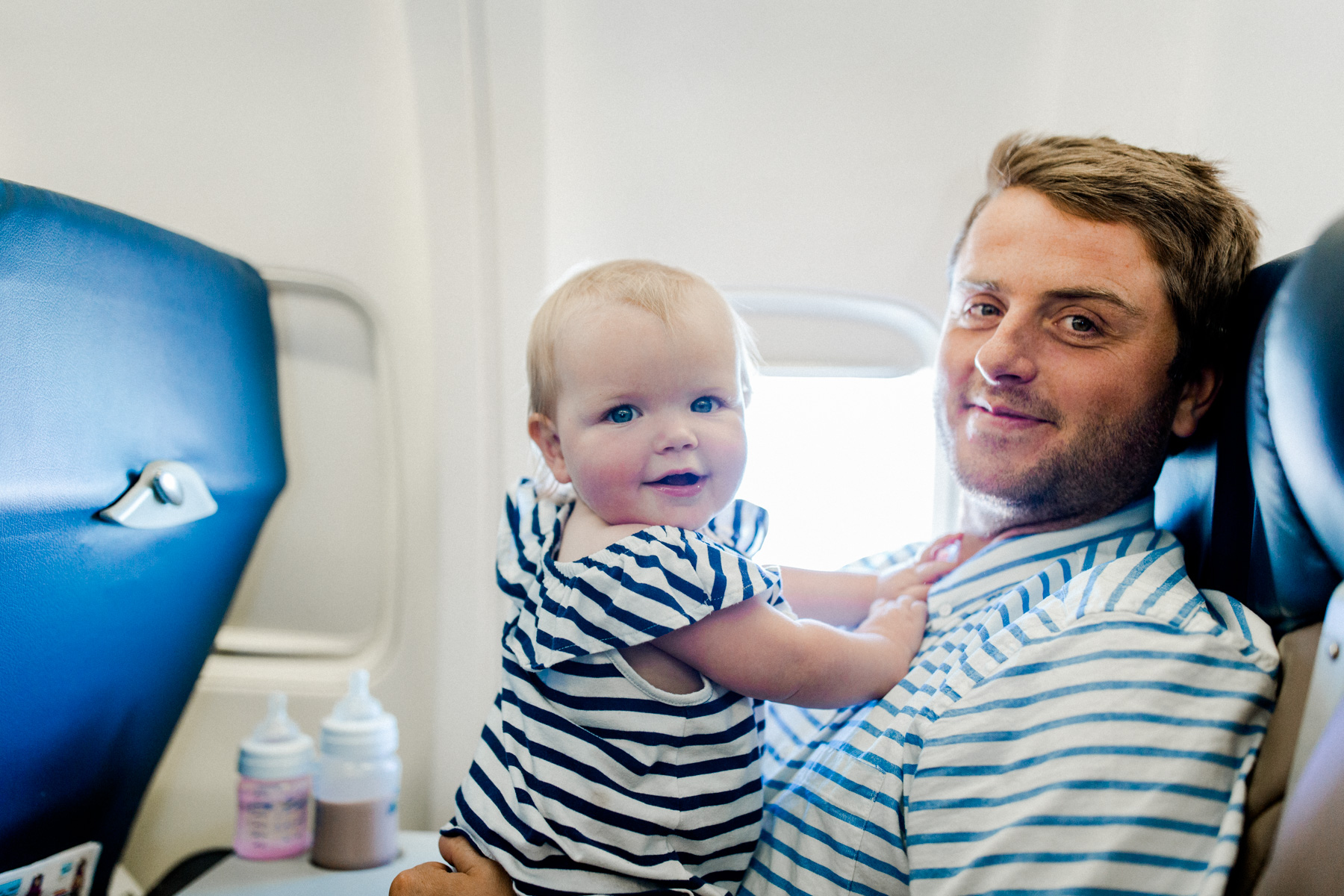 Hello from Portland, Oregon! We took our first day relatively slow, and simply went on a long walk to get the lay of the land. What an amazing city. Mitch and I haven't been able to help ourselves; the Zillow app has been out quite a bit, haha. And goodness: September is such a wonderful time to visit. Temps have been in the 60s in the mornings, and they crawl up into the high 70s by the afternoon. I'm a little sad to wave goodbye to summer, but this is certainly an awesome way to transition to fall. All hail sweater weather!
Anyway, here's a quick little photo diary of our first 24 hours in Portland:
The flights
TSA continues to be a struggle for us. If you travel frequently with a baby, any tips on how to get through security in one piece while dealing with disgruntled TSA agents?! Ugh. The struggle is real, and with the exception of a GREAT experience in Los Angeles, it's always the worst. I try really hard not to use the word "hate," but guys. I hate the TSA. When you see a struggling mother holding a crying baby and trying her best to move as quickly as she can, maybe don't yell at her. Maybe, just maybe, offer some help.
Anyway, haha, Southwest is the complete opposite and an absolute dream to travel with. Mitch and I wrote about how we fly with Emma here and here, but I think my #1 bit of advice would be to fly Southwest whenever you can. We are shown so much kindness by everyone from that airline, from the people at baggage to the crew. And whenever a flight isn't full, they offer us a seat for Emma–which makes the experience infinitely better. We've only flown Southwest this past year, and it's made traveling with a baby so much easier. A pilot once got off the plane to make sure I received our stroller at the gate, since I was traveling alone. (Like, what?!) Couldn't recommend Southwest more!
For this trip, we had a connection in Oakland, so it was a long day. Emma held her own, but with the time change and no naps, the poor little girl was pretty tuckered out once we arrived at our destination. Needless to say, it was straight to bed when we pulled in!
Home sweet Airbnb
As much as we would have liked to stay at the hotel where most guests are staying, we've learned that Airbnb's typically work much better for our family than single hotel rooms do. At the house, we have a great kitchen (with a dishwasher for bottles!), two bedrooms (my parents arrive tonight), a dining room, a closed-off living room where Emma can sleep, and a backyard. We love that Airbnb's usually allow us to explore cities' neighborhoods (not just their downtown areas), and most of the time, they end up saving us money.
I'll try to take more photos of our little abode over the next few days, but isn't the kitchen darling?! We're in Portland's Brooklyn neighborhood, btw.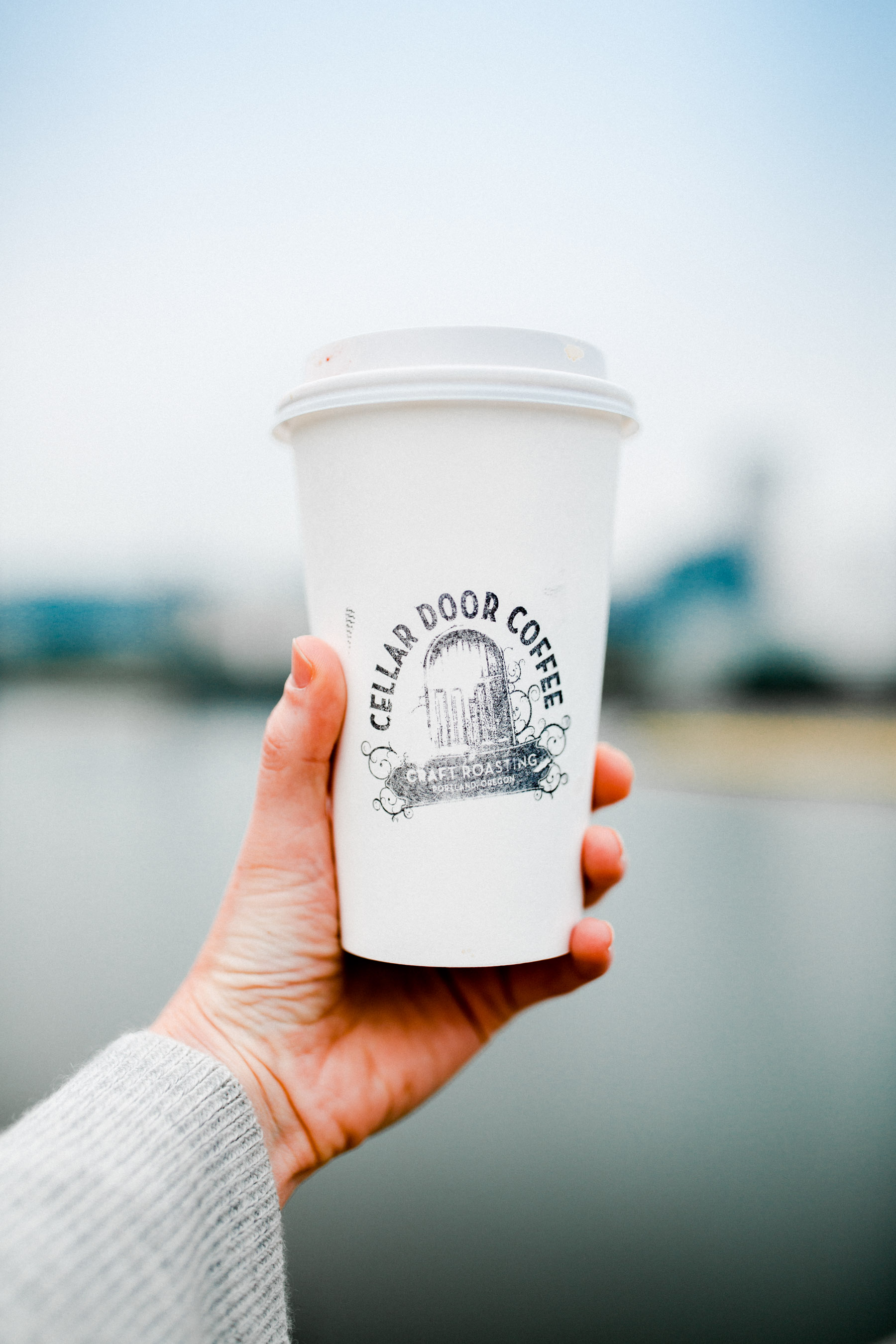 Coffee
We walked over to Cellar Door Coffee in the morning because Emma woke up at 4:45 am. (Yes. You read that correctly. Oy.) It was great! Do you guys have any favorite coffee shops in Portland? We haven't done any research and were kind of just counting on you guys to point us in the right direction, haha. Many thanks in advance!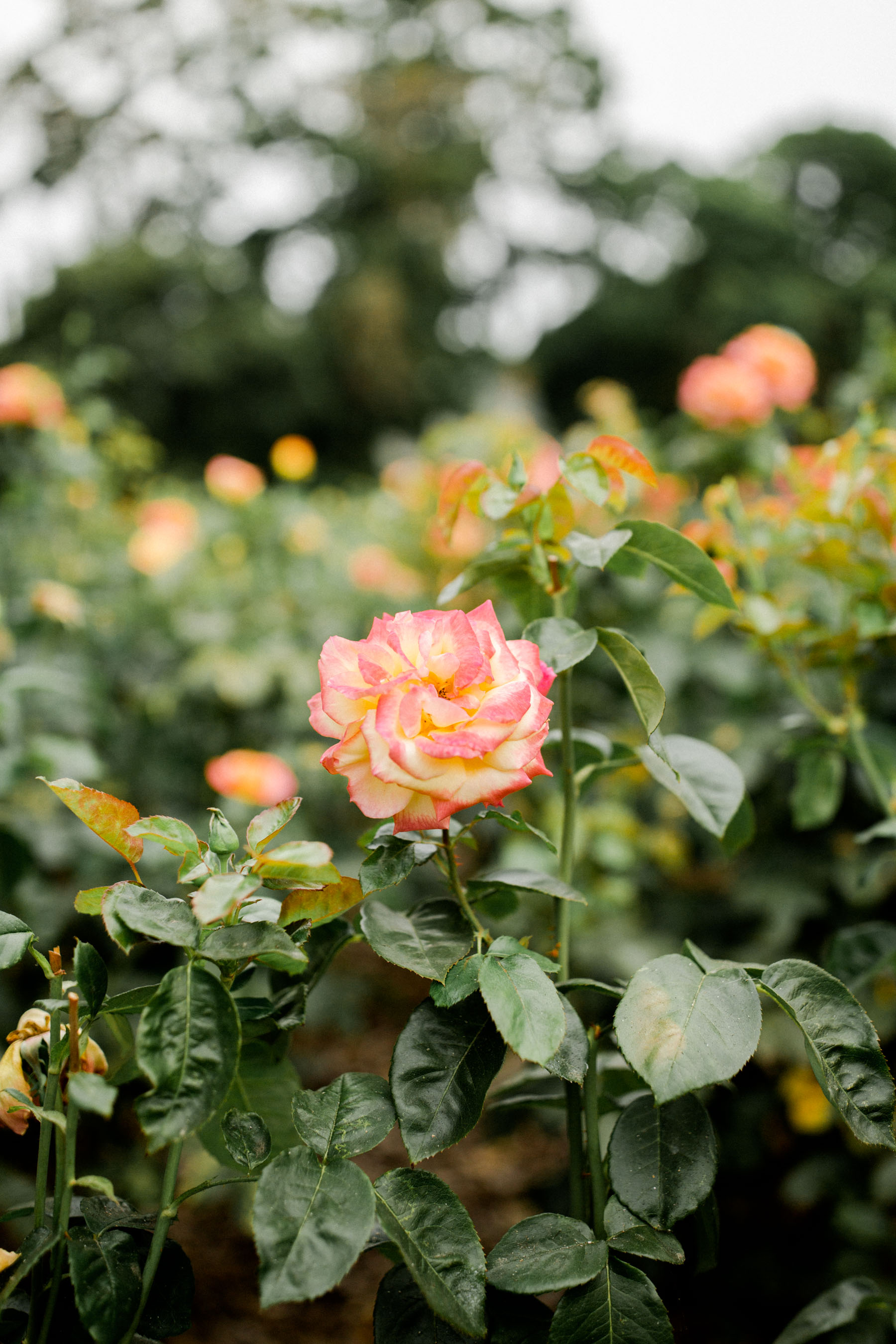 Roses
Portland is apparently well known for its roses, as it has the perfect climate for growing them. They're everywhere! I can't get over it. It feels like every time we turn another corner, bam: rose bush. And so many of 'em are pink! Absolutely  loving it.
Roaming Brooklyn
Somehow, I was able to kind of pull myself together after that 4:45 a.m. wakeup call. I wore my favorite pair of skinny jeans (all my favorite jeans are linked here), my comfy Everlane sandals (TTS, btw), this tie-front top from Vineyard Vines, and this cozy cardigan, which I took off after it warmed up. A perfect outfit for roaming our neighborhood–which I love. We're staying near a school, and I really enjoyed seeing all the parents walking their kids there in the morning. (Too cute.) The tree-lined streets are gorgeous, and the houses have so much character! Will try to take more pics so you can see, but above is a good example of what a Portland house looks like.
Eastbank Esplanade
From there, we walked the Eastbank Esplanade, which gave us some beautiful views of the city. As you may have read, the forest fire in the Gorge has affected the air quality. Usually, you can see the gorgeous trees surrounding the city, but unfortunately, visibility isn't the best right now. Hoping things clear up while we're here! (Also, so glad that everyone is okay. The most important part, obviously.)
After that, we walked over the bridge into downtown Portland. First stop? Voodoo Doughnuts.
I'm not usually one to try to hit up the most popular food attractions while visiting a new place, but Mitch LOVES doughnuts. Like, he says that if the world was ending, he'd definitely go out and eat a dozen doughnuts. His favorite food, for sure, haha! So we went to VooDoo, which a lot of you guys recommended, and we were definitely impressed! I went with blueberry and Mitch went with Captain Crunch. (Emma hated everything. Her loss.) Next up is Blue Star!
See their locations HERE.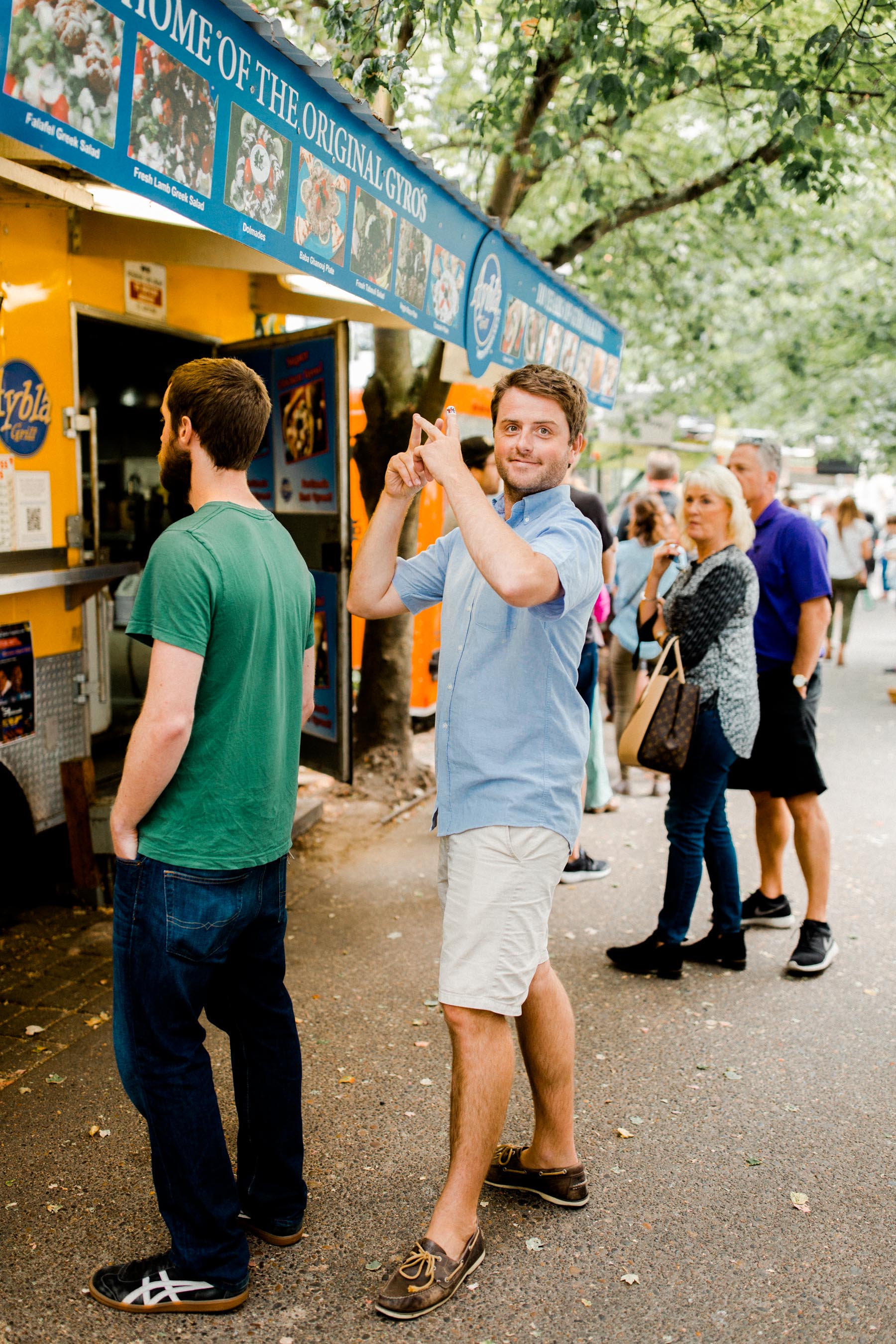 Food trucks
Another Mitch Larkin obsession? Food trucks. And there are SO many of them in Portland. We went to the ones that take up a full city block near O'Bryant Square, which was ideal for us, as we could eat outside and Emma could play. We actually met up with Jess and Neal here, which was SO fun! I'm sure Jess will do a full blog post on this after the wedding, but let's just say that wedding planning got a little intense this past week because of some unforeseen and completely unavoidable logistical problems. But my best friend is amazing, and honestly, she's the only girl I know who could simply roll with it and be genuinely just as happy. Jess, I love you! This is going to be the best weekend ever. <3
Walking
Larkin family update: WE HAVE A WALKER! The rest of our day was spent roaming in and out of shops in the downtown area… and walking. Emma has been walking confidently while holding onto our hands, but she took her first steps on her own in O'Bryant Park! Wonderfully exciting. Of course, it means that she's no longer content to spend the majority of the day in her stroller, so that slowed us down a little. But incredibly fun!
Around 4 p.m., we decided to walk back to the Airbnb and grab dinner at a nearby Mexican place. Our heads hit our pillows around 8! :)
See you back here tomorrow, guys! Happy Friday! <3
Outfit details
Vineyard Vines Cardigan and Shirt c/o / AG Jeans (All my favorite pairs of skinny jeans here.) / Everlane Sandals c/o
SaveSaveSaveSave