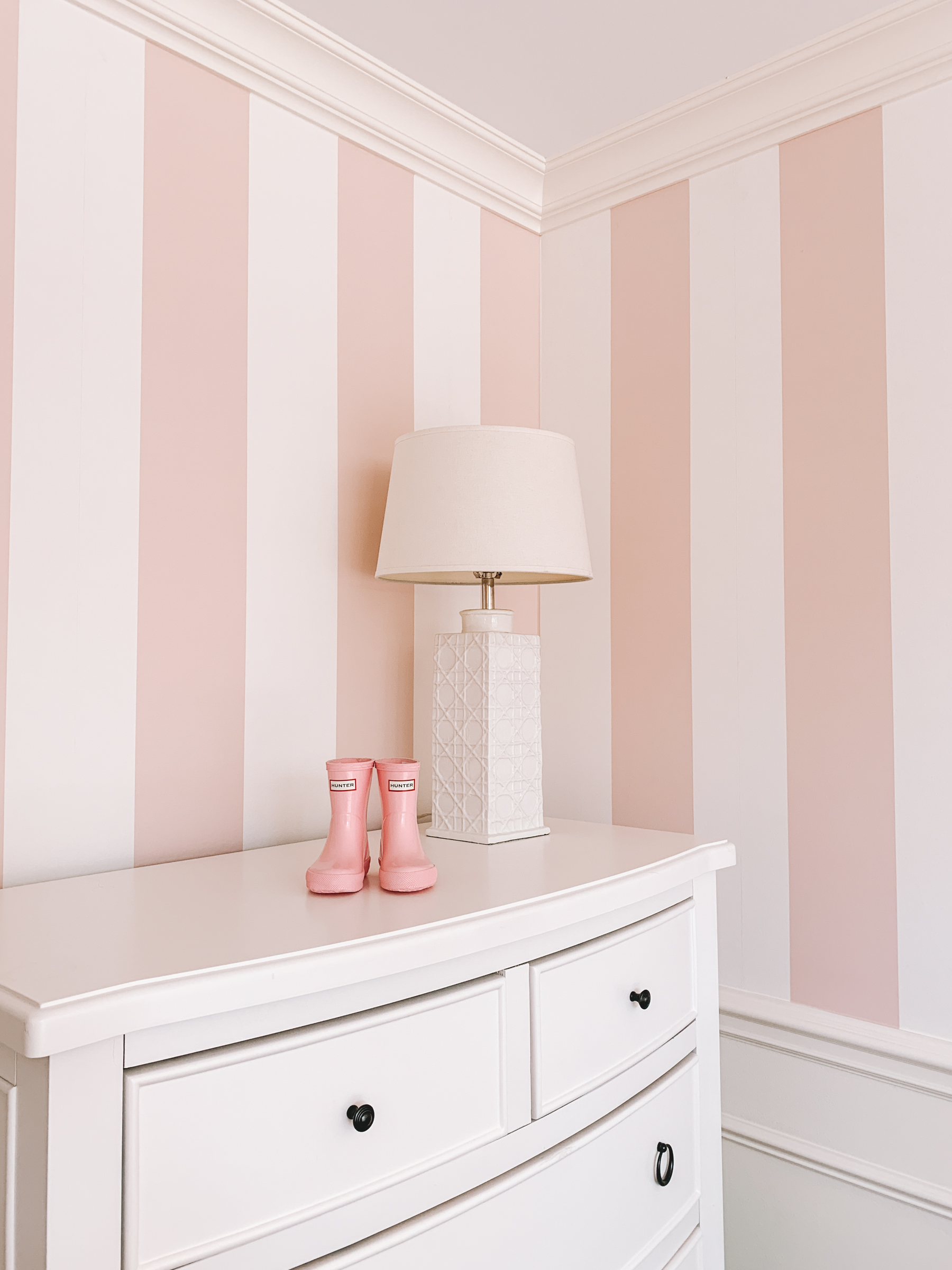 We're starting to flesh out plans for Lucy's room and I'm having so much fun with it. Here's what we've decided on so far:
Want to see photos of the progress?! Click here!
Bedroom Wallpaper: I fell in love with Caitlin Wilson's "Grand Stripe" wallpaper in "Blush" and I can't believe how amazing it looks. It reminds me a bit of Eloise's room, haha!
Bathroom Wallpaper: I've been in love with this print (also from Caitlin Wilson) for a long time, so I was so excited when Kira told me it would definitely complement the striped wallpaper if we put it in the bathroom. It's not installed yet, but we're planning on doing it in the next few weeks!
Curtains: We'll be going with matching fabric for the curtains, and having them made through Kira. (Probably a scalloped valance?!) Btw: I bought these curtain rods from Amazon for a steal for Emma's room. They're pretty much replicas of the PBK version but for a fraction of the cost!
Furniture:
Pottery Barn Kids Fillmore Changing Table/Dresser: I'm thinking about moving this over from Emma's room, as we really need a changing table in Lucy's room. (And then getting a different dresser for Emma.)
Crib: Already have the matching crib, so that would work well!
Matching Nightstands: I'm all about the matchy-matchy, haha. (I also really love this little cabinet, but think it's way overpriced.)
Bow Pulls: Found these recently and they're FOR SURE definites.
L.L.Bean Lakehouse Bed: This is our bed from the old house! Love that it works in the space so it can double as a guest room for our parents.
McGregor Dresser: I LOVE this. It's part of our master bedroom furniture, but it doesn't fit because of the dormer ceilings. Not sure what to do with it as it won't exactly match the rest of the stuff. Maybe sell? :(
Rocking chair: My mother-in-law found a beautiful rocking chair recently and drove it up to us. Want to get a cute cushion for it and start reading to Lucy in it!
Rug: I ended up going with this gorgeous rug from Ballard because it was SO INEXPENSIVE compared to similar rugs I was looking at. I went with the blue. It's indoor/outdoor so I think it'll hold up well with kids!
Bedding: So excited about this! We fell in love with The Company Store's Putnam Matelassé and Willow Cotton Sateen collections, and somehow, the Willow "Rose Quartz" matches the wallpaper perfectly?! Insanity.

Decor:
"Lucy in the Sky with Diamonds" Artwork: I want to hire someone to paint something for over Lucy's bed with a couple of lines from the Beatles' hit. Not sure what I'm looking for yet, but that would be really lovely.
Jane Street Artwork: Lucy's middle name partially comes from Jane Street in New York, and the little green apartment building I lived in there. Would love to have someone paint this for the room! (This is kind of what what I'm thinking, although "Hudson" would obviously need to be replaced with "Jane." Cross street probs.)
Mia Chandelier: On sale! It's gorgeous. I have it in both girls' rooms.
Pottery Barn Lamps: These were gifts from my grandmothers for my wedding shower. Super special and so happy they work in Lucy's room.
Hunter Boots: Our friend Carly gave Lucy these when she was born! So in love!
Jellycat Stuffed Animals: SUCH a huge fan of these. Lucy will likely get the bunny and Emma will probably end up with the puppy. :) They're just so soft and cuddly!
Suggestions?! I'm all ears!