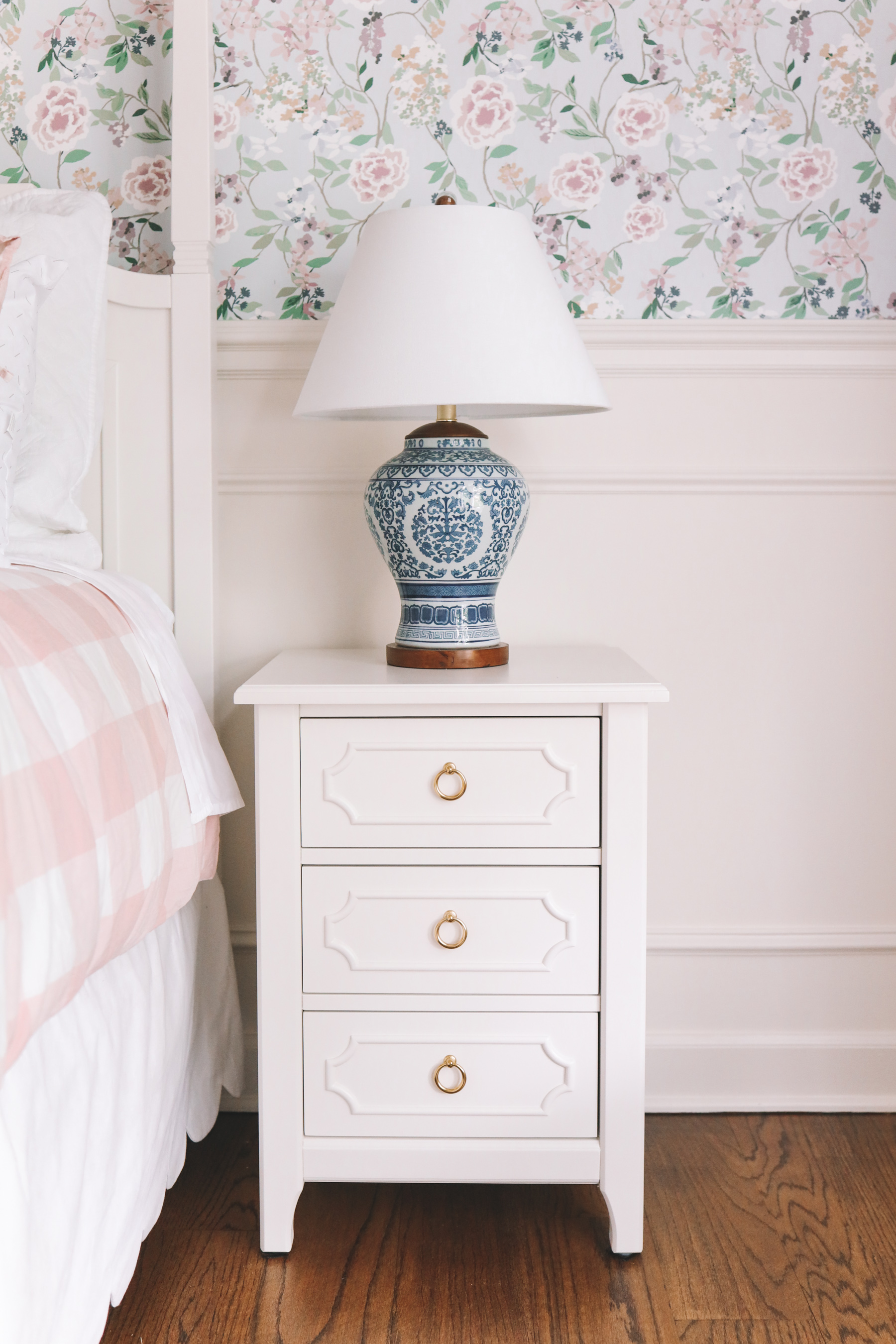 I don't know if you saw this "before" post, but it's fun to compare to the two lead photos. I'm SO HAPPY with how Emma's room is turning out!
I'm really enjoying decorating the house. I was a bit nervous that it would become this big stressful thing (just with timing and Lucy's arrival), but it's actually been a lot of fun, and a great little escape whenever I'm feeling overwhelmed in other areas of my life. I'm just taking things slowly.
The only progress we made on the house over the weekend was putting [very wrinkled] curtains on existing curtain rods in the master bedroom and office, and I kind of feel like Superwoman for doing so! I love A) that feeling of accomplishment every time I cross something little off the list, and B) seeing the difference those little things make. Like, WOW. Removing yellow curtains and replacing them with white ones sure change up the feel of a room!
Anyway, Emma's room was recently painted and wallpapered, and I wanted to show the progress. Girlfriend FLIPPED when she saw it and it was the cutest thing. (I'm also slowly working on Lucy's room, btw, but focusing more so on Emma's right now since Lucy will be sleeping with us for another few months.)
Here are the details for Emma's room:
We are working with Brooke & Lou to wallpaper my office, but because I fell so completely in love with the company almost immediately, I recently went ahead and purchased some of their paper (and a matching pillow) for Emma's room, too. Brooke and Lou obviously leans preppy, which I love, but I also adore the hard-to-find girly take on everything, and the fact that so many of their wallpaper options work perfectly for kids' rooms. For Emma's, Kira and I decided that there were so many pink accents in the room–from the curtains to the duvet cover–that a wallpaper with a blue base would even things out. So pretty!
This was an early birthday gift from my parents! It's insanely beautiful, and I wish I were Emma, ha! The best part is that most of Pottery Barn Kids' white furniture matches paint-wise, so can use her old dresser and bookshelf in the room. (We did, however, end up purchasing matching nightstands.) Thank you, Mom and Dad.
I LOVE these. They're on the smaller side since they're kids' furniture but the detailing on them is beautiful.
I GOT THIS FROM IKEA! I credit my mother-in-law on this amazing find. Highly recommend. (Ikea now ships smaller items for only $10 I believe! But you can also find the duvet cover on Amazon, if that's helpful.)
Not sure where they'll go, but they're happening. I'm such a huge fan of Sara Fitz; everything reminds me of home. :) And think her work would look beautiful in a little girl's room! Maybe the Nantucket basket?
I wanted this rug, but ended up getting this rug because it was so much more affordable and a "flat weave," which apparently means it'll hold up much better with little kids. Isn't it beautiful?!
We kind of designed the entire room around these things, haha. I, of course, found them on Pinterest. Are they not something out of a storybook?! THE BOWS!
There were chandelier hookups in both girls' rooms so obviously I was all in. The other one I considered was this scalloped beauty from Ballard Designs, but ultimately decided against it because reviews said it wasn't bright enough. Very interested in putting it elsewhere in the house one day, though. (Maybe in the powder room?)
The lamps
I found these a couple of weeks ago at HomeGoods! They're from Ralph Lauren, and were such a steal.
Not sure if we need it anymore since the bottom of her new bed is so pretty! Thoughts? Cleaner without? Or too cute to ditch? Could also go on Lucy's bed!
The rattan chair
This is a few years old from Pier 1, actually. (This one is kind of similar.) It was in our living room in our last place. I just bought this $20 cushion in "Natural Carmela" for it and think it'll make a big difference!
I get so many questions about these! They're very affordable and pack a punch. :) These will likely eventually go elsewhere in the room, but for now, they're in the window. ;)
My Auntie-M gave me a big bunny when I was born, and then Emma this big bunny when she was born. (We have the "Huge" version.) I tear up just thinking about it. So special!