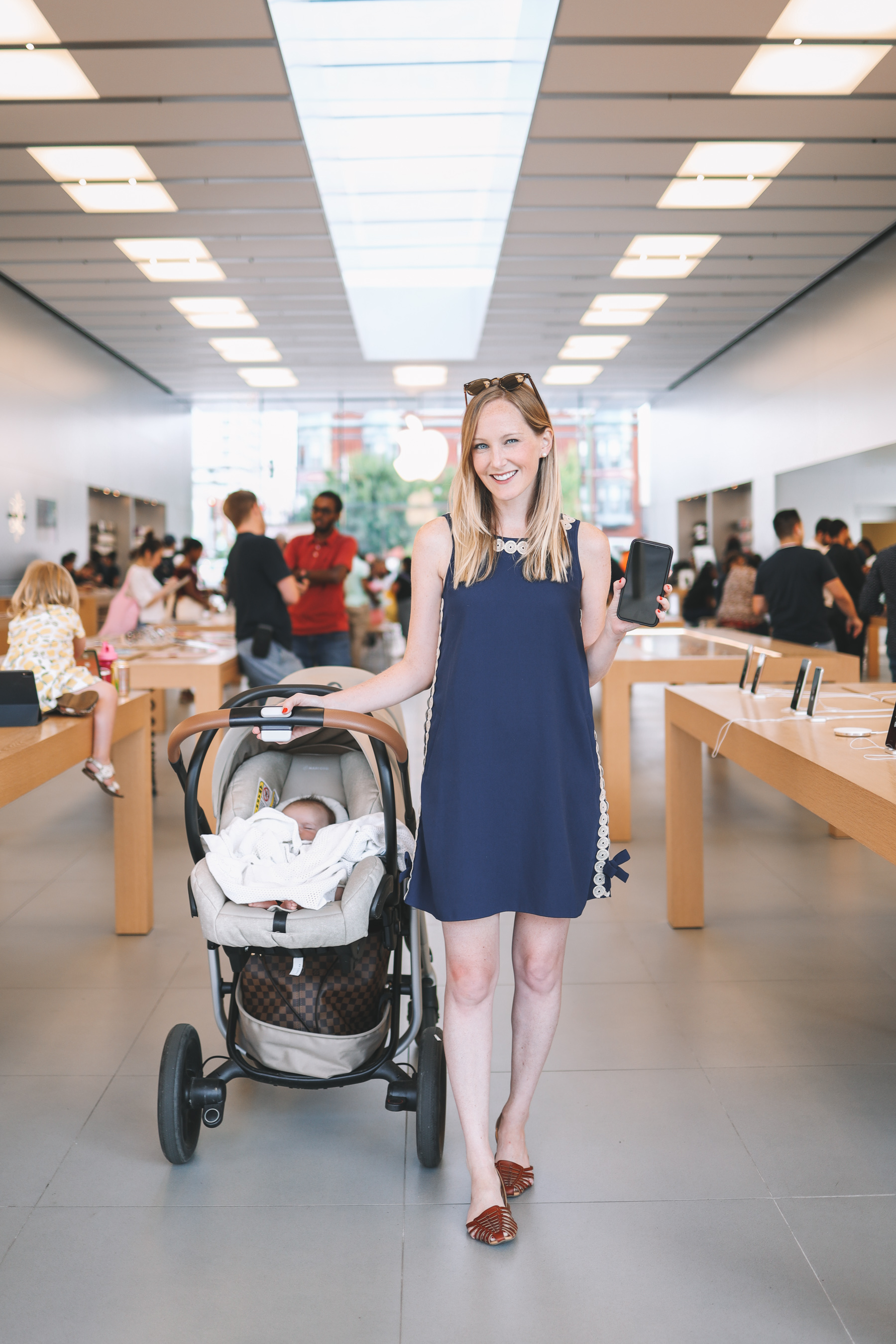 ^ Finally got iPhone replaced after leaving it on the roof of the car and driving away. #killinit
Lilly Pulitzer Stella Shift (View all LP solid dresses here. Also have and love this one.) / Huarache Sandals (Yes. I should probably switch out my shoes every once in a while.)
Hey, Friends! How was your weekend? Because of all the Sale craziness, it's been a few days since I really checked in. ;) So I thought I'd share a post about all the thrilling things we did this past weekend! 😂 Also, please note that I have Lucy on my lap and I'm typing this one-handedly. So please excuse… everything. Not re-reading or editing, haha. #momlife
Also, as promised, I'm giving away $50 to shop the Nordstrom Anniversary Sale in this post! To enter, let's say you simply need to:
That's it! Good luck!
Our Weekend

Couch (On sale for $569 in "Cruise Adrift" ticking stripe.) / Brooke & Lou Lemon Wallpaper c/o / Chandelier ($225 with code "SUMMER.")
Friday
Construction continued:
Currently, we're at the end of a house project with Kira, and we're thrilled with how everything is turning out! We had wainscoting and wallpaper installed in the girls' rooms… and now beadboard ceilings and wallpaper are being installed in our master and in my office. I can't believe how "us" it all is. It feels like home!
(We'd originally planned on not tackling any house projects for a WHILE, but then realized that it might actually be better to get a few things out of the way during the summer when we spend the least amount of time inside the house. Kira's guys are THE most respectful and try their very hardest to be "invisible" throughout the day, but I'm so, so glad we came to this realization, haha! Anyway, really looking forward to sharing more soon, but the above photo is a little progress pic of my office.)
Had a trial with a nanny:
Life is so, so good right now… but I have to admit that we really, really wish our parents lived closer. Going from one to two children has been a transition, and we're slowly learning that we WILL die if we don't start getting more sleep. A friend of a friend no longer needs her fabulous nanny because her children are getting older… and Mitch and I have been considering hiring her for a few mornings a week in September so we're not always drowning.
I've long been stubbornly against the idea, but we truly loved her and couldn't believe how wonderful she was with the girls. Emma literally ran into her arms when she stepped inside the house, which was crazy?! (She'd met her once before.) So yeah! We'll see. It was good, and I'm coming around to the idea. I suppose I now understand that having some much-needed help might actually make me a better parent.
Rushed off to a coffee shop to complete projects:
Between the workers and the nanny, it was a frantic morning… and, of course, I had a bunch of stuff due, too. So I ran to a nearby coffee shop–looking completely disheveled–to complete and submit it. Mitch and I hadn't slept the night before because we were compiling my big guide to shopping the Nordstrom Anniversary Sale, so I almost fell asleep at the table. But I got it done and I kind of felt like Superwoman!
Had an in-home photo/video shoot with a brand:
After that, I rushed back home for this. (You'll be hearing about/seeing it soon!) Even though I could barely think straight, I had a lot of fun with it and perhaps it turned out even better because of the delirium. ;)
Dinner on the deck:
We try to have one meal a day outside these days, since Chicagoans don't get much warmth regularly. ;) We opted for takeout sandwiches–nice and easy–and then put the kiddos to bed.
Cleaned house:
Because we'd had so much going on, the first floor of the house was a nightmare. Catering boxes, toys, photography equipment and clothing were everywhere, and we quickly tidied everything to maintain a sense of sanity.
Finished work:
Eyes drooping, we finished our computer work for the day, and passed out right when our heads hit the pillows!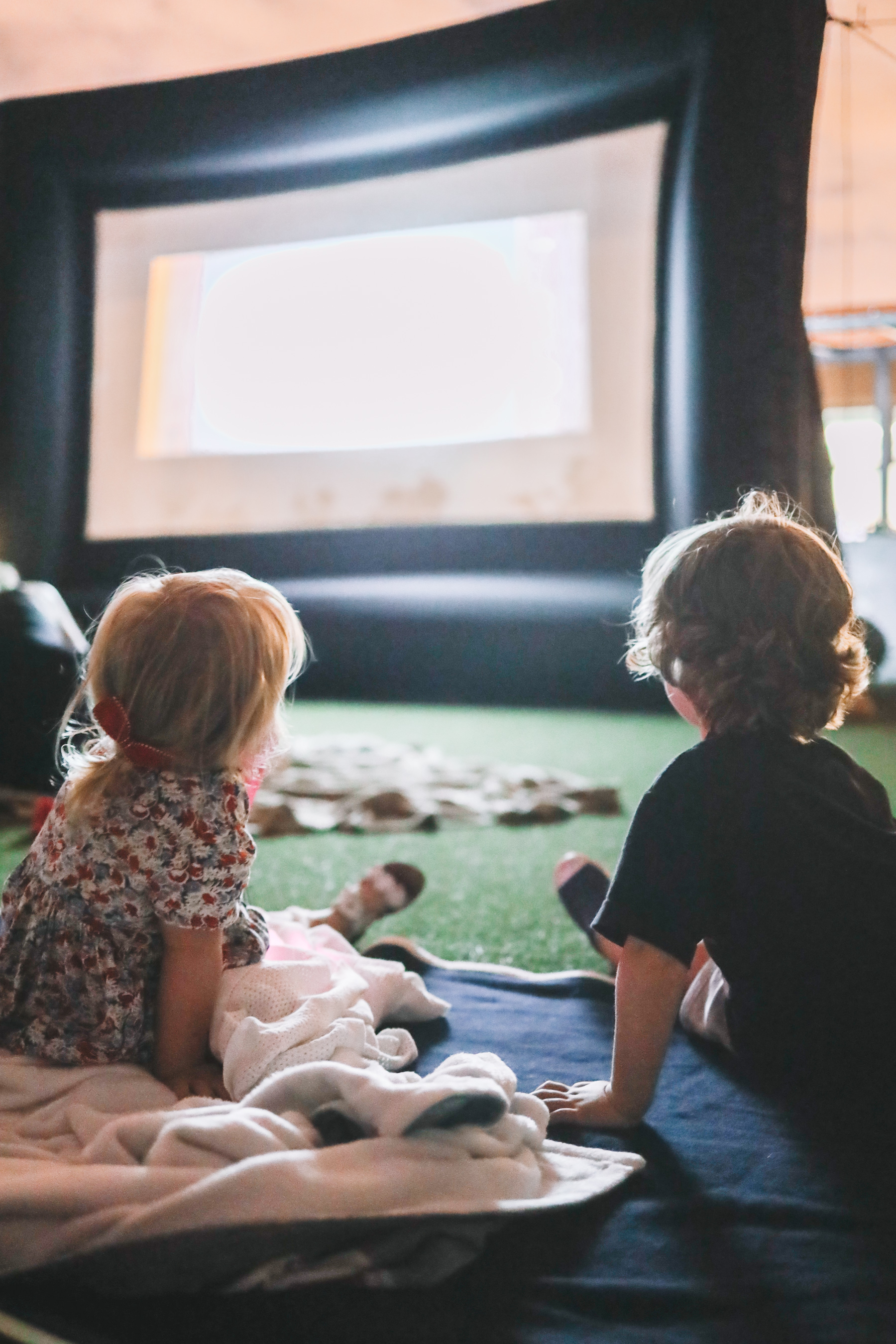 Saturday
Took a long walk with the girls to get coffee and treats:
I love Saturdays that start off like this. We don't always have 'em–maybe we're swamped with stuff we didn't get to during the week or maybe one of the kids is having a rough morning–but when the stars align, it's pretty magical. Temps were in the 90s so I put my hair up in a ponytail and threw on my favorite lightweight Sail to Sable maxi dress… and reveled in a stress-free stroll around the neighborhood with my little fam. We stopped in to Terry's Toffee (on Armitage) which we'd never been to before, and it was SO good. They carry Collectivo Coffee there, too!
Visited the free water park in Adams Park off Armitage:
I've been wanting to take Emma all summer. Finally got her there and what happens?! She freaks out. Absolutely terrified. Ugh, haha. I'm going to work on it, though. I was laughing with another mom who was experiencing the exact same thing with her son, so I guess it's somewhat common. ;) I'm going to talk it up with Emma and hopefully we'll maybe enjoy it next time?!
Celebrated potty training progress with ice cream:
We're in our second week of potty training. I'd been putting it off because having an infant was challenging enough, but my awesome new next door neighbor (who has two little girls herself) gave me some great advice–as did the Instagram community–and so we decided to just go for it! We've had some pretty dark (and gross) moments, but I dare say we're at the end of it. I'll share more maybe in a separate post? I feel like a ton of moms are currently going through it or about to start… so maybe it would worthwhile to write more extensively about it!
Did chores while the girls napped:
Our home has fallen into a state of complete disarray while construction has been going on. We spent an hour organizing, wiping and vacuuming, and felt SO much better as a result. Amazing what an impact only an hour of "speed cleaning" can make!
Attended a rooftop movie night at our gym:
This was the best part of the weekend! I loved every minute of it. We've made quite a few (non-blogger) friends at our gym, and we adore the community. It's so lovely having a parent support system, and Emma just loves her little crew! Looking around that night–as we sat on our blanket sipping drinks with the other parents, watching the kids run around together in the warmth–I couldn't help but think how lucky we are. We've come a long way since we first arrived in Chicago five years ago!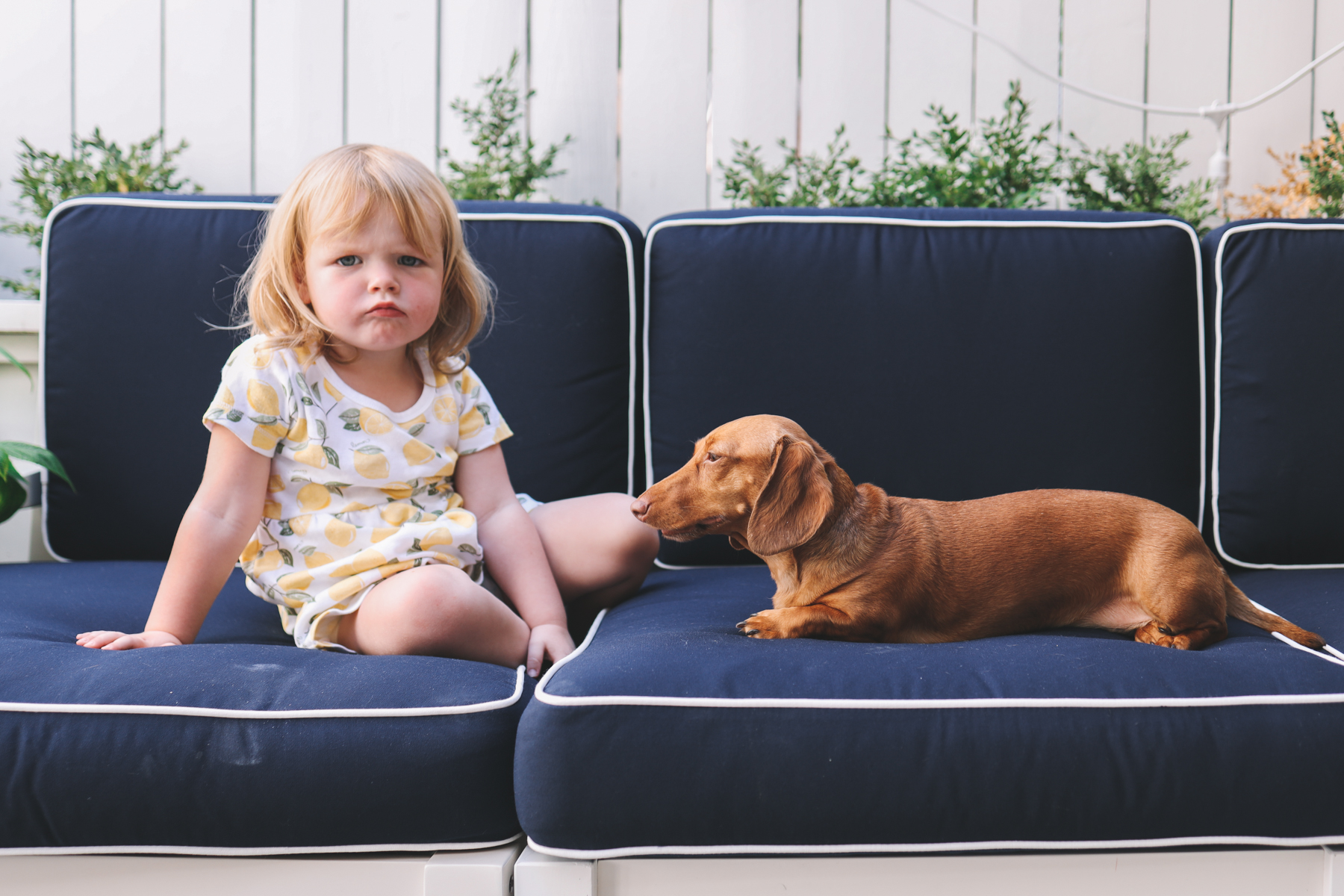 Sunday
Played outside:
We're working to set up our patio right now! LOVE the deck, but getting up there with two very young children is a little challenging because of the stairs. (Which is why we reserve it for times when we have more than an hour to spare.) The patio, though, is super quick and easy. No stairs! So yeah, we've slowly been sprucing that up, and it's been lovely having a space for breakfast and coffee in the morning… or for a speedy lunch.
Worked on the house:
More organizing and cleaning, like most people do on Sundays.
Skipped an event in favor of naps:
We had intended on going downtown, but Emma was cranky from Movie Night, so we skipped it so she could catch up on sleep. I was a little bummed, but there's always next year, right?!
Finally got my iPhone replaced:
Oy. It's so nice to have a working one again! Of course, setting everything up again has been annoying… but I'm slowly getting there. Nice to be able to take pics and videos of the kids again. :) That's basically all I use it for anyway, haha.
Had a spaghetti & meatball family dinner:
We are OBSESSED with the Aldi meatballs. The whole family gets so excited for 'em. Yes, Emma ends up covered in them and we have to do baths afterwards. But worth it. The next time you're at the store, get them!
Watched "Big Little Lies":
We're one episode behind so don't tell us what happens, but we just watched "KILL ME" and we were like whaaaaaat?!
Okay, Friends. Lucy needs a diaper change. So… Kelly. OUT. (Or whatever Mitch says. 😜)