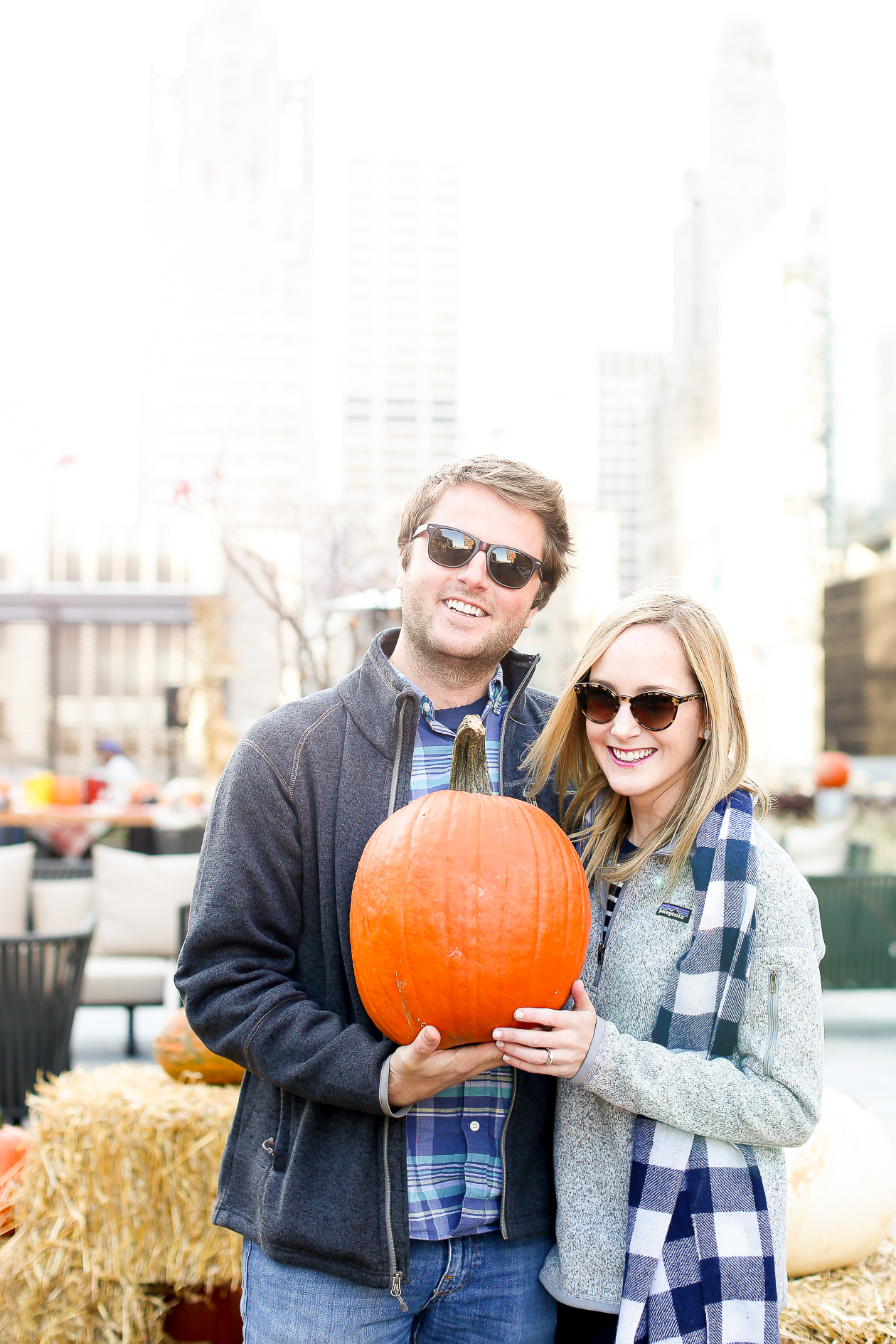 Patagonia Better Sweater 1/4 Zip (Also available here and here!), Hudson Jeans, Herschel Supply Co. Backpack and Sperry Saltwater Plaid Boots c/o
It doesn't take a genius to figure out that I'm not exactly a fan of the great outdoors. I mean, I enjoy being outside–but I just prefer being outside in cities. ;) So when my friends told me about Loews Chicago Hotel's First Annual Harvest Fest and Pumpkin Patch, I was thrilled. A biergarten and pumpkin patch–plus food and fall games–all surrounded by huge city buildings?! And pumpkin profits that go to charity?! Sign me UP.
Mitch and I attended the event with Jess, Neal, Kit and Jenn, and we had a great time. And with the help of Zappos, I was completely ready for the festivities!
Typically, I'm absolutely miserable at outdoorsy fall and winter events, as I'm freezing in anything but 80-degree weather. But this time, I was outfitted in the coziest Patagonia Quarter Zip, which I then slept in that night, haha. (What?! Mitch won't let me turn the heat on until we get new furnace filters. #homedepot2morrow) But really: If you don't already own a Patagonia "Better Sweater," invest now. Its slim fit leaves you feeling stylish, yet its fleece-lined inside makes you feel like you're walking around in a Snuggie. It's heaven. (Tip: go one size up.)
I also wore the cutest duck boots in the history of the world. I know I blogged about these a few weeks ago, but I can't even tell you how much I adore them. They're easy to get on, super comfortable, and they're–just like the Patagonia–lined with fleece. I know. I have a fleece problem. But listen, guys: Chicago weather is nothing to kid about. It's intense. It's the kind of weather that makes people permanently flock to the south. So fleece-lined everything for the win! (Tip: go with your usual size. I took a 7.5 in these, which is my normal size.)
Next up? My new Hudson jeans. Jess has been teasing me about my old pair for ages because they had a giant rip down the butt. But they were so wonderful. I bought them for myself years and years and years ago after a bad breakup. My mom told me I should treat myself to something nice, so I marched myself to the nearest department store on Fifth Avenue (which was really far away) and purchased my first Longchamp and first pair of designer jeans. I've been a Hudson fan ever since, and clearly wore that first pair into the ground. Needless to say, it was high time for a replacement. ;)
But seriously. GET THESE JEANS. Holy goodness, guys. I apologize for how many times I'll wear them on the blog this winter, but they're fantastic. They feel like pajamas, they're skinny in all the right places, and yet they have extra give around the middle for those of us who don't love the gym.
Ahem.
All I can say is that they're the best jeans I've ever owned. (Tip: Go with your normal size in designer jeans. In J.Crew and LOFT skinny jeans, I go a size down.)
Finally, I should mention the backpack. On the weekends, Mitch and I like to take long walks around Chicago. They help us get out, explore new neighborhoods in the city, meet new people, and save money. (They also provide for really great conversation!) But they wreak havoc on my shoulder, too.
Before we got this Herschel Supply Co. backpack, everything went into my tote bag. Extra clothing, to-go coffee cups, picnic food–you name it, and it went in. But after a few miles, my shoulder would kill. Now, though, it's no problem! Mitch wasn't exactly down to carry a girly tote bag, but he's totally game to carry a cute manly navy backpack.
Strategic move, Kelly. Strategic move.
Anyway, fall is undoubtedly the perfect excuse for stocking up on pre-winter essentials from Zappos. :) What's your favorite fall activity?!
This post was sponsored by Zappos, but all opinions are my own. As always, thank you for supporting the partnerships that keep Kelly in the City up and running!