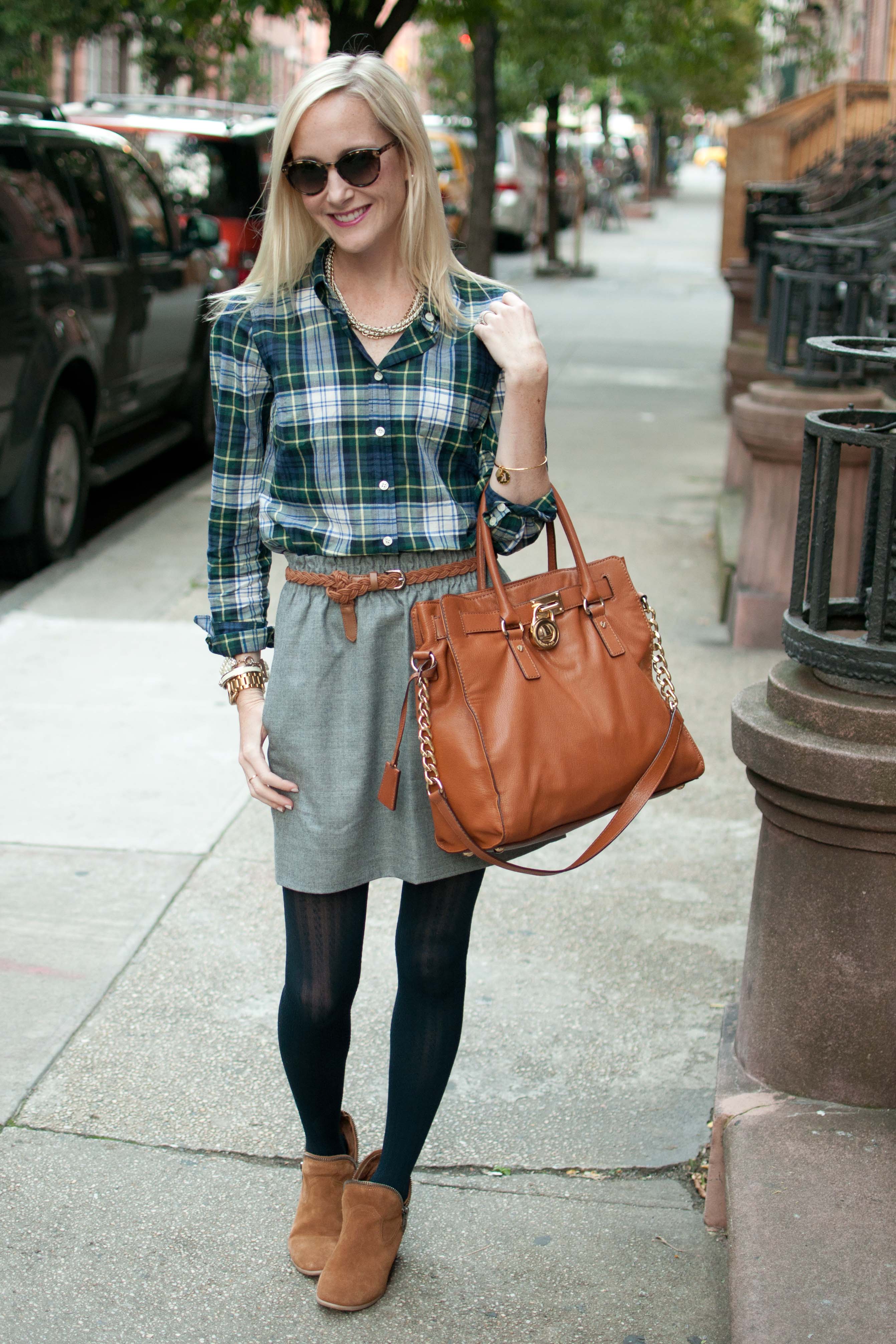 Okay. So I've completely revamped my outlook on fun. Last year, I reserved real fun for Friday and Saturdays only. Sure–I'd go out to dinner on a weekday, but I wasn't doing anything extravagant. I would actually turn down invitations to fabulous events, opportunities and life experiences just because I thought I should!
Skirt: J.Crew Factory / Bracelets: c/o Julie Vos via Tuckernuck, necklace version here (and loving this Julie Vos bracelet!), Henri Bendel and J.Crew (Sold out), but lusting after this K.S. pearl bracelet / Bag: Michael Kors / Button-down: J.Crew Factory (Sold out, though will probably come back shortly), see all Factory shirts here, and similar shirt in J.Crew* / Necklace: Joe Fresh / Booties: Chinese Laundry (SO comfy! And take 20 percent off when you sign up for Amazon's emails! See listing for details.) / Belt: NYC boutique, similar here (Love Target!) / Sunnies: Kate Spade (Sold out), find on eBay here / Watch: Michael Kors / Lipstick: Clinique / Earrings: J.Crew*, less expensive version here / Tights: HUE, similar here
*Take 25 percent off with code "SHOPFALL"
And scroll down to the bottom of this post to see my favorite plaid finds for the fall!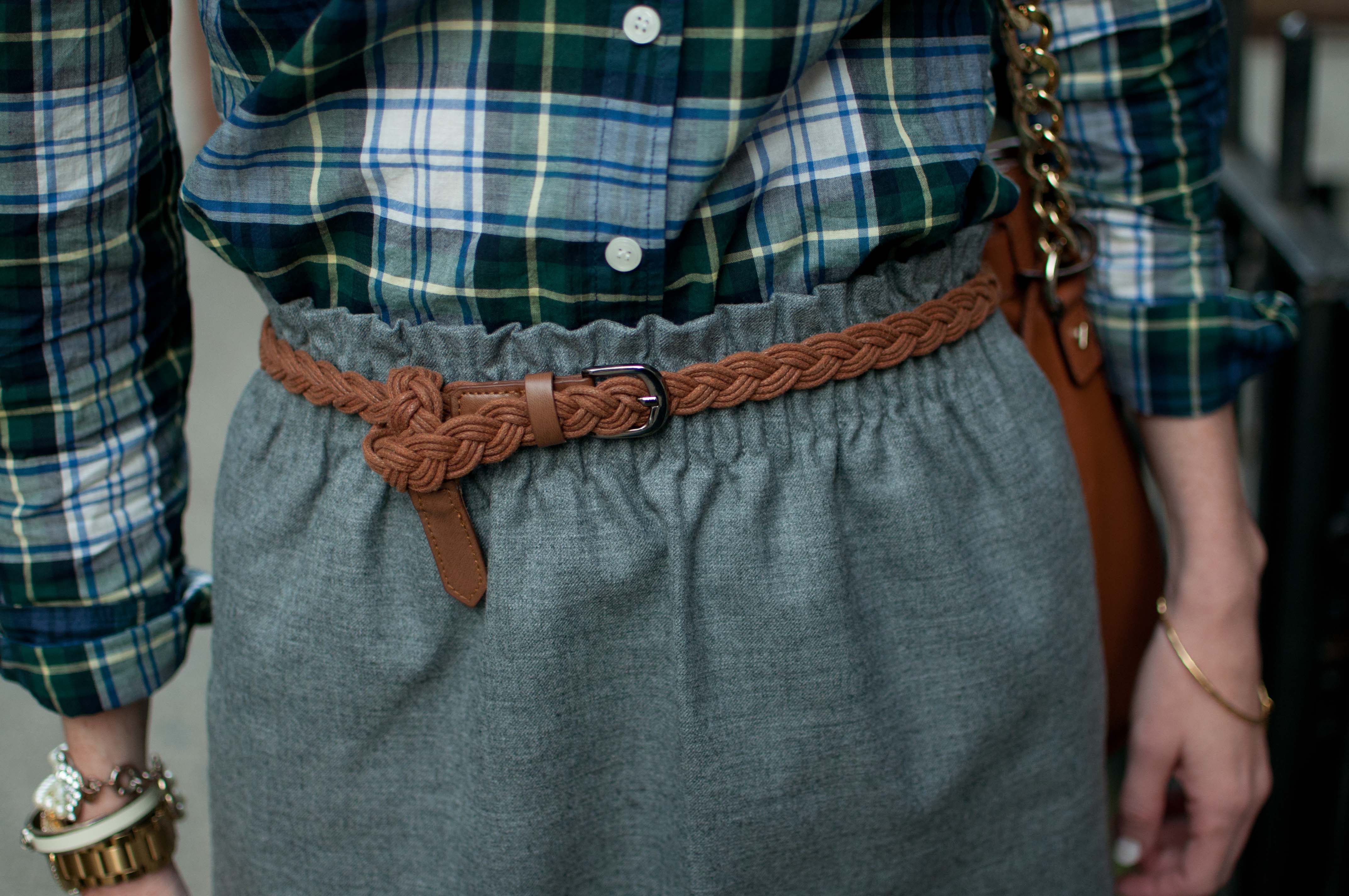 Don't get me wrong. I'm not saying that we should all throw our hands up in the air and say, "the heck with our jobs!" or anything. I'm just saying that I don't need to be curled up on the couch at 8 p.m. every single weeknight of the school year. Once in a while, I can go out and have an absolute blast. (Responsibly, of course. I do have to be at school at 8 a.m., after all. ;))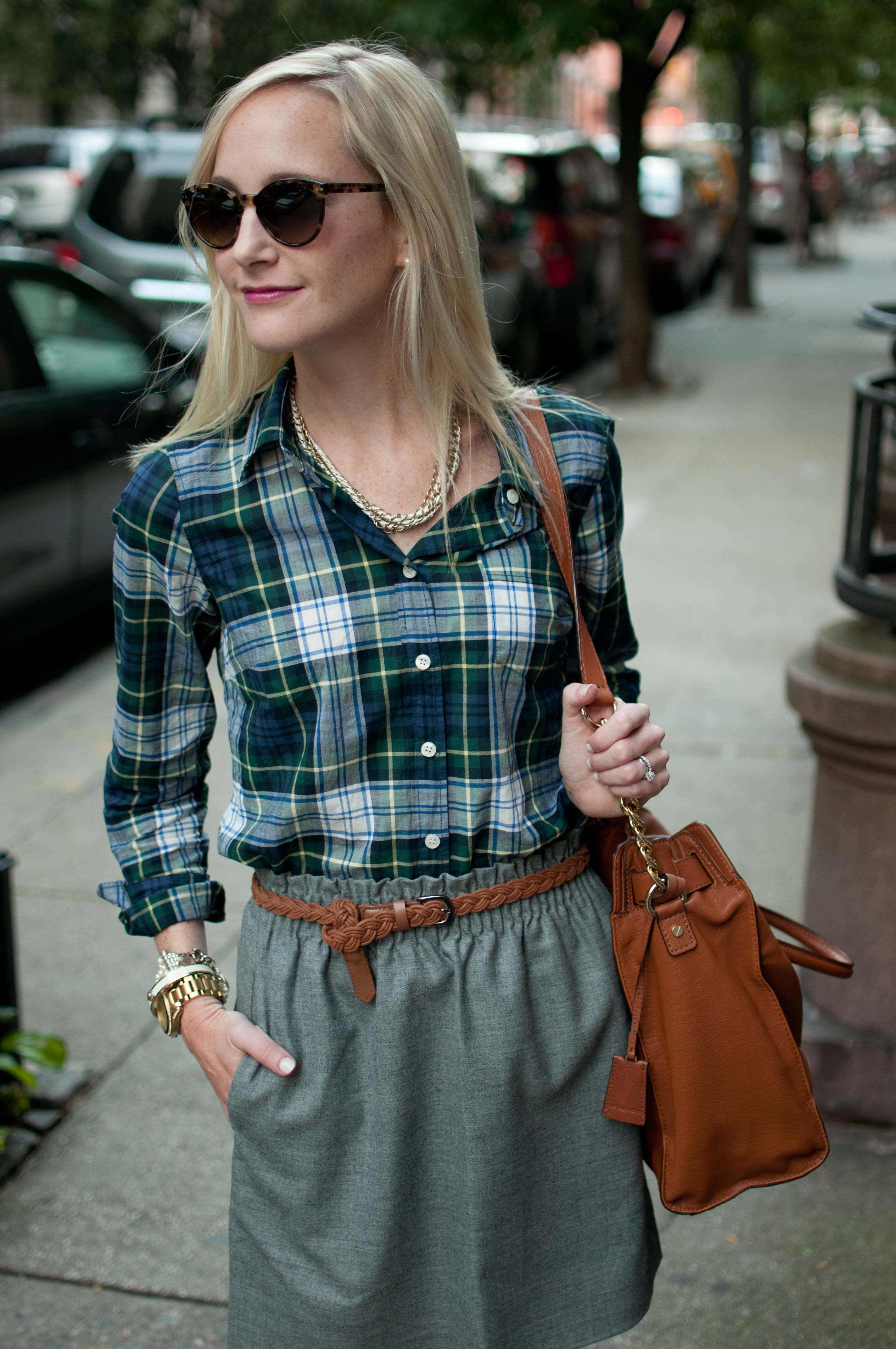 When my dad called me and said he and Mom wanted to take Mitch and me to see Graham Nash at City Winery in SoHo on a Tuesday night, I initially cringed. Go out on a Tuesday? No way, Jose. I have to get up ear-ly! But then I asked myself, "Self, will you ever get another chance to see Graham Nash? And a chance to see him with your parents, who are the biggest fans ever?" The answer was no. So we went. And it was ah-maz-ing. Getting up this morning was slightly harder than it normally is, but let's face it: getting up before sunup is always hard, right?! Totally worth it.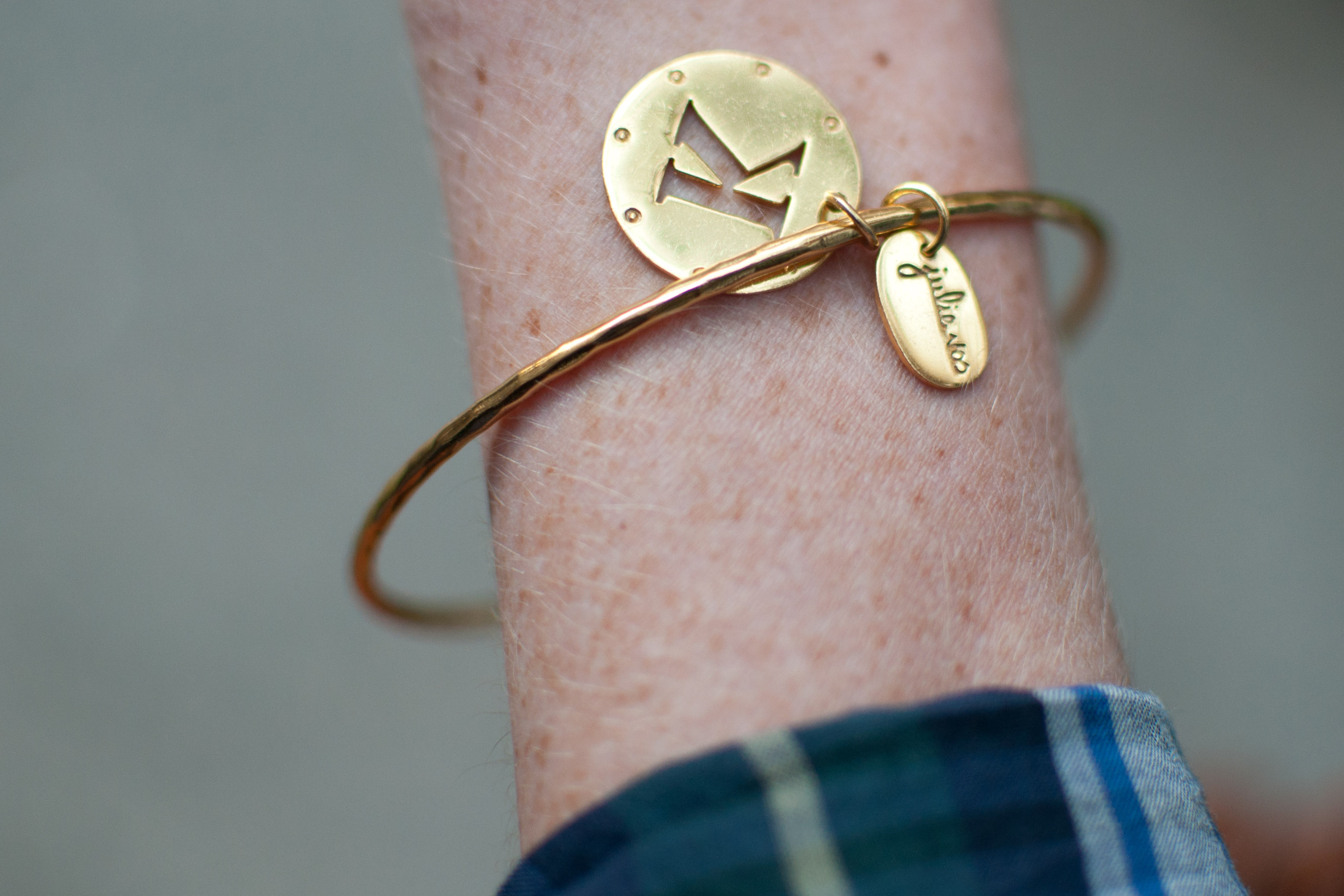 Before the show, we all got dinner at Blue Ribbon, one of our favorite restaurants in the area. (Though Blue Ribbon Bakery is truly my favorite. The name is slightly misleading: it's actually a restaurant. Most romantic, adorable spot. A must-see/experience while in New York City!) It was so nice to hang out with the rents while not moving. Love the parental figures.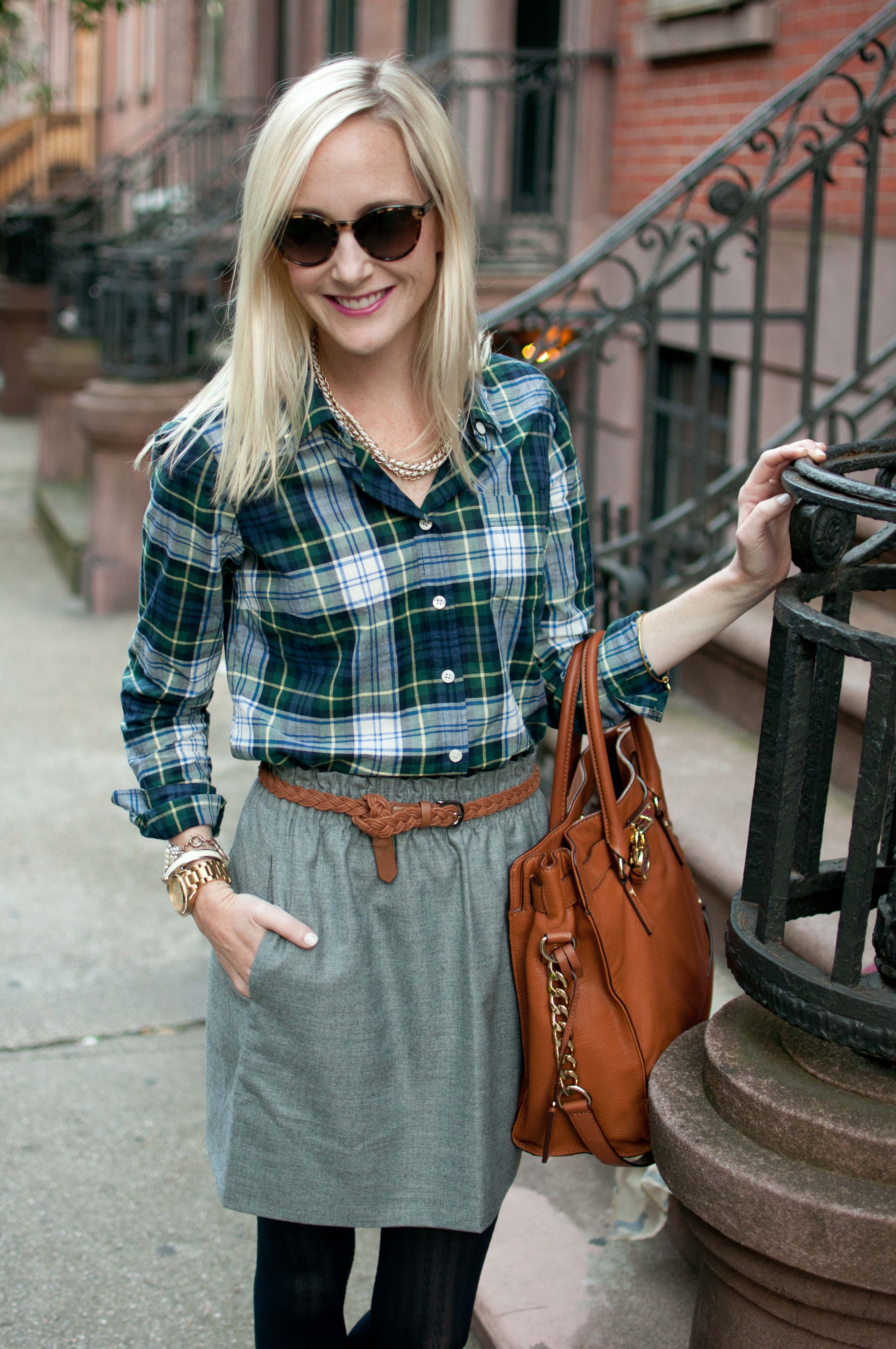 The show itself was phenomenal. Mark Cohn, the "Walking in Memphis" singer, and Jackson Browne even showed up! The best part of the show was when Graham Nash played "Our House," which holds a lot of significance for my family. As my dad was in the Air Force, we moved around quite a bit when I was a little girl. My parents played this song for us every time we moved into a new home, reminding us that what's most important is the family within the house–not the house itself, or anything else gained or lost during a move. Acquaintances come and go, possessions break, and houses deteriorate. But your family remains by your side and loves you forever. :) (The song is featured in this childhood home video.) One day, when Mitch and I leave New York, I'm going to frame the lyrics to "Our House" and hang them in by the door of our home.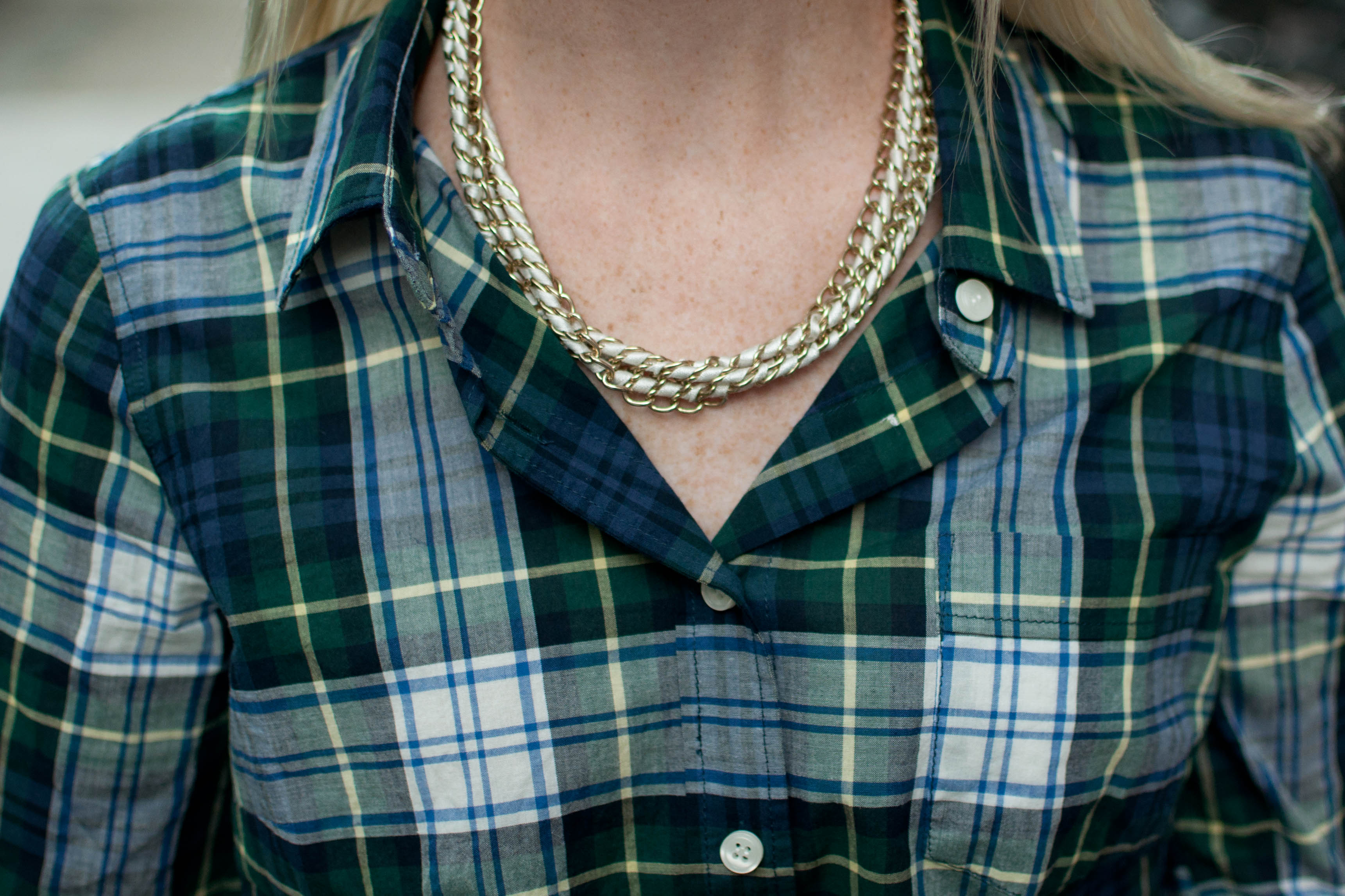 Mom and Dad, thank you for an incredible night. And thank you for getting us through our most recent move. Our apartment is a "very, very, very, fine" apartment, largely because of you. ;) Love you!
Some of my favorite plaid finds for the fall: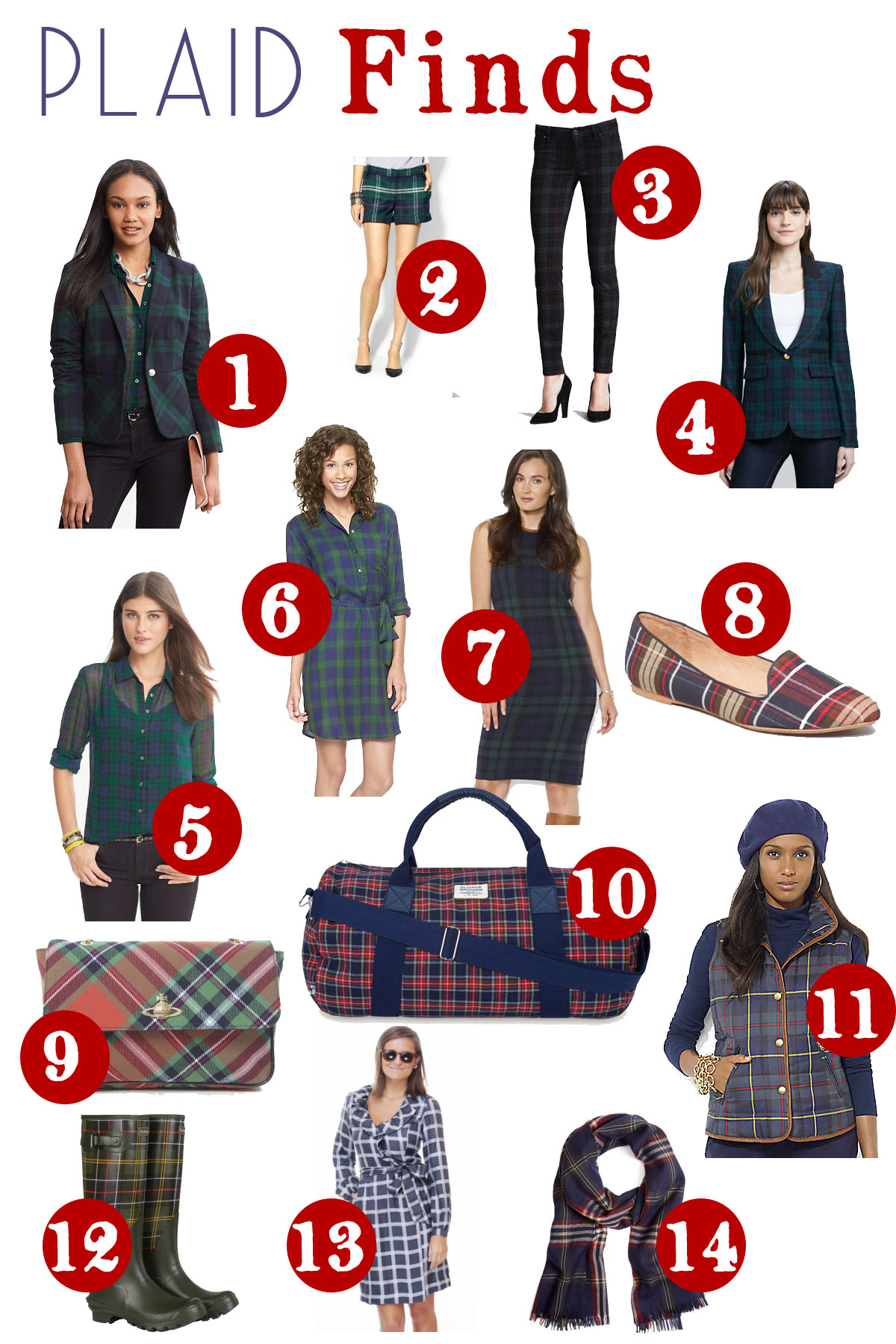 1. Blazer: Banana Republic* / 2. Shorts: Piperlime / 3. Jeans: BlankNYC / 4. Blazer #2: Smythe / 5. Shirt: Banana Republic* / 6. Shirt dress: Gap / 7. Dress: Ralph Lauren / 8. Smoking flats: Joie / 9. Bag: Jules B. / 10. Duffle: Sloan Ranger / 11. Vest: Ralph Lauren / 12. Boots: Barbour / 13. Dress: Elizabeth McKay via Tuckernuck / 14. Scarf: Brooks Brothers
*Take 35 percent off your purchase with code "BRSHOP35"