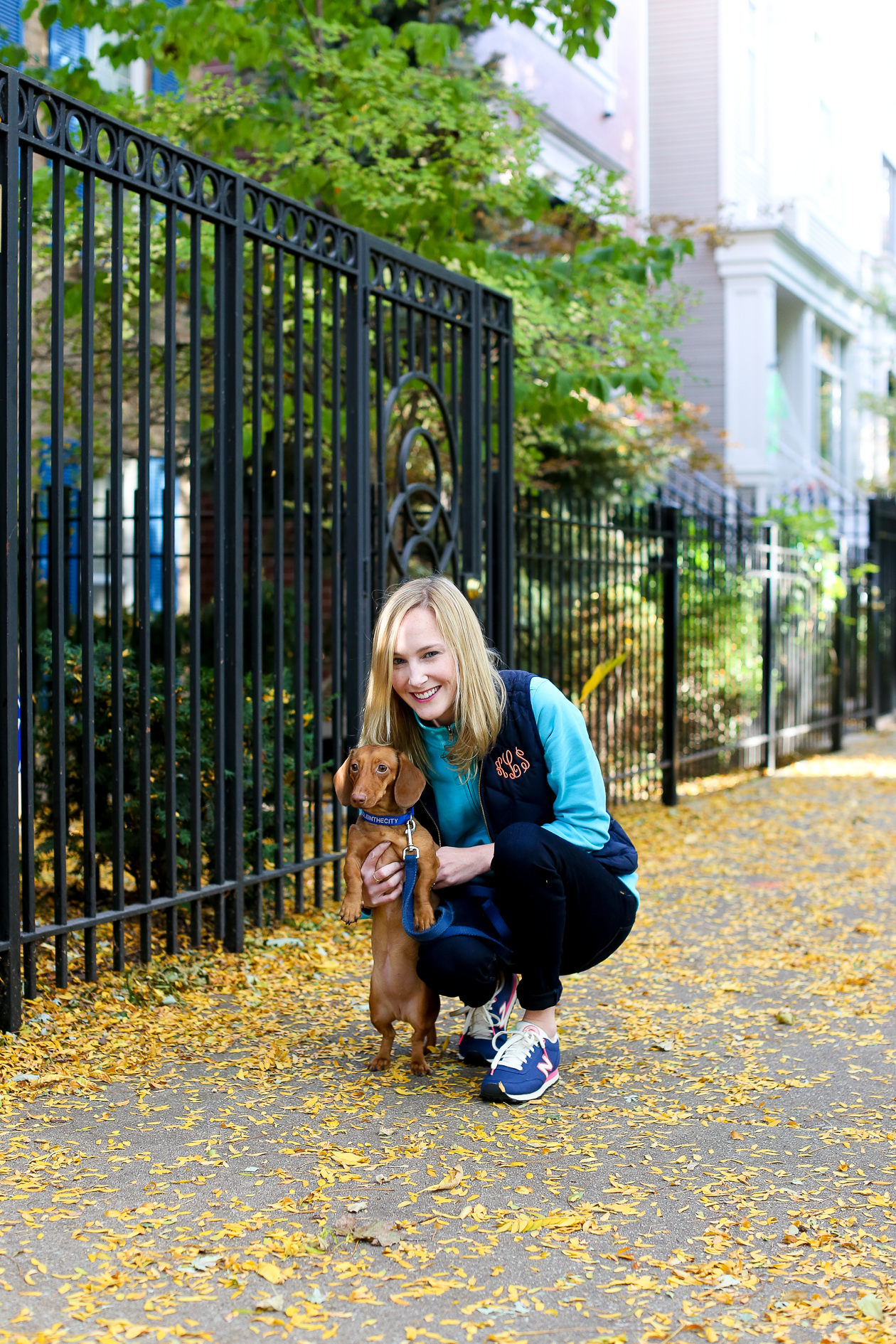 Charles River Apparel Zip-Up c/o / J.Crew Puffer Vest (Newer version here, Factory version of my vest here) / New Balance Sneakers (Old, similar here, here, here, here and here) / Hudson Jeans c/o Zappos

Private Tory Burch Sale ends Monday, Oct. 26 at 11:59 ET
I'll be the first to admit that these days, my mornings are pretty wonderful. For eight years, I dragged myself out of bed at 5 or 6 a.m. and schlepped myself to the Bronx, and no matter where I was coming from–the Upper East Side, the East Village, or Hoboken–it was absolute torture. Some people are morning people. I–as my friends and family know–am not. ;)
Luckily for me, Noodle isn't a morning dog, either. (Remember this post?) The two of us would seriously sleep until noon if there weren't projects to be completed and bones to be chewed, but we do our best to wake up at 7:30 or 8, and be in front of our computer/bones by around 8:30 or 9. Sometimes our wakeup call is a little postponed if we were up ridiculously late working and chewing the night before (#nightowls), but we've been much better about that lately.
(Clearly I'm a nutcase.)
Side note: I could stand to change this part of our mornings. If I started working at 7 a.m., for example, I would get SO MUCH DONE. But then I wouldn't be able to stay up late–and late at night is when I'm most creative. Oh, the dilemma…
Anywho, our mornings are almost always the same:
I take a shower, blow-dry my hair and get dressed while Noodle snoozes in her crate. What do I wear? I've found that I'm far more productive when I actually get dressed–even if my outfit is super casual. I make it a priority to "dress up" for meetings, events and coffee shop work sessions, but when I'm working from home, I'm typically in jeans, a t-shirt and a cozy sweater or sweatshirt–like this Charles River Apparel zip-up. I love its bright blue color and how soft it is–and that it unzips completely for warmer days.
I let Noods out of her crate, and she either moans and groans and refuses to come out… or she acts like we haven't seen each other in 15 years and runs around my feet in circles, wagging her tail, wiggling her butt, and crying because she doesn't know how to express her love. It's hilarious.
Noodle and I stroll around Lincoln Park, making sure to avoid busy streets, as Girlfriend's greatest fear in life is trucks. (And floating plastic bags. She would have hated "American Beauty.")
We come back, we play a game of fetch, and then we eat breakfast together. I'm in front of the computer while I'm eating; she's at my feet. (And sometimes on the chair next to me, if we're feeling extra lovey that day.)
We clean up, and I settle into my morning work schedule: e-mails, writing, e-mails, handling social media accounts, e-mails, editing, e-mails, working on contracts and invoices, e-mails, and conference calls. And then more e-mails. Noodle pounces between the office, dining room and living room, tossing herself tennis balls and other toys. (It was a godsend when she learned how to throw balls herself, haha.)
We end our morning around noon by taking another walk and eating a light lunch. Noodle settles in for a nap on the couch, and I either continue plugging away on the computer, move to a nearby coffee shop for a change of scenery, meet up with Jess and Blair to shoot, or attend meetings and events.
And that's a typical morning in a nutshell! When I compare it to what I used to do, it's a cakewalk. But it's probably not as glamorous as one might think it is. Sometimes things are really great, and I have these very calm days in which I'm incredibly productive and happy. Yet other days I have so much due at once that I'm completely frantic, and never even get around to showering. (Yuck.) And sometimes I don't know what area is best to dedicate my time… or I fall so behind on emails and correspondence that find myself just staring at the computer, wondering how to tackle the mess. (Which leads to me falling out of touch with friends and family. Sorry, guys.) And then there are days during which I'm filled with self doubt and worry. (Is this whole freelance/blogging thing going well? How do I measure success? Is it okay to be content with who I am, and not wish to be a superstar writer/photographer/blogger? Have I taken on enough jobs? Or have I taken on too many, which, in turn, could impact my personal life?)
Still, I love it. I really can't imagine a more perfect job for myself–something that allows me to write and shoot and edit and create… and I truly count my blessings every day.
But on to the fun part! Today, I'm teaming up with Charles River Apparel to give away the perfect cozy zip-up… essential for both fall mornings or fall nights. To enter, simply head on over to my Instagram account this morning around 8 a.m. EST. Entering to win one is easy, and it's definitely worth it!
Also, bonus entries for answering the following question in the comment section below:
What do you love about your mornings? What could you stand to change?
Good luck!