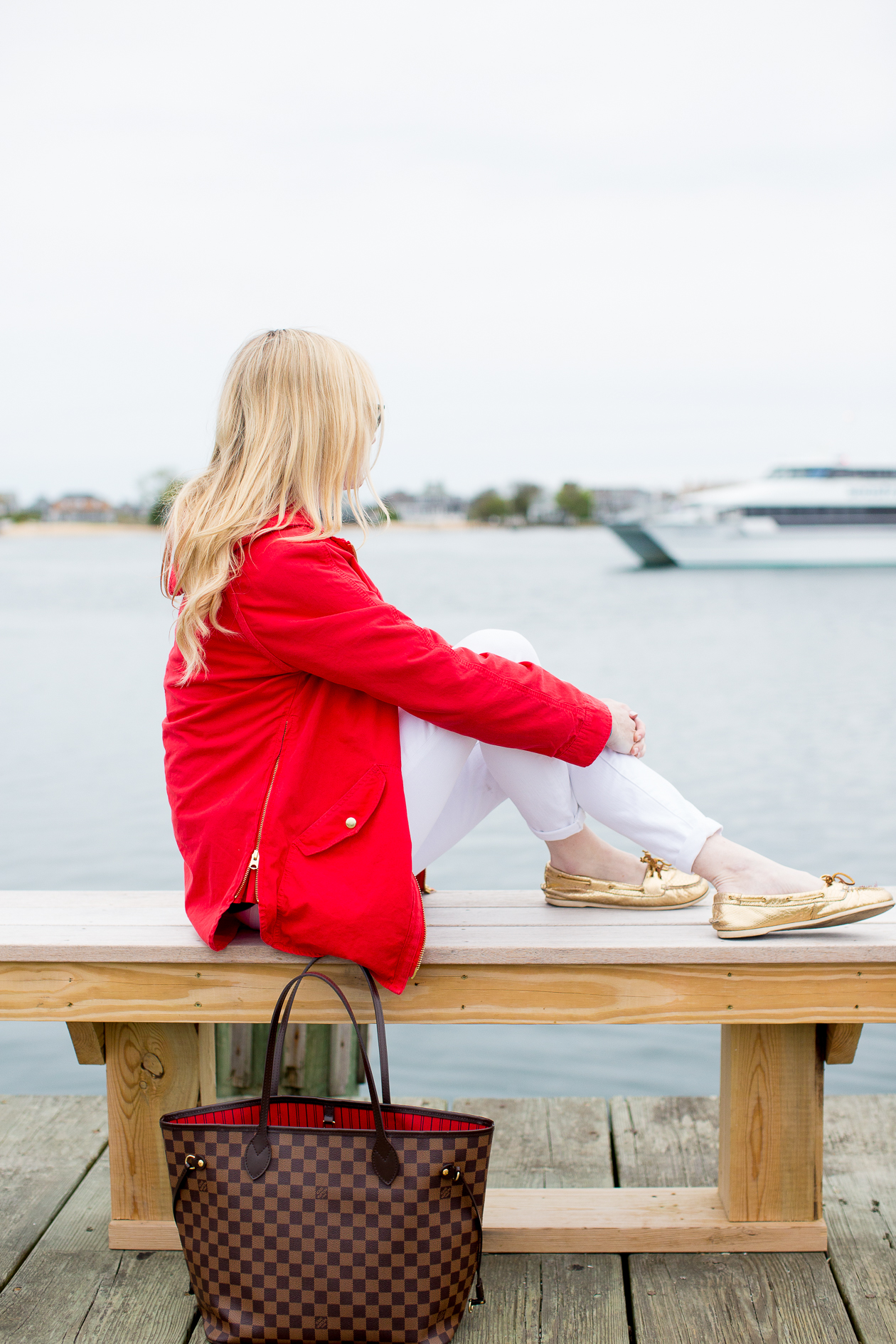 J.Crew Jacket (Shop my favorite anoraks below!) / Nantucket Sweatshirt / J.Crew Jeans (Maternity version here) / Sperry Topsiders (Old, similar here, here, here and here. Also LOVE these!) / Louis Vuitton Tote (Mine's the "MM" size. Buy here, here or here) / Similar Sunglasses
Mom & Dad: Vineyard Vines Shep Shirt / Coach Bag (Also love this one, this one and this one!) / Sperrys / Barbour / Sperry Slip-Ons
I wasn't expecting this, but walking around Nantucket with my parents is making me feel a little self-conscious, haha. I mean, I kind of look like their knocked-up daughter. WHICH IS FINE. There's nothing wrong with that. But… you know. Considering my greatest fear for years and years and years was getting pregnant while under Dad's roof, the feeling just hits a little too close to home. ;)
Another funny story: while at the Nantucket Wine Festival, Mom went off to the bathroom, and Dad and I started talking to this very pleasant stranger. Dad almost instantly brought up Mitch, even though the conversation was about wine and had nothing to do with him.
"My son-in-law would love this!" he inserted.
Later, when I asked him about it, he cracked up.
"I guess I was worried he'd think you… weren't my daughter."
#pregnancyprobs. ;)
But in all seriousness, it's been SO nice spending so much quality time with Mom and Dad. For Christmas, my aunt and uncle, who live on the island for about half the year, gave the entire family tickets to the wine festival. Sadly, though, a lot of stuff came up: my brother, Patrick, gave my sister-in-law, Kim, her first trip to Europe (for the same weekend) on Christmas morning; my other brother, Danny, was accepted into a study abroad program for his masters program; Mitch couldn't get off work; and even my aunt and uncle received a very important wedding invitation for a day that weekend. We still had a GREAT showing: all my cousins (Chase, Annie, Sammy and Paige); Chase's girlfriend, Sarah; and the girls' friend, Jaclyn. But from my immediate side of the fam, just Mom, Dad and me!
Favorite anoraks:

And being their third wheel? The best. I've loved every lunch, ice cream outing, shopping trip, dinner and walk to the docks. It's a reminder of just how lucky I am to have parents that are both awesome parents and awesome friends.
We've been having some chilly weather the past couple of days, so I bought a sweatshirt at a t-shirt shop (which was convenient, as my old one had bleach stains all over it!) and threw on my favorite anorak before heading to a very casual dinner at B-ACK Yard BBQ. (So good! Highly recommended.) This might not be my most fashionable "outfit post" to date, but hey: comfort is key when you're super preg!
Until tomorrow…
Shop the post:
J.Crew Jacket / Nantucket Sweatshirt / J.Crew Jeans (Maternity version here) / Sperry Topsiders (Old, similar here, here, here and here. Also LOVE these!) / Louis Vuitton Tote (Mine's the "MM" size. Buy here, here or here) / Similar Sunglasses
Mom & Dad: Vineyard Vines Shep Shirt / Coach Bag (Also love this one, this one and this one!) / Sperrys / Barbour / Sperry Slip-Ons

Favorite anoraks:

Thanks for the photos, Dad! As always, you're killin' it in the photography department!