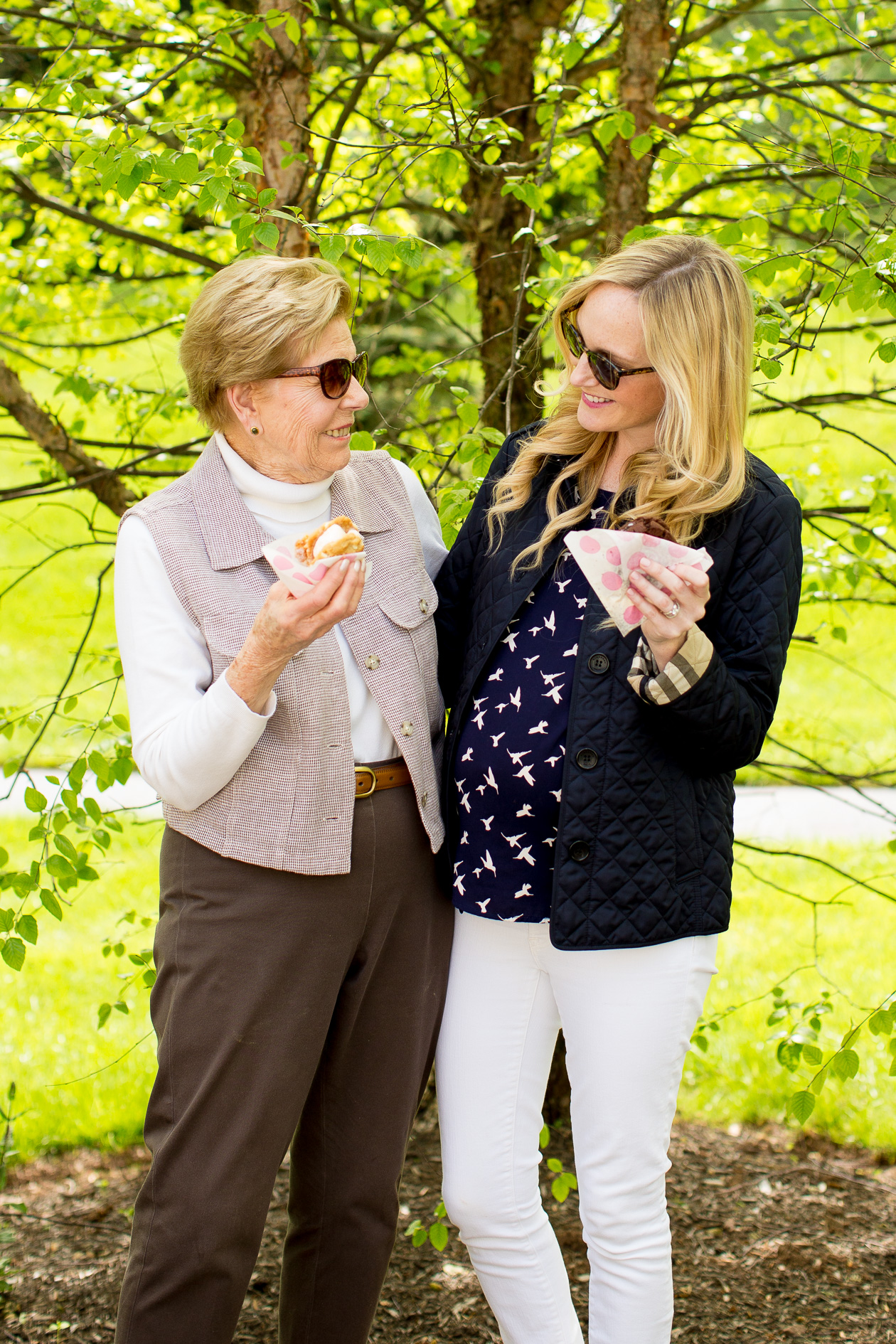 Disclosure: This post was sponsored by Baskin-Robbins, but all opinions are my own. As always, thank you so much for supporting the partnerships that keep Kelly in the City up and running!
Everly Top (Old, but shop Everly here) / Burberry Jacket / Similar Sunglasses / J.Crew Jeans (Maternity version here) / Sperry Topsiders (Old, similar here, here, here and here. Also LOVE these!)
Cravings are such a weird thing. During my first trimester, I craved nothing. I spent so much time leaning over the toilet that even the thought of food was absolutely disgusting to me. But when I hit the second trimester, I started to develop more of an appetite. And when the third trimester rolled along, I was all about the food.
Really, though: give me all the food.
In the beginning, I craved fruit and fruit only. Now, though, I've incorporated sweets into the mix! Specifically Baskin-Robbins' Mint Chocolate Chip Ice Cream. I think it comes from my time spent in my 67th Street apartment on the Upper East Side. I lived around the corner from a Baskin-Robbins, and stopped in there at least once per week to pick up a couple of quarts. A little embarrassing, as I wasn't pregnant back then and therefore had no real excuse for consuming that much ice cream. ;) But, hey! Right now, I'm about a week away from my eighth month of pregnancy. So… totally fine that Mitch and I can't even keep the stuff stocked in the house, right? (And totally normal that I typically eat a carton of raspberries right after my nightly cone, right?)
It goes without saying that when Baskin-Robbins recently reached out and asked whether I'd might like to collaborate on a fun post, I kind of couldn't believe it. Yes, I'll eat my pregnancy food and talk about it on the blog! Yes, yes, yes.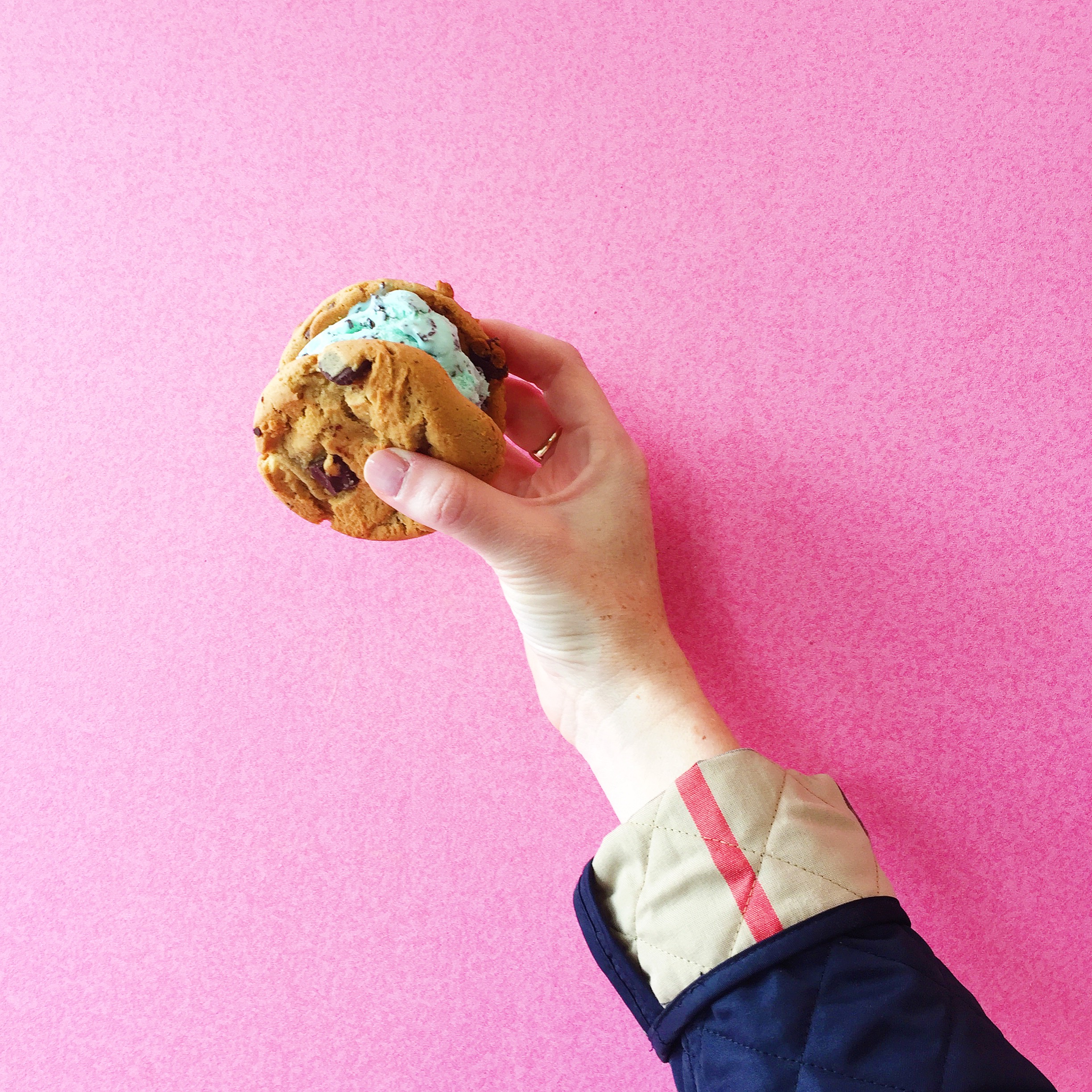 So today, I'm teaming up with my friends at Baskin-Robbins, along with my adorable grandmother and mom, to talk about the company's new Warm Cookie Ice Cream Sandwich, which is incredible. While home, the three of us took a trip to nearest Baskin-Robbins location, and made our own. I, of course, selected Mint Chocolate Chip, but you can choose any flavor of ice cream. Cookie choices include Dark Chocolate Chunk, Double Fudge, Peanut Butter Chocolate and White Chunk Macadamia. You can also coat the sandwich's sides with chocolate sprinkles, rainbow sprinkles or chopped almonds!
While it's safe to say that I loved my Warm Cookie Ice Cream Sandwich, I think the best part of the day was being sandwiched between two of the most wonderful women in my life: Mom and Grammie. As I live in the Midwest and they live on the East Coast, I really treasure our girls' days… and an afternoon ice cream date was the perfect excuse to squeeze in some more quality time together!
But onto the fun part: Right now, Baskin-Robbins is encouraging ice cream lovers to try its new Warm Cookie Ice Cream Sandwich, snap photos of themselves with two or more friends, and publish the pics to Instagram using the hashtag #sandwiching. If you click here, you can also learn how to enter to win some amazing prizes with your Instagrams!
If you're pregnant, what are you craving?! (I highly suggest the Warm Cookie Ice Cream Sandwich, haha.) And do we think that there's any legitimacy to the old wives' tales about cravings?! STILL convinced that we're having a boy!