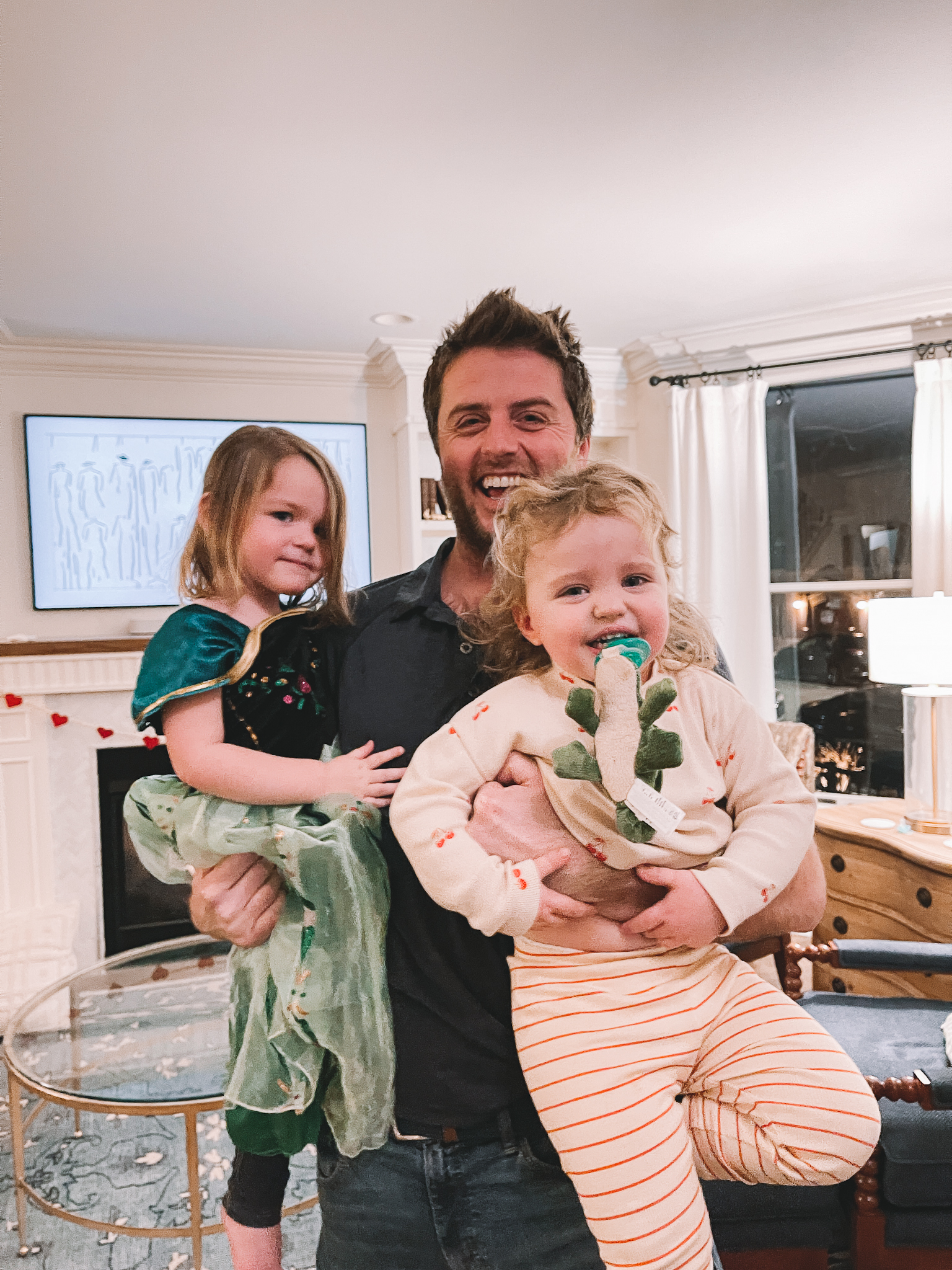 Lucy and Lottie during a recent playdate at our house.
Mitch here!
I really love writing down the first 10 things that come to mind in the morning. It's a nice way to start the day! (Almost like journaling?) Hopefully you enjoy reading them :) Here we go!
We're hoping to take the kids on a little staycation here in Chicago. Listen, I'm always exhausted and I'm far too lazy to plan a vacation. Honestly, vacations stress me out. Months of planning and expense and effort, and when I finally get somewhere, I'm so stressed that I'm have trouble enjoying myself. That said, I've GOT to get out of this house during week 2 of spring break. So we're planning a staycation here in Chicago to a hotel with a pool for the girls and a bar for Mom and Dad. Please send suggestions if you have them!
We did the KonMari thing on my beloved kitchen appliances, and it wasn't as bad as I thought it'd be! If you follow this blog closely, you've probably noticed that I'm a nut for kitchen gadgets. And after a few pandemic years, I ran out of space to store them all. So Kelly guided me in the ways of Marie Kondo and gave me the confidence to part ways with some of my beloved gadgets. And the results are great. I gave some to friends, donated a few, and downsized any appliances that gave me joy but were too big for the cabinets. Our countertops are totally cleared of all unnecessary gadgetry. So refreshing!
That said, I finally found something that I regret KonMari-ing. The Marie Kondo mantra is typically "You'll never regret getting rid of something" and, well, I finally do. Late last year, I donated all my frying pans, and, well, it turns out that I need a frying pan. But it gave me a great excuse to take the deep dive and find the best frying pan in the world, according to a number of experts. So I've got that going for me which is nice. (Kelly maintains that this one is the best, though.)
I bought too many holiday candles at Aldi last year. So I'm trying to go through them, and now my house smells like Christmas all the time. It's been very confusing to our friends but what can I say? Ho, ho, ho.
How much TV is too much TV? Kelly and I have fallen into a wicked routine over the past six months of watching an absolutely absurd amount of TV each night before bed. (And we used to watch virtually none!) I realize that this is the kind of question that every parents asks of their kids, but how much TV is too much TV for us? Lately we've watched This is Us, Investing Anna, Dopesick, a bunch of thriller shows on Netflix, and every Oscar movie in contention. I guess I'll go ahead and blame the weather?
And the Oscar goes to… This time of year, I like to dedicate time to watching each of the movies nominated for Best Picture at the Oscars. This project used to send me all over New York City to obscure movie theaters, but in 2021 I was able to screen nearly everything at home… in the middle of the night, when I can finally get some peace and quiet and fall asleep on the couch 10 minutes into a movie. If you're not as into this as me, Mitch's Best Picture of the Year goes to King Richard. That movie was incredible.
I'm going all in on pizza this winter. Despite my pretty well publicized love for frozen pizza, I've made a significant change to my junk food routine this year that I'd like to share. Every Friday night, I order an absurd amount of take-out pizza from the place around the corner. We then have a family pizza night and freeze the leftovers for reheating throughout the next week. While this move is likely adding a bit to the old waistline, it's done wonders for my mental health. Highly recommend!
What I'm Watching: The Beatles Get Back. I'm a Beatles fanatic. I had posters on my wall my childhood bedroom wall. While other kids were reading comic books, I was reading Beatles books. I even made Kelly dance to "Real Love" at our wedding. So when Peter Jackson (of Lord of the Rings fame) released this eight-hour Beatles documentary on Disney+ last month, I devoured it. A must-see if you're a Beatles fan. Probably a skip if you're not.
What I'm Reading: City of the Century: The Epic of Chicago and the Making of America. I realize a book like this has narrow appeal, even for Chicagoans. But I'm fascinated by the history of this city, from its Native American history, to its "discovery" by Canadian capitalists who recognized that it both sits at the crossroads of the southwestern tip of the Great Lakes and the Atlantic and Gulf of Mexico watersheds. Chicago is an infinitely fascinating place and it's still shocking to learn just how much of an impact it has had on the world we live in today.
What I'm Listening To: Tick, Tick… BOOM! Okay, I'm cheating a bit here because Tick, Tick… BOOM! is a movie, but it's also a musical, which means songs, and you listen to songs, so I'm just going for it here. We lived in the Alphabet City neighborhood of New York back in the day, and our favorite diner around the corner was the Life Café, where Jonathon Larson set his famous musical Rent in the early 90s. Of course, I lived there nearly a decade after Larson died, but I love Rent and Tick, Tick… BOOM! is an examination of just what kind of special creative talent it takes to write a modern musical hit. Jonathan Larson died the night that Rent debuted so he never found the recognition that he deserved, but Tick, Tick…BOOM! does him justice.
Mitch. OUT!