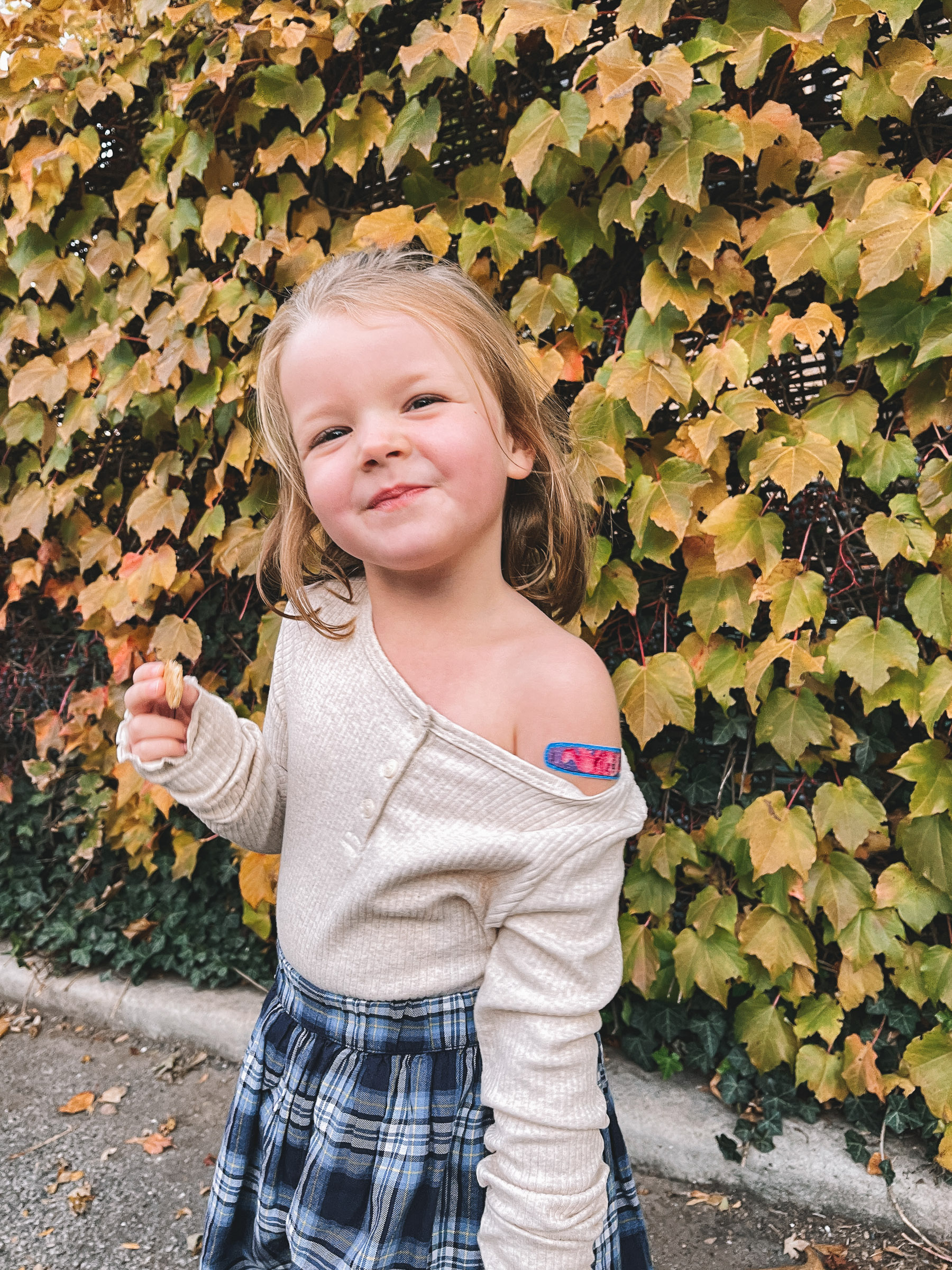 Look who got her first shot! Followed the advice of my brother-in-law, our pediatrician and science on this one, and couldn't be prouder of Emma! We simply booked an appointment at Walgreens online. 
Mitch here!
Just 10 quick things that come to mind this week.
I'm trying to use the "mental load" model for decision-making. Mental load is the summation of stressors related to a project, and as I get older, I'm finding that it's a better framework for making decisions than ones I've used previously. I typically base decisions on all the wrong things—money, convenience, being nice—without considering how much my choices add to my personal stress level. But factoring in the complications of stress and effort to my decision-making has helped a lot lately. I'm also trying to use words like "stress," "pressure" and "anxiety" to describe my mental load more openly which has truly been a game-changer for me… especially as the holidays approach. It's all about personal awareness.
I'd like to publicly declare myself the parallel parking king of the world. We drive a huge car and I can squeeze that beast into street parking spots like I'm some kind of wizard. I'm not joking when I say that I've literally received rounds of applause from onlookers after a stellar park job. (IT'S MY ONLY TALENT SO LET ME JUST HAVE THIS MOMENT, OKAY?) It might take me 15 minutes of nudging my way into a spot, but when I'm done, I always take pictures so I can brag to my friends and family. My joke is that my brother named my niece, "Parker," after me.
I'm making steady improvements to my Indian cooking. My go-to recipe is to coat two bone-in, skin-on chicken thighs with tandoori masala and then sous vide them in a bag with coconut milk and ghee. After they're cooked, I chop them up, pan sear the chicken and reduce the curry for what is without question the best thing I've ever cooked. I still have some work to do before I can share it with Shaheen, though. Don't tell her!
Lucy is learning to fold her pizza New York-style. For the uninitiated, New Yorkers regularly buy their pizza by the slice and eat it on the go, so the pizza fold is necessary to prevent a floppy pizza slice grease disaster. The fold involves an index finger to break the crust and fold the slice along its spine—that is unless you're Lucy Larkin, who folds hers from tip to the crust. I guess this what we get for raising our kids in Chicago. (Kelly claims that most New Yorkers are not aware that people elsewhere in the country/world might not fold their pizza.)
Does anyone else still read Spark Notes? I realize it's super dorky, but I love reading the chapter summaries and analyses while I'm in the middle of a book. I feel like I'm a kid again!
We just discovered store-bought frozen pancakes. Now, don't get me wrong, I make a mean Saturday morning pancake. Sprinkles? Chocolate chips? Chopped-up fruit the kids don't touch? I do it all. But for those mornings when destroying the kitchen doesn't give me joy, there's another option! Frozen pancakes are still available at the grocery store. They taste great, make no mess, are ready in 30 seconds, and totally don't replace me as a father! Don't @ me.
The new Apple Battery Pack saves my life daily. If you obliterate your phone's battery every day like me, you likely need a battery-boost solution that doesn't involve leaving it on a charger for an hour. I guess this really speaks to just how much I'm using my phone right now (yikes!) but Apple's new MagSafe Battery Pack makes topping off my phone battery easy. It magnetically attaches to any iPhone 12 or iPhone 13 model and charges wirelessly. It works perfectly and saves me multiple times per week!
What I'm watching: Only Murders in the Building on Hulu. My dad has always loved Steve Martin and Martin Short and, to be honest, he's right about them being so awesome. This show is hilarious and it's set in New York which I love. This is the kind of show you binge way too fast and get depressed when it's over. I'm jealous if you haven't started it yet.
What I'm reading: Frank Herbert's 1965 sci-fi fantasy epic, Dune. This is likely the most-recommended book in history. (Idk.) It's huge, daunting and confusing right off the bat. But I'm into it and after a week I'm even starting to understand a few of the words.
What I'm listening to: Kacey Musgraves new album, star-crossed. I was late to Musgraves' smash hit, Grammy-dominating, incredibly good album Golden Hour, even though my wife played it over and over again. But star-crossed was a day-one listen when it was released earlier this month. The album is great ,with Musgraves' perfected pop music catchiness and country music honesty. Excited to see Musgraves in concert in January with our friends Peter and Bradley!
Mitch. OUT!