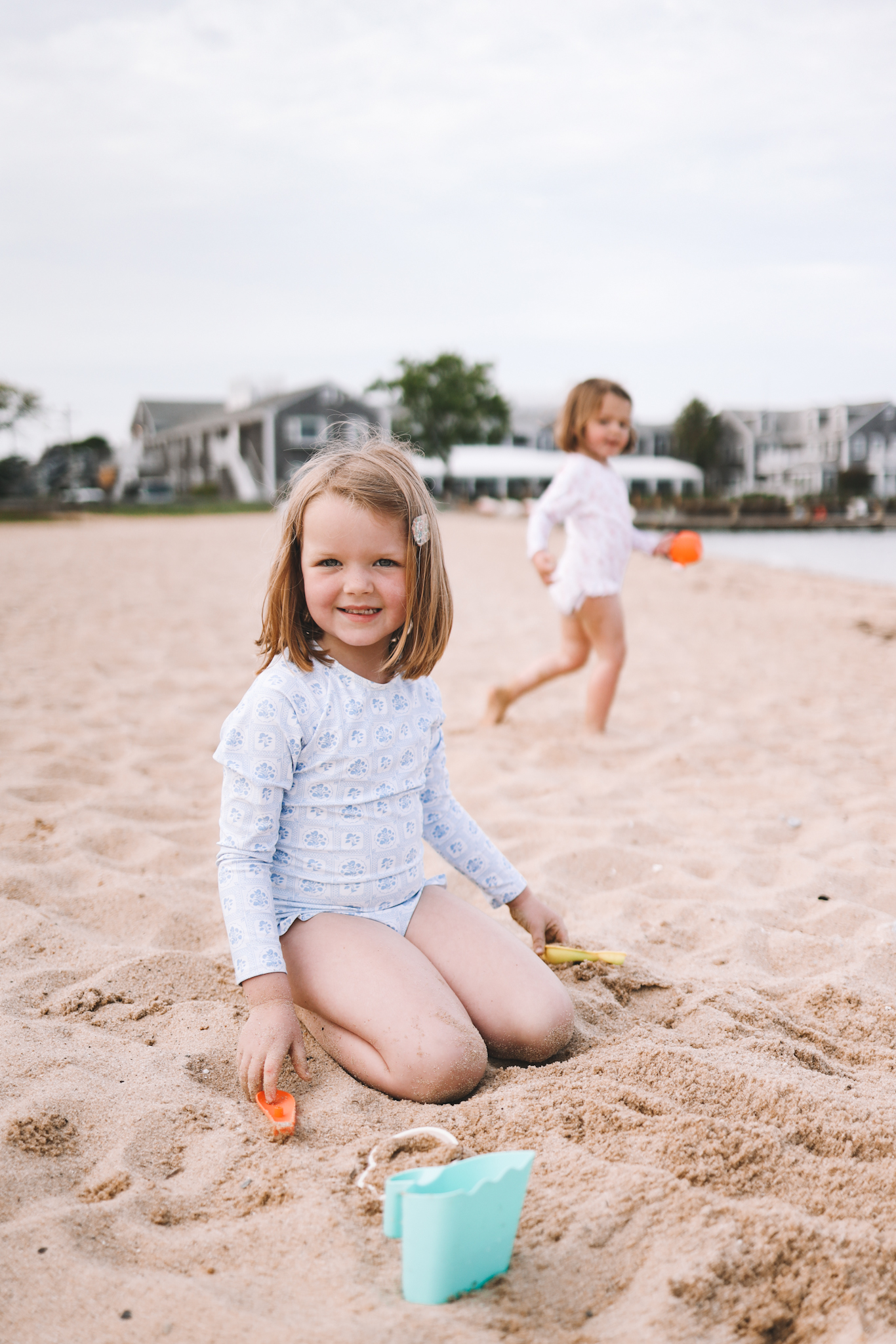 Minnow Swimsuits / Liberty Clips via Amazon / Liberty Bows via Etsy
Quick post today on Minnow, which is my #1 for kids' swim. The company was founded by a mom—who now lives in Charleston—who wanted sun-kissed color palettes, purposeful details, custom prints, and high quality production. Every swimsuit features UPF, with the rash guard collection offering the most protection. (Which is what we mostly buy.)
Minnow Swim
While the suits are certainly an investment, they last. Emma's hand-me-downs look brand new when I put them on Lucy, and I'm always somehow shocked! A tip would to be buy at the end of the season, when they sometimes go on sale. And if you've never ordered from Maisonette before, you can take 10 percent off their selection of Minnow with code "HELLO10." Finally, J.Crew carries some Minnow!
For reference, Emma is almost six years old, and I buy her a size 7/8. She likely has one more year in this round of suits! Lucy just turned three, and she's wearing a size 3/4 here.
Minnow Swim Size Chart
Minnow carries swimwear for girls, boys, women, and men and has a comprehensive sizing guide for each category. You can find the full Minnow size guide for swimwear, clothing, and beyond HERE.
Minnow Swim Returns
In the case that you need to return or exchange (because we've all been there, amiright?), Minnow has a pretty lenient return policy. Still, it does have some specific rules for swim and some new updates this year I wanted to share to clear up any confusion and hopefully make the process easier for you.
For U.S based customers, Minnow accepts returns and exchanges on unworn, undamaged items that have the original tags still on and hygienic liner (if applicable) within 30 days of item postmark. Some brands offer returns within 30 days of delivery so keep in mind that Minnow's return policy begins when the item was postmarked.
Also, as of 2/15/2023, "all returns are subject to a handling charge per order and will be deducted from the refund amount." But luckily, exchanges still offer free shipping back. And, sale items are final sale – meaning they won't be eligible for returns or exchanges.
For the full scoop on return details, associated returns shipping charges, getting your packing slips with your order number, and getting started on your return – click here.
Below are some of our favorite sun-safe suits! (Though always remember to apply sunscreen. This is our favorite kids' brand. Find the rest of our beach/water play essentials here.)

Girls' rashguards
How adorable are these girls rashguards? Personally, I prefer keeping my girls in rashguards for extra sun and wind protection. It just gives me that extra piece of mind on those long beach days. Plus, I love the selection at Minnow – perfectly preppy swim for all. Gingham, polka dots, stripes, florals, and more.

Boys
Just like the girls swim selection, the selection of rashguards and swim trunks for boys simply could not be any cuter.  Plaid, solids, color blocking, and geometric designs galore. Although I don't have a need to purchase boys trunks in my family, I like that the trunks have stretch, along with an adjustable waist band to help get a better fit. As opposed to just a standard waist size that may be a little to tight or loose for a comfortable day in the water.

Women
Moms – you're going to love the selection of cute, preppy, and just plain adorable swimsuits from Minnow. They have a range of basic colors and styles, plus some brighter and more unique prints for those of you that love leaning into vibrant summer vibes. You can choose from rashguards, bikinis, tankinis, and one-pieces. As well as their selection of other beach-going swim inspired accessories.
P.S Did you know that Minnow has matching clothing options for moms & kids. It's true! If you're planning a sweet family beach trip – maybe even with a family portrait in mind – consider grabbing the fam some matching outfits. Check out their Mommy + Me collection HERE.
Shop the post:
Minnow Swimsuits / Liberty Clips via Amazon / Liberty Bows via Etsy

Girls' rashguards

Boys

Women